FIXD, Carly, and Carista are some of the most popular diagnostics apps for modern cars. However, they are pretty distinct from each other. FIXD is a basic diagnostics app, but it offers live monitoring of your vehicle. Carly and Carista don't have an active car monitor function. But they can help you customize and service your car. With every app, there are pros and cons
This article compares FIXD Vs. Carly Vs. Carista to help you choose the best app for your car. 
Please read to the end to find out our top recommendation. 
FIXD Vs. Carly Vs. Carista: Overview 
Many drivers don't know what to do when the Check Engine Light comes up. Sometimes a gas cap is loose. But other times, you have a problem that needs urgent fixing. 
With the FIXD, Carly, or Carista OBD2 apps, you can save yourself a trip to the mechanic by diagnosing and working on your vehicle. These apps are super easy and intuitive to use.
The FIXD app can diagnose all vehicles with an OBD2 connector. However, it cannot change the ECU modules for vehicle customization. A distinguishing feature between Carly and Carista is that Carly stores backup of codes and offers more sophistication in coding than Carista. 
FIXD Vs. Carly Vs. Carista: Complete comparison chart 
[table "1000" not found /]
The three apps are free to download on iOS and Android devices. They all have their developer adapter that you connect to an OBD2 connector. Their specific adapters connect to a smartphone or tablet over Bluetooth. However, Carista can use generic adapters like Veepeak OBDCheck BL+ and OBDLink MX+. 
You can use the applications right after download because all of them have some free features. For example, on the FIXD, you can use the app without ever needing to subscribe to the pro app. The same applies to Carly and Carista, but you get more out of these apps with a paid version.
FIXD Adapter
Carly Scanner+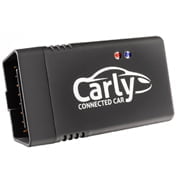 OBDCheck BLE+ (for Carista)
FIXD Vs. Carly Vs. Carista: What are their differences?
OBD2 functions and system diagnostics 
Advanced diagnostics on FIXD are only for Chrysler, Ford, Toyota, Honda, and Nissan. On Carista, advanced diagnostics are for Audi, BMW, Cupra, Infiniti, Lexus, Mini, Nissan, Scion, Seat, Skoda, Toyota, and Volkswagen.
FIXD, Carly, and Carista can read and clear codes from the engine. They can also access enhanced codes from the transmission, airbag, ABS, TPMS, and other manufacturer-specific systems on the vehicle. However, advanced diagnostics are only accessible with a premium subscription on all three apps. 
For Carly, advanced features are available for Audi, BMW, Mercedes, Mini, Lexus, Porsche, Renault, Seat, Skoda, VW, and Toyota. 
We like that Carista offers a 1-month free to perform advanced diagnostics on supported vehicles.  
Nonetheless, on FIXD and Carly, you can see the severity of the issue. FIXD gives you a detailed report of the error. Carly, on the other hand, gives you DTCs with a color code to tell you whether the fault code is bad, average, or very bad. Hence, you'll be in the know about the ideal repair and maintenance to take up. 
You'll also be able to see the general engine live data on the three apps. Freeze frame information is only possible on FIXD. For emission checks, it's free on Carly and Carista, but it's a paid feature on the FIXD app. 
It's important to note that the live data function on Carista largely depends on how the apps support your specific vehicle. For example, live data is available on Audi A8 but not on Audi A1/S1.
And, in some vehicles, Carista is going to give you only the general engine live data. But in others, it can show you turbo live data, automatic transmission info, and 12V battery live data. It will also tell you the mileage and time since your last service. 
Lastly, Carista can tell you service interval information and how many times your vehicle has deployed the airbag. The airbag crash count feature is handy if you're buying a used vehicle. 
OBDLink MX+
Veepeak OBDCheck BLE+
Read more: Procharger vs. turbocharger vs. supercharger: Which is best for me?
Advanced service functions/Reset functions 
FIXD does not offer reset functions. It has maintenance tracking using its Active Car Health Monitor. The FIXD adapter continuously tracks your vehicle and relays information to the app about maintenance schedules. 
And when it comes to repairs, FIXD has a mechanic hotline where you can get in touch with a mechanic six days a week. The automotive specialist will give you a second opinion and can walk you through DIY repairs. 
Other maintenance features to look forward to with FIXD include issue forecast. This function gives you info about possible future problems. It means you can take steps to avoid the occurrence. This will go a long way in extending the life of your vehicle. 
What's more, FIXD will tell you all about the most common issues. So, you get to walk into a mechanic's shop with confidence. 
Carly and Carista support various maintenance and service resets depending on your vehicle's make and model. 
Nevertheless, they offer maintenance functions for common resets. These include DPF regeneration, service indicator reset, EPB service, battery registration, and many others. 
FIXD Adapter
Customization/Coding 
Again, FIXD is mainly a diagnostics app. It does not offer much other than basic and advanced diagnostics. So, if you're going for an app that can help customize your vehicle, Carly and Carista are ideal. 
Now, coding with Carly is only available for BMW, Audi, Volkswagen, Skoda, Seat, and Mini. Meanwhile, Carista is compatible with Audi, BMW, Lexus, Mini, Toyota, Volkswagen, Seat, and Skoda. Depending on your vehicle's model, you can customize a wide variety of features. 
When you open the customization tabs on these applications, you get available customizations for your vehicle. Both apps have their ECU information in plain English, not bytes and bits. So, all you need is to find the module you want to modify, select the value you want to input, and select okay. 
We noted that Carly stores backup for the previous coding values in the process of inputting a new setting. It means that you can revert to previous settings if you don't like the new ones. 
We did not see an indication of code backup on the Carista. It's something to be aware of.
Carly Scanner+
Supported protocols 
FIXD, Carly, and Carista support the five OBD2 communication protocols. This allows them to diagnose older vehicles as far as 1996. The protocols are ISO-9141-2, KWP 2000-4, SAE J1850 PWM, SAE J1850 VPW, and ISO 15765-4. 
Support vehicle years and models
[table "996" not found /]
Price, extra fees, In-App fees, and updates 
The FIXD app costs around $60 and comes with a free adapter. While the basic features are free, the advanced features come at a $69 yearly price. You get a one-year warranty for the adapter. And the good thing, you don't need to pay per item. It's a yearly payment for all the pro features. 
Besides, it can connect to five FIXD adapters to one phone. So, if your family has several vehicles, you need only one subscription for all sensors. 
Carly is on the high-end side if we can call it that. It will cost you approximately $120. The amount covers the app because the Carly adapter is free. It offers one-time, free, in-depth diagnostics for your vehicle. This will allow you to check if the app works for you or not. 
After that, you will want to pay for the yearly subscription to access more than just the essential diagnostic features.
With Carly, you either get a subscription for one vehicle or comprehensive coverage for all brands. This option is best if you have different brands like one BMW and one Audi.
Carista gives you different payment options after your free one-month trial. You can either go for a monthly subscription for $10 or a 3-month subscription at $6.66 that you pay every three months. A yearly subscription is billed yearly and will cost you $4.44 a month. The Carista adapter, on the other hand, will set you back at approximately $30. 
You get free lifetime updates on all three apps.
FIXD Adapter
Carly Scanner+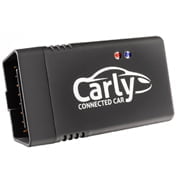 OBDCheck BLE+ (for Carista)
FIXD car health monitor
Pros
Easy to use for newbies
Can read and translate over 7,000 engine codes
Can be used with up to five FIXD sensors
Gives you maintenance reminders
Provides details of car problem
It has access to mechanics and repair information
Cons
Advanced diagnostics are for specific vehicle brands
FIXD Adapter
Carly OBD2 App 
Pros
Offers diagnostics, reset features, and coding functions
Live parameters in the free version
Lifetime warranty
Shows the severity of each fault code
Provides manufacturer-level scanning
Cons
A bit expensive than other apps in its class
It can only connect to one OBD2 device
Carly Scanner+
Carista OBD2 App 
Pros
Provides dealer-level diagnostics
Can personalize a vehicle's ECU modules
One-click action for service resets
It comes with a one-month free trial
Supports both iOS and Android
Cons
Needs extra fees for full features
OBDLink MX+
Veepeak OBDCheck BLE+
Which Is the Better App for My Car?
While the three apps support the OBD2 protocol fully, they don't support all vehicles the same way. If you want to know basic diagnostics without getting into manufacturer systems, you can pick any app for all vehicles made after 1996. 
But if you're looking to examine more than the Engine and your vehicle is a Chrysler, Ford, or Honda, we recommend the FIXD app. Apart from giving you access to advanced diagnostics, you can also get maintenance schedules delivered right to your phone. 
FIXD is the best choice for its detailed reports and mechanic help.  It can save you on labor costs by informing you about the confirmed fix, and costs estimate to perform the fix.
Carly is the best option for BMW, Audi, Volkswagen, Skoda, Seat, and Mini vehicles. It gives you all the possible features depending on your model. Generally, you personalize, repair, and perform maintenance for your vehicle with a premium subscription without ever visiting the mechanic. 
Finally, Carista also supports the vehicle brands by Carly. But it adds Cupra, Infiniti, Lexus, Nissan, and Toyota. So, if you own one of these, Carista offers exceptional features for your vehicle. And, its yearly subscription is cheaper than the other two apps. 
Compatible Adapters
FIXD Adapter 
Pros
7000+ engine codes
Advanced diagnostics
Can track car's maintenance schedule
Can be left plugged in vehiclel
Can turn off CEL
Cons
It's not as versatile for the price
FIXD Adapter
Carly Scanner+
Pros
Free with the app
Free basic diagnostics
Offers "used care check" function
It can access advanced diagnostics
Provides wide customization options
Cons
Free advanced diagnostics is a one-time offer
Carly Scanner+
Veepeak OBDCheck BLE+ 
Pros
Read and clear fault codes
Can perform smog checks
Provides real-time sensor readings
The small size won't obstruct legroom
Cons
Enhanced diagnostics and PIDs are on select vehicles
Veepeak OBDCheck BLE+
OBDLink MX+
Pros
Supports iOS, Android, and Windows devices
Can provide live parameters for multiple PIDs
Provides over-voltage and battery drain protection
Hacker-proof
Can be left plugged-in
Free firmware updates
Cons
Customer service takes a long respond
OBDLink MX+
You can buy the Carista adapter right on caristaapp.com
Final Thoughts 
FIXD, Carly, and Carista are industry leaders in monitoring vehicle performance. Each is distinct from the other. But we hope we've set them apart so you can make an easy choice. 
In summary, FIXD is perfect for maintenance and repair information for DIYers. Carly is an excellent choice for the customization of its supported vehicles. Carista is the cheapest option of the three. Plus, it still offers coding options without breaking the bank. 
Roll your sleeves and get in the hood because the second pair of eyes you need is the app on your hand.
FIXD Adapter
Carly Scanner+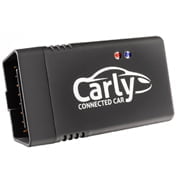 OBDCheck BLE+ (for Carista)