Carista and OBDeleven are well-known scanners among the VAG car owners' community. 
But when faced with their numerous differences, which scanner best fits your needs?
Don't worry; I've got you covered. 
In this review, I'll compare the similarities and differences between Carista vs. OBDeleven. Read till the end to find out which scanner is the right choice for you.
Carista vs. OBDeleven: Full Comparison Chart

OBDeleven



Carista


[10% OFF Code:
OBDADVISOR10]

FUNCTIONS
Full-system diagnostics

✅

✅

Live data

Full systems

Engine only

Service functions

Depends

Depends

Throttle adaptation

✅

✅

DPF regen

✅

✅

Battery registration

✅

✅

Active tests

✅

-

Coding

✅

✅

VEHICLE COVERAGE
VAG cars

✅

✅

Other car brands (*)

Full

Limited

SUBSCRIPTION PLAN
Subscription

Yearly

Monthly & Yearly

Free plan

✅

✅

Paid plan

✅

✅

AFTER-SALES SERVICE
Warranty

2 years

2 years

Customer support

9.0/10

9.0/10

Check Price

Check price
Click here to DOWNLOAD the Full Comparison Chart in PDF (FREE)
(*): Supported functions for other car brands are quite limited. You can read more details in "Vehicle coverage" section.
---
Quick Summary: Key Differences
Here are the four main differences between Carista and OBDeleven. For those in a hurry, here's a quick summary:
Live data: Carista supports only engine live data, while OBDeleven allows you to read live data from all car systems.
Vehicle coverage: Carista currently covers a limited number of car manufacturers, mainly European and Asian cars. In contrast, OBDeleven covers all car manufacturers available today.
Subscription fee: Carista offers three packages, including a flexible one-month option, while OBDeleven requires a subscription plan for a whole year.
Pre-set coding: Carista provides free coding options, while OBDeleven requires purchasing credits to perform coding.
For more details about other differences, scroll down to explore further.
Today's best Carista price:
Today's best OBDeleven price:
---
Carista vs. OBDeleven: Performance
1. Diagnostics
Both scanners are capable of reading and clearing trouble codes from all car systems. However, the time it takes to scan all systems with both Carista and OBDeleven is a bit longer than I expected.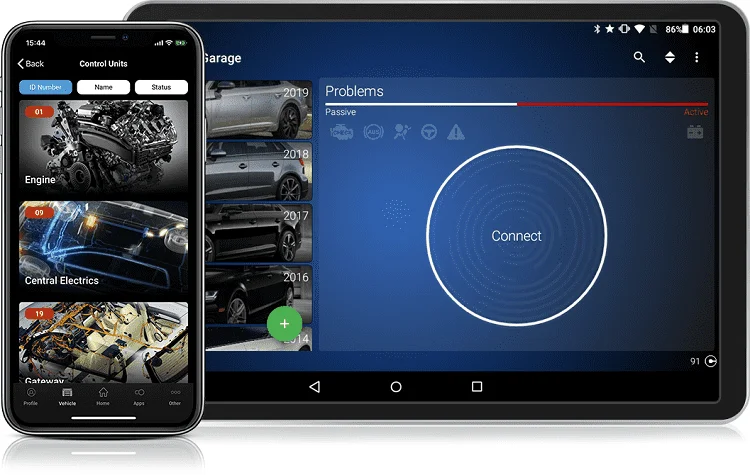 In my case, I have 55 control modules in my car, and Carista took approximately 7 minutes to scan them all. On the other hand, OBDeleven was slightly faster, taking around 5 minutes.
Considering the number of modules that need scanning, this time frame is still acceptable.
2. Live data 
Carista's live data is quite limited – it can only show engine live data in plain text without any option for graphs or gauges.
In comparison, OBDeleven has a more advanced feature. It can read live data for all systems and provides a wider range of parameters (PIDs) compared to Carista.
However, there's a difference in OBDeleven's data format for Android and iOS users. Android users can enjoy both text and graph displays for live data, while iOS users can only access live data in text.
3. Service functions
Both scanners offer service functions, and although their range of options isn't extensive, they performed well on the cars I tested.
With Carista, you can utilize these functions:
Registering new TPMS sensor IDs
Throttle body adaptation
Battery registration
DPF regeneration
EPB service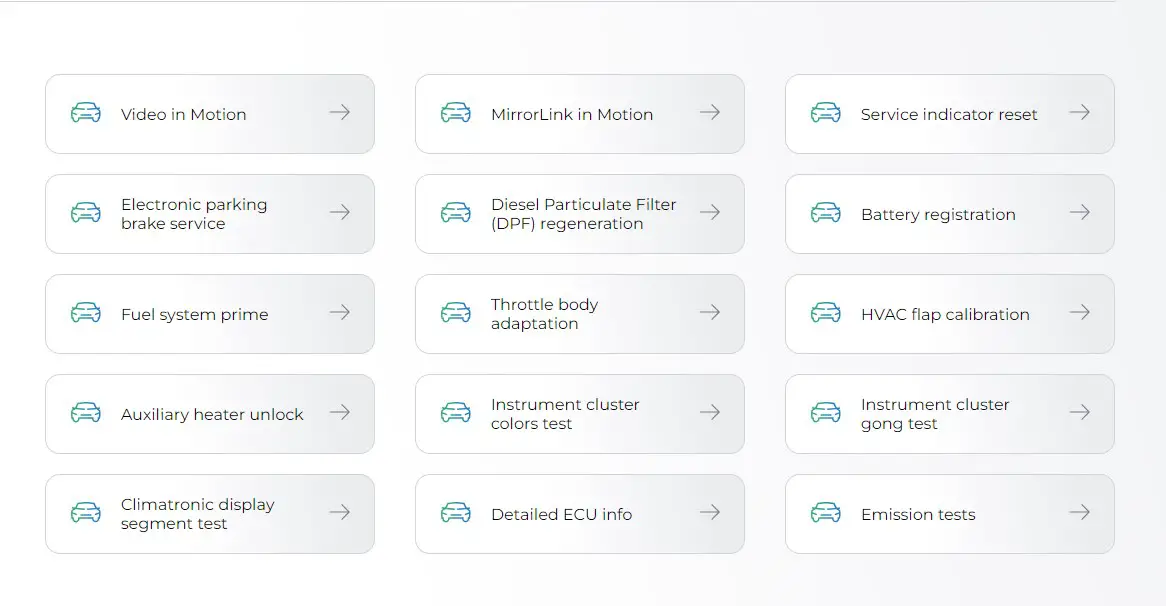 If you opt for OBDeleven, its service functions are quite similar to Carista and include:
Reset the oil service interval
Code a new car battery
Regenerate DPF 
Unlock EPB when changing brake pads
Calibrate the throttle body, etc.
Keep in mind that these service functions may vary depending on your car model. I recommend checking the company's website to see which features are supported for your specific car.
4. Coding
With Carista and OBDeleven, you can customize your car the way you want. But the way you perform this function on each scanner will be different.
Carista: There are pre-set coding options (free) in the app. All you need to do is click to change your car settings.
OBDeleven: It provides both pre-set coding options (credits needed) and long coding (no need for credits). The former is similar to Carista's, while the latter, long coding, allows you to manually customize your car.
Based on my real experience, OBDeleven has a more extensive range of coding options compared to Carista. 
If you enjoy performing various car coding tasks, OBDeleven would be a better choice. However, Carista remains a great option for those who want free coding and don't customize their cars frequently.
Nevertheless, it's important to highlight that Carista still offers a more coding options than other scanners available in the market.
5. Active test
Apart from coding, Carista only provides basic functions. It doesn't have advanced features like bi-directional control, which is available in OBDeleven.
Today's best Carista price:
Today's best OBDeleven price:
---
Carista vs. OBDeleven: Vehicle Coverage
Carista mainly works with European and Asian cars, and I don't see any support for American cars. 
However, recently Carista has announced plans to update their coverage for Ford vehicles, which gives me hope that other US cars will be supported in the future.
As for OBDeleven, it focuses on VAG cars such as Audi, Skoda, Volkswagen, and Seat. About half a year ago, OBDeleven introduced updates for BMW, MINI, and Roll-Royce cars. And recently, they also support all other car manufacturers, but note that the available functions are limited to engine diagnostics.
Today's best Carista price:
Today's best OBDeleven price:
---
Carista vs. OBDeleven: Subscription Plan
1. Carista
Although Carista's coding may not be as advanced as OBDeleven's, it still offers a wide range of coding options compared to other competitors. What I find most appealing is its subscription plan, which comes in three packages:
1-month: $10
3 months: $20
12 months: $50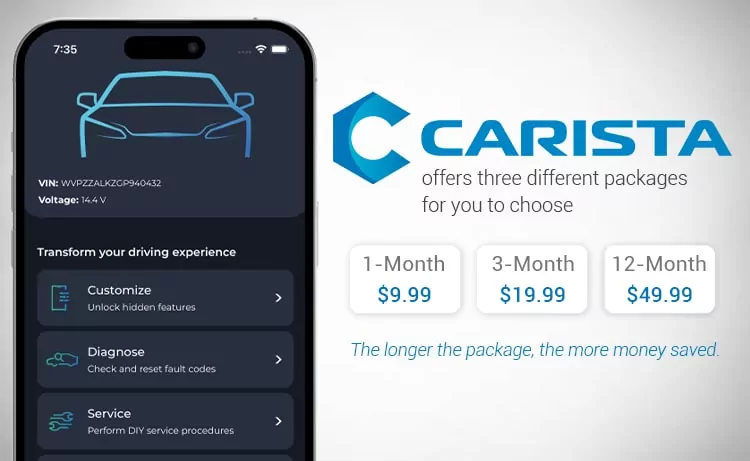 If you're someone who only customizes your car occasionally, I recommend going for the 1-month plan. In just one month, you can perform any coding you desire and then cancel the plan. Whenever you need to customize your car again, simply register for another 1-month package. At the affordable price of $10, I believe it's well worth the money.
2. OBDeleven
OBDeleven also offers three packages:
Free (included when buying the Next Gen adapter): This version already includes advanced features like full-system diagnostics, active tests, coding (credits needed) and more.
Pro ($56/year): In addition to the features in the Free version, the Pro version includes Long coding & adaptations.
Ultimate ($156/year): The Ultimate version provides all the functions available in the Pro version and offers unlimited credits for use.
Today's best Carista price:
Today's best OBDeleven price:
---
Carista vs. OBDeleven: After-sales Service
Both scanners provide a reliable 2-year warranty, giving you peace of mind in case of any adapter problems.
In terms of customer support, my experience with both companies has been decent. They respond to my questions fairly quickly, typically within 24 hours.
Today's best Carista price:
Today's best OBDeleven price:
---
Recommendations
In my view, Carista is a good scanner, but it's more of a basic one that focuses on car coding. It doesn't offer the same extensive access to your car's systems as OBDeleven does.
So, if you're looking for straightforward coding options, Carista is a suitable choice. On the other hand, if you desire a scan tool with dealership-level capabilities, OBDeleven would be the better option.