Traditionally, you'd rush to the mechanic when your check engine light comes up. But that needn't be the case anymore. With the help of car diagnostics apps, you can tell what's wrong with your car on your smartphone. Two of the best diagnostics apps on the market are Carista and OBDeleven.
And that's what today's topic is all about. We'll talk about everything, Carista vs. OBDeleven.
Let's compare the two products so you can tell their differences as we help you pick the one for your needs. You'll know what either app can achieve at the end of this topic.
Let's go.
Carista Vs. OBDeleven Complete Comparison Chart
Carista and OBDeleven are excellent car diagnostics apps for various vehicles. They are designed with the aim of helping you understand your car. All you need to do is download either app, connect to their OBD2 devices to get into the inner workings of your vehicle.
Let's find out the similarities and differences of the apps in the quick comparison chart below:
OBDeleven
Carista
Best Adapter 
Editor's Choice
OBDeleven Pro


VEEPEAK OBDCheck BLE+

Supported operating system 
iOS, Android
iOS, Android
OBD2 functions and enhanced codes
Read and clear fault codes
OE-level diagnostics
Freeze frame
Live data
Read and clear fault codes
OE-level diagnostics
Emission check
Live data
System diagnostics
All Systems
All Systems
No. of Advanced service functions 
10+
6+
Customization/ Coding 
✔
✔
Vehicle coverage
1996 and newer OBD2 compliant vehicles (basic diagnostics) VW, Audi, Seat, Skoda, and other VAG group vehicles.
1996 and newer OBD2 compliant vehicles (basic diagnostics) Audi, Lexus, Toyota, Volkswagen, Seat, Mini, BMW, and Skoda.
Carista Vs. OBDeleven: Similarities And Differences
Work With iOS And Android Devices
Both apps work on vehicles with an OBD2 port. These are cars made in January 1996 or later.
They are in the same price range, meaning the app and their perfect pairing devices come close at price.
Both applications pair with custom-made dongles that connect to the car's OBD2 port.
Still, Carista and OBDeleven work with Android and iOS devices.
OBD2 Functions And System Diagnostics
Carista and OBDeleven can perform basic diagnostics for any vehicle with an OBD2 port. These are all fault codes concerning the engine. They are also capable of resetting the check engine light after you've made the necessary repairs.
Both apps can perform manufacturer-level diagnostics. It means that they can get into the ABS, Airbag, transmission, lights, and other systems on a vehicle. However, this is a premium feature on Carista while free on the OBDeleven app.
Both apps can show you the freeze frame information and live PID data on supported vehicles. On the Carista app, the amount of live data is limited by how much the app supports the car.
To this end, OE-level diagnostics are limited to various car brands. On Carista, for example, it is compatible with BMW, Audi, Lexus, Mini, Toyota, and VW cars. On the other hand, OBDeleven allows full-system diagnostics on VW, Audi, Seat, Skoda, and other VAG group vehicles.
Advanced Service Functions And Reset Functions
On both apps, you will access various advanced service and reset functions. You can perform EPB reset, service indicator reset, DPF regeneration, battery registration.
Again, the number of services and reset functions are dependent on how much the scanner supports your vehicle.
Customization/Coding
Luckily, you can customize many features on a vehicle using both apps.
OBDeleven uses an APPS, a one-click system for making the changes you want. To use the APPS system, you will need to purchase credits. Essentially, the app gives you a simple solution to changing features instead of going through a complicated step-by-step process.
There are various types of coding ranging from long coding, coding II, sub-control units coding, gateway auto code, and many others. 
In contrast, Carista allows coding on supported vehicles as long as you have a premium subscription. You can change features such as the start/stop system or how the Welcome lights brighten. You only need to select a module and continue the steps for coding to complete new changes.
The main difference between the two scanners is the number of available codings for different car models. For example, Carista supports coding on BMW E and F series while OBDeleven supports coding on a few Lamborghini models.
Supported Protocols
Carista supports all five OBD2 protocols. These include ISO 15765-4, ISO-9141-2, KWP 2000-4, SAE J1850 PWM, and SAE J1850 VPW.
In contrast, OBDeleven supports ISO 9141-2, ISO 14230-4, and ISO 15765-4 (CAN, CAN-UDS) protocols. 
Supported Vehicles Years And Models
| | Carista  | OBDeleven |
| --- | --- | --- |
| Audi  | 2004+ | 1996+ |
| BMW  | 2003+ | - |
| Bentley  | - | 1998+ |
| Infiniti | 2007+ | - |
| Lamborghini  | - | 2003+ |
| Lexus  | 2007+ | - |
| Mini  | 2008+ | - |
| Nissan  | 2000+ | - |
| Scion  | 2008+ | - |
| Seat  | 2004+ | 1995+ |
| Skoda  | 2004+ | 1998+ |
| Toyota  | 2006+ | - |
| Volkswagen  | 2003+ | 1998+ |
Plans And Price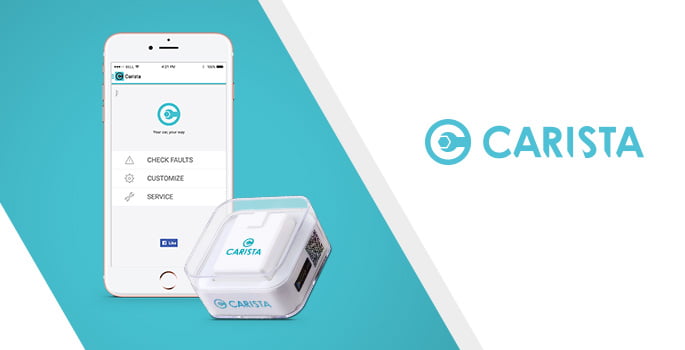 Installing both apps on your device is free. Remember that Carista and OBDeleven are compatible with both Android and iOS devices.
OBDeleven offers three plans. These are Basic, Pro, and Ultimate. You can access basic and advanced diagnostics, vehicle information, and battery information on the Basic plan. You'll not access advanced service functions, coding, freeze frame, and adaptation features, on the Basic plan. Plus, the Apps feature needs credits to use.
The Pro and Ultimate plans give you access to all features except for the raw data and OCA builder on the Pro plan. Still, you will need credits to access Apps on the Pro plan but not on the Ultimate plan.
The Basic plan is free, while the Pro plan asks for $28.65 yearly, whereas the Ultimate plan asks for $114.65. There are four OBDeleven compatible adapters. The OBDeleven Standard, which is the cheapest, will set you back $64.99, while the Ultimate is a high-end choice. It goes for approximately $259.99.
Carista has the option of a monthly subscription for $9.99, a three-month subscription for $19.99, or a yearly plan for $49.99. This apps gives you access to all premium features as long you have a paid subscription.
The Carista adapter goes for roughly $65.
Bonus: OBDeleven Standard: Bluetooth OBD2 VAG Car Scan Tool Review
Updates And In-App Purchases
Both apps have in-app purchases. You'll find out the various purchases because the apps prompt you to pay for a function if that particular feature is not covered in the subscription.
Weaknesses
The Basic plan on the OBDeleven can read codes, but it cannot clear them. Also, the app does not have a tutorial or guide on connecting the app and adapter. You'll need to check out their FAQ section if you have trouble using the app.
Carista does not work well on a device with other OBD2 apps. Some users have indicated that they had to uninstall all other apps on their phones because Carista tends to give an error message when there's more than one OBD2 app on their smartphones.
Which Is The Better App For My Car?
Carista is a budget-friendly option for car enthusiasts and DIYers. It provides detailed diagnostics and vehicle customization. This app also covers more vehicles than the OBDeleven, so home mechanics will find it beneficial.
Meanwhile, OBDeleven covers DIYers and professionals depending on the plan. If you only need to know why the engine light came up and have no interest in making changes to your vehicle's features, OBDeleven Basic is an excellent option. But if you want to make changes and access all systems, the Ultimate plan opens such capabilities.
The Adapters
Carista Adapters
The Carista app can pair with the Carista adapter or other third-party adapters such as the OBDCheck BLE+. Carista adapter can help diagnose, customize, and service supported vehicles. This adapter supports all the features of the Carista app.
On the other hand, OBDCheck BLE+ supports basic diagnostics on all vehicles when paired with the Carista app. However, on BMW, Toyota, Lexus, and Volkswagen vehicles, you'll be able to access OE-level diagnostics and personalize various features. 
VEEPEAK OBDCheck BLE+
OBDeleven Adapters
The OBDeleven app works exclusively with its proprietary adapters. These include the OBDeleven Starter, OBDeleven Standard, OBDeleven Pro, and OBDeleven Ultimate.
OBDeleven Starter is compatible with Android 5.0 devices and iOS 11.0 and above devices. It supports OE-level diagnostics, systems monitoring, and changing comfort features on VW, Audi, Skoda, Seat, Lamborghini, and Bentley vehicles.
The OBDeleven Standard is precisely for Android devices and is compatible with VW, Audi, Skoda, Seat, Lamborghini, and Bentley only.  It supports similar features as the Starter model. However, it can also perform oil reset and brake pads replacement.
OBDeleven Starter
OBDeleven Standard
Looking at the OBDeleven Pro, you can use it on Android and iOS devices. It comes with more advanced features like adaptation and long coding. The device still supports similar vehicles as the Starter, Standard, and Ultimate devices.
As for the OBDeleven Ultimate, you get a professional diagnostics scan tool that works with iOS and Android devices. This scanner provides advanced features for all VAG group vehicles. It gives you free access to One-Click applications, and it boasts the capability to create your own using the app's builder software.
OBDeleven Pro
OBDeleven Ultimate
Final Thoughts 
In summary, the Carista OBD2 app is an excellent choice for DIYers and home mechanics. It provides an easy way of diagnosing warning lights, servicing your car, and coding features. You'll be able to monitor real-time parameters, which will save you time and money.
Both professionals and DIYers will delight in the OBDeleven app. It can tackle simple diagnostics to complicated coding functions. Whatever your experience level, you'll find OBDeleven useful when you pair it with the ideal adapter.
Go on and pick the one that fits in with your needs. 
Cheers!
Read more: