Ever since OBDEleven came out, people have been comparing it a lot with VCDS. Enthusiasts and mechanics alike find both tools really useful for VAG cars, which makes it tough to decide between OBDEleven vs. VCDS.
In this article, I'll help you clear up the confusion and find the software that's perfect for your car repairs. 
I'll examine key similarities and differences between OBDEleven vs. VCDS.
Let's get started.
OBDEleven vs. VCDS: Full comparison chart

OBDeleven



VCDS


[10% OFF Code:
OBDADVISOR10]

FUNCTIONS
Full-system diagnostics

✅

✅

Service functions

✅

✅

Coding

✅

✅

Adaptations &
Basic settings

✅

✅

Active tests

✅

✅

VEHICLE COVERAGE
VAG vehicles

✅

✅

Other car
brands

✅

-

DESIGN & INTERFACE
Internet required

✅

-

Connection type

Bluetooth

Wifi & USB cable

Interface

User-friendly

Old-fashioned

PLAN
Annual subscription

✔

-

Numbers of
supported vehicles

Unlimited

3-10 VIN/
Unlimited (*)

AFTER-SALES SERVICE
Warranty

2 years

1 year

Customer support

9.0/10

9.0/10

Check price

Check Price
(*): If you choose Pro edition ($650-$1400), the number of supported vehicles will be unlimited.
---
Quick Summary: Key Similarities and Differences
OBDEleven and VCDS are two popular diagnostic tools for VAG cars. Both offer a wide range of features, but there are some key similarities and differences between them.
Similarities
Vehicle coverage: Both tools can be used to diagnose and repair a wide range of VAG cars, including Audi, Volkswagen, Skoda, and Seat.
Features supported: Both tools offer various features, including fault code reading and clearing, live data monitoring, coding & programming.
Differences
Interface and features: OBDEleven is a user-friendly tool, with a simpler interface and a wide range of one-click coding options. Meanwhile, VCDS is a powerful tool with more advanced features and capabilities. However, it is also very complex to use.
Operating system: OBDEleven is available for Android and iOS devices, while VCDS is only available for Windows computers.
---
OBDEleven vs. VCDS: Performance
1. Full-system diagnostics
Concerning diagnostics, both tools share some similarities. OBDeleven and VCDS offer the capability to scan codes from any available system on VAG cars.
When performing the scanning process, you'll have two options. The first option allows you to scan all systems, while the second option enables you to scan a specific selectable system.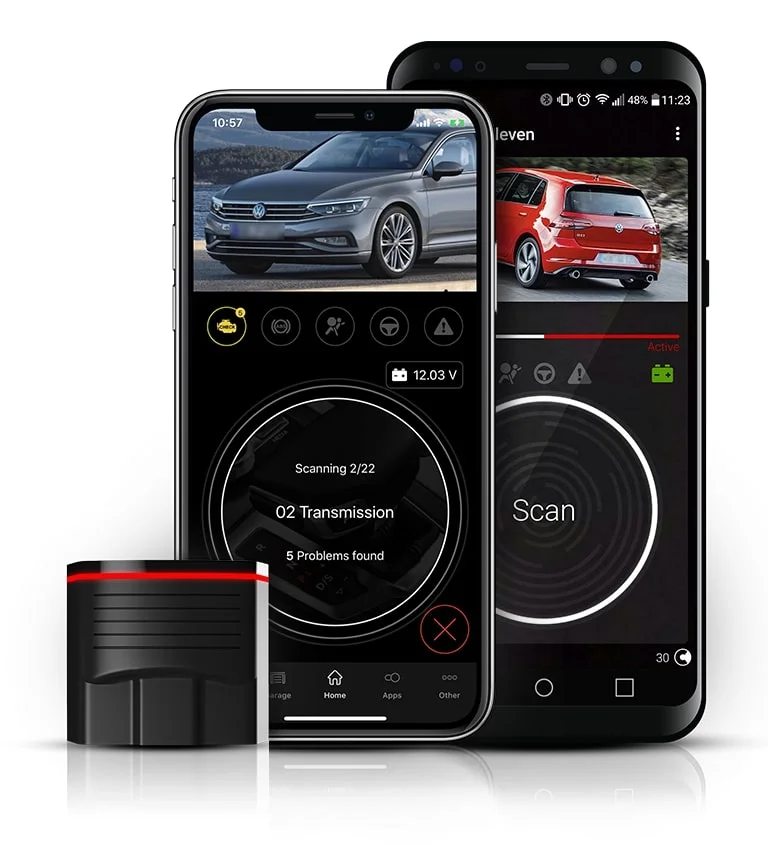 Regarding live data, VCDS provides real-time data viewing in two formats: text and graph. Meanwhile, OBDEleven currently supports live data in text only.
The refresh rates for both formats are highly responsive, particularly when you select an appropriate number of PIDs. 
However, it's crucial not to overload the system with too many PIDs, as this may slow down the refresh rate. From my experience, it's best to stick to a maximum of five PIDs to ensure the optimal refresh rate.
2. Service functions
OBDeleven has a slight advantage, offering various service functions. The number of these functions can vary depending on the specific vehicle model. For the car I tested, there are around 10, including:
Reset the oil service interval,
Code new car battery,
Force DPF regeneration,
Unlock EPB when changing the brake pads,
Calibrate throttle body, etc.
While VCDS may not have as many service functions as OBDeleven, it still supports some useful features like DPF regeneration, brake pad replacement, and resetting the service reminder.
3. Coding 
Both OBDeleven and VCDS support car coding, but they differ in how you perform this function.
VCDS requires you to have in-depth coding experience, which might be okay for car enthusiasts and professionals but could be tough for regular drivers who aren't familiar with coding.
On the other hand, OBDEleven is much easier to use. It offers two coding options:
Long coding is similar to VCDS but has a user-friendly interface. You can look up information on forums or ask other users for help. It doesn't cost any credits, but you need to use Pro or Ultimate version.
One-click apps (available in the Free plan and above) are even easier and save you time. All the coding options are pre-set, so you mostly just click "ON" or "OFF" or similar simple choices. 

Although both tools allow you to perform car coding manually, they differ significantly in their interfaces. 
In summary, VCDS is better suited for individuals with extensive coding knowledge. And OBDEleven is much more user-friendly for DIYers who want to make customizations to VAG vehicles with just a single click.
4. Adaptations and Basic Settings
VCDS is my preferred system for running Adaptations and Basic settings. Although OBDeleven also includes these features, it doesn't have all the options available for Basic Settings and Adaptations. So for professionals, that could be a factor you should consider.
For example, while OBDeleven can read the Roof Flap fault codes on an Audi TT Roadster, it can't handle the necessary Adaptation when the roof flap servo is replaced. VCDS, on the other hand, can perform both tasks without any issues.
If you need full support for Adaptations and Basic setting features, VCDS definitely outperforms OBDeleven.
5. Other functions
Both OBDeleven and VCDS have bi-directional control. They can read data from the car's (ECU) and also send commands to run tests on different components.
By doing so, you can figure out which component is causing the issue in a faster and more precise way.
Today's best OBDEleven price:
---
OBDEleven vs. VCDS: Vehicle Coverage
VCDS is specifically designed for VW/Audi vehicles and offers extensive coverage for these models. However, it cannot be used with non-VAG cars.
On the other hand, OBDeleven is compatible not only with VAG cars but also with other brands like BMW, MINI, Rolls-Royce, and various other car brands. 
Keep in mind that advanced features are primarily focused on VAG cars. For other brands, the supported functions may vary. 
For more details on supported functions based on your vehicle model, you can visit OBDeleven's website.
If you have cars from different brands besides VAG, OBDeleven is a good choice for extensive coverage.
Today's best OBDEleven price:
---
OBDEleven vs. VCDS: Design & Interface
1. Connection type
VCDS offers two connection options: Wifi and USB cable. Opting for Wifi won't restrict your mobility while choosing the USB option ensures a stable connection. 
On the other hand, OBDeleven uses Bluetooth, and from my experience, the connection remains consistently stable without any interruptions during use.
2. Internet required
The OBDeleven app is user-friendly and convenient on a smartphone. However, it relies on a cellular or internet connection to function. This could be problematic for those living in areas with unreliable access or ending up in remote locations.
In contrast, VCDS connects directly to the vehicle using a laptop (PC), and it doesn't need any internet access at all.
---
OBDEleven vs. VCDS: Price
1. OBDEleven
If you choose OBDeleven, you need its special adapter called the Next Gen device. Once you have the adapter, you can choose from three different plans to get started.
Free (included in the purchase price): for beginners who don't have knowledge about coding, and want to save time.
Pro ($56/year): for DIYers with basic automotive skills and knowledge who want to save money.
Ultimate ($156/year): for DIYers or experienced enthusiasts who want to save time and use it on family and friends' cars.
With OBDeleven, there's no limit to the number of vehicles you can use with the scanner. You can use it on as many vehicles as you like.
2. VCDS 
VCDS doesn't have subscription plans. Instead, it divides its product into Professional and Enthusiast versions, each with different price ranges and sets of features.
Professional is meant for mechanics or repair shop owners who want to work on multiple VAG vehicles, while the Enthusiast is meant for drivers and enthusiasts who only want to use it on a couple of vehicles.
Each product includes VCDS software, but the number of vehicles it supports differs as I listed below.
Product
Price
Pro
Premium Professional Kit
$1,299/lifetime (Unlimited VIN)
Professional Kit
$899/lifetime (Unlimited VIN)
HEX-NET Professional
$599/lifetime (Unlimited VIN)
Enthusiast
HEX-NET Enthusiast
$449/lifetime (10 VINs)
HEX-V2 Enthusiast
$199/lifetime (3 VINs) – $299/lifetime (10 VINs)
Today's best OBDEleven price:
---
OBDEleven vs. VCDS: After-sales Service 
VCDS offers a lot of customer support, including a Ross-Tech Wiki with a huge list of DTCs and a forum where you can get help with any issues.
OBDeleven also has a forum, but in my opinion, the VCDS community is larger and more active.
That's why you'll find plenty of how-to videos for VCDS. But don't worry, there are many tutorial videos for OBDeleven, too.
As for updates, both VCDS and OBDeleven regularly update their software to cover newer car models and add new features. 
For instance, OBDeleven, which used to be limited to VAG car brands, has now expanded to work with other car brands as well.
Today's best OBDEleven price:
---
Recommendations
I won't pick a winner between OBDEleven and VCDS; I just want to show you which one best meets your needs.
Choosing which one depends on your level of depth and understanding.
VCDS is the ultimate choice for professionals or shop owners who mainly work on VAG vehicles.
OBDEleven offers a more polished UI and executable coding & adaptation functions, which is suitable for most enthusiasts or DIYers.
In short, VCDS is a workshop tool, and OBDeleven is for private or personal use.