What Is ELM327?
ELM327 can be described as an OBD2 microcontroller that transmits data between OBD2-compliant vehicles and computer devices. It translates and relays data from the car's Electronic Control Unit (ECU) to a Windows, Mac OS, Android or iOS device. In other words it lets you run on-board diagnostics straight from your PC, smartphone or tablet.
Up until the mid-90s, every car manufacturer had their own OBD standards and protocols. Professional and DIY auto mechanics had a rough time keeping up with the ever-changing technology. To make matters worse, OBD tools were too expensive for shade-tree technicians and DIYers.
Those that were remotely affordable offered very little service. Most of them couldn't display PIDs or do anything beyond pulling trouble codes. However, in 1996, the OBD2 standard was introduced.
With it came low-cost OBD tools that bridged the diagnostic gap for car owners, DIYers and even professional mechanics. Among the many types of devices is the ELM327 microcontroller.
What Is An ELM327 Interface?
Although ELM Electronics makes the chips that ELM327 devices run on, other companies take those chips and use them to make ELM327 adapters. Each of those adapters is what is called an ELM327 interface.
It's called an interface because it acts as a link between a vehicle's on-board computer(ECU) and your external computer (smartphone, tablet or PC). With it you can view real-time data from the ECU, run some diagnostics and read/clear codes that are associated with the Check Engine Light.
Generally, an ELM327 interface operates based on three sub-parts. The first is the ELM327 chip. This is an integrated circuit that's rated at 4MHz. It is the brain behind the whole device onboard its purpose is to convert data from the ECU to a format that can be understood by modern computing devices.
The second sub-part is the set of electric voltage adaptors. Their primary function is to identify the various on-board systems of a car using their unique voltage properties. For example, an ELM327interface is able to distinguish the EVAP system from the fuel system using its electric voltage adaptors. They are usually given as protocols like CAN, K/L or PWM/VPN.
Finally, there is a set of voltage adaptors for PC. These ones make it possible for an ELM327 adapter to adapt its electrical levels to those of a computer device (PC, smartphone or tablet). By doing so the adapter and the computer can successfully communicate.
What Functions Can ELM327 Offer?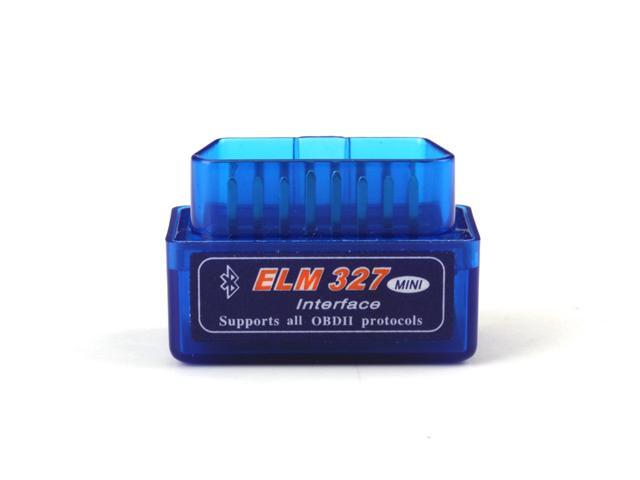 I have mentioned from a general point of view that ELM327 allows you to view real-time data from the ECU, run some diagnostics and read/clear codes. I should add that as an OBD2 adapter, ELM327 works with a diagnostic app/software.
What you do is that you install the app/software on your smartphone/tablet/PC and use it as a diagnostic platform.The exact range of functions that you will get depends on the app or software you are using. I will talk more about that later in this post, but for now here are the most common functions of ELM327:
Diagnostic Trouble Codes (DTCs)
As a bi-directional diagnostic tool, ELM327 allows you to read and clear generic as well as manufacturer-specific codes. You can view the definition of each code and determine whether the problem needs you to take the car to the shop or if you can handle it the DIY way. Note that when you clear ECU codes you can turn off the Check Engine Light (CEL).
Diagnostic Data
In addition to codes, you can view PIDs and emission data. PIDs are graphical representations of sensor data. By observing them you can tell whether your car's on-board systems are performing normally or if there's an abnormality that requires your attention. Emission data, on the other hand, indicates whether the car will pass federal and state smog tests.
Live Data
Diagnostic data is great for pinpointing problems. Live data, on its part, shows you the performance of your car. ELM327 provides real-time data that you can use to analyze things like engine performance and fuel economy. Here's a list of the live data that you can view:
• Absolute Throttle Position
• Air Fuel Ratio
• Average Trip Speed
• Barometric Pressure
• Command Equivalence Ratio
• CO2 Emissions
• Distance Traveled Since Clearing ECU Code
• EGR Commanded
• Engine Coolant Temperature
• Engine Load
• Engine RPM
• EVAP System Vapor Pressure
• Fuel Cost
• Fuel Level
• Fuel Rail Pressure
• Fuel Used (trip)
• GPS Altitude
• GPS Latitude
• GPS Satellites
• Intake Air Temperature
• Kilometers Per Liter
• Miles Per Gallon
• O2 Volts
• Relative Throttle Position
• Speed
• Timing Advance
• Transmission Temperature
• Trip Average MPG
• Trip Time
• Voltage (Control Module)

• Accelerator Pedal Position
• Ambient Air Temperature
• Barometer
• Catalyst Temperature
• Cost Per Mile
• Distance to Empty Fuel Tank
• Distance Traveled with Check Engine Light On
• EGR Error
• Engine kW
• Engine Oil Temperature
• Ethanol Fuel Percentage
• Exhaust Gas Temperature
• Fuel Flow Rate
• Fuel Pressure
• Fuel Trim Bank
• GPS Accuracy
• GPS Bearing
• GPS Longitude
• Horsepower
• Intake Manifold Pressure
• Mass Air Flow
• O2 Sensor
• Relative Acceleration Pedal Position
• Run Time Since Engine Start
• Throttle Position
• Torque
• Trip Average KPL
• Trip Distance
• Turbo Boost and Vacuum Gauge
• Volumetric Efficiency

Data Management
You can log both diagnostic data and real-time (live) data to your phone, tablet or PC. ELM327 gives you the option to receive the data via Text file or email. However you prefer, you can share it with people who understand diagnostics better in case you need someone else's opinion.
What Protocols Are Supported By ELM327?
ELM327 is not the only ELM interface around. Its predecessors, the ELM320, ELM322 and ELM323 are still very much available for purchase and use. However, the 327 version is the most popular because it supports all OBD2 families of protocols.
ELM320 supports only one type of protocols; the PWM. The same goes for ELM322 and ELM323 which only support VPN and KWP protocols respectively. On its part, ELM327 is fully compatible with all types of protocols.
More specifically, it works with CAN, KWP, PWM, and VPN. That translates to all OBD2 protocols. Here's the list:
ISO 15765-4 CAN (11 bit, 500 kbit/s)
ISO 15765-4 CAN (29 bit, 500 kbit/s)
ISO 15765-4 CAN (11 bit, 250 kbit/s)
ISO 15765-4 CAN (29 bit, 250 kbit/s)
ISO 14230-4 KWP (5 baud init, 10.4 kbit/s)
ISO 14230-4 KWP (fast init, 10.4 kbit/s)
SAE J1850 PWM (41.6 kbit/s)
SAE J1850 VPW (10.4 kbit/s)
ISO 9141-2 (5 baud init, 10.4 kbit/s)
SAE J1939 (250kbit/s)
SAE J1939 (500kbit/s)
To put it simply, ELM327 is compatible with practically all OBD2 cars that are made or sold in the US. So, as long as your car is not a 1995 or older model you may use an ELM327 adapter for its diagnostics.
How To Use ELM327
Although you may find some ELM327 interfaces that differ in shape, size, and design, they generally follow the same procedure for connection and use. Start by plugging your ELM327 adapter to your car's OBD2 port.
From there connect the interface to your phone, tablet or PC. The older ELM327 adapters use a serial port but newer models use either Wi-Fi, Bluetooth or USB. Later on I'll explain more on these connections and the pros and cons of each.
Make sure that the phone, tablet or PC that you're using already has anELM327 app or ELM327 software installed. These are basically OBD2 apps or software that help you run diagnostics. I'll talk more about them as well, so read on to find out how they work.
Once you have made those two connections (to the car and to your computer device) run the OBD2 application. Next, start the car's ignition and ensure that the engine indicator is lit (on the dashboard). Most ELM327 software will connect automatically or at least they will ask you to connect.
From there you can start collecting data from the ECU while viewing them on your phone or PC. Be sure to observe the LEDs on the ELM327 adapter.
The red LED indicates that the adapter is powered on. On the other hand, the yellow LED is referred to as Tx OBD. It flashes to indicate that there is data transfer from the ELM327 interface to the car's ECU and from the computer device to the interface. When the green LED (also known as Rx OBD) flashes it indicates that there's data transfer from the ECU to the interface. It also flashes when data are transmitted from the interface to the computer device.
EL327 Adapter:
There are four types of ELM327 adapters. This classification is based on how they connect to a PC or mobile device
ELM327 Wi-Fi
Although they are the most expensive type, ELM327 adapters that use Wi-Fi are compatible with more devices. They work with PCs, smartphones and tablets that support Wi-Fi connections. If you currently use an iPhone or iPad then these ELM327 interfaces make the best pick for you.
These three are particularly excellent at diagnostics:
1. Kitbest OBD2 Adapter
Kitbest is compatible with all OBD2 cars and light trucks. It supports 5 of the main OBD2 protocols; i.e. CAN, ISO9141-2, J1850 VPW, J1850 PWM and KWP2000.
Besides reading and clearing codes, this ELM327 Wi-Fi can display live sensor data from the ECU. It, however, only works on Android and Windows devices. That means iOS and Mac OS users can't use it.
2. Wieppo ELM327 Wifi Adapter
The best thing about the Wieppo Wi-Fi adapter is its compatibility with devices. It works with iOS, Mac OS, Android and Windows phones, tablets and PCs. In short, it doesn't matter what device you use, it will pair without a problem.
The only condition is that your car must be a gas-powered OBD2 model. That's because this adapter doesn't work with diesel-powered cars or hybrids. It support the same five OBD2 protocols as the Kitbest above (CAN, ISO9141-2, J1850 VPW, J1850 PWM and KWP2000). In terms of functionality, you can read/clear ECU codes and also view live sensor data
Wsiiroon ELM327 Adapter
Wsiiroon is nearly as impressive as the Wieppo adapter in device compatibility. It works with all phones, tablets and PCs save for computers that run Mac OS. Therefore, you can use it with an iOS, Android or Windows device that supports Wi-Fi connectivity.
As you would expect, this ELM327 allows you to pull and clear ECU codes and thus turn off the CEL. Besides that, it can display live sensor data that show fuel economy and vehicle performance
ELM327 Bluetooth
Like the ELM327 Wi-Fi, ELM327 Bluetooth has the advantage of wireless connectivity. You can move around your workstation as much as possible when running diagnostics. Plus ELM327 adapters that use Bluetooth are fairly inexpensive.
The downside is that most of them are not compatible with iOS devices. iPhones, iPads and iPads have a different way of handling the Bluetooth stack. So, unless you're willing to jailbreak the phone or tablet you won't be able to use an ELM327 Bluetooth with your iOS device.
Otherwise, if you have an Android or Windows device the two will work perfectly. Here are three of the best ELM327 Bluetooth adapters for your consideration:
ELM327 Mini
This Mini Bluetooth ELM327 interface is primarily designed for Android devices but it also works on Windows OS. Its however not compatible with iOS or Mac. Despite that, the tiny device offers great service in reading and clearing trouble codes. You can also use it to monitor various parameters in real-time.
Kobra OBD2 Scanner
Like the Mini above, Kobra's Bluetooth ELM327 adapter doesn't work with iOS or Mac devices. It's only designed to be compatible with Android and Windows operating systems.
If it's compatible with your phone, tablet or PC you can use the Kobra Bluetooth ELM327 interface to turn off the Check Engine Light and monitor live sensor data.
Vgate iCar Pro
At its basic functionality the VgateiCar Pro ELM327 adapter allows you to reset the CEL and view live sensor data. Depending on the ELM327 app you're using, you may be able to perform extra functions live viewing freeze frame data and running emission tests.
In terms of compatibility, the iCar Pro covers all OBD2 vehicles. It works with both iOS and Android. The only OS left out is Windows (at least as far as mobile devices are concerned).
ELM327 USB
The biggest benefit of using an ELM327 USB adapter is that all PCs have a USB port. You may not be able to use it with your iPhone, iPad or Android-based smartphone/tablet but at least you can use it with virtually all desktop and laptop computers.
That makes it ideal for people who are not looking for ultimate mobility and don't mind dealing with a USB cable. Top on the list of ELM327 USB adapters is OHP ELMconfig OBD2 Interface. With an impressive transfer speed of 500kbit/s, the adapter allows you to run basic and a few advanced diagnostics of all OBD2-compliant Ford and Mazda vehicles.
It doesn't just read codes and live data, it also supports DPF regeneration, component activation and service reset.
ELM327 RS232
ELM327 RS232 or ELM327 Series adapters are hard to come by these days because they are being phased out in favor of USB, Bluetooth and Wi-Fi interfaces. That said, if you get your hands on one you may still be able to pull and clear codes from the engine as well as view live data.
OS Compatibility of ELM327 Wi-Fi, Bluetooth, USB & RS232
| | | | | |
| --- | --- | --- | --- | --- |
| | Windows (PC) Software | Mac OS Software | Android App | iOS App |
| ELM327 RS232 | Yes | Yes | N/A | N/A |
| ELM327 USB | Yes | Yes | N/A | N/A |
| ELM 327 Bluetooth | Yes | N/A | Yes | N/A |
| ELM327 Wi-Fi | Yes | Yes | Yes | Yes |
ELM327 Apps: What Are the Best Ones For iPhone Or Android?
ELM327 adapters are not stand-alone devices. They are basically dongles that pair with a computer device in order to run diagnostics. If you are using a phone or tablet then your device needs to have an ELM327 app before you can do anything with an ELM327 interface.
So what are the best ELM327 apps on the market right now? Below is a brief look at the apps that work best on iOS and Android devices.
ELM327 Apps for iPhone
Car Scanner ELM OBD2
Car Scanner ELM OBD2 works with all OBD2-compliant vehicles. It connects to mobile devices via Bluetooth and Wi-Fi, which makes it perfect for mobility. More importantly, this app features diagnostic functions, a trip guide and car performance tracker.
With it you can view and clear engine codes. By doing so it allows you to turn off the Check Engine Light. Each code comes with a description thanks to the rich library of code definitions.
Additionally, the app displays tons of data, including custom PIDs, Mode 6, emission readiness status and live sensor data. The latter is presented as gauges that you can use to view the performance and fuel efficiency of your car.
Download Car Scanner ELM OBD2
OBD Auto Doctor
Compared to other ELM327 apps, OBD Auto Doctor is perhaps the best at information gathering and reporting. Besides reading and clearing ECU codes, this application can pull a car's VIN, CVN, freeze frame data, emission status and live data.
While the ability to reset the CEL is the highlight of this app, its live data is just as important. With it you can know how your engine is performing. Additionally, it helps you plan better thanks to its fuel economy gauges that show things like the amount of gas remaining, distance to empty, miles per gallon and so much more.
Download OBD Auto Doctor
Carista OBD2
Carista is one of the most popular OBD2 apps out there, and rightfully so. It not only allows you to read/clear ECU trouble codes and turn off the Check Engine Light, but it also supports checking of other systems.
More specifically, you can read and erase codes from the SRS and ABS systems. With the premium version of the app you can also do service reset, EPB retraction and TPMS functions
Download Carista OBD2
ELM327 Apps for Android
Torque Pro
Torque Pro can read and clear both current and pending trouble codes from the engine. In other words it can help you determine the cause of the Check Engine Light and even turn off the light.
On top of that, this ELM327 app monitors sensors, including the very important O2 sensors. With data from those sensors you will know whether your car will pass federal and state emissions.
One of the standout features of Torque Pro is that it has a built-in dynamometer for displaying live data. Some of the information that you will get include torque, horsepower, fuel trim, RPMS, transmission temp and many more that show your car's efficiency and fuel economy.
Download Torque Pro
OBD Fusion
OBD Fusion offers three main functions. First it allows you to turn off the Check Engine Light by reading and clearing engine trouble codes.
Secondly, the app has a built-in fuel economy monitor that helps you plan your trips. It shows such information as amount of fuel, miles per gallon, distance to empty and so much more.
Finally, OBD Fusion offers tons of gauges and graphs that show you how your car is performing in real-time. You can view information like mass air intake, RPM, acceleration, speed, engine temp etc.
Download OBD Fusion
DashCommand
DashCommand excels at three things. The first is reading and clearing engine codes. With a built-in database of code definitions, you can use the app to turn off the Check Engine Light.
Secondly, DashCommand is an excellent monitoring tool for your fuel economy and car performance. It has gauges that display fuel flow rate, fuel level, amount of fuel left in tank, time to empty, distance to empty, torque, braking, acceleration, engine speed, boost vacuum etc.
Finally, this ELM327 app works as an emission status monitor. It lets you run I/M readiness tests to determine whether your car will pass emission checks.
Download DashCommand
How about ELM327 software for PC?
If you would rather use your ELM327 adapter with a PC you can do so thanks to the multiple OBD2 software that work seamlessly with ELM327. Many developers have created OS-specific diagnostic software that caters for users of Windows, Mac OS X, Linux and pretty much any other operating system.
OBD2 Software for Windows
FORScan
FORScan is compatible with all versions of Windows starting from Windows 2000 all through Windows 10. This ELM327 covers Ford, Lincoln, Mazda and Mercury cars and light trucks.
With it you can read and clear generic as well as manufacturer-specific codes that are related to the engine. As such, it allows you to reset the Check Engine Light.
Additionally, the software can read sensor data and display it either as text or PIDs. It supports service procedures as well as test diagnostic procedures.
EngineCheck
EngineCheck also works on Windows 2000 and all newer versions of the OS.Contrary to FORScan that's only compatible with a few brands of cars, this particular ELM327 software covers all gas-powered cars that were manufactured from 2001 and diesel cars that were made from 2004.
In terms of functionality, EngineCheck allows you to read and clear engine codes. It therefore makes it possible to reset the Check Engine Light. Additionally, the software can display freeze frame data, live sensor data, on-board test completion status and fuel system status.
Freediag
freediag is a bit different from other ELM327 software for Windows. Why do I say so? Because currently it only supports a command line interface (CLI). If you know your way around CLI you'll find this software quite interesting.
It's primarily designed to diagnose and reset the Check Engine Light. It can do so on virtually any OBD2-complaint car. In total, this software supports 5 main protocols (ISO 9141, ISO 9141-2, ISO 14230, SAE J1850 (PWM and VPW) and SAE J2818/KWP1281/VAG) as well as the Mercedes Gearbox Protocol.
OBD2 Software for Mac OS X
Goserial
Goserial is a nice little OBD2 software that's completely free. It's basically a terminal interface that lets you read and clear Check Engine Light and emission-related codes. You can use goserial on any Apple computer running Mac OS X 10.4 or a newer version
ELM327 Firmware
One thing that confuses many ELM327 buyers and users is the firmware version used. To date there are only 12 official versions, namely 1.0, 1.0a, 1.1, 1.2, 1.2a, 1.3, 1.3a, 1.4,1.4b, 2.0, 2.1 and 2.2.Although all the versions are still in circulation, the most common are v1.3 all through v2.2.
Unless you're an advanced user of ELM327 diagnostic tools, chances are you won't be able to tell the difference between these versions. They all have the same basic diagnostic functions. However, like most other techtools, the newer the version the more stable it will be
Watch Out For Clones and Fakes
There are several cloned and fake versions of the original ELM327. What happened is that when ELM Electronics first introduced v1.0 they did not copy protect it. As a result, many different unofficial versions have been created by other manufacturers and made available for users.
While some clones are fairly stable, others are worryingly buggy. Even so, your best bet is sticking with the official versions of ELM327. Do not be tempted to pick a version that sounds like "the latest".
For example, there are some manufacturers who claim to have upgrade the code used in v1.4. Those manufacturers went ahead and released v1.4a and v1.5. In truth both v1.4a and v1.5 are in fact copies of v1.2 masquerading as newer versions. So if you buy them you'll likely get a device that still has the same bugs and issues associated with v1.2.
Are There Drawbacks To Using ELM327?
ELM327 interfaces are generally cost-effective and easy to use. As a matter of fact they give fully-fledged scan tools a serious run for their money what with their ability to display handy data like codes, PIDs, live sensor data etc.
However, ELM327 interfaces don't always make the ideal choice. For example, they must be paired with a mobile device or PC to work. If you would rather have a stand-alone scan tool then ELM327-based tools won't be your favorite.
Besides, they only work with OBD2 vehicles. That locks out all car owners, enthusiasts and technicians who own or frequently work on OBD1-compliant cars.
FAQs About ELM327
Start by plugging the ELM327 adapter to your car's OBD2 port. Turn the ignition on without starting the engine. Go to your phone or tablet and turn Bluetooth or Wi-Fi on (depending on which of those the ELM327 interface uses). Search for the adapter and connect with your phone to pair. Note that the name of the adapter depends on its make and model.
How do I get ELM327 to work?
Make sure your car's ignition is on. Pair the scanner with your computing device that has a diagnostic app/software. It will automatically communicate with the ECU and display diagnostic data via the app/software.
Can I upgrade my ELM327 version?
No, you cannot. If you want a newer version you have to buy a new ELM327 interface.
My ELM327 adapter's power light keeps flashing and it won't connect with my phone. What do I do?
The interface is defective. Return for replacement or buy a new interface.
Where should I buy my ELM327 interface?
Amazon has the best deals on the web. Check the recommendations we have given above and pick an interface that suits your needs.