Looking for a genuine Bluetooth, Wifi, or USB ELM327 OBD2 adapter for your car? Don't buy any of them before reading this guide.
An ELM327 interface serves as a connector that lets you connect your car to computers, tablets, and smartphones. You can connect your vehicle to any Android, Windows, or iOS device with the help of an ELM327 adapter.
Today I'm gonna show you the basics of ELM327 (in case you want to know about it before buying) and review the best ELM327 OBD2 adapters in the market 2023.
ELM327: The basics
What is ELM327?
Although ELM Electronics makes the chips that ELM327 devices run on, other companies take those chips and use them to make ELM327 adapters. Each of those adapters is what is called an ELM327 interface.
It's called an interface because it acts as a link between a vehicle's onboard computer (ECU) and your external computer (smartphone, tablet, or PC). With it, you can view real-time data from the ECU, run some diagnostics, and read/clear codes that are associated with the Check Engine Light.
Generally, an ELM327 scanner operates based on three sub-parts. The first is the ELM327 chip. This is an integrated circuit that's rated at 4MHz. It is the brain behind the whole device onboard its purpose is to convert data from the ECU to a format that can be understood by modern computing devices.
The second sub-part is the set of electric voltage adaptors. Their primary function is to identify the various on-board systems of a car using their unique voltage properties. For example, an ELM327 scanner is able to distinguish the EVAP system from the fuel system using its electric voltage adaptors. They are usually given as protocols like CAN, K/L or PWM/VPN.
Finally, there is a set of voltage adaptors for PC. These ones make it possible for an ELM327 adapter to adapt its electrical levels to those of a computer device (PC, smartphone, or tablet). By doing so the adapter and the computer can successfully communicate.
Bonus: The 9 Best OBD2 Scanners for 2023: The Only Review You Need
Bluetooth Vs. Wi-Fi Vs. USB ELM327 interface: Which should I go for?
ELM327 OBD2 adapters offer an easy way of scanning a vehicle's systems. 
There are three types of ELM327 interfaces: Bluetooth, Wi-Fi, and USB. 
Bluetooth ELM327 adapters transmit radio waves between a car and compatible ELM327 OBD2 adapters. They are a low-cost way for DIYers to read codes and transfer files because no plug-in wires are needed. 
Very little data is transferred over the ELM327 interface, so speeds are irrelevant. However, most generic ELM327 Bluetooth adapters fail to pair with iOS devices. That's why, if you have an Apple product, you are better off with Wi-Fi ELM327 adapters.
USB ELM327 adapters are preferred since the technology is faster than Bluetooth and Wifi for file transfer and read/report speeds. 
Wi-Fi speed can be affected by the application using it, by network interference, by the receiver in the appliance, or the power of the router creating the connection. 
While Wi-Fi is perfect for iOS gadgets, Android devices can't stay connected to the internet when the ELM327 interface is connected. As such, you are stuck with Bluetooth connectivity if you want to use mobile data and the interface simultaneously. 
USB ELM327 adapters are only ideal if you are concerned about power consumption or you prefer to use a package of powerful ELM327 OBD2 software on your Windows laptop. USB scan tools are also quite slow since they slow down their speed even when connecting via a two USB 3.1 cable. 
Speed lowers further when using a long cable. Users are recommended to use a cable that's up to 16ft. in length. 
As for stability, USB devices are considered the best since they don't have a wireless radio. They also offer the most compatible connection between tablets, PCs, and smartphones. Wi-Fi scan tools are susceptible to failed connections, the same as Bluetooth devices.
What does it offer me?
I have mentioned from a general point of view that ELM327 allows you to view real-time data from the ECU, run some diagnostics and read/clear codes. I should add that as an OBD2 adapter, ELM327 works with a diagnostic app/software.
What you do is that you install the app/software on your smartphone/tablet/PC and use it as a diagnostic platform.The exact range of functions that you will get depends on the app or software you are using. I will talk more about that later in this post, but for now here are the most common functions of ELM327:
Diagnostic Trouble Codes (DTCs)
As a bi-directional diagnostic tool, ELM327 allows you to read and clear generic as well as manufacturer-specific codes. You can view the definition of each code and determine whether the problem needs you to take the car to the shop or if you can handle it the DIY way. Note that when you clear ECU codes you can turn off the Check Engine Light (CEL).
Diagnostic Data
In addition to codes, you can view PIDs and emission data. PIDs are graphical representations of sensor data. By observing them you can tell whether your car's on-board systems are performing normally or if there's an abnormality that requires your attention. Emission data, on the other hand, indicates whether the car will pass federal and state smog tests.
Live Data
Diagnostic data is great for pinpointing problems. Live data, on its part, shows you the performance of your car. ELM327 provides real-time data that you can use to analyze things like engine performance and fuel economy. Here's a list of the live data that you can view:
Data Management
You can log both diagnostic data and real-time (live) data to your phone, tablet or PC. ELM327 gives you the option to receive the data via Text file or email. However you prefer, you can share it with people who understand diagnostics better in case you need someone else's opinion.
What Protocols Are Supported By ELM327?
ELM327 is not the only ELM interface around. Its predecessors, the ELM320, ELM322 and ELM323 are still very much available for purchase and use. However, the 327 version is the most popular because it supports all OBD2 families of protocols.
ELM320 supports only one type of protocols; the PWM. The same goes for ELM322 and ELM323 which only support VPN and KWP protocols respectively. On its part, ELM327 is fully compatible with all types of protocols.
More specifically, it works with CAN, KWP, PWM, and VPN. That translates to all OBD2 protocols. Here's the list:
ISO 15765-4 CAN (11 bit, 500 kbit/s)
ISO 15765-4 CAN (29 bit, 500 kbit/s)
ISO 15765-4 CAN (11 bit, 250 kbit/s)
ISO 15765-4 CAN (29 bit, 250 kbit/s)
ISO 14230-4 KWP (5 baud init, 10.4 kbit/s)
ISO 14230-4 KWP (fast init, 10.4 kbit/s)
SAE J1850 PWM (41.6 kbit/s)
SAE J1850 VPW (10.4 kbit/s)
ISO 9141-2 (5 baud init, 10.4 kbit/s)
SAE J1939 (250kbit/s)
SAE J1939 (500kbit/s)
To put it simply, ELM327 is compatible with practically all OBD2 cars that are made or sold in the US. So, as long as your car is not a 1995 or older model you may use an ELM327 adapter for its diagnostics.
Does it have any drawback?
ELM327 interfaces are generally cost-effective and easy to use. As a matter of fact they give fully-fledged scan tools a serious run for their money what with their ability to display handy data like codes, PIDs, live sensor data etc.
However, ELM327 interfaces don't always make the ideal choice. For example, they must be paired with a smartphone or PC to work. If you would rather have a stand-alone scan tool then ELM327-based tools won't be your favorite.
Besides, they only work with OBD2 vehicles. That locks out all car owners, enthusiasts and technicians who own or frequently work on OBD1-compliant cars.
So, we've walked through the basics of ELM327.
Let's find out the best ELM327 adapter for your car.
---
---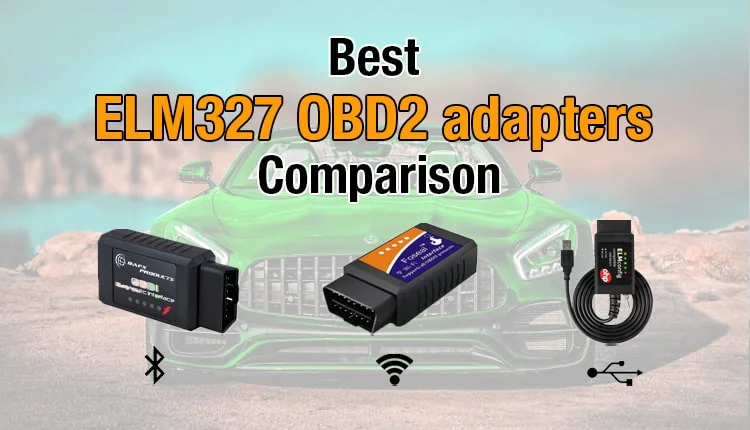 It's time to pick your adapter.
Choose the type you want and go!!
Best ELM327 OBD2 Adapters Comparison Chart (Editor's Picks)
Top 3 Genuine Bluetooth ELM327 Adapters 
ELM327 OBD2 Bluetooth scanners are small, plastic devices that plug into the OBD2 port and link to a tablet or smartphone via Bluetooth.
The job of an ELM327 OBD2 Bluetooth adapter is to wirelessly transmit data from a vehicle's OBD2 system to the connected device, where that data is processed and presented by the scan tool's manufacturer's control app.
A Bluetooth ELM327 unit is highly dependent on the quality of the app's software that you pair it with.
1. VEEPEAK OBDCheck BLE+
This budget-friendly Veepeak device is as good as the app you pair it with. It opens up lots of capabilities for DIYers and home mechanics.
OBDCheck BLE+ not only reads and clears the engine lights but also checks manufacturer-specific systems. The only thing you need is a good app like OBD Fusion to access enhanced diagnostics. The device can pair with both iOS and Android smartphones and tablets.
Apart from reading diagnostics codes, this device lets you use Mode 5 to view oxygen sensor results. It also has Mode 6 for seeing onboard diagnostics monitors. It allows you to create a custom dashboard with select PIDs. Also, it can monitor fuel economy and log real-time sensor readings.
If you own 2008+ BMW or Mini, pair the OBDCheck BLE+ with the BimmerCode app for coding features. Now, you can change elements such as disabling the Active Sound Design or activating the digital speed display. It can access numerous ECU modules that are easily customizable.
RELATED POST: Veepeak OBDCheck BLE+ Vs. OBDCheck BLE Vs. Vgate iCar Pro: Never buy it before you know it
RELATED POST: Carly Vs. BimmerCode Vs. BimmerLink: Which app is the best for BMW?
2. OBDLink LX
OBDLink LX is a powerful auto diagnostics tool for Android and Windows devices. It works on all OBD2-compliant vehicles except for electric and hybrid models.
Enjoy speedy wireless connectivity over Bluetooth. OBDLink LX gives you accurate and realistic virtual gauges and detailed graphs thanks to its ultra-fast response time.
You can leave OBDLink LX in the OBD2 port since it does not drain the car's battery. Furthermore, the device is hackerproof, so no worries about unauthorized access. Although the recommended app is OBDLink for Android and the included free software is OBDWiz for Windows, OBDLink LX is compatible with many third-party apps.
With OBDLink LX, you can read and clear engine codes, graph, log, and export real-time engine data, and create a personalized live dashboard. The good thing, OBDLink LX does not require a monthly subscription or in-app purchases to use its features.
RELATED POST: OBDLink MX+ Vs. LX: Why MX+ is costly but many drivers are hunting for it?
3. BAFX for Android
Access all engine data and more with the BAFX Bluetooth car code reader for Android and Windows. It's ideal on all OBD2-compliant vehicles from Jan 1996. BAFX supports all protocols, including CAN and J1850, which are not always supported by devices in their price range.
This scan tool offers specific data according to your vehicle's model. You can access information like CO2 emissions readouts, speed timings, dynamometer, horsepower, and torque gauges. It also allows you to view alarms and warnings plus mileage information.
With Torque Pro app on a VW or Audi, BAFX can access Turbo Boost features. The scanner is simple enough for the average joe to start using right out of the box. It's compact, such that it will not disrupt legroom. And apart from reading and clearing DTCs, it can read real-time sensor data. Things like fuel pressure and the EVAP system will always be at your fingertips.
RELATED POST: BAFX: OBD2 Bluetooth Adapter For iOS & Android Honest Review
Top 3 Genuine ELM327 OBD2 Bluetooth Adapters Comparison Chart 
Which to Pick: OBDCheck BLE+, OBDLink LX, or BAFX?
Our top three ELM327 Bluetooth scanners will allow you to check and clear engine codes as well as perform smog tests. 
And, hey, some can let you check various parameters and systems such as TPMS, ABS/SRS, DPF, and key programming. 
Best matched apps & functions 
For OBDCheck BLE+
The OBDCheck BLE+ features the widest functionality when paired with different third-party apps. The scanner can show you extensive car data in a graphical form on the go. You can read and clear diagnostic codes (DTCs), both generic and manufacturer-specific codes. Not to mention checking fuel trim, performing smog tests so you can know if your vehicle is ready for the test or not.
OBDCheck BLE+ works best with OBD Fusion for Android users and Dash Command for iOS. Still, you can do more than the basics with OBDCheck BLE+. 
Here are some of the advanced features that the device can do when paired with different apps. 
Carista OBD2 – Dashboard customization and ECU programming on Audi, Toyota, and Volkswagen
BimmerCode: Coding on BMWs and Minis (Not suitable for G series and models before 2008). 
OBD Fusion: Enhanced diagnostics and PIDs on Toyota, Lexus, Ford, Nissan, and FCA
BimmerLink: BMW diagnostics, battery registration, and sensor reading
---
RELATED POST: Veepeak OBDCheck BLE+ Vs. OBDCheck BLE Vs. Vgate iCar Pro: Never buy it before you know it
For OBDLink LX
Now, our second choice OBDLink LX is an easy-to-use device that allows you to log, graph, and real-time export of data. The scanner can read and clear CEL codes. The scanner speeds up apps and software up to 400%. This means you'll be getting real-time readings without lags. It uses the ELM327 1.3 version chip, which ensures you get fast transfer speeds and fewer disconnects. 
This device boasts 128-bit data encryption that makes it hacker-proof. The gadget also has a sleep function, so your car battery does not discharge if you leave the device plugged in. 
OBDLink LX works perfectly with Windows and Android devices. This scanner is not compatible with iOS. For Android, it works best with the OBDLink app and OBDWiz on Windows.  These apps come with your purchase at no extra cost.
When paired with the OBDLink app or OBDWiz, you'll be able to see engine data, retrieve pending and permanent codes, see freeze frame data, perform a smog test, create custom digital dashboards, among other things. 
Apart from OBDLink and OBDWiz, OBDLink LX can also pair with Torque and Dashboard. 
RELATED POST: OBDLink MX+ Vs. LX: Why MX+ is costly but many drivers are hunting for it?
---
For BAFX for Android
Another ideal consideration in Bluetooth adapters is the BAFX 34t5 tool. This device is specifically an adapter for Android and Windows devices. Whether you are a DIYer or ASE mechanic, you will find this unit useful for lots of information. 
This OBD2 scanner will let you view live engine data, read and clear DTCs, check freeze frame data, log and graph data, among other things. 
BAFX works best with the Torque Pro app so that it can give as many readings as possible. These include; O2 readings, fuel trim, balance rates, EOT (engine oil temperature), RPM, and throttle. 
The BAFX can transmit the data to your phone, which makes it easy to read and translate. 
RELATED POST: BAFX: OBD2 Bluetooth Adapter For iOS & Android Honest Review
Design and ease of use
What you'll like most about these Bluetooth ELM327 OBD2 adapters is that they are nifty devices. They fit on the palm, although the OBDLink LX is the heaviest at 4 ounces while the other two are in the 2-ounce range. 
None will disrupt legroom and are all sturdily constructed. You easily store the OBDCheck BLE+ in your pocket, while the other two will carry well in a bag.
And for easy unplugging, we found the BAFX easiest to use since the gadget has a slim design. The OBDCheck BLE+ may feel a bit awkward when inserting in the port. Meanwhile, the OBDLink LX has little grooves that give you a firm grip, so you will never drop it. 
Protocols and vehicle coverage
The OBDCheck BLE+, OBDLink LX, and BAFX scanners support all OBD2 protocols, including CAN, KWP2000, J1850PWM, J1850 VPW, and ISO91412. They offer universal vehicle compatibility and can support many global car brands. 
Besides, the OBDCheck BLE+ can check batteries on electric vehicles and hybrids, but the other two cannot.
Don't rush to the mechanic when that Check Engine Light comes up. Grab one of these gadgets and diagnose the problem yourself!
Top 3 Genuine Wifi ELM327 Scanners 
ELM327 Wi-Fi is the simplest to use interface for OBD2 scanning. Tools with this interface can diagnose fault codes and record them in the vehicle's system and electrical sensors.
ELM327 Wi-Fi can connect to any electronic device regardless of its operating system. There are minimal limits, whether it's a smartphone, tablet, or PC on iOS, Android, or Windows. That is, you may not use the internet when the ELM327 unit is connected to OBD2 via an Android gadget. 
Wi-Fi does not require cables, so it's best for communication. It transfers data superfast to the receiving gadget, and it's compatible with lots of programs and software. 
However, it does come with some disadvantages. 
It does not allow reprogramming of the ECU on a car. 
Connection with some iOS devices may fail.
Data transmission can be interrupted if the wireless network connection is weak. 
The Wi-Fi version of the BAFX car code reader is compatible with iOS devices. While it also works on Android and Windows gadgets, it's better on Apple devices. As a Wi-Fi scan tool, BAFX boasts faster and more stable connections.
BAFX is best paired with the OBD Fusion app. The app allows you to read diagnostics trouble codes. It can also reset the check engine lights after you complete the necessary repairs. What's more, this scanner can pull O2 readings, throttle, boost, DPF temp, and many other sensor readings.
BAFX allows you to graph the PIDs that you want to see. Thanks to the simple setup instructions, it is super easy to connect with an iPhone, iPad, or Android. You get to know the problem before driving into an auto repair shop. One DIY fix is enough for the scanner to pay for itself. You'll never spend more than necessary on repairs.  
RELATED POST: BAFX: OBD2 Bluetooth Adapter For iOS & Android Honest Review
If you want a real-time performance monitor for your car, you'll appreciate the Foseal WIFI scan tool. This easy-to-use device pairs with iOS and Android gadgets over WIFI. It can read and clear trouble codes from the engine. This scan tool can also display real-time sensor data.
The application shows coolant temperature, horsepower, and the car's fuel system's status. The device can display the airflow rate, timing, advance, coolant temperature, and O2 sensor readings.
Foseal WIFI works best with OBD Fusion and inCarDoc for iOS and Torque Pro for Android. The scan tool can also connect to DashCommand and Realtime Data Car Health Monitor for iOS, Android, and Windows. Foseal WIFI connects fast and easily with the help of the included straightforward instructions.
It's important to note that Foseal provides a private WIFI connection. As such, if you want to access live data when driving, a data connection to other apps becomes restricted. This happens on Android phones but not iOS. So, you may want to use an iPhone for real-time data.
RELATED POST: Foseal OBD2 WIFI Scanner For iOS And Android Review
3. Veepeak Mini WIFI
If you're looking for the most compact WIFI scanner, Veepeak Mini is an excellent choice. Designed to work on all OBD2 vehicles, there's certainly no reason to check into a garage for a check engine light.
Veepeak Mini will save you money on repairs. It can read and clear generic and manufacturer-specific codes. Also, the tool reads specific vehicle parameters such as engine RPM, average fuel consumption, fuel pressure, air intake temperature, and throttle position.
The device will show you freeze frame data for when the DTCs come up. Not to mention O2 readings so you can get ready for an emissions test. Choose from Car Scanner ELM OBD2, Carista OBD2, and Torque Pro apps for a seamless performance.
Like other WIFI scan tools connected to Android, the device does not automatically reroute data to internet traffic. As a result, the internet will not be available for other apps when using the scanner.
RELATED POST: Veepeak Mini Bluetooth Vs. Mini WiFi Vs. Bafx Products: Which I shouldn't buy?
Top 3 Wi-Fi ELM327 OBD2 scanners comparison chart 
Best ELM327 OBD2 Wi-Fi Scanner: BAFX WIFI, Foseal WIFI, or Veepeak Mini WIFI?
Best Matched Apps & Functions 
For BAFX for iOS
Let's start by looking at the BAFX WIFI version. This tool is compatible with all iOS devices. It promises stable connections and faster data transfer speeds thanks to its high-quality construction. 
This scanner works best with the OBD Fusion app. It will allow you to read OBD2 CEL codes, reset the Check Engine Light, see lots of sensor readings, graph sensor readings, prepare for an emission test, etc. 
BAFX WIFI can also pair with the Carista OBD2 app. You can use the free Carista version for basic OBD2 features. However, you have to pay for the software if you want advanced features like TPMS, customization, and ABS/Airbag. 
---
For Foseal WIFI
For iOS and Android, you'll need the Foseal WIFI adapter. The scanner is ideal for novice and intermediate users. This unit allows you to read, diagnose, and erase OBD2 trouble codes. 
Foseal WIFI pairs well with the Torque Pro app for Android and inCarDoc for iOS. This connection will allow you to see sensor data that will enable you to monitor engine RPM, coolant temperature readings, fuel system status, vehicle speed, air flow rate, oxygen sensor voltage, among other things. 
Foseal WIFI also pairs with OBD Fusion 9.9 for Android.
RELATED POST: BlueDriver Vs. Torque Pro Vs. Torque Lite: Which App Suits Me?
---
For VEEPEAK Mini WIFI
For those looking for an ultra-cheap but very versatile wireless ELM327 OBD2 scanner, you can't do better than the Veepeak Mini WIFI. It's such a small dongle that does both simple and advanced diagnostics. 
Veepeak Mini WIFI works across all platforms: iOS, Android, and Windows. Depending on the app, it will check and clear engine codes, run smog tests, and all the other basic functions. What's more, it offers advanced functions such as air intake temperature, throttle position, RPM, fuel consumption, engine temperature, fuel level, vehicle speed, DPF temp, fuel trim, and O2 tests. 
Apart from that, this adapter also offers real-time sensor data. Dashboard customization is also available.
For iOS users, the best app to use is the Car Scanner ELM OBD2 since it's free, but you unlock all features with the premium version.
Other apps include the OBD Fusion, DashCommand, and OBD Auto Doctor. 
This scanner works with Android devices with the help of the Torque Pro app. But remember that the internet won't be available when you have the scanner connected.
As for Windows, many people prefer to use the OBD Auto Doctor app with Veepeak Mini WIFI. 
RELATED POST: Veepeak Mini Bluetooth Vs. Mini WiFi Vs. Bafx Products: Which I shouldn't buy?
Design and ease of use
BAFX WIFI comes with super easy iOS setup instructions. All you do is plug in the tool in your car's OBD2 port, link the scanner to your iOS device, and start diagnosing your vehicle on your choice app. The scanner is nifty so it can stay connected to the OBD without taking up any legroom. 
We like that the Foseal WIFI is designed similarly to the BAFX WIFI, but the Foseal model is shorter and lighter. As such, it may not feel as comfortable as the BAFX WIFI when unplugging. 
On the other hand, the Veepeak Mini is the tiniest of all, at only 1.89 inches in length. The unit is small enough to store your pocket. Setting up is also straightforward. And because of its compact size, it will be nearly invisible on the OBD2 port.
Protocols & vehicle coverage 
All three WIFI scanners fully support the five OBD2 protocols, namely, J1850 PWM, J1850 VPW, ISO 9141-2, KWP2000, and CAN. The BAFX WIFI covers all car brands and models made in the US from 1996. While Foseal WIFI covers similar car brands and years, it is not compatible with vehicles with 24V voltage. 
Finally, the Veepeak Mini covers every car brand and model from 1996, including hybrids, some electric vehicles, and light-duty diesel trucks. 
So, are you ready to go fast and wireless? This is the place to start your car's self-diagnosis journey!
RELATED POST: ELM327 Mini: Genuine ELM327 Bluetooth Adapter Review
Top 3 Genuine USB ELM327 Scanners for PC 
An ELM327 USB scanner connects to the vehicle's onboard computer using a USB cable through the OBDII connector. The scanner can diagnose malfunctions, read performance indicators and show zeroing errors of an ECU. 
However, its functionality varies by version, vehicle's computer, and the software used to read the diagnostics.
A USB ELM327 can also read engine speed and car speed in real-time, depending on the paired app. It can display fluid temperature, current air and fuel consumption, throttle position, fuel pressure. Some adapters can help perform key programming and configuring and reconfigure dashboard data, folding mirrors, and gas pedal responsiveness.
Nonetheless, USB ELM327 adapters work only with computers. But they have the most reliable connection. 
OBDLink SX is a cheap unit that offers basic and advanced features. It never gets more effortless than a plug-and-play scanner. The tool comes with OBDLink app and OBDWiz software for use with laptops, tablets, and PCs.
OBDLink SX provides fast and stable connectivity for quickly and accurately diagnosing engine problems. This scan tool can access performance parameters for 1996 and newer OBD2 vehicles. It allows you to read DTCs so you can decide about the necessary repairs.
With OBDLink SX, you can also turn off the CEL and erase stored diagnostic information. The scanner can erase pending and permanent generic and manufacturer-specific trouble codes. It can pull freeze frame data, plus you can also customize digital dashboards.
Furthermore, it can display, graph, and log over 90 real-time parameters. Access all these data on the go on a portable device like a tablet. It does not, however, support Apple iOS devices.
RELATED POST: OBDLink SX: OBD2 USB Scan Tool for Windows [Review]
2. OHP ELM327 USB Adapter
With an ELM compatible interface, the OHP ELM327 USB adapter enjoys a constant speed of 500 kbit/s. Accessing, diagnosing, and configuring is fast, so you can work on multiple cars in a short time.
An MS-CAN HS-CAN switch allows you to examine all modules in a vehicle while preventing data tampering.
The adapter can read and erase diagnostics trouble codes as well as pull live data that helps to know the cause of the problem.
Apart from diagnosing problems in a vehicle, OHP ELM327 USB adapter can access service functions. It helps you to perform maintenance such as DPF regeneration, service reset, and new battery registration.
OHP ELM327 USB adapter works with various software. The most recommended is FORScan for Ford, Mazda, Lincoln cars, and light trucks sold in the US from Jan 1996. It can also work with FoCCCus, FF2, and ELMConfig software.
RELATED POST: OBDLink EX Vs. OBDLink MX+ Vs. OHP Adapter: Which is the best for my Ford?
3. OBDLink EX
When it comes to vehicle scanning equipment, you'll want only the best for the job. OBDLink EX is specifically for pairing with FORScan. It's perfect in the hands of Ford owners with a Windows device. This adapter provides the most stable connection with transfer speeds of up to 2000 kbit/s.
With such a high transfer speed, diagnostics and real-time data are easy to access. Thanks to the FORScan software, OBDLink EX can read both generic and manufacturer-specific codes. It can give DTCs from the suspension, transmission, airbag, and ABS. Plus, it's not a toggle-switch adapter. So, it is up to 20 times faster than other USB adapters.
A USB connection may limit movement. However, it provides a robust connection that prevents dropped packets and data tampering. Remember, this adapter works for Windows only. So, if you have a Linux or Mac laptop, you will want to consider a different device.
Apart from Ford cars, OBDLink EX can also diagnose Lincoln, Mazda, Mercury cars, and light trucks. This is as long as they are OBD2-compliant.
RELATED POST: OBDLink EX Vs. OBDLink MX+ Vs. OHP USB for FORScan: Which is the best for my Ford?
Top 3 ELM327 OBD2 USB scanners comparison chart
Best ELM327 OBD2 USB Scanner: OBDLink SX, OHP USB, or OBDLink EX?
Best Matched Software & Functions 
For OBDLink SX
Let's first look at a scanner that many DIYers have come to love – the OBDLink SX. This scan tool is the best for DIYers as it offers a fast and accurate way to diagnose problems with your car's engine. It can also access performance parameters as long as your vehicle is OBD2-compliant. 
The scan tool comes with OBDWiz license software, so you can start using the scanner without paying for diagnostic software. 
With OBDWiz, the scanner can read engine faults, clear fault codes, turn off the Check Engine Light & erase stored diagnostic information. This unit can also read & erase pending and stored trouble codes, access freeze frame information, measure and display fuel economy, create custom digital dashboards, and display, graph, & log over 90 parameters. 
OBDWiz offers free firmware updates, so it's a unit you'll use for the longest time possible.
RELATED POST: OBDLink SX: OBD2 USB Scan Tool for Windows [Review]
---
For OHP ELM327 USB Adapter
Now, to the original OHP ELM327 USB adapter. This gadget allows you to not only perform basic diagnostics, but you can also access trouble codes from the gearbox, ABS/Airbag, SRS, climate control, and everything on the onboard system.
Most importantly, it can read and erase engine codes to turn off the Check Engine Light.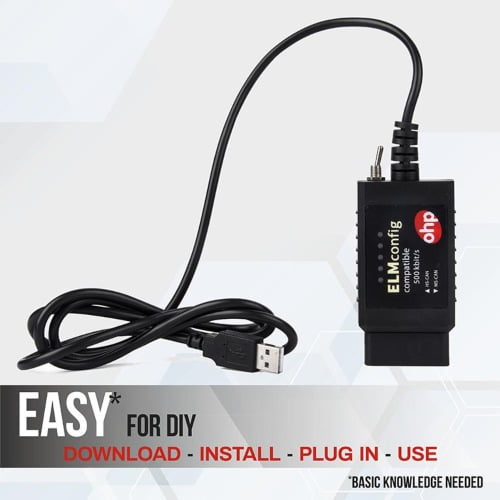 When paired with FORScan, you can view real-time sensor data and data from switches and relays. From the RPM to vehicle speed to the engine coolant temperature, you can view any metric. 
OHP packs a few premium features that you rarely see on affordable scanners. You can reset warning lights, perform service resets, disable TPMS, and regenerate DPF.
And, perhaps its most high-end feature is that it supports ECU programming. But not on Ford Escapes. 
RELATED POST: OBDLink EX Vs. OBDLink MX+ Vs. OHP USB for FORScan: Which is the best for my Ford?
---
For OBDLink EX
For the new USB version by ScanTool, the OBDLink EX is one of the most used OBD2 USB adapters. The gadget was designed specifically for the FORScan software to help users get the most out of the device. Nevertheless, it's possible to use other apps such as OBDWiz.
Being USB-based, this adapter works with Windows-based PCs only. It will not work with Mac and iOS devices unless you want to view the codes only. 
This scanner gives you access to generic and manufacture-specific codes. When you connect the USB scan tool to Ford vehicles, it will display VIN, CIN, and CVN since it's mainly a Ford scan tool. 
After you get the vehicle ID, you can read and clear codes for all available modules. You can view and erase all system diagnostics code, from ABS to transmission, SRS, and TPMS. The scanner can turn off Check Engine Light, pull live sensor data, and customize the dashboard. 
As for service procedures, this adapter can perform all service functions on the FORScan software suite, including forced DPF regeneration, battery reset, disable TPMS, etc. 
OBDLink EX also offers premium features like coding, programming, relearning, and adaptation. 
RELATED POST: OBDLink EX Vs. OBDLink MX+ Vs. OHP USB for FORScan: Which is the best for my Ford?
Design and ease of use 
OBDLink SX, OHP USB, and OBLink EX are all handheld diagnostic scanners. You get good transfer speeds of around 500kbit/s of connectivity which is more than enough for data transfer. 
The OBDLink EX is the best no-frills OB2 scan tool. The unit has a solid construction with a relatively long cable for stable connection and diagnosis. 
The OHP has a looser USB which can affect connectivity. 
Meanwhile, the OBLink SX is rugged with a strong cable that offers fast plug-and-play connection. 
Protocols and vehicle coverage
OBLink SX is compatible with all US vehicles manufactured from 1996, except hybrids and EVs. It supports EOBD, JOBD, and all OBD2-compliant cars. 
OBDLink EX and OHP, on the other hand, support Ford protocols HS-CAN and MS-CAN. OBDLink EX also supports J1850.  
OHP offers full function compatibility for 1996 and newer Ford, Mazda, Lincoln, and Mercury car brands, while OBDLink EX covers Ford, Mazda, and Lincoln vehicles. 
The ball's now on your court. With the help of the best USB ELM327 OBD2 adapters, there's very little you can't do.
---
How to use an ELM327 interface
Although you may find some ELM327 interfaces that differ in shape, size, and design, they generally follow the same procedure for connection and use. Start by plugging your ELM327 adapter to your car's OBD2 port.
From there connect the interface to your phone, tablet or PC. The older ELM327 adapters use a serial port but newer models use either Wi-Fi, Bluetooth or USB. Later on I'll explain more about these connections and the pros and cons of each.
Make sure that the phone, tablet or PC that you're using already has anELM327 app or ELM327 software installed. These are basically OBD2 apps or software that help you run diagnostics. I'll talk more about them as well, so read on to find out how they work.
Once you have made those two connections (to the car and to your computer device) turn on the car (but don't start it). Next, run the OBD2 application. Most ELM327 software will connect automatically or at least they will ask you to connect.
From there you can start collecting data from the ECU while viewing them on your phone or PC. Be sure to observe the LEDs on the ELM327 adapter.
The red LED indicates that the adapter is powered on. On the other hand, the yellow LED is referred to as Tx OBD. It flashes to indicate that there is data transfer from the ELM327 interface to the car's ECU and from the computing device to the interface. When the green LED (also known as Rx OBD) flashes it indicates that there's data transfer from the ECU to the interface. It also flashes when data are transmitted from the interface to the computer device.
Read more: Best OBD1 Scanners Review 2023
FAQs
How do I pair my ELM327?
Start by plugging the ELM327 adapter to your car's OBD2 port. Turn the ignition on without starting the engine. Go to your phone or tablet and turn Bluetooth or Wi-Fi on (depending on which of those the ELM327 interface uses). Search for the adapter and connect with your phone to pair. Note that the name of the adapter depends on its make and model.
How do I get ELM327 to work?
Make sure your car's ignition is on. Pair the scanner with your computing device that has a diagnostic app/software. It will automatically communicate with the ECU and display diagnostic data via the app/software.
Can I upgrade my ELM327 version?
No, you cannot. If you want a newer version you have to buy a new ELM327 interface.
My ELM327 adapter's power light keeps flashing and it won't connect with my phone. What do I do?
The interface is defective. Return for replacement or buy a new interface.