Looking for a reliable ELM327 adapter? This article is for you.
After extensive testing and thorough comparisons, we have carefully chosen the top 5 ELM237 scanners meet all our expectations of a quality ELM327 adapter.
These scanners possess the following desirable qualities:
Affordable pricing
Reliable connection performance
Compatibility with popular ELM327 apps/ software
Support most OBD2 cars you work with
With the information provided in this article, we hope to assist you in confidently avoiding your hard-earned money on an unsuitable ELM327 scanner.
Now, get ready to make an informed decision and discover the ELM327 adapter that suits your needs perfectly!
| | |
| --- | --- |
| Tester | OBD Advisor's Testers |
| Testing date | Nov 01 – Nov 14, 2023 |
| Number of tested products | 9 |
| Number of tested cars | 10 |
---
---
5 Best ELM327 Adapters: Comparison Chart
[Mobile users: Swipe left for full table]
Looking for more information to make a final decision?
Keep scrolling down, choose the scanner type you want and go!!
---
---
ELM327: All You Need to Know
What is ELM327?
ELM327 is a small device used for car diagnostics. It connects to your car's OBD-II port. 
Its main benefit depends on the connected app or software. But the most important one is to read and understand your car's error codes. This makes it easier to identify and fix problems. ELM327 is a helpful tool for car owners like you!
Bluetooth vs. Wi-Fi vs. USB ELM327 interface: Which should I go for?
There are 3 types of ELM327: Bluetooth, wifi, and USB.
Let's look at the differences in the table below to make things easy.
Bluetooth
Wifi
USB
Speed
3/5
4/5
5/5
Stability
4/5
3/5
5/5
Range
Max 30ft.
Up to 150ft.
Max 16ft cable length
Power consumption
Low
High
Low
Cost
Moderate
Moderate
Moderate
Compatibility
iOS, Android, Windows
iOS, Windows
There are limitations with Android
Windows
Convenience
5/5
4/5
3/5
If you want to use your phone and diagnose your car from a distance, Bluetooth and Wifi ELM327 are great choices.
However, we find Bluetooth adapters more handy. Not every place has wifi available for you to connect and diagnose. Especially when you need it on the road, there's often no wifi around.
Now, if you're after reliability, speed, and a big laptop screen, USB is the way to go. Just remember, it can be a bit less convenient because the cord's length will limit you, and you won't have as much freedom to move around while working.
By considering your specific needs and preferences, you can confidently decide and select the adapter that best suits your requirements.
Genuine vs. fake ELM327
When it comes to genuine ELM327s, you'll never run into any compatibility or connection troubles. But how can you tell if an ELM327 is real or fake?
Well, one big clue is the price. Fake ELM327s are usually super cheap, under $20. That's because the ELM327 chip alone costs nearly $20.
Figuring out if a scanner is genuine or fake can be tricky.
To make things easier for you, we've put together a list of trustworthy ELM327 scanners to consider. It'll save you time, we promise!
Here are our top picks: Veepeak BLE+, Veepeak BLE, Vgate iCar Pro 4.0.
Now, about those clone ELM327s, some of them might have a power-drain issue or connection hiccups. But don't fret; not all clones are troublemakers.
We've tested one knockoff called Mestar ELM327. This device works just as perfectly as the real deal. No difference in compatibility or speed!
---
5 Best EMM327 Adapters Review
#1. Veepeak BLE+ Bluetooth ELM327 adapter
Supported devices: Android/ iOS
Recommended apps: Torque Pro, OBD Fusion, JScan (for Jeep), …
When someone asks us about ELM327 adapters, the first option that comes to mind is the Veepeak BLE+. 
This scanner uses the genuine ELM327 (version v2.2) and works flawlessly on Android and iOS devices.
If you're an iPhone user, you know how challenging it can be to find a quality ELM327 adapter. Older Bluetooth technology often struggles to connect with iPhones, leaving us with less-than-ideal Wi-Fi scanners. Thankfully, the Veepeak BLE+ is here to save the day.
This newer Bluetooth adapter is fully compatible with any iOS device, allowing you to effortlessly scan while browsing the web for additional information. We give it a perfect 10/10 for its remarkable compatibility.
Here's a pro tip: when connecting via Bluetooth on iPhones, remember to use the app rather than the "settings" menu.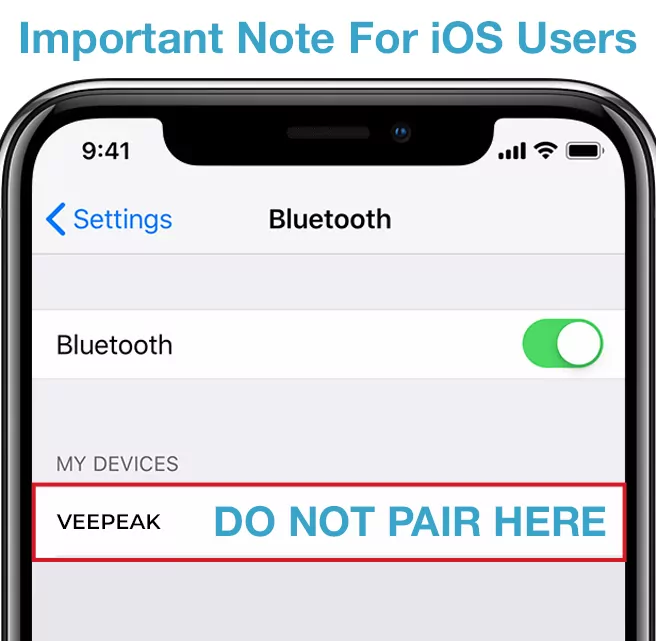 Now, let's address any concerns you may have. The truth is, there's really nothing to complain about! While the Vepeak BLE+ may have a slightly higher price tag compared to some clone ELM327 adapters, its data transfer speed is incredibly fast and seamless on both iOS and Android devices.
With the Vepeak BLE+, you won't have to deal with the frustration of a shaky connection like those cheap ELM327 adapters we've tested, which only cost $5 or $7. You know what they say, "Buy cheap, buy twice!"
So, if you're searching for a reliable ELM327 adapter, look no further than the Vepeak BLE+. You won't be disappointed.
Today's best Veepeak BLE+ deal:
#2. BAFX Bluetooth ELM327 adapter
Supported devices: Android
Recommended apps: Torque, Car Scanner, …
You have two options when it comes to choosing a BAFX scanner:
No matter which device you use, BAFX is an excellent choice to consider.
One of the standout features of BAFX is its affordability.
I mean, it's a steal compared to other pricey adapters out there, like the OBDLink MX+. And, it works like a charm with OBD Fusion ($10) or Car Scanner (free) – 2 best apps that are just perfect for those who don't wanna spend a fortune.
More than that, the 2-year warranty and customer support from BAFX is top-notch. 
I was blown away by the message I received from BAFX. They're committed to making sure their customers are happy and satisfied, and that's something you don't see every day.
And when I did reach out, I got a solid reply within 48 hours. Sure, it's not lightning-fast, but they answered all my questions, and that's what matters.
Just a minor complaint that BAFX is a bit bulkier than I expect from the pictures. However, I haven't encountered any problems with accidentally kicking it while getting in or out of the car, so it might not be a significant concern.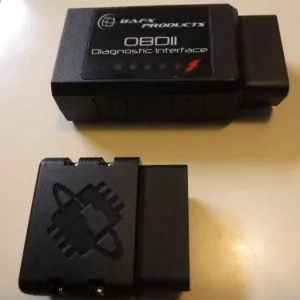 Overall, BAFX adapter is a must-have for any DIY mechanic on a budget. 
The data transfer is freaky fast between your phone and the BAFX scanner. It's even faster than the Veepeak BLE+.
Purchasing the BAFX scanner is a wise investment that you won't regret.
Today's best BAFX Bluetooth deal:
Read more: BAFX: OBD2 Adapter For iOS & Android Honest Review
#3. Vgate iCar Pro Bluetooth 4.0 ELM327 adapter
Supported devices: Android/ iOS
Recommended app: Torque, Car Scanner, …
Vgate iCar Pro is an excellent balance of affordability and reliability.
We're confident you won't face any compatibility issues with this scanner because it comes with a genuine ELM127 V2.2 chip.
We've tested it with 10 different apps, and it worked perfectly with all of them. It also aced the tests with "ELM327 identifier" apps. Regarding compatibility, we rate it a solid 10, just like the Veepeak BLE+.
The Vgate iCar Pro is super speedy. It connects quickly, sends data fast, reads multiple codes without a hitch, and offers rapid live sensor readings.
Here's a neat feature: it has an Auto Sleep mode. That means it'll switch off when it's not in use, and when it senses your car starting up, it'll come back to life. So, no worries about draining your battery if you forget to unplug it.
Now, one small thing we dislike is its slippery design. It should use some tabs or edges for easier handling and unplugging from the OBD2 port. That's why its ease-of-use score is a 9 out of 10, not a perfect score.
To sum it up, the Vgate iCar Pro is a reliable, genuine ELM327 adapter to kickstart your diagnostics. If you're the forgetful type, this is a great pick to safeguard your car battery from draining.
Today's best Vgate iCar Pro deal:
#4. Mestar ELM327 Bluetooth ELM327 adapter
Supported devices: Android/ iOS
Recommended app: Torque, Car Scanner, …
I'm 100% sure that this Mestar it doesn't uses a genuine ELM327 chip (because ELM327 chip alone can cost up to 20 bucks!). But honestly, it doesn't really matter if all you need is a VERY cheap adapter.
I paired the Mestar adapter with the Car Scanner app, and it worked like a charm, giving me accurate code readings. 
I put it to the test on a 2002 Chevy. Other ELM327 adapters couldn't read all the trouble codes, but this one nailed it.
Take a look at the impressive code reading results below: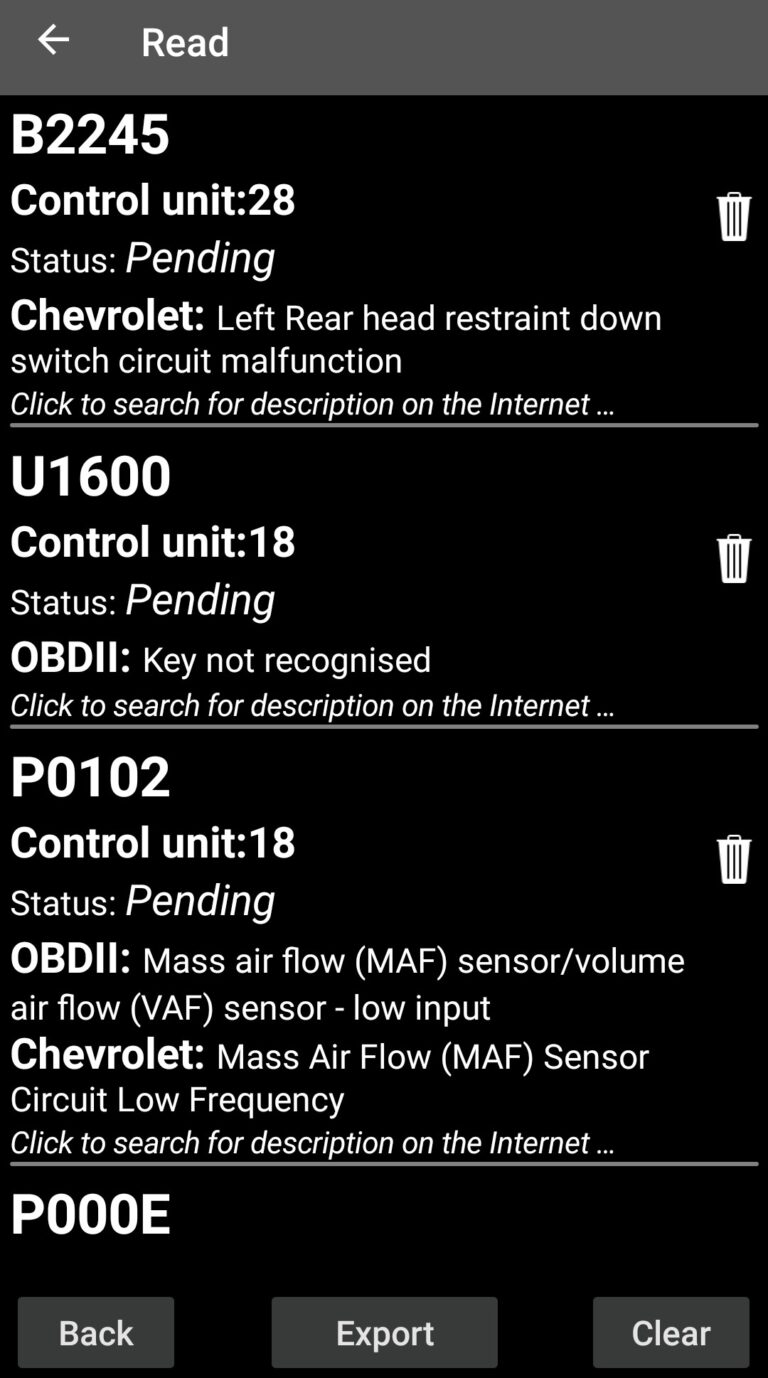 Mestar adapter and Car Scanner app also worked seamlessly together to read coolant temperature readings. Very impressive.
Occasionally, you may encounter a slight connection issue (happening only 1 to 2 times out of 10). But fear not! Simply unplug it from the port and plug it back in, and you'll be good to go.
While Mestar ELM327 is not the most advanced product out there, it's still a fantastic deal. 
You can use the Mestar adapter with free apps like Torque Lite or Car Scanner, saving you even more money.
At just $5, this adapter is an absolute steal, especially if you're looking for a simple and reliable code reading solution. Trust me, you won't find a better value anywhere else.
Today's best Mestar ELM327 deal:
#5. OBDLink EX USB ELM327 adapter
Let me tell you about the OBDLink EX – a USB adapter that's a total game-changer for Forscan users.
Unlike some other adapters (I'm looking at you, OHP ELMconfig), the OBDLink EX is super easy to use.
You don't have to fiddle with toggles and switches, or guess which mode or protocol to use. Nope, this adapter does all the work for you – automatically!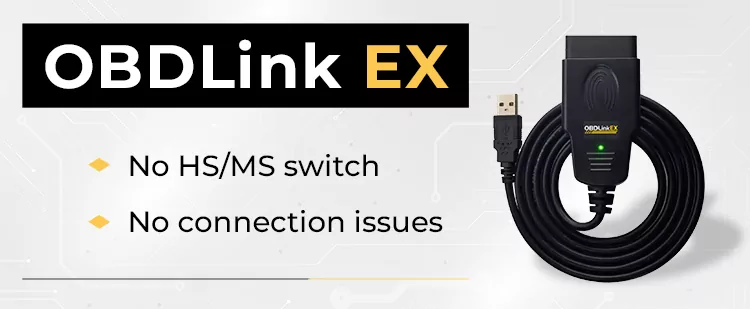 And if you're worried about connection issues or lost signals, fear not! The OBDLink EX delivers a reliable, rock-solid connection that won't let you down.
But installing the software might give you a bit of a headache. There's no step-by-step guide included, but luckily, a Forscan website provides helpful info.
Just don't expect any screenshots or detailed instructions (at least, not ones I could find).
Once you've got it up and running, the OBDLink EX really shines.
If you want to make changes to your Ford, like adding key or even adding options your vehicle doesn't have, the "OBDLink EX and Forscan" makes it a breeze.
So don't waste your time with those cheap ELM cables that only do some functions, and do them slowly at that. Get the OBDLink EX, and get it done right! 
Highly recommended – easy to use, low price, and all the features you need.
Today's best OBDLink EX deal:
Read more: OBDLink EX Review: Is It the Best Adapter To Work With FORScan?
---
So, which ELM327 adapter do we recommend in the end?
Well, for us, it's the Veepeak BLE+. It's a perfect 10 out of 10 for performance and compatibility. It's truly the ideal choice!