Looking for a reliable ELM327 adapter? This article is for you.
After extensive testing and thorough comparisons, I have carefully chosen the top 9 ELM237 scanners meet all my expectations of a quality ELM327 adapter.
These scanners possess the following desirable qualities:
Affordable pricing
Reliable connection performance
Compatibility with popular ELM327 apps/ software
Support most OBD2 cars you work with
With the information provided in this article, I hope to assist you in confidently avoiding your hard-earned money on an unsuitable ELM327 scanner.
Now, get ready to make an informed decision and discover the ELM327 adapter that suits your needs perfectly!
---
9 Best ELM327 Adapters: Comparison Chart
[Mobile users: Swipe left for full table]
Looking for more information to make a final decision?
Keep scrolling down, choose the scanner type you want and go!!
---
Table of content:
---
ELM327: All You Need to Know
What is ELM327?
Although ELM Electronics makes the chips that ELM327 devices run on, other companies take those chips and use them to make ELM327 adapters. Each of those adapters is what is called an ELM327 interface.
It's called an interface because it acts as a link between a vehicle's onboard computer (ECU) and your external computer (smartphone, tablet, or PC). With it, you can view real-time data from the ECU, run some diagnostics, and read/clear codes that are associated with the Check Engine Light.
Generally, an ELM327 scanner operates based on three sub-parts. The first is the ELM327 chip. This is an integrated circuit that's rated at 4MHz. It is the brain behind the whole device onboard its purpose is to convert data from the ECU to a format that can be understood by modern computing devices.
The second sub-part is the set of electric voltage adaptors. Their primary function is to identify the various on-board systems of a car using their unique voltage properties.
For example, an ELM327 scanner is able to distinguish the EVAP system from the fuel system using its electric voltage adaptors. They are usually given as protocols like CAN, K/L or PWM/VPN.
Finally, there is a set of voltage adaptors for PC. These ones make it possible for an ELM327 adapter to adapt its electrical levels to those of a computer device (PC, smartphone, or tablet). By doing so the adapter and the computer can successfully communicate.
Bluetooth Vs. Wi-Fi Vs. USB ELM327 interface: Which Should I Go for?
ELM327 OBD2 adapters offer an easy way of scanning a vehicle's systems. 
There are three types of ELM327 interfaces: Bluetooth, Wi-Fi, and USB. 
Bluetooth
Wifi
USB
Speed
3/5
4/5
5/5
Stability
4/5
3/5
5/5
Range
Max 30ft.
Up to 150ft.
Max 16ft cable length
Power consumption
Low
High
Low
Cost
Moderate
Moderate
Moderate
Compatibility
iOS, Android, Windows
iOS, Windows
There are limitations with Android
Windows
Convenience
5/5
4/5
3/5
Bluetooth ELM327 adapters transmit radio waves between a car and compatible ELM327 OBD2 adapters. They are a low-cost way for DIYers to read codes and transfer files because no plug-in wires are needed. 
Very little data is transferred over the ELM327 interface, so speeds are irrelevant. However, somec ELM327 Bluetooth adapters fail to pair with iOS devices (BAFX, for example).
That's why, if you have an Apple product, you are better off with:
USB ELM327 adapters are preferred since the technology is faster than Bluetooth and Wifi for file transfer and read/report speeds. 
Wi-Fi speed can be affected by the application using it, by network interference, by the receiver in the appliance, or the power of the router creating the connection. 
While Wi-Fi is perfect for iOS gadgets, Android devices can't stay connected to the internet when the ELM327 interface is connected. As such, you are stuck with Bluetooth connectivity if you want to use mobile data and the interface simultaneously. 
USB ELM327 adapters are only ideal if you are concerned about power consumption or you prefer to use a package of powerful ELM327 OBD2 software on your Windows laptop. USB scan tools are also quite slow since they slow down their speed even when connecting via a two USB 3.1 cable. 
Speed lowers further when using a long cable. Users are recommended to use a cable that's up to 16ft. in length. 
As for stability, USB devices are considered the best since they don't have a wireless radio. They also offer the most compatible connection between tablets, PCs, and smartphones. Wi-Fi scan tools are susceptible to failed connections, the same as Bluetooth devices.
What Does ELM327 Adapter Offer Me?
I have mentioned from a general point of view that ELM327 allows you to view real-time data from the ECU, run some diagnostics and read/clear codes. I should add that as an OBD2 adapter, ELM327 works with a diagnostic app/software.
What you do is that you install the app/software on your smartphone/tablet/PC and use it as a diagnostic platform.The exact range of functions that you will get depends on the app or software you are using. I will talk more about that later in this post, but for now here are the most common functions of ELM327:
Diagnostic Trouble Codes (DTCs)
ELM327 allows you to read and clear generic as well as manufacturer-specific codes. You can view the definition of each code and determine whether the problem needs you to take the car to the shop or if you can handle it the DIY way.
Note that when you clear ECU codes you can turn off the Check Engine Light (CEL).
Smog Check
In addition to codes, ELM327 adapter will also indicate whether the car will pass federal and state smog tests.
Live Data
Live data is great for pinpointing problems as it shows you the performance of your car. ELM327 provides real-time data that you can use to analyze things like engine performance and fuel economy. Here's a list of the live data that you can view:
• Absolute Throttle Position
• Air Fuel Ratio
• Average Trip Speed
• Barometric Pressure
• Command Equivalence Ratio
• CO2 Emissions
• Distance Traveled Since Clearing ECU Code
• EGR Commanded
• Engine Coolant Temperature
• Engine Load
• Engine RPM
• EVAP System Vapor Pressure
• Fuel Cost
• Fuel Level
• Fuel Rail Pressure
• Fuel Used (trip)
• GPS Altitude
• GPS Latitude
• GPS Satellites
• Intake Air Temperature
• Kilometers Per Liter
• Miles Per Gallon
• O2 Volts
• Relative Throttle Position
• Speed
• Timing Advance
• Transmission Temperature
• Trip Average MPG
• Trip Time
• Voltage (Control Module)

• Accelerator Pedal Position
• Ambient Air Temperature
• Barometer
• Catalyst Temperature
• Cost Per Mile
• Distance to Empty Fuel Tank
• Distance Traveled with Check Engine Light On
• EGR Error
• Engine kW
• Engine Oil Temperature
• Ethanol Fuel Percentage
• Exhaust Gas Temperature
• Fuel Flow Rate
• Fuel Pressure
• Fuel Trim Bank
• GPS Accuracy
• GPS Bearing
• GPS Longitude
• Horsepower
• Intake Manifold Pressure
• Mass Air Flow
• O2 Sensor
• Relative Acceleration Pedal Position
• Run Time Since Engine Start
• Throttle Position
• Torque
• Trip Average KPL
• Trip Distance
• Turbo Boost and Vacuum Gauge
• Volumetric Efficiency

Data Management
You can log both diagnostic data and real-time (live) data to your phone, tablet or PC. ELM327 gives you the option to receive the data via Text file or email. However you prefer, you can share it with people who understand diagnostics better in case you need someone else's opinion.
What Protocols Are Supported By ELM327?
ELM327 is not the only ELM interface around. Its predecessors, the ELM320, ELM322 and ELM323 are still very much available for purchase and use. However, the 327 version is the most popular because it supports all OBD2 families of protocols.
ELM320 supports only one type of protocols; the PWM. The same goes for ELM322 and ELM323 which only support VPN and KWP protocols respectively. On its part, ELM327 is fully compatible with all types of protocols.
More specifically, it works with CAN, KWP, PWM, and VPN. That translates to all OBD2 protocols. Here's the list:
ISO 15765-4 CAN (11 bit, 500 kbit/s)
ISO 15765-4 CAN (29 bit, 500 kbit/s)
ISO 15765-4 CAN (11 bit, 250 kbit/s)
ISO 15765-4 CAN (29 bit, 250 kbit/s)
ISO 14230-4 KWP (5 baud init, 10.4 kbit/s)
ISO 14230-4 KWP (fast init, 10.4 kbit/s)
SAE J1850 PWM (41.6 kbit/s)
SAE J1850 VPW (10.4 kbit/s)
ISO 9141-2 (5 baud init, 10.4 kbit/s)
SAE J1939 (250kbit/s)
SAE J1939 (500kbit/s)
To put it simply, ELM327 is compatible with practically all OBD2 cars that are made or sold in the US. So, as long as your car is not a 1995 or older model you may use an ELM327 adapter for its diagnostics.
---
Group 1: Best ELM327 Bluetooth Adapters
#1. Veepeak BLE+: Best Genuine ELM327 Bluetooth Adapters
Supported devices: Android/ iOS
Recommended apps: Torque Pro, OBD Fusion, JScan (for Jeep), …
When someone asks me about ELM327 adapters, the first option that comes to mind is the Veepeak BLE+. This scanner uses the genuine ELM327 (version v2.2) and works flawlessly on both Android and iOS devices.
If you're an iPhone user, you're aware that finding a good ELM327 adapter can be challenging. Older Bluetooth technology doesn't connect well with iPhones, leaving us with less-than-ideal Wi-Fi scanners.
And Veepeak BLE+ is here to save the day. 
This newer Bluetooth adapter can work well with any iOS device, and it allows you to browse the web for more information while you scan away.
Pro tip: Connecting via Bluetooth for iPhones is done through the app, not in the "settings" menu.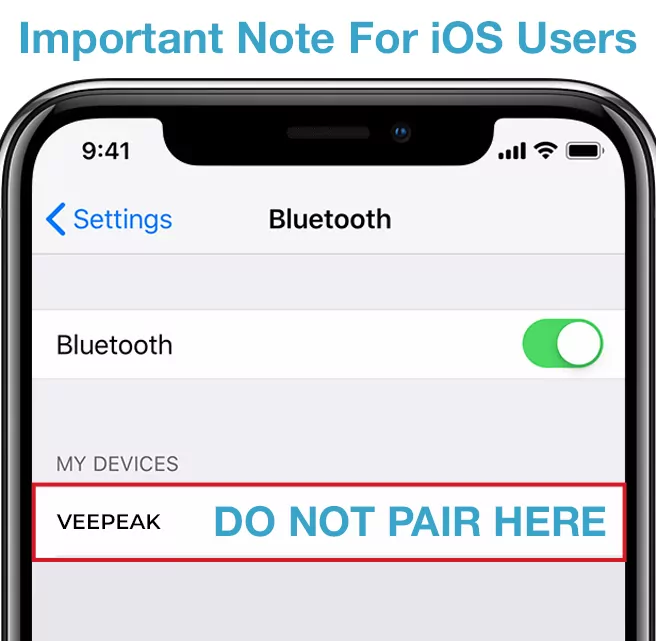 Now, let's talk about what I don't like. Well, there's nothing to complain about, really! Sure, the Vepeak BLE+ is a bit pricier than some clones of clone ELM327 adapters. 
But its data transfer speed is fast and seamless (on both iOS and Android devices). 
And you won't have to deal with the headache of a wonky connection like those cheap ELM327 adapters that I foolishly bought for only $10. You know what they say, "buy cheap, buy twice!"
So, if you're looking for a reliable ELM327 adapter, look no further than the Vepeak BLE+.
Today's best Veepeak BLE+ deal:
#2. BAFX (Bluetooth): Cheaper, and better customer support
Supported devices: Android
Recommended apps: Torque, Car Scanner, …
You have two options when it comes to choosing a BAFX scanner:
No matter which device you use, BAFX is an excellent choice to consider.
One of the standout features of BAFX is its affordability.
I mean, it's a steal compared to other pricey adapters out there, like the OBDLink MX+. And, it works like a charm with OBD Fusion ($10) or Car Scanner (free) – 2 best apps that are just perfect for those who don't wanna spend a fortune.
More than that, the 2-year warranty and customer support from BAFX is top-notch. 
I was blown away by the message I received from BAFX. They're committed to making sure their customers are happy and satisfied, and that's something you don't see every day.
And when I did reach out, I got a solid reply within 48 hours. Sure, it's not lightning-fast, but they answered all my questions, and that's what matters.
Just a minor complaint that BAFX is a bit bulkier than I expect from the pictures. However, I haven't encountered any problems with accidentally kicking it while getting in or out of the car, so it might not be a significant concern.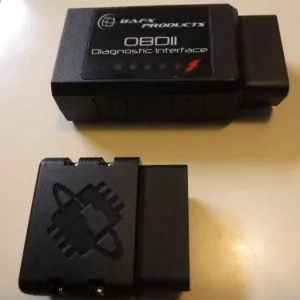 Overall, BAFX adapter is a must-have for any DIY mechanic on a budget. 
The data transfer is freaky fast between your phone and the BAFX scanner. It's even faster than the Veepeak BLE+.
Purchasing the BAFX scanner is a wise investment that you won't regret.
Today's best BAFX Bluetooth deal:
Read more: BAFX: OBD2 Adapter For iOS & Android Honest Review
#3. Mestar ELM327: Cheapest ELM327 adapter
Supported devices: Android/ iOS
Recommended app: Torque, Car Scanner, …
I'm 100% sure that this Mestar it doesn't uses a genuine ELM327 chip (because ELM327 chip alone can cost up to 20 bucks!). But honestly, it doesn't really matter if all you need is a VERY cheap adapter.
I paired the Mestar adapter with the Car Scanner app, and it worked like a charm, giving me accurate code readings. 
I put it to the test on a 2002 Chevy. Other ELM327 adapters couldn't read all the trouble codes, but this one nailed it.
Take a look at the impressive code reading results below: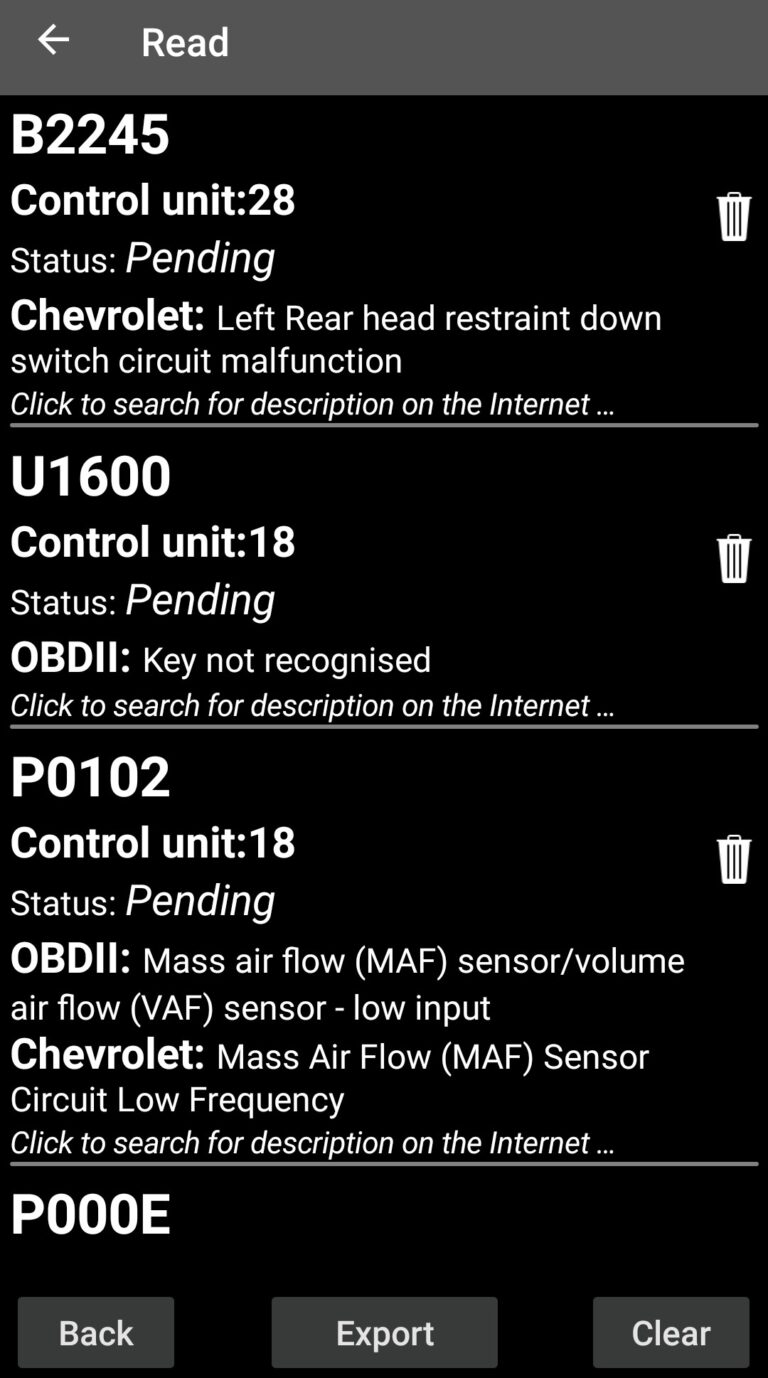 Mestar adapter and Car Scanner app also worked seamlessly together to read coolant temperature readings. Very impressive.
Occasionally, you may encounter a slight connection issue (happening only 1 to 2 times out of 10). But fear not! Simply unplug it from the port and plug it back in, and you'll be good to go.
While Mestar ELM327 is not the most advanced product out there, it's still a fantastic deal. 
You can use the Mestar adapter with free apps like Torque Lite or Car Scanner, saving you even more money.
At just $5, this adapter is an absolute steal, especially if you're looking for a simple and reliable code reading solution. Trust me, you won't find a better value anywhere else.
Today's best Mestar ELM327 deal:
 #4. OBDLink MX+: Cost more, but give you a lot
Supported devices: Android/ iOS
Recommended apps: OBDLink (free), BimmerCode (for BMW), Alpha Obd (for Dodge)
Let me tell you about the best ELM327 adapter out there for getting dealer-level diagnostics – it's the OBDLink MX+ at about $140 US. 
I'll admit I've had some connection issues with the MX+. It sometimes refuses to connect even when I've tried every phone in my house. 
But I've discovered a handy-dandy trick to fix this issue.
All I have to do is remove the MX+ from the OBDII port and put it back in. Problem solved. Simple as that.
Now, I know some of you are thinking, "Why not just go for a cheaper scanner like the BAFX?" 
Sure, BAFX can pull out basic engine trouble codes, but the OBDLink MX+ takes it to a whole new level. It allows you to scan ABS, SRS, TPMS, A/C, transmission temperature, and wheel speeds. 
All these enhanced diagnostics are free to use on the OBDLink app. No pesky in-app purchase packages like with other OBDLink scanners. It's like paying upfront and saving a ton of cash down the line. 
OBDLink also allows me to customize vehicles as the way I want, but I had to install other apps depending on the specific car brand. For example, Alfa OBD for Ram Pickups ($49/year) or Carista for Audi ($50/year).
It's like discovering a secret level in your repairing game!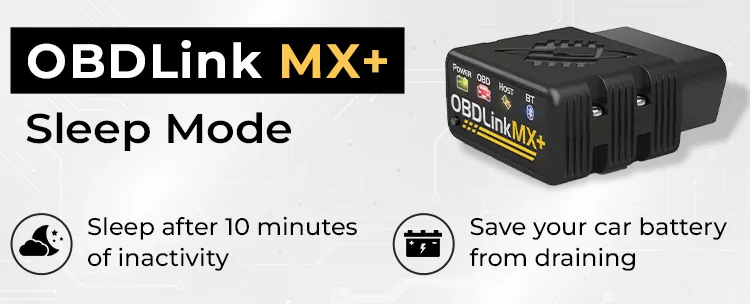 And if you're as forgetful as I am, you'll love this feature – Sleep mode! I can't tell you how many times I've forgotten to unplug the scanner and found out my car battery was drained.
But with the MX+, it sleeps after 10 minutes of inactivity. Genius, right?
Sure, the MX+ may seem pricey compared to other ELM327-compatible adapters. But trust me, the peace of mind you get with the MX+ is priceless. 
For only about $140, you can have advanced diagnostics at your fingertips and sleep soundly at night. It's a no-brainer.
Today's best OBDLink MX+ deal:
Read more: OBDLink MX+: OBD2 Bluetooth ABS SRS Scanner Review
---
Group 2: Best ELM327 Wifi Adapters
#1. BAFX Wi-Fi for iOS
Let's start by looking at the BAFX WIFI version. This tool is compatible with all iOS devices. It promises stable connections and faster data transfer speeds thanks to its high-quality construction. 
This scanner works best with the OBD Fusion app. It will allow you to read OBD2 CEL codes, reset the Check Engine Light, see lots of sensor readings, graph sensor readings, prepare for an emission test, etc. 
BAFX WIFI can also pair with the Carista OBD2 app. You can use the free Carista version for basic OBD2 features. However, you have to pay for the software if you want advanced features like TPMS, customization, and ABS/Airbag. 
Today's best BAFX Wifi deal:
#2. Foseal Wifi ELM327 OBD2 adapter
For iOS and Android, you'll need the Foseal WIFI adapter. The scanner is ideal for novice and intermediate users. This unit allows you to read, diagnose, and erase OBD2 trouble codes. 
Foseal WIFI pairs well with the Torque Pro app for Android and inCarDoc for iOS. This connection will allow you to see sensor data that will enable you to monitor engine RPM, coolant temperature readings, fuel system status, vehicle speed, air flow rate, oxygen sensor voltage, among other things. 
Foseal WIFI also pairs with OBD Fusion for Android.
Today's best Foseal Wifi deal:
#3. Veepeak Mini Wifi
For those looking for an ultra-cheap but very versatile wireless ELM327 OBD2 scanner, you can't do better than the Veepeak Mini WIFI. It's such a small dongle that does both simple and advanced diagnostics. 
Veepeak Mini WIFI works across all platforms: iOS, Android, and Windows. Depending on the app, it will check and clear engine codes, run smog tests, and all the other basic functions. What's more, it offers advanced functions such as air intake temperature, throttle position, RPM, fuel consumption, engine temperature, fuel level, vehicle speed, DPF temp, fuel trim, and O2 tests. 
Apart from that, this adapter also offers real-time sensor data. Dashboard customization is also available.
For iOS users, the best app to use is the Car Scanner ELM OBD2 since it's free, but you unlock all features with the premium version.
Other apps include the OBD Fusion, DashCommand, and OBD Auto Doctor. 
This scanner works with Android devices with the help of the Torque Pro app. But remember that the internet won't be available when you have the scanner connected.As for Windows, many people prefer to use the OBD Auto Doctor app with Veepeak Mini WIFI.
Today's best VEEPEAK Mini Wifi deal:
---
Group 3: Best ELM327 USB Adapters
#1. OBDLink EX: Simple to use, plug and play
Let me tell you about the OBDLink EX – a USB adapter that's a total game-changer for Forscan users.
Unlike some other adapters (I'm looking at you, OHP ELMconfig), the OBDLink EX is super easy to use.
You don't have to fiddle with toggles and switches, or guess which mode or protocol to use. Nope, this adapter does all the work for you – automatically!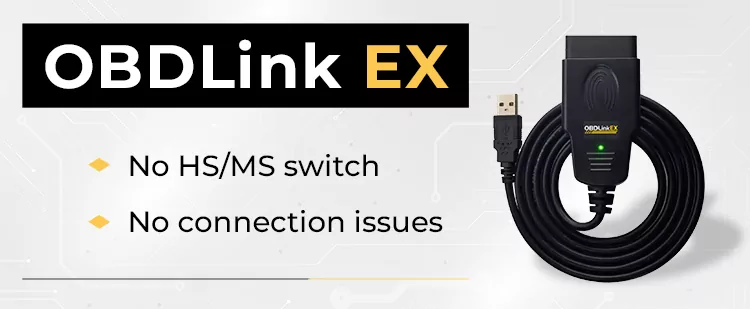 And if you're worried about connection issues or lost signals, fear not! The OBDLink EX delivers a reliable, rock-solid connection that won't let you down.
But installing the software might give you a bit of a headache. There's no step-by-step guide included, but luckily, a Forscan website provides helpful info.
Just don't expect any screenshots or detailed instructions (at least, not ones I could find).
Once you've got it up and running, the OBDLink EX really shines.
If you want to make changes to your Ford, like adding key or even adding options your vehicle doesn't have, the "OBDLink EX and Forscan" makes it a breeze.
So don't waste your time with those cheap ELM cables that only do some functions, and do them slowly at that. Get the OBDLink EX, and get it done right! 
Highly recommended – easy to use, low price, and all the features you need.
Today's best OBDLink EX deal:
Read more: OBDLink EX Review: Is It the Best Adapter To Work With FORScan?
#2. OHP ELMconfig: Cheaper, but less convenient
If you're looking for a cheaper alternative to the OBDLink EX, you might want to check out the OHP ELMconfig USB adapter. It's only about $33, half the OBDLink EX's price.
But, as with anything in life, cheaper does come with a few trade-offs.
First off, the HS and MS modes are labeled. But unfortunately, if you have it plugged in under your dash, you won't be able to see these labels because the dash covers them. 
Don't worry, though, it's a simple fix. Just print out a label like in the picture below and attach it to the adapter. Boom! Problem solved.
The second thing I must warn you about is how tight the dongle fits on the OBDII port.
Inserting and removing it is like a gym session for your fingers. But it's better than having it fall out all the time, right?
Apart from those two things, my experience with the OHP ELMconfig has been great. 
OHP has its own website with plenty of guidance and information, making it easier for newbies to learn how to use Forscan.
Plus, the cable is approximately 6ft long, giving me plenty of lengths to have my laptop or device set on the center console while everything is plugged in. 
And let me tell you, it works great with ForScan. I even managed to program new keys to a 2005 Ford Focus 4DR 2.0 with it!
If you're looking to fix your Ford at home with a small investment, this OHP ELMconfig adapter is the way to go. 
Today's best OHP ELMconfig deal:
---
I hope you've enjoyed reading this far and found the best ELM327 adapter that fits your needs and budget. 
But wait to go! I want to hear from you! 
Is my grouping of products helpful? 
Are there any other product groups you'd like to see me cover? 
Let me know in the comments below so I can keep improving and giving you what you need.
And if you want to support me, use the link in this post when you purchase. Remember, I don't get any commissions from brands, so your support is what keeps this website up and running.
Thanks for reading.