If you want to diagnose the engine system, scan the full vehicle, program a key fob, or reset the battery after change on your Subaru car, don't worry! There are scanners available that can help with these tasks.
Just determine your specific needs and then choose the best option for your Subaru vehicle in my list!
6 Best Subaru Scan Tools Comparison Chart
[Mobile users: Swipe left for full table]
Click HERE to see full comparison chart (PDF, Free Download)
---
6 Best Subaru Code Reader/ Diagnostic Tools Detailed Reviews:
#1. ANCEL JP700: Best Subaru Code Reader (5% OFF Coupon at ANCEL store: OBDADVISOR)
ANCEL JP700
Pros
JOBD function
Engine live data
Easy to use
The ANCEL JP700 is a scanner specifically designed for Subaru vehicles and other Japanese cars. This means that it is compatible with a wide range of Subaru models and eliminates the worry of vehicle coverage.
I have tried this scanner with many Subaru models: Subaru Outback, Subaru Legacy, Subaru Ascent, etc. And ANCEL JP700 can support all of them. 
So, what can ANCEL JP700 do?
JOBD function: ANCEL JP700 gives a wider range of diagnostic codes specifically for vehicles in Japan compared to other OBD2 scanners.
Engine System Check: It can scan the engine system and detect any potential problems or issues that may be affecting its performance.
Live Data: ANCEL JP700 provides real-time data to ensure that all components within the engine system are functioning correctly.  However, this small gadget doesn't support graphing live data
I/M Readiness: This feature allows you to determine whether your vehicle is prepared for the national emissions test or not. 
Overall, ANCEL JP700 is a plug-and-go and basic scanner to take care of your Subaru vehicle.
Today's best Ancel JP700 price:
#2. Bluedriver: Best Bluetooth Diagnostic Tool for Subaru
Bluedriver
Pros
Very user-friendly
Extra technical info
Live data in 3 ways
Convenient
Cons
Occasional bugs
May not read full-system
Bluedriver is a good choice for a Subaru owner as it can support all Subaru models in the USA (Subaru Outback, Subaru BRZ, etc.) to give your car a thorough diagnosis and basic maintenance. 
The scanner offers both 4-system diagnosis and full-system diagnosis, depending on the specific Subaru model. However, In my experience, it can access multiple systems in most Subaru cars, not just the main four.
Along with providing the error code, it also offers additional information such as the frequency of occurrence for that code and suggested repairs or replacement parts. This means you don't have to consult a mechanic to know what to do next.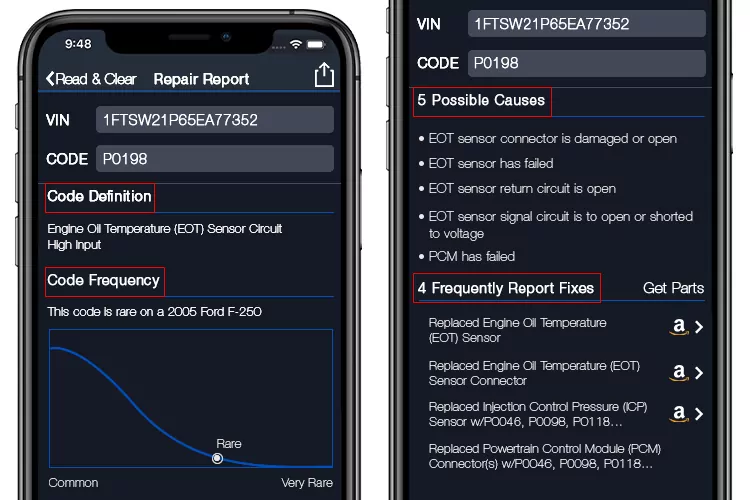 Another popular feature is the ability to view live data in three different ways. You can select several parameters to graph and get an overall picture of various systems. 
However, I recommend choosing only 2-3 parameters at once to avoid laggy performance. Like with most Bluetooth scanners, connectivity can sometimes be problematic with Bluedriver.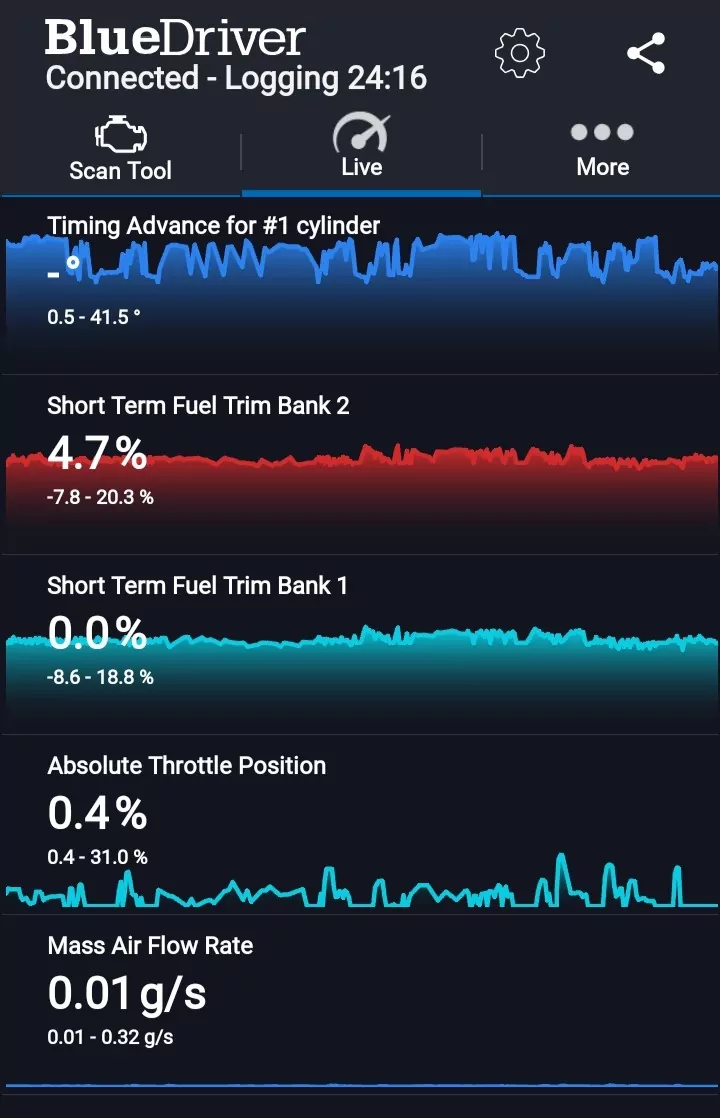 What's even better is Bluedriver offers the 2 most reset functions: Oil reset and TPMS reset.
All in all, with Bluedriver, you can get a better understanding of your car's health and keep it running smoothly.
Today's best Bluedriver price:
Read more: Never Buy BlueDriver Before Reading This Review [Updated 2023]
#3. FOXWELL NT301: Best OBD2 Scanner for Subaru
FOXWELL NT301
Pros
Fast & accurate
Full OBD2
Live data in graph
Cons
May not support some Subaru vehicles
The Foxwell NT301 is a reliable and affordable scanner that helps you diagnose the cause of check engine lights. It accurately reads codes and allows you to fix problems before clearing the code, saving you from costly diagnostic fees at repair shops.
Thus, FOXWELL NT301 allows you to view live data in graph or chart format. My favorite one is data logging function, which lets you record and review PIDs later for analysis.
But here's the best part: this scanner offers not just one or two, but a full 10 OBD2 modes. You can have all the OBD2 functions from I/M Readiness, freeze frame data to On-Board Monitor Test, etc.
Not to mention that this little gadget works really fast and accurately, I haven't seen any bugs or fault codes popping up during tests.
So, if you're looking for the ultimate OBD2 scanner for your Subaru, go for the Foxwell NT301. It's a reliable choice that won't disappoint you.
Today's best FOXWELL NT301 price:
Read more: FOXWELL NT301 Review: A Top-Rated Universal Full-OBD2 Scanner Today
#4. XTOOL IP508S: Best Subaru OBD Scanner with Battery Reset
XTOOL IP508S
Pros
Battery reset
ABS Bleeding
Fast & User-friendly
Cons
May not cover some vehicles
XTOOL IP508S can diagnose not only the engine system but also the 4 main systems of the vehicle, including the engine, ABS, SRS, and transmission. This allows you to uncover and resolve deeper issues with the vehicle.
But it doesn't just stop at diagnostics. This tool also offers 9 helpful service functions. One particularly useful feature is the BMS reset, which is important for Subaru vehicles. With this function, you can reset the battery after battery change, protecting the new battery. This saves you time and money by avoiding a trip to the repair shop.
Additionally, the XTOOL IP508S has other useful service functions like 
ABS bleeding to remove trapped air
TPMS reset for proper tire pressure
oil reset to reset the oil system after an oil change.
Overall, the XTOOL IP508S is a great investment if you want to keep your vehicle in good condition and ensure it performs at its best.
Today's best XTOOL IP508S price:
#5. Thinkdiag2: Best Bluetooth Bidirectional Scanner for Subaru
Thinkdiag2
Pros
Bidirectional control
Key programming
Use on phone
Thinkdiag2 is a Bluetooth adapter that comes with a free app (Thinkdiag+). It's super convenient because you can do all your vehicle diagnostics right from your phone.
This thing takes vehicle diagnosis to another level. It can do a full system scan and even has a bi-directional control feature. With bi-directional control, you can run tests on different modules of your Subaru, like the powertrain system, to make sure everything is working smoothly.
Thinkdiag2 can also do essential stuff like BMS reset and key programming for your Subaru. And it's not a headache to program the keys. The whole process is quick and simple.
Now, one thing you should know is that Thinkdiag2 isn't specifically made for Subarus. So, it might not work with all Subaru models. It would be a good idea to double-check with the seller on Amazon before getting one.
Thus, I should mention that the app can sometimes be a bit glitchy. But it's how it goes with Bluetooth adapters. Despite that, Thinkdiag2 is a wallet-friendly option for boosting your Subaru's maintenance and performance.
Today's best Thinkdiag2 price:
#6. Autel KM100: Best Key Programmer for Subaru
Autel MaxiM KM100
Pros
Add new keys
Advanced IMMO functions
Fast & User-friendly
Cons
Quite expensive
No vehicle diagnostics
If you have key-related problems or need key programming for your Subaru vehicle, the Autel MaxiM KM100 is an excellent solution for you.
For Subaru vehicles, this enhanced key tool can support functions
Add new Subaru key fobs
All key lost
Remote learning
IMMO part replacement
etc.
The best part about this tool is its user-friendliness. It works flawlessly and quickly, providing clear instructions to guide you through the process.
It is important to note that this tool focuses solely on the IMMO system and does not support vehicle diagnosis or maintenance functions.  So an under-$500 price might be a bit expensive, but it's worth the investment for a reliable and professional key tool.
Overall, Autel MaxiM KM100 is the best investment for Subaru DIY enthusiasts who want to focus on the IMMO system and add a new key fob to their car.
Today's best Autel MaxiSys KM100 price:
6 Best Scan Tools for Subaru Vehicles: Full Comparison Chart
[For mobile users: Rotate your phone and swipe left for full table]
| | ANCEL JP700 | Bluedriver | FOXWELL NT301 | XTOOL IP508S | Thinkdiag2 | Autel KM100 |
| --- | --- | --- | --- | --- | --- | --- |
| DIAGNOSTICS | | | | | | |
| Engine codes | ✅ | ✅ | ✅ | ✅ | ✅ | – |
| Transmission codes | – | ✅ | – | ✅ | ✅ | – |
| ABS/ SRS codes | – | ✅ | – | ✅ | ✅ | – |
| All-system codes | – | ✅ | – | – | ✅ | – |
| Live data | ✅ | ✅ | ✅ | ✅ | ✅ | – |
| Smog tests | ✅ | ✅ | ✅ | ✅ | ✅ | – |
| OTHER FUNCTIONS | | | | | | |
| Service functions | – | ✅ | – | ✅ | ✅ | – |
| BMS Reset | – | – | – | ✅ | ✅ | – |
| Key programming | – | – | – | – | ✅ | ✅ |
| Active tests | – | – | – | – | ✅ | – |
| IMMO functions | – | – | – | – | – | ✅ |
| VEHICLE COVERAGE | Japanese vehicles | All car brands | All car brands | All car brands | All car brands | All car brands |
| HARDWARE/ DESIGN | | | | | | |
| Connection type | Wired | Bluetooth | Wired | Wired | Bluetooth | Wired |
| Screen size | 3.5″ | – | 2.8″ | 5″ | – | 5.5″ |
| Touch screen | – | ✅ | – | ✅ | ✅ | ✅ |
| AFTER- SALES SERVICE | | | | | | |
| Free update | Lifetime | Lifetime | Lifetime | Lifetime | 1 year | Lifetime |
| Update fee | $0 | $0 | $0 | $0 | $99.95/year | $0 |
| Warranty | 1 year | 1 year | 1 year | 2 years | 1 year | 1 year |
| Customer support | 9.0/10 | 9.0/10 | 7.5/10 | 10/10 | 9.0/10 | 8.0/10 |
| | | | | | | |
| | | | | | | |
What's Next?
That's all for my review of the top 6 Subaru OBD2 scanners and key programmer! I hope you found it helpful in finding the best tool for your Subaru vehicle.
If you have any questions or feedback, please feel free to leave a comment below. I'll be sure to respond to all replies as soon as possible. Thanks for reading!