Searching for the best OBDeleven scanner review and comparison?
You've come to the right place. 
We've carefully examined all the OBDeleven devices and smartphone apps and made a detailed review of each one. To paint a clearer picture of their differences, we compared them with each other.
After reading our detailed OBDeleven review, you will be able to choose the best device pack for your needs. 
You'll also get a good grasp of what each subscription plan offers so you can decide whether to buy one or not. 
Excited? 
Let's get started!
Best OBDeleven Scanner Comparison Chart
| | | | |
| --- | --- | --- | --- |
| | OBDeleven Starter | OBDeleven Pro | OBDeleven Ultimate |
| Customer Rating | | | |
| Price range | | | |
| Credits | 100 | 200 | 500 |
| Pro/Ultimate License Included? | -- | 12-Month Pro License | 12-Month Ultimate License |
| One-Click Apps | ✔ | ✔ | ✔ |
| Compatible OS | Android, iOS, Huawei | Android, iOS, Huawei | Android, iOS, Huawei |
| | | | |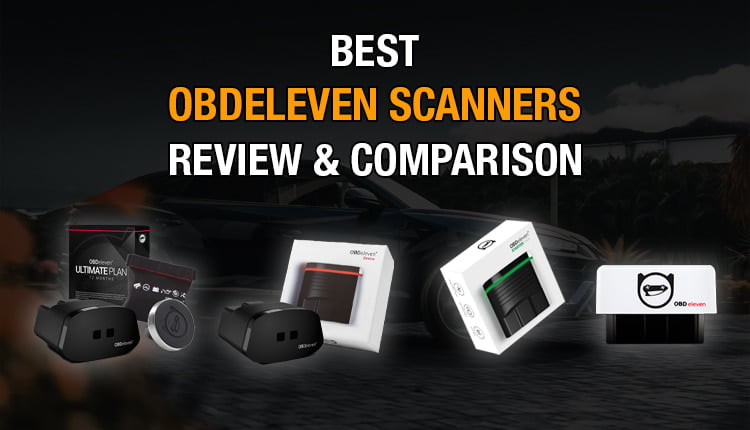 Best OBDEleven Scanners: Which level should I go for? 
OBDeleven offers 4 different devices to choose from, each with different capabilities. They are Standard, Starter, Pro, and Ultimate. Standard and Starter are cheaper than the higher-end Pro and Ultimate devices, but the latter offers more advanced features. 
This is especially great as it allows you to manage your budget and buy the device you need. Suppose you're a first-time diagnostic tool user. In that case, you can choose one that offers the basic to medium diagnostics you might need. 
Experts can go for more advanced devices with more credits to perform more in-depth and varied diagnostics. 
Here is a breakdown of the five OBDeleven devices you can buy now.
1. OBDeleven Standard
OBDeleven Standard Edition ONLY for Android Devices
OBDeleven Standard pack is right for anyone looking to diagnose VAG cars with advanced diagnostics on an intuitive app. It is budget-friendly, and you get to choose which additional features you want.
Design and specifications
OBDeleven Standard Edition is the base version of the OBDeleven diagnostic device family. It is the first product in the second generation of OBDeleven devices. First-generation OBDeleven devices were white, but OBDeleven Standard Edition is a bold black. It is a very portable dongle that plugs snuggly into the OBD2 port in your vehicle. 
Notably, the Standard Edition is the only version of the new generation that exclusively works on Android devices. Unlike other editions, you can't connect it with an iOS device. As long as your Android smartphone or tablet version is 5.0 and above, you can connect to any OBDeleven scanner, including Standard Pack. If you have any older Android versions, the scanner will not connect with your vehicle. 
OBDeleven Standard Edition draws 45mA from the OBD2 and runs on 9 – 16V. It establishes a Bluetooth BLE 4.2 connection with your Android smartphone or tablet and secures the connection with a password. It runs KKL, CAN, and CAN-UDS diagnostic protocols and requires a stable internet connection to run smoothly. 
It costs only $64.99, which makes it the cheapest OBDeleven device. Once you register the device after purchase, you get 11 free credits. You can use these credits to buy diagnostic functions as One-click apps within the OBDeleven app. Unlike some other editions, it doesn't come with credits apart from the ones you get when you register. 
It doesn't include a Pro license for advanced OBDeleven features like long coding, but you can buy it within the app. 
What can it do?
OBDeleven Standard Edition is a great way to start a conversation with your car. It can probe for errors in your emissions and engine systems through its full OBD2 test mode capability. Beyond the engine system, it can check all vehicle systems, from the chassis system to the electronics and brake system. 
You can check for vehicle information, view live data, check battery status, amongst other useful reset features. Any diagnostic data you gather can be shared through email to a remote mechanic or just for record purposes. In essence, it delivers all the basic OBDeleven features if you don't have a Pro or Ultimate subscription. With a Pro license, you get more features like coding, gateway auto code, and adaptations.
Remember that you have to purchase these features individually through One-Click applications with credits, the in-app currency. 
Pros and cons
OBDeleven Standard Edition is quite affordable. Despite its price and positioning as an entry-level product, it offers an impressive number of features. It also allows you to upgrade your plan and buy a Pro license without having to buy a higher-level device. 
Yes, it's cheap, but that also means that it doesn't come with any credits. You get 11 credits when you register, and that's it. Credits are essential since you use them to purchase features as one-click apps within the OBDeleven app. You can always buy some credits to get more features, but if you don't have the budget, you'll have to view some ads daily to collect some free.
OBDeleven Standard
Read more: OBDeleven Standard: Bluetooth OBD2 VAG Car Scan Tool Review
2. OBDeleven Starter
Obdeleven Starter Edition Next Generation Professional OBD2 Bluetooth Diagnostic Scan Tool
OBDeleven Starter includes 100 credits to provide you with access to many more features for free. Its code definitions come in handy for everyone, from beginners to pros.
Design and specifications
OBDeleven Starter Pack works with both Android and iOS through Bluetooth. The OBDeleven apps for each OS are available on their respective app stores. All OBDeleven devices have cloud-based software, so they must be online to perform checks on your car. Pairing with smartphones and tablets is designed to be intuitive. 
The device itself costs $109.99, but that is inclusive of 100 credits and the free Android, iOS, and Huawei apps. However, there is no Pro or Ultimate license included. 
It comes in a small white box, with the black device inside. There isn't much paperwork in the pack, but it is so easy to use that you won't miss it. The device doesn't need an external power source as it starts working once it is connected to your standard OBD2 DLC. 
What can it do?
The Starter pack can do much more than preceding devices out of the box. This is because it comes with 100 credits included. Combined with the 11 free credits you get when you register, you get 111 credits to buy the features you want and fix your immediate problems without paying extra. 
It can access all control units, whether it's a system, sub-system, or component, display detailed information, and read or clear errors. You can use it to check various vehicle parameters, look up fault codes, and get definitions for them. 
Beyond that, activate certain functions after retrofits and perform many advanced service resets. It also lets you view programming history, program your vehicle, and activate comfort features.  
All this is possible by buying those features within the app as One-click applications using credits. Since you get 100 credits with this device, you can use those to buy some features.
Pros and cons
OBDeleven Starter pack has enough credits to get some basic or advanced diagnostic done on your device without spending days watching ads to accumulate credits. It is a small plug-and-play device that has incredible features that you can instantly access.
You don't get a free Pro or Ultimate subscription with the Starter Pack, but it is not a big issue because of the included credits. However, once those finish, you have to get more.
OBDeleven Starter
4. OBDeleven Pro
OBDeleven Next Gen Pro Auto Diagnostic Bluetooth Scanner
OBDeleven Pro Edition offers a free 12-month Pro plan that gives you powerful, advanced diagnostics. You can customize and repair your car like a manufacturer would.
Design and specifications
OBDeleven Pro Edition costs $149.99, but its price is justified since it comes with a 12-month Pro license. You also get 200 free credits sent to your email when you buy and an additional 11 free credits when you register your account. This pack is obviously built for professionals who want to do more with OBDeleven. 
It works similarly to other OBDeleven, using Bluetooth to connect to the proprietary OBDeleven app on Android, iOS, and Huawei smartphones and tablets. Internet connection is necessary to use the device, and updates can be done from within the app. 
The Pro pack also supports KKL, CAN, and CAN-UDS diagnostic protocols is black, and draws power from the OBD2 DLC. The Pro license can be renewed after 12 months, but subscriptions aren't automatic; you have to do it in the dashboard. 
If you want to upgrade to the Ultimate license before your Pro license expires, that is also possible. When your Ultimate license expires, OBDeleven will allow you to use the rest of your Pro license. 
What can it do?
The Pro pack, like its name implies, is built for professionals. Since it has a Pro license, it unlocks access to a wider range of advanced features on top of the basic features other plans have. You can now use various coding features like long coding, coding II, gateway installation list coding, sub-control units coding, gateway auto code, adaptation, and long adaptation. 
Apart from coding, you can also access features like DTC freeze frame, live data labels development, EEPROM, login finder, security database, security access, diagnostic service charge, basic settings, and control unit reset (UDS). All these features are available through One-Click apps, where you can start buying them with the provided 200 credits. 
Pros and cons
The Pro license on this device is good news for those who want to use OBDeleven to its fullest. It unlocks a new range of features other devices can neither access nor purchase with credits. With 200 additional free credits, I have to say this is great value for money.
Although the Pro pack provides access to Pro features, the features themselves aren't included. You still have to buy them with credits. Since there are more features to buy, you may run out of the included 200 credits quickly. 
OBDeleven Pro Pack
4. OBDeleven Ultimate Edition
Obdeleven Ultimate Edition Next Generation Professional OBD2 Bluetooth Diagnostic Scan Tool
OBDeleven Ultimate gets you both Basic and Pro features for free for 12 months and adds additional features. This is the full-featured version, perfect for professionals.
Design and specifications
OBDeleven Ultimate pack is pegged at $259.99, partly due to the included 500 credits. The other reason is that this pack runs on the Ultimate license free of charge for the first 12 months after registering. Talking about registration, it still rewards you with 11 free credits. You can register and use it on Android, Huawei, and iOS smartphones or tablets.
Generally speaking, it is similar to other OBDeleven devices, with its black and portable design. It is hard to notice it when driving, and although it draws power from the car, it won't drain the battery if left plugged in. It connects via Bluetooth and uses an internet connection for diagnostics through the KKL, CAN, and CAN-UDS protocols. In the pack, you get a free carry pouch and a phone holder.
What can it do?
The Ultimate Pack is the only edition that comes with an included 12-month Ultimate plan, which offers access to all the OBDeleven features in the app. It covers all pro subscription features, including long coding, adaptations, basic settings, DTC freeze frame, UDS, control unit backup, EEPROM, coding II, long adaptations, etc.
It offers two more features in addition to the pro license: Show Raw Data and OCA builder. Show raw data allows you to view extended raw data including adaptations, and basic setting IDS. OCA builder enables the development of One-click applications using most functions you can access manually on OBDeleven, such as basic settings, diagnostic service change, etc. 
Plus, you get unlimited free access to all One-click apps, so you get to use whatever you need at any time.
Pros and cons
The ultimate pack delivers access to all the possible features on OBDeleven with nothing held back. Its unlimited free one-click apps access means you don't have to worry that there is a repair you can attempt. 
The ultimate plan is great, but it is quite expensive. Also, keep in mind that you have to renew your subscription every 12 months. It is remiss that these features aren't available on Windows devices.
OBDeleven Ultimate pack
The differences between the OBDeleven versions
1. OBDeleven Pro Vs. Standard 
OBDeleven Pro Pack comes included with a Pro license that provides access to Pro plan features, but Standard Pack can only access basic features. Pro is more expensive at $149.99, while Standard is the budget version, costing only $64.99.
Both have access to One-Click Apps, where they can add more features using credits, the in-app currency. For instant access upon registration, the Pro pack comes with 200 free credits. The Standard pack, on the other hand, doesn't have any included credits. 
The last main difference is that Pro can work with Android, iOS, and Huawei smartphones or tablets while Standard only works with Android. It isn't a big disadvantage for the Standard pack, though, since Android offers all features, including some that aren't available on iOS devices.
OBDeleven Pro
OBDeleven Standard
2. OBDeleven Pro Vs. Ultimate 
OBDeleven Pro pack costs $149.99 and has the Pro license, while the Ultimate pack costs almost double at $259.99 and has the Ultimate license. Both devices get access to all the basic features as well as the Pro features, but the Ultimate Pack has two extra features: Show Raw Data and OCA builder. Show Raw Data lets you view extended data while OCA builder allows you to build your own One-Click applications.
It goes without saying that you also get access to One-Click apps on both packs. However, the Pro Pack only has 200 credits, while the Ultimate Pack gives you 500 credits once you buy. 
OBDeleven Pro
OBDeleven Ultimate
3. OBDeleven Starter Vs. Standard 
You can buy the OBDeleven Starter Pack for $109.99, but the Standard edition is cheaper at only $64.99. Credits are necessary to effect in-app purchases through One-Click apps. The Starter pack starts you off with 100 credits right away, but you have to purchase credits to use One-Click apps on the Standard pack.
Standard is built for Android smartphones and tablets only, but Starter can be used with Android, iOS, and Huawei devices. Neither comes with a Pro or Ultimate license. 
OBDeleven Starter
OBDeleven Standard
4. OBDeleven NextGen Vs. Original (First Generation) 
The first key difference between First Generation OBDeleven devices and the new NextGen devices is iOS support. The older devices only supported Android, but NextGen devices can support Android, iOS, and Huawei. 
First Generation devices are white, while NextGen scanners are distinctively black. There are two devices in the First Generation, but NextGen offers up to 5 devices. However, the older devices are relatively cheaper. OBDeleven plans to add support for BMW in the near future, but it will only be available on the Next Gen packs.
OBDeleven NextGen
OBDeleven Original
OBDeleven iOS Vs. OBDeleven Android 
All OBDeleven scanner packs require the OBDeleven app to be installed on a phone or tablet and connected over Bluetooth to work. The most common devices in use are Android, which it supports from version 5.0 upwards, and iOS version 11 and later. However, because iOS support is fairly new on OBDeleven, some of its features are still in development. All available features on the app can be used without issues. 
Among the features in the Basic Plan, iOS devices are missing the feature to show live data and other data as charts and gauges. Apart from those, the only other features not yet available are the User manuals and Manuals developer.
On the Pro plan, iOS devices don't support Coding II, long coding, and adaptation labels development. EEPROM, live data labels development, and login finder are also in development. 
Apart from these few features, there is nothing you can't do on the iOS apps. 
OBDeleven Plans and Price: Basic Vs. Pro Vs. Ultimate
The Basic Plan is free and is accessible on all OBDeleven diagnostic device packs. It offers standard features like full system scan, live data, VIN, reading and clearing DTCs, sharing diagnostic reports, reset service, activating comfort functions, etc. 
On the other hand, the Pro plan costs about $29 yearly and only comes free with the OBDeleven Pro pack. All lesser devices, including Standard, NextGen, and Starter, can upgrade to the Pro plan from Basic. On Pro, you're allowed more One-Click apps like coding, programming, adaptations, long coding, long adaptation, login finder, etc.
Lastly, the Ultimate plan includes all the features in Basic and Pro and comes included with the Ultimate device pack. All other devices can upgrade to Ultimate for about $116 yearly. Compared to Pro, it has two additional features, one for creating your own One-Click apps and the other for viewing extended data. It also affords you unlimited access to One-Click apps. 
| | Basic | Pro | Ultimate |
| --- | --- | --- | --- |
| Best match product | OBDeleven Starter | OBDeleven Pro | OBDeleven Ultimate |
| Price | Free | $28.93 per year | $115.74 per year |
| Included with | OBDeleven Standard, NextGen, and Starter Editions | OBDeleven Pro Edition | OBDeleven Ultimate Edition |
| One-Click applications | ✔ | ✔ | ✔ |
| Automatically identify vehicle from VIN | ✔ | ✔ | ✔ |
| Full scan | ✔ | ✔ | ✔ |
| Reading / clearing trouble codes | ✔ | ✔ | ✔ |
| Live data | ✔ | ✔ | ✔ |
| Battery status | ✔ | ✔ | ✔ |
| Gauges | ✔ | ✔ | ✔ |
| Vehicle information | ✔ | ✔ | ✔ |
| Reading information about control unit | ✔ | ✔ | ✔ |
| History | ✔ | ✔ | ✔ |
| Garage | ✔ | ✔ | ✔ |
| Sharing | ✔ | ✔ | ✔ |
| Lookup | ✔ | ✔ | ✔ |
| User manuals | ✔ | ✔ | ✔ |
| Sub-control unit information | ✔ | ✔ | ✔ |
| Charts | ✔ | ✔ | ✔ |
| Output test | ✔ | ✔ | ✔ |
| Advanced identification UDS | ✔ | ✔ | ✔ |
| Manuals developer | ✔ | ✔ | ✔ |
| Vehicle Full backup | ✔ | ✔ | ✔ |
| Coding / Long coding | -- | ✔ | ✔ |
| Adaptation / Long adaptation | -- | ✔ | ✔ |
| Basic settings | -- | ✔ | ✔ |
| Trouble code Freeze frame | -- | ✔ | ✔ |
| Control unit reset (UDS) | -- | ✔ | ✔ |
| Gateway installation list coding | -- | ✔ | ✔ |
| Gateway auto code | -- | ✔ | ✔ |
| Coding II | -- | ✔ | ✔ |
| Sub control units coding | -- | ✔ | ✔ |
| Security access | -- | ✔ | ✔ |
| Security database | -- | ✔ | ✔ |
| Diagnostic service change | -- | ✔ | ✔ |
| Login finder | -- | ✔ | ✔ |
| Coding labels development | -- | ✔ | ✔ |
| Live data labels developments | -- | ✔ | ✔ |
| Control unit backup | -- | ✔ | ✔ |
| EEPROM | -- | ✔ | ✔ |
| Show raw data | -- | -- | ✔ |
| OCA builder | -- | -- | ✔ |
| Best match product | OBDeleven NextGen | OBDeleven Starter | OBDeleven Starter |
Vehicle coverage
OBDeleven is built exclusively for VAG Group vehicles. VAG Group consists of Volkswagen, Audi, Skoda, Seat, and Bentley. Because it is so specialized, it supports some models as far back as 1988 and as recent as 2021. The coverage is the same for all devices and all plans. By default, however, OBDeleven is an OBD2 diagnostic tool, which means it supports models made from 1996 to date.
Older models built before 1991 require a VAG 2×2 adapter since they aren't OBD2 compliant. The adapter bridges the connection to their OBD1 port seamlessly.
| Brands | Year | Models |
| --- | --- | --- |
| Audi | 1988 till date | 80, 90, 100, 100/200, 80/90, A1, A2, A3, A4, A4 Cabrio, A5, A5 Cabrio, A6, A7, A8. Cabrio, Coupé, Q2, Q3, Q4, Q5, Q7, Q8, R8, TT, V8, e-tron, e-tron GT. |
| Volkswagen | 1979 till date | Amarok, Arteon, Atlas, Beetle, Beetle Cabrio, Bora, CC, Caddy, Corrado, Crafter, Derby, Eos, Fox, Gol, Golf, Golf Cabriolet, Golf City, Golf Sportsvan, Golf plus, ID.3, ID.4, ID.6, Jetta, Jetta, Clasico, Jetta NAR, Lamando, Lavida, Lupo, Magotan, New Beetle, New Beetle Cabrio, New Bora, New Jetta, Nivus, Novo Gol, Parati, Passat, Passat CC, Passat NMS, Phaeton, Phideon, Pointer, Polo, Polo vivo, Polo classic, Polo variant, Sagitar, Santana, Scirocco, Sharan, T-Cross, T-Roc, Tacqua, Taigo, Taigun, Talagon, Taos, Tayron, Teramont, Tharu, Tiguan, Touareg, Touran, Transporter, Up, Vento, Viloran, Virtus, Voyage, XL1. |
| Seat | 1993 till date | Alhambra, Altea, Arona, Arosa, Ateca, Cordoba, Cupra Born, Cupra Formentor, Exeo, Ibiza, Inca, Leon, Mii, Tarraco, Toledo. |
| ŠKODA | 1991 till date | Citigo, Enyaq iV, Fabia, Felicia, Kamiq, Kamiq CN, Karoq, Kodiaq, Kushaq, Octavia, Pickup, Rapid, Roomster, Scala, Superb, Yeti. |
| Lamborghini | 2003 - 2020 | Aventador, Centenariom Gallardo, Huracán, Sian, Urus, Veneno. |
| Bentley | 1998 - 2020 | Arnage, Azure, Bentayga, Continental, Flying Spur, Mulsanne. |
Final thoughts
OBDeleven is the best diagnostic device for all VAG Group vehicles. It offers a selection of device packs to suit your needs. Its Basic plan has many advanced features, unlike other scan tools, but you can upgrade to Pro or Ultimate for more professional features. Within its proprietary app, you can do everything from buy features to upgrade your plan and even update the app.
Here are my OBDeleven recommendations for best cost savings and the widest range of features:
Diagnostic Device – OBDeleven Standard
Subscription Plan – OBDeleven Pro 
Read more: