Looking for the best scan tool for your Mercedes? You are in the right place.
Mercedes can be a bit picky when it comes to finding scanners, unlike those popular American and Asian cars. 
But fear not, I've got your back! I wrote this review to list the best OBD2 scanners for Mercedes. All products will cover most of your needs, from basic to advanced. 
Scroll down to take a look at my comparison table of these scanners.
7 Best OBD2 Scanners For Mercedes Comparison Chart
[Mobile users: Swipe left for full table]
Click HERE to see full comparison chart (PDF, Free Download)
---
Table of contents:
---
Best Scanners Designed for Mercedes Only
[Mobile users: Swipe left for full table]
#1. Foxwell NT510 for Mercedes: Best Mercedes diagnostic tool with active tests
Foxwell NT510 is a scanner specialized in diagnosing specific cars, such as Mercedes. Because it mainly focuses on 1 car brand, I highly appreciate its capabilities within this price range.
First things first, make sure to invest a little time to make sure this scanner is up to date for full functions.
The NT510 does more than just pull codes from every system—it comes with active tests. Although it only supports this feature for models from 2019 and below, it is worth it for under $200 with bi-directional. And no annual fee is required to keep it working.
Also, it allows me to re-calibrate, adapt some car parts after I repair or replace those. 
And the most useful function is battery registration. Oh, you probably know that if you go to a Mercedes dealer to replace the battery, they will charge you up to $1000. The reason is that the battery is imported from Germany (not true). Instead, you can replace it yourself at home for less than $200.
And I don't see any significant downside except for the old-fashioned interface. The screen makes me feel about 15 years out of date. So you may find navigating in the first use a bit difficult.
With the features it offers at this price point, I find it well worth the money.
If you're on the hunt for a scanner that can dive deep into specific modules without draining your wallet, Foxwell NT510 is the real deal. It's a scanner for everyday use, saving you big bucks at those dealerships.
Today's best Foxwell NT510 for Mercedes price:
#2. iCarsoft MB V2.0: Best scanner for Sprinter Van and other Mercedes models
iCarsoft MB V2.0 is also a scanner specially made for Mercedes cars. And note that it does not work with cars other than Mercedes, so it is guaranteed to work on Mercedes very well.
If you are interested in reading and clear code, this scanner has got you covered. It supports pulling codes from all available systems on your car. So, no matter how many warning lights pop up on your dashboard, it can read them all.
Besides, I am impressed by its service functions. If you want to perform car maintenance, these 7 functions will help you save a lot of money.
Oil light/service reset,
EPB system maintenance,
SAS calibration,
DPF regeneration,
Electronic throttle control (ETC) reset
ABS bleeding
and injector coding.
The first 5 functions support more vehicle models, while the last two, ABS bleeding and injector coding, are a bit more limited. I recommend you contact the seller to confirm the compatibility.
In my experience, I didn't come across any noticeable drawbacks with this scanner. However, I do need to give you a heads-up about its vehicle coverage. 
This scanner supports reading codes for vehicles with special chassis like 202, 210, 140, 208, 170, and 129. But to let it work normally, you have to buy a 38-pin black/red adapter for conversion.
Overall, this is a very reliable and affordable scanner for Mercedes cars. If you have a budget under $150 and need to perform various functions, then iCarsoft MB V2.0 is what you need now.
Today's best iCarsoft MB V2.0 price:
---
Best OBD2 Scanners for Multiple Car Brands, Including Mercedes
#1. BlueDriver: Best Bluetooth OBD2 scanner for Mercedes
BlueDriver is a very reliable scanner in the OBD2 scanner market.
I decided to give it a try on some Mercedes, and guys; it didn't disappoint me!
Now, let's get to the details. The BlueDriver shines when it comes to its most important function—reading and clearing codes. I've been using this scanner for ages, testing it on various cars, including Mercedes. 
It can scan all vehicle systems and pull trouble codes like a champ. Yet, my tested vehicle is a 2015 Mercedes Sprinter. As not all Mercedes models might be fully supported, some can scan 2-4 main systems only.
In addition, it gives technical information that is very useful when showing codes. For example, the Repair Report, which not only shows me the description of the code but also shows how to handle that code. Most solutions or fixes are accurate and verified by Professional Automotive Technicians, so you can rest assured.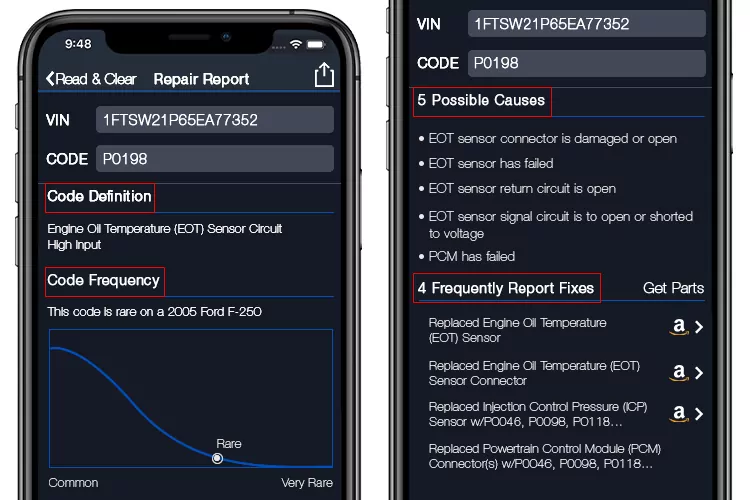 This will shorten your diagnostic time. I find it very useful for both beginners and DIYers. 
Now, let's talk about live data. Bluedriver doesn't disappoint here, either. You've got three options to view live data: 
graph, 
gauge, 
digital display. 
And you can even log and export live data as a file for later diagnosis.
But you might need to know its drawback. The live data's refresh rate is a bit delayed, around 1-2 seconds compared to real-time.
Nevertheless, the Bluedriver is a reliable scanner with an easy-to-use and user-friendly interface. If you're on the hunt for an affordable scanner that can perform basic functions, Bluedriver is here to save you!
Today's best Bluedriver price:
Read more: Never Buy BlueDriver Before Reading This Review [Updated 2023]
#2. TOPDON Artidiag Pro: Best diagnostic tool for Mercedes with ECU Coding
TOPDON Artidiag Pro is a relatively new product from TOPDON (released in November 2022). At around $500 and advertised with ECU coding, I was surprised. So I quickly ordered and tested with my customer's Mercedes.
First things first, it's got all the must-have functions like full-system diagnostics. 
In addition, I am equipped with many other advanced functions like:
Active tests
ECU Coding (no SCN Coding)
And various service functions for Mercedes (eg. ADBlue reset)
And here's a little something for older Mercedes owners. If your Mercedes is pre-1996, fear not. The Artidiag Pro comes with a Benz BZ-38 adapter to ensure compatibility.
Speaking of functions, I find most of them nearly similar to Launch X431 V's (not 100% identical, of course).
During testing this scan tool, Artidiag Pro was extremely fast. From the moment I opened it up to the completion of a full system scan, it took me less than three minutes.
One feature I absolutely adore is the Auto Vin. It's super handy when I've got a whole lineup of cars to scan in my shop. Just a heads up, though, the Auto VIN feature is only available for vehicles from around 2010 and newer. 
For those who don't like wired connections, you might see it as a downside. But not for me, because the cord is long enough.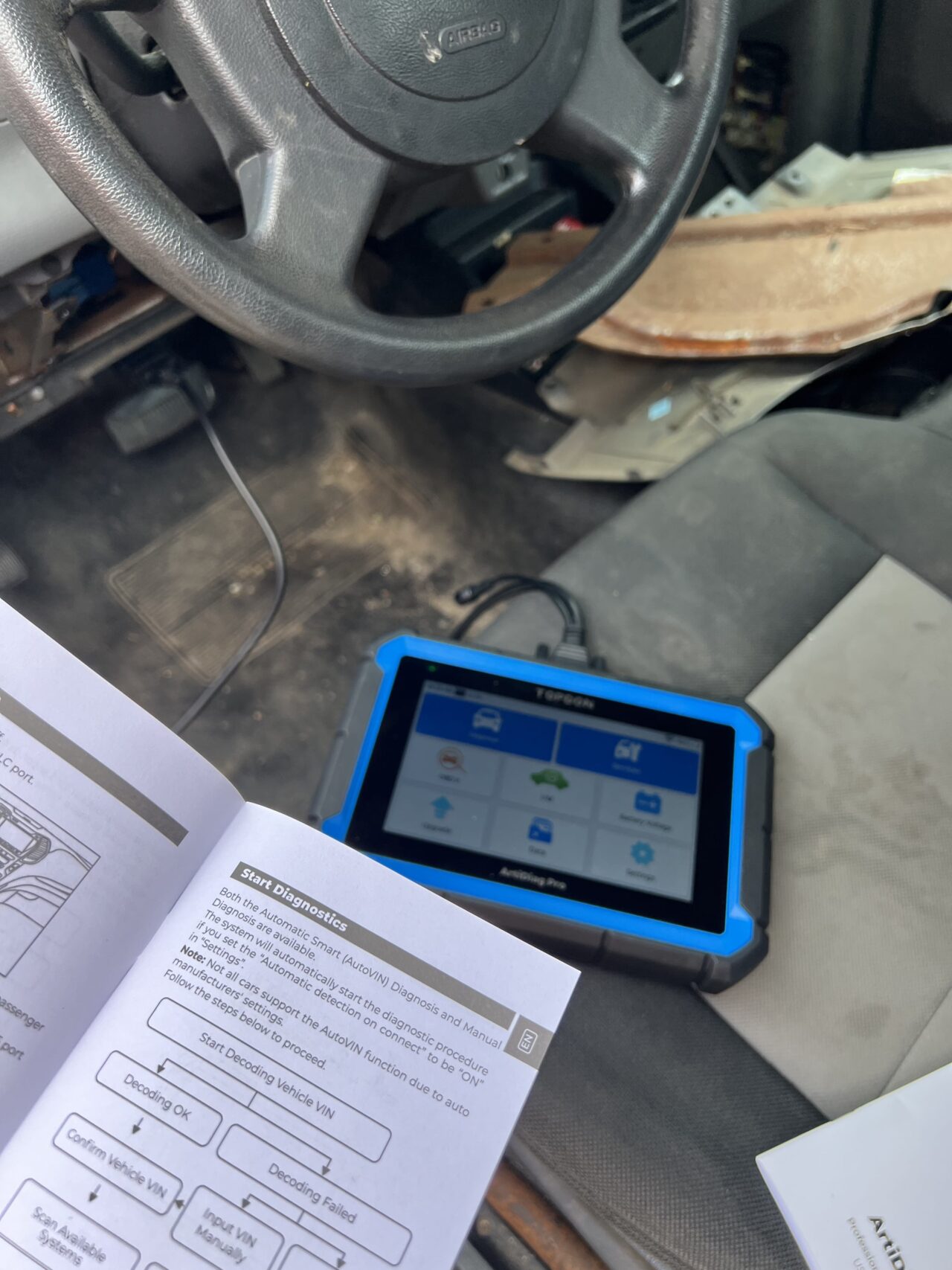 All in all, I give the TOPDON Artidiag Pro a thumbs up. Its active tests and ECU coding are perfect for home mechanics or even DIYers fixing up their buddies' cars.
Today's best TOPDON Artidiag Pro price:
#3. LAUNCH X431 PRO5: Best Mercedes programming tool
If you're looking for a top-quality programming tool for your Mercedes, I highly recommend the Launch Pro5. This tool is equipped with the SmartBox3.0 VCI, which allows you to download reliable J2534 ECU programming software. With this feature, you can easily perform
component matching, 
flash hidden functions, 
upgrade ECU software, 
and much more.
But that's not all. The Launch Pro5 also offers a range of professional functions such as 
comprehensive diagnostics (with active tests and topology map) 
50+ service functions (reset, relearn, calibration, etc.)
It's truly an all-in-one solution for repairing and maintaining your Audi as well. 
Now, I must mention that the Launch Pro5 doesn't come with an affordable price tag. However, considering its powerful capabilities and versatility, it's definitely worth the investment if you're in need of ECU programming, enhanced diagnostics, and maintenance tools. 
Today's best Launch X431 PRO5 price:
#4. ANCEL AD410: Cheapest Mercedes code reader
The Ancel AD410 may not be custom-made for Mercedes vehicles, but I've tested it on various models like the Sprinter, Diesel, and E-Class, and it works just fine. 
It's a low-budget option, but don't let that fool you – it's reliable and perfect for taking care of your vehicle's engine system.
My favorite feature of this little gadget is its ability to read engine live data. With this, you can easily pinpoint any areas that are operating outside the normal range, making troubleshooting a breeze.
Another handy function it has is the I/M Readiness feature, which allows you to check if your vehicle is ready for the national smog test.
Just remember, while the AD410 is a plug-and-go tool that's ideal for basic home diagnostics, it isn't specifically designed for Mercedes vehicles. So it may not support every model.
Today's best ANCEL AD410 price:
#5. Foxwell NT301: Best code reader for Mercedes (under $80)
Foxwell NT301 is not only affordable (under $100), but it also packs a punch when it comes to basic scanning tasks for your Mercedes.
Now, let's set some expectations straight. The NT301 is a basic scanner, so it won't help you tackle ABS & SRS codes. But it's perfect for simple tasks like resetting that annoying Check Engine Light. You can easily read codes on your own and save precious time at the repair shop.
The I/M readiness hotkey can tell you if your car will pass that smog check. You can quickly identify which systems might need to be fixed before going to the emissions test center.
And let's not forget about live data. The NT301 displays engine conditions in both numbers and easy-to-read graphs, making your diagnosis faster.
The only downside I've found is that the OBD2 cable is short. I suggest buying an extended cable for a more comfortable scanning experience.
So, if you're on the lookout for a wallet-friendly code reader to tackle those basic tasks like reading and clearing trouble codes, the Foxwell NT301 is definitely worth a shot. 
Today's best Foxwell NT301 price:
Read more: FOXWELL NT301 Review: A Top-Rated Universal Full-OBD2 Scanner Today
---
7 Best OBD2 Scanners for Mercedes: Full Comparison Chart
[For mobile users: Rotate your phone and swipe left for full table]
| | Foxwell NT510 | iCarsoft MBV2 | Bluedriver | TOPDON ArtiPro | Launch PRO5 | ANCEL AD410 | FOXWELL NT301 |
| --- | --- | --- | --- | --- | --- | --- | --- |
| | | | | | | | |
| DIAGNOSTICS | | | | | | | |
| Engine diagnostics | ✅ | ✅ | ✅ | ✅ | ✅ | ✅ | ✅ |
| Full-system diagnostics | ✅ | ✅ | ✅ | ✅ | ✅ | - | - |
| Live data | ✅ | ✅ | ✅ | ✅ | ✅ | ✅ | ✅ |
| OTHER FUNCTIONS | | | | | | | |
| Service functions | ~20 | 7 | 3 | 31 | 50+ | - | - |
| ABS Bleeding | ✅ | ✅ | - | ✅ | ✅ | - | - |
| DPF Regen | ✅ | ✅ | - | ✅ | ✅ | - | - |
| Active tests | ✅ | - | - | ✅ | ✅ | - | - |
| ECU coding | - | - | - | ✅ | ✅ | - | - |
| ECU programming | - | - | - | - | ✅ | - | - |
| VEHICLE COVERAGE | Mercedes | Mercedes | All car brands | All car brands | All car brands | All car brands | All car brands |
| DESIGN & HARDWARE | | | | | | | |
| Screen size | 2.8'' | 4" | Depends | 8" | 10.1" | 2.4'' | 2.8'' |
| Wireless connection | - | - | ✅ | ✅ | ✅ | - | - |
| AFTER-SALES SERVICE | | | | | | | |
| Free update | Lifetime | Lifetime | Lifetime | 2 years | 2 years | Lifetime | Lifetime |
| Waranty | 1 year | 1 year | 1 year | 2 years | 5 years | 1 year | 1 year |
| Update fee | - | - | - | $150/year | $399/year | - | - |
| Customer service | 8.0/10 | 8.0/10 | 8.5/10 | 9.0/10 | 8.0/10 | 8.0/10 | 8.0/10 |
| | Check Price | Check Price | Check Price | Check Price | Check Price | Check Price | Check Price |
| | | | | | | | |
*Service functions: Vary by vehicle models.
Conclusion
Thanks for reaching the end of this review! I hope you've found the perfect scanner for your Mercedes. 
If you still have any questions or need further assistance, feel free to drop a comment below. I'm here to help!