Are you looking to buy the perfect scan tool for your Mercedes? Either your vehicle is OBD1 or OBD2, I've got you covered.
The right Mercedes scanner for you depends on your repair needs, experience with diagnostic devices, budget, and vehicle type. You may also prefer a Mercedes diagnostic software over a scan tool.
In this review, I've sorted the best Mercedes scan tools on the market by their capabilities and recommended the best of the bunch. I also reviewed the best diagnostic software for Mercedes drivers and mechanics.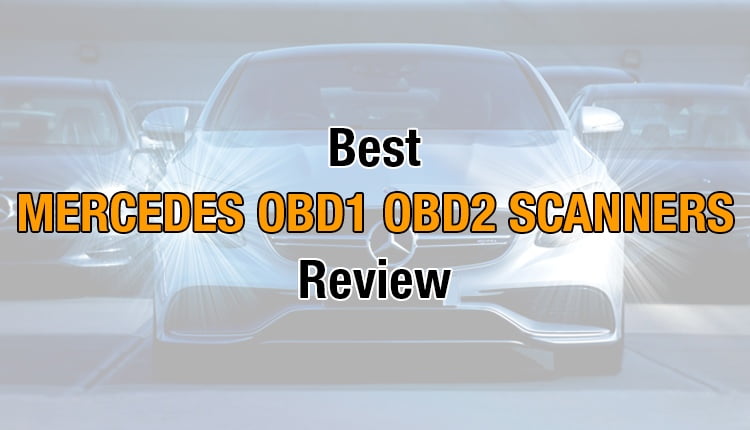 Best Mercedes Scan Tools Comparison Chart (Editor's Picks)
Best OBD2 scanners for Mercedes 
We'll start by comparing Mercedes scan tools that anyone can use. Whether you're a beginner or a professional car mechanic, the iCarsoft MBII, BlueDriver, and Foxwell NT301 are easy-to-use tools with impressive functions and wide vehicle coverage. 
Read on for an in-depth review of the 3 scan tools and who I recommend should buy them.
iCarsoft MBII
iCarsoft MBII is a perfectly fine Mercedes scan tool for casual drivers and enthusiasts who want to perform light to medium diagnostics on their car. iCarsoft MBII pays for itself even if it saves you only one trip to the mechanic. It is one of the more powerful, second-generation scan tools from iCarsoft that offers in-depth diagnostics without being too overly complex to use.
iCarsoft MBII can diagnose fault codes from the manufacturer-specific systems in Mercedes vehicles. Most of those manufacturer-specific codes are usually only available to Mercedes dealers and big workshops. It also has several advanced service functions to reset fault codes as well after you're done making the necessary repairs. 
You also get free software updates on this scan tool. With coverage for over 50 Mercedes models, your Mercedes is likely to be covered. You can check more information about iCarsoft MBII's vehicle coverage below. Your Mercedes has a lot of excellent technology, and it could use a tool like this to keep it up and running.
Although iCarsoft MBII is compatible with Mercedes cars, it can't reset the service reminder on all Mercedes models. It also can't perform programming functions and doesn't work with pre-1996 models or models with a 38-pin connection. After scanning, you'll have to write down the resulting fault codes since the iCarsoft MBII doesn't store them.
BlueDriver
Linking diagnostic scan tools with mobile applications isn't a new thing at this point, but BlueDriver allows you to do it over the convenience of a Bluetooth connection. Going absolutely wireless allows you to move around freely in your garage without being stuck behind the wheel during lengthy diagnostics.
You get a powerful, compact scanner and an app that you can download for free on Android and iOS app stores. Both the app and scan tool have been designed by professional American engineers to work on vehicles made worldwide. Mercedes isn't an exception, as BlueDriver will get you codes only your mechanics can access otherwise.
That's not to say that BlueDriver isn't for mechanics; on the contrary. Mechanics love BlueDriver due to its extended vehicle coverage, complete system diagnostics, and reset functions. Besides, it doesn't cost extra to get the best of its features for your Mercedes and other vehicles.
BlueDriver only supports Android and iPhones, so if you have a Windows phone running Windows OS, it can't support it. It might pair with other apps, but the process is quite tricky to pull off. It could also use some advanced features on top of its already impressive feature set, including ECU programming and bi-directional testing. 
FOXWELL NT301
FOXWELL NT301 is a useful tool for easy scanning and getting trouble codes from your Mercedes. You can read live data in the usual text form or as graphs so you can pick out symptom-specific data parameters. Apart from reading a wealth of ECU data, it is one of the best scanners for simply turning off your Check Engine Light.
It can also be used to check your emissions readiness before you take the official test. Its green, yellow, and red LEDs will inform you of how ready you are for a smog test. Anyone can use it globally. Its keys are well-arranged, the navigation is smooth, and the color screen makes it user-friendly.
Every home should have a scan tool like this. It also comes with an optional carrying case where you can store it safely. Even without the case, its rubber protection allows it to absorb shocks to protect inner components.
Speaking of components, it doesn't need a battery to work. Once it's plugged into the OBD2 port in your Mercedes, it's ready to go!
Foxwell NT301 can be a little complicated for absolute beginners. It has poor instructions that can be difficult to follow. The menu takes some getting used to as well, but it is a joy to use once you know your way around it. The device itself could use a case, although the rubber protection around its edges offers some protection.
Top 3 Mercedes OBD2 Scanners Comparison Chart
*Notes: Excellent: 9-10; Good: 7-8; Fair: 5-6; Poor: 3-4; Very poor: 1-2
Vehicle coverage
The Foxwell NT301 supports all 1996 and newer cars, light-duty trucks, SUVs, and minivans sold globally, including Mercedes and Sprinter Vehicles. It can also work with OBD1 vehicles from 1994 to 1995 if connected with an OBD1-to-OBD2 adapter. 
BlueDriver also supports all cars and light trucks with the model year 1996 or newer. The iCarsoft, on the other hand, is only compatible with the Mercedes brand, and it supports over 50 models in almost all Mercedes Series as long as it doesn't use a 38-Pin connector. It also supports Smart models made in 2005 and later.
Vehicle coverage chart
Best Professional Diagnostic Tools for Mercedes
Next, we'll examine the best Mercedes diagnostic scanner for professionals and Mercedes enthusiasts who have some experience with in-depth repairs. These scanners have more advanced features like directional testing and more reset functions. I will compare the top three products in this category and recommend the best one for you.
iCarsoft MB V3.0
iCarsoft MB V3.0's design is reminiscent of handheld gaming consoles, and it is just as fun to use. On the sides of the device is a well-laid-out set of navigation keys that is easy to get used to after a few uses. In the middle of the device is a 4.0" TFT LCD display that features large menu options and displays the diagnostic features in the device – and there are a lot of features.
Although its design is compact, its features for Mercedes are expansive. iCarsoft MB V3.0 is a multi-system diagnostic tool, so it can keep all your Mercedes systems in check. Any errors will be identified, and the right code will be relayed to you. After repair, you can clear codes and reset components like the SAS, ABS, DPF, etc.
For professionals, it offers advanced features like bi-directional tests and coding. Any data you get from your repairs can be reviewed and printed quite easily.
iCarsoft MB V3.0 can't code or program your ECU. Also, you can't change key car settings with the tool.
FOXWELL NT510 Elite
FOXWELL NT510 Elite will surprise you. It has a lot in common with dealer-level Mercedes scan tools while having other features for other brands as well. If you're looking for a simple, professional, and accurate scan tool, FOXWELL NT510 Elite is definitely worth considering. It offers numerous diagnostics options to choose from for casual owners, hobbyists, and mechanics.
FOXWELL NT510 Elite also connects to FOXWELL's self-learning software that adapts to your vehicle. During use, it has a good handgrip design that fits snuggly in one hand. The other hand can be used to operate its menu with intuitive buttons. It has all the necessary functions you'd look for in a scanner, from supporting all OBD2 test modes to complete system diagnosis and many maintenance features.
One more great thing about this device is that it comes with free lifetime updates. This means you don't have to pay extra to use it on newer Mercedes cars and other supported brands.
FOXWELL NT510 Elite is also limited in how many cars it can support at once. FOXWELL NT510 Elite only holds up to 5 vehicle models and brands at once. 
Autel MK808BT
Autel MK808BT has it all. A touchscreen tablet with integrated service functions, the ability to do some programming, and an all-system diagnostic feature are just right for professionals who need advanced features. Its vehicle coverage extends from European cars like Mercedes to American cars like Chrysler and Asian cars like Toyota.
It uses Android, so you can multitask and connect to the internet seamlessly. The OS is powered by a Cortex-A9 processor and interfaced on a 7-inch, 1024×600, LCD, capacitive touchscreen. You can read all manner of live data as text, graphs, or analog, depending on which one you prefer. Autel MK808BT uses a Bluetooth VCI system with up to 10m range to connect to adapters without wires.
Very few scan tools support BMS, SAS, DPF, EPB, TPMS, ABS, and oil reset without being super expensive – Autel MK808BT is one of them. The device is backed by 24-hour customer service and allows free updates for the first year.
Although the Autel MK808BT supports 80+ American, European, and Asian vehicle makes, it sometimes has compatibility issues with some foreign cars. You get software updates for the first year, but it isn't free after the first year.
Top 3 Professional Mercedes Diagnostic Scanners Comparison Chart
*Notes: Excellent: 9-10; Good: 7-8; Fair: 5-6; Poor: 3-4; Very poor: 1-2
Best Mercedes OBD1 Scanners 
If you have an older Mercedes car, all hope isn't lost. These OBD1 scanners work with any Mercedes vehicles made before the adoption of the OBD2 protocol between 1982 and 1995. Because OBD1 is so dated, these scan tools are primarily OBD2 scanners that can perform OBD1 functions through a 12-pin OBD1 to 16-pin OBD2 adapter. Below is a comprehensive review of the two best Mercedes OBD1 scan tools. 
Innova 3120E
Innova 3120E is a reliable OBD1 and OBD2 scan tool for standard diagnosis without all the fuss of extra features you might not need. As a result, it is reasonably priced at an affordable price point. That way, every driver can own one and make repairs from the comfort of their garage and save even more money.
Innova 3120E is built to last. Its large LCD and multilingual menu make it a joy to use, even for absolute beginners. Innova 3120E is a great scanner for you if you have an older Mercedes vehicle, say 1982 to 1995. Its OBD2 features mean that you can use it for newer models from 1996 to 2019.
In terms of features, Innova 3120E can clear Check Engine Light (CEL), read freeze frame, check emissions readiness, and read EVAP codes. It also has nifty code severity to tell you the severity of the code it reads.
Innova 3120E is pretty limited in the advanced features it offers. It is only perfect for beginners or casual users who want to diagnose OBD1 features only. It can't read live data on those OBD1 cars, but the tests it conducts are good enough. When it comes to OBD2 cars, Innova 3120E can only perform 8 of 10 test modes, and it can't show live data graphs as well. You can't use Innova 3120E for advanced diagnostic of non-OBD2 protocols, as it isn't an all-system scan tool, and it only has one reset function.
Innova 3170RS
Innova 3170RS is a more feature-rich version of the Innova 3120E. It also works for OBD1 and OBD2 vehicles, and like the 3120E, it comes with an OBD2 to OBD1 adapter. Another proprietary feature unique to this brand is the RepairSolutions2 app. The app allows you to find fixes for your vehicle based on past verified fixes.
3170RS's repair data collection from OBD1 vehicles allows you to keep those vintage rides in great health. On OBD2 vehicles, it can conduct full systems scans to get enhanced codes from every system and component that needs to be repaired. After repair, you can clear any codes and reset multiple components as well.
It can also test hybrid batteries, check brake pad and oil system life, and monitor transmission temperature. Using it is as straightforward as it can get. Innova 3170RS's navigations are so good that they're patented, and the device itself connects over Bluetooth and has Wi-Fi for updates.
Innova 3170RS has a lot of great features, from system diagnostics to advanced system functions, but it does not support bi-directional testing and actuator tests. This means you can't diagnose your vehicle by activating different parts in real-time, such as the wiper, door locks, etc. Also, Innova 3170RS can't code or program your vehicle's ECU.
Top 2 Mercedes OBD1 Scanners Comparison Chart
| | | |
| --- | --- | --- |
| | INNOVA 3170RS - Editor's Pick | INNOVA 3120E |
| Customer Rating | | |
| Price range | | |
| Read & clear OBD1 codes | 9/10 | 9/10* |
| OBD2 functions | 10/10 | 8/10 |
| OBD1 cable included | Yes | Yes |
| System diagnostics | 10/10 | 1/10 |
| Advanced service functions | 6/10 | 1/10 |
| Vehicle coverage | Vehicles made between 1982 to 2019, including Mercedes | Vehicles made between 1982 to 2019, including Mercedes |
| | | |
*Notes: Excellent: 9-10; Good: 7-8; Fair: 5-6; Poor: 3-4; Very poor: 1-2
Mercedes OBD1-to-OBD2 Adapters
Best Mercedes diagnostic software for PC laptop: StarCOM
Here we review the best diagnostic software for Mercedes that can be used for even more advanced repairs, coding, and programming. 
*Notes: Excellent: 9-10; Good: 7-8; Fair: 5-6; Poor: 3-4; Very poor: 1-2
Best Mercedes diagnostic software: StarCOM 
OBD-II functions and system diagnostics
StarCOM supports K-Line multiplexor, CAN-BUS interfaces, and SAE J1850 bus (both PWM and VPW). With that, it can perform all ten OBD2 functions seamlessly on any Mercedes. The team behind the software is also actively working to improve its live data logging capabilities. It can do everything from reading codes to clearing DTCs, requesting onboard system test results, controlling onboarding systems, and other much-desired OBD2 functions.
Speaking about onboard systems, StarCOM can perform system diagnostics on every single system in your Mercedes vehicle. It offers manufacturer-level diagnostics to further improve your car system for optimum performance. 
Advanced service functions
This is another area where StarCOM excels. It offers over 50 service functions to help you maintain your car. In the engine system alone, it offers DPF reset, EGR valve reset, zero quantity calibration, engine idle speed test, and 8 other functions. For Mercedes with convertible top, it offers rain sensor test and panoramic sliding roof calibration.
Coding/programming and bi-directional testing
StarCOM software supports coding and programming on Mercedes vehicles. It allows you to program configurations to your control unit and through its customer support, you may be able to write configurations to read-only ECUs. It also supports coding in some electric/hybrid vehicles. Additionally, it can activate actuators for bi-directional testing. This means you can control the actuators from the software to test for issues during operation.
System requirements and connection cable
StarCOM works on Windows Vista, XP, 7, 8, or later. Its easy-to-follow installation process is detailed in the software manual. It also supports GNU/Linux systems. You'll need a Linux 2.6+ with USB support, USB CDC driver, and Wine 1.0.1 or newer, since the program was created through Wine. In both cases, you'll directly connect the StarCOM interface to the OBD2 connector. 
Vehicle coverage
StarCOM is made specifically for Mercedes and Smart vehicles, so it works on all OBD2-compliant Mercedes vehicles from 1996 till date. It also has some useful functions for some of the electric and hybrid vehicles. 
Download: obdtester.com/starcom
Weaknesses
StarCOM only supports Mercedes vehicles made after 1996, which leaves out the many models made before in and before 1995. Essentially, it doesn't support OBD1 vehicles, but it would have been great to see some OBD1 features on such a powerful scanner. StarCOM is also only available to Windows users because the developers don't have a version compatible with macOS. Windows users must install the latest service pack to use the software. The developer's website and manual could use more regular updates, so new users can navigate them easily.
Recommendation
Diagnostic scanners are a must-have for everyone who owns a Mercedes. They save money on repairs and time waiting on your mechanic. Regardless of your experience with them, there is a diagnostic scanner that you can use to get the results you want. 
5 Steps To Choose The Best Mercedes Scan Tools
Step 1: What scan tool brand should I go for?
There are three major dominant brands for Mercedes Benz: iCarSoft, Autel, and Foxwell. Below I have put together a short introduction and information analysis of each of these three leaders.
iCarSoft
iCarSoft is a provider of executive indicative equipment for a range of different motorized vehicles. They are the first on the planet to hone in on unique brand DIY analysis equipment using multiplied systems, computed software design, and testing the performance of vehicles. Each of their products is run through strict tests as they want to reach international quality and environmental standards such as FCC, ROHS, and CE.
They hold their customers at high value and have an excellent technical team to provide you with the best information and guidance if you ever run into any problems with their products.
Autel
Autel is involved in automotive intelligence's specialized field and has invested enormous time and energy in intelligent detection and diagnosis. They have a worldwide market for their products, and they provide a full line of troubleshooting equipment that advances industry technology.
They often like to keep in touch and talk to their customers to see where they can improve, showing that they are enthusiastic and willing to provide exceptional customer quality standards. They have done copious amounts of research on diagnosis characteristics, automotive equipment with professional engineers, and illustrious specialists.
Foxwell
Foxwell is a master supplier for products in the diacritical line throughout the motor industry. Foxwell aspires to lead and direct change in the automotive industry when it comes to diagnosis. They are an agile company and set sights on future improvements to produce the most excellent services and apparatuses.
The team is good listeners when it comes to their customers' needs. The core values of their customer service are to provide innovative products and deliver well-respected customer loyalty. Their creative principles drive their victory, holding passionate beliefs to implement excellence throughout the company.
Read more: Foxwell NT604 Elite vs. NT614 Elite vs. NT644E: Which suits an experienced home mechanic?
Step 2: What type of scan tool suite me?
Are you a regular Mercedes Benz owner? Or are you an enthusiast or automotive vehicle technician?
This question will determine which kind of scanner is best suitable for you.
If you are just an ordinary owner who wants to get into the nitty-gritty of motor repairs or someone who likes only to do it themselves, then a standard code reader will be more than enough for you to get started with. Using an ordinary code reader will give you a whole range of functions needed to diagnose your vehicle. For example, you may need to reset your TPMS (Tire Pressure Monitoring System) or put out your CEL (Check Engine Light) or MIL (Malfunction Indicator Light).
Also, you will be able to do the obvious things like:
reading and clearing diagnosing trouble codes that cause your EML (Engine Management Light) to come on,
locating faulty sensors, and checking things like your fuel pressure, air intake,
checking your VIN, or
finding out your wheel speed when they are in rotation via the wheel speed sensors.
A good entry point for you to embark on your journey as an analyzer would be Foxwell NT301. This code reader can do all the tasks mentioned above, plus many more, including reading freeze frames and live data, checking graphs, and carrying out evaporative emission control system tests (or EVAP for short).
If your knowledge advances those of the everyday customer or regular car DIYer, and you insight some technical experience towards motor vehicles, let's say you are an enthusiast or a mechanical technician. Unquestionably, you will look for a connotative communicator that gains more ground, keeping the tires on the road kind of deal.
You will have full access to all systems, get into the vehicle's internal organs, the modes and moderations of the ECU, and delve into ABS, airbag system, Lighting Systems, Fuel, or Transmission systems, etc. This enables and authorizes you to read and clear enhanced technical codes. Examples of this kind of system checking scanning tool would be either the iCarsoft I980 or the Autel MaxiLink ML629.
Another example of a useful utensil that accompanies you with these advanced service functions is the iCarsoft MBII. With this, you will come into contact with systems and carry out special service functions such as SAS (Steering Angle Sensor), EPB (Electronic Parking Brake). If your vehicle has an electronic parking brake, you will need this kind of DTC reading tool to rewind the pistons in your calipers without any damage! I have seen somebody try to do this manually, and the piston pops out of the caliper. Trust me, it is messy and not an easy thing to pop it back in!
So keep yourself clear by knowing which scanner is best fitted to your vehicles and your needs.
Step 3: Is my Mercedes covered?
When considering compatibility and vehicle coverage, you should be aware of the enhanced available features of Bluedriver; some may only be available for specific makes and models; conversely, other features work healthily with any car that has an OBD2 port. Please make sure to follow up on the advanced features before buying your desired instrument.
An additional example will be if we talk about the iCarsoft MBII and the iCarsoft I980. In the light of compatibility, these two diagnosable contraptions are compliant with Mercedes models from 2005 to 2014. If you are an owner of a more modern model or a model of the previous years, please be aware that you will have to contact the company to check that your vehicle is accommodating to the code reader. It would be best to note to acquire information about this dilemma before you purchase the scanning implement.
Step 4: Should I buy something pricey?
So here comes the question we all dread! How much should I expect to spend? Well, this depends on your current skill level when it comes to vehicle diagnostics. If you are only a novice badge holder, then your sacrifice will not be too high, as you will only need to use the fundamentals. Yet, with essential features, your expenditure will be around the price point of 50 to 100 dollars. Not too bad, ey!
Recommendation – BlueDriver
If you are an experienced DIY or mechanical technician, you have to stretch the wallet a bit more for a gimmick to keep up with your expertise. It would help if you had those advanced functions to bring out the best in your work, so in your case here, you are likely to look at spending around 100 to 200 dollars. For getting into the depths of sophisticated systems, I'd say that's still good going!
Recommendation – Autel MaxiLink ML629
Now we get on to the big bucks! Some of these devices may as well cost you an arm and a leg! This section of the price corridor is more for the top dogs in the industry. Somewhere like a Mercedes workshop, if you are a shop owner and need to execute tasks in coding or programming, you will catch sight of prices from approximately 200 up to 1000 dollars. Ready to give an arm or a leg yet?
Recommendation – LAUNCH CRP129X
What OBDII Protocol Does Mercedes Use?
From 1996 to 1999: ISO9141,
From 2000 to 2002: ISO 9141 & ISO 14230-4,
From 2003 to 2004: ISO 14230-4, and
From 2005 to 2007: ISO 14230-4 & ISO 15765-4.
Due to legislation, it went back to ISO 15765-4 in 2008.
The Final Thoughts
These were some of the best Mercedes diagnostic tools designed for both pros and novices. The purpose of a Mercedes scan tool is to help you identify car problems and solve them on your own to reduce trips to the mechanic. It's an investment that can help you save money.
Read More:
Best Volvo Code Readers Review 2023