If you own a Ford (or Mazda, Lincoln, Mercury) car, you've certainly heard of the Forscan software. This is a must-have diagnostic software if you want to diagnose, repair and perform any codings on your Ford.
And to make it work perfectly without any issues, you'll need to combine it with the best Forscan adapters.
That's why I decided to jot down this post to help you find the most suitable Forscan OBD2 adapter for your needs.
5 Best Forscan Adapters Comparison Chart
[Mobile users: Swipe left for full table]
---
Table of contents:
---
Best Forscan USB Adapters
[Mobile users: Swipe left for full table]
#1. OBDLink EX: Best Forscan adapter recommended by Forscan Team
OBDLink EX is a very reliable scanner from OBDLink, and it is recommended by Forscan developers to use their software with this adapter.
So, naturally, I had to get my hands on it and give it a try first.
And indeed, it did not disappoint me. Out of all the adapters I tested with Forscan, OBDLink EX was the MVP. It gave me the best experience, no doubt about it.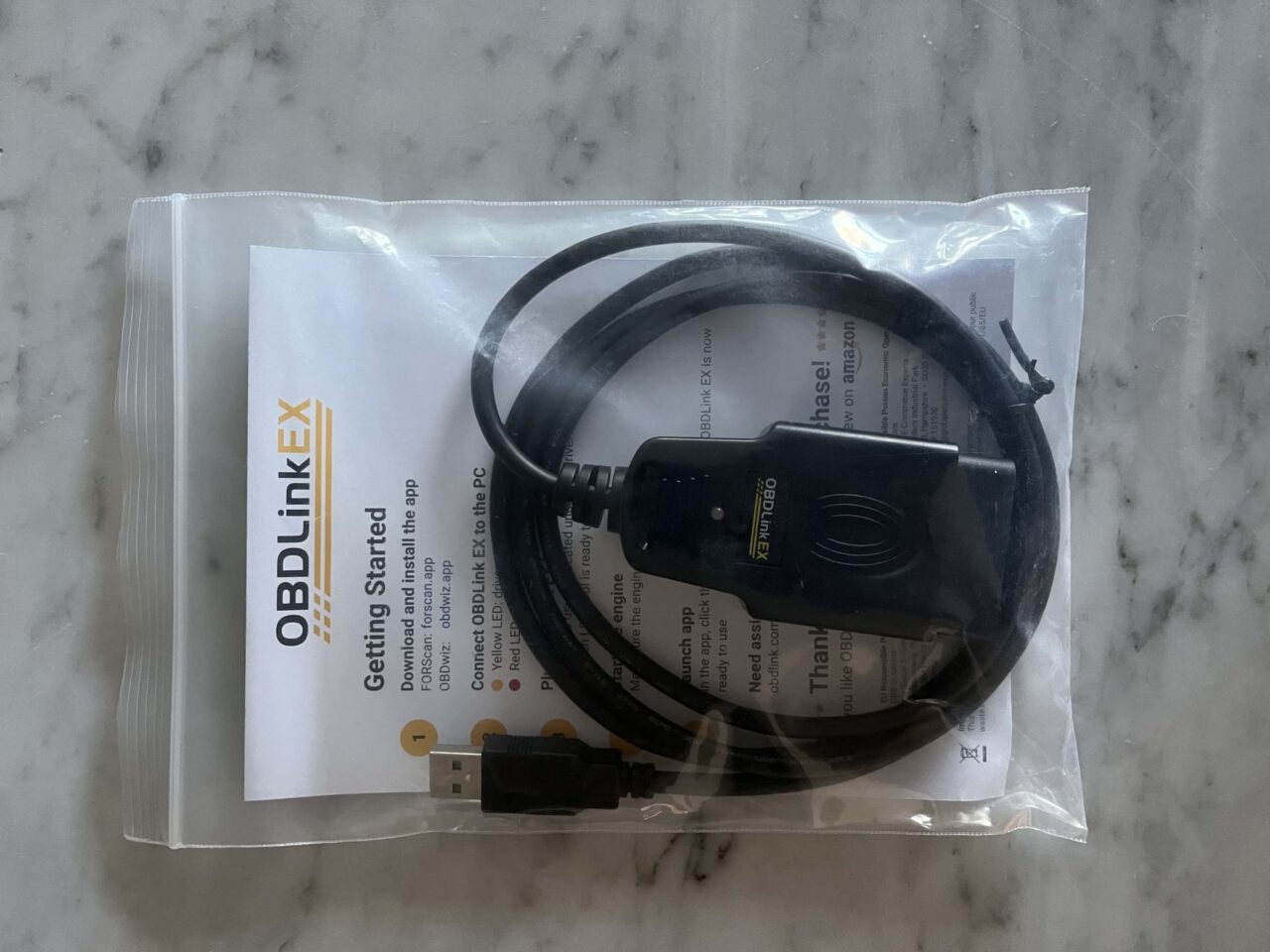 First things first, this adapter was specially made for Forscan. It supports all those Ford protocols like HS-CAN, MS-CAN, and Ford J1850. 
And let me not forget to mention the advanced features! It can handle everything Forscan throws its way: 
active tests, 
configuration & programming, 
and service functions. 
In addition, it automatically switches between HS-CAN and MS-CAN. You don't have to worry about accidentally causing chaos by transmitting on the wrong network. 
And rest assured that the connection between your device and the car will always be rock-solid during your diagnostic and repair process, especially when programming cars. No more pesky data corruption or dropped packets.
I know that OBDLink EX has a slightly higher price tag than other adapters. But the best quality always comes at a price, right? Think of it as an investment in a reliable scanner that'll go with you in the long run.
Today's best OBDLink EX price:
Read more: OBDLink EX Review: Is It the Best Adapter To Work With FORScan?
---
#2. Vgate vLinker FS: Another Forscan recommended adapter – Cheaper but still powerful
Similar to OBDLink EX, Vgate vLinker FS is a reliable Forscan adapter.
Basically, it is an adapter recommended by Forscan, so it can support most of Forscan's functions.
If you want to perform:
Full-system diagnostics
Service functions
Car programmings
VLinker FS can handle them.
So no need to worry, all the functions you need are likely to be supported.
However, there are 2 cases where you will have to update the latest version of firmware for this adapter. Or else it's useless.
First, this adapter does not support Windows XP and Windows 11.
Second, your car is a model before 2005 (including 2005).
The installation of the drivers is a bit annoying and kind of complex. For anyone impatient like me, this is a big downside.
But what I like about this adapter is that it also has a built-in HS-CAN/MS-CAN. No labels are needed, like cheap adapters.
And with a cable length of around 5.5 ft, VLinker FS is very suitable for full-sized pickup trucks.
All in all, the VLinker FS is a reliable adapter, and it's ideal for those who want to save their pocket.
Today's best Vgate vLinker FS price:
---
#3. OBD2 Adapter VINT-TT55502: Cheapest adapter but doesn't support all functions
VINT-TT55502 is the cheapest product on the list.
I'm not going to lie; its price is so low, making me a little skeptical at first. But guess what? It actually worked! Well, sort of.
Yet, beware that Forscan has a warning message after I set up the connection: "The adapter is not recommended for this car – some Forscan functions may not be available or not work properly." So yeah, it had its limitations.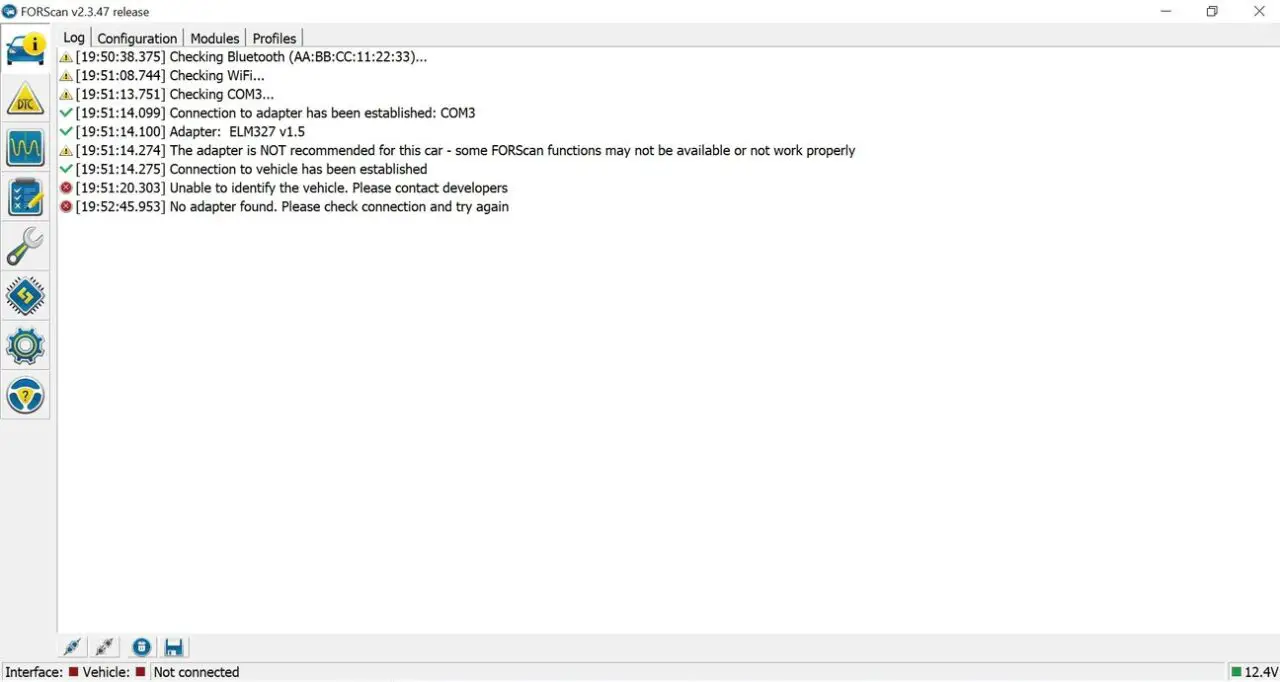 When I put it to the test with Forscan, it managed to read most of the vehicle data and codes. Not too shabby, right? But it didn't recognize all the modules in my F-150, like ABS, ACM, IPC, etc. Oh, and don't even think about using it with those new 2021+ F-150s. Nope, not happening.
And the switch on this thing can be a bit of a guessing game. They didn't bother labeling which way is HS-CAN or MS-CAN.
But there are a couple of things I appreciated about this budget-friendly adapter. It did a decent job when it came to programming keys. Tested it on a few Ford cars, and it worked fine. Plus, it allows me to program my Ford, and I got to tweak things I didn't like about the vehicle (with limited options). 
So, if you're on a tight budget and need a temporary fix, VINT-TT55502 could be your go-to option. It can handle Forscan but won't unleash all the software's functions. 
Today's best VINT-TT55502 price:
---
Best Forscan Bluetooth Adapters
[Mobile users: Swipe left for full table]
#1. OBDLink MX+: Best Forscan Bluetooth adapter for full functions
As a Bluetooth adapter from OBDLink, OBDLink MX+ is recommended for all Forscan software and app.
I really appreciate the Bluetooth connection offered by this adapter. Connecting it to both my laptop and vehicle was incredibly smooth. Thanks to this Bluetooth capability, I can work without having to stay inside the car. It's far more convenient than other adapters that rely on cords.
Within 15 minutes, I was able to drill down and pull several DTC codes that weren't even visible when using other scanners.
Also, the vehicle coverage is extensive and up to date. OBDLink MX+ allowed me to program the backup camera and make other changes to a 2021 Ford F350. 
Basically, OBDLink MX+ is the same as OBDLink EX, but it is a Bluetooth version. It supports all Forscan's functions, so you don't have to worry that some functions won't be supported, like cheaper adapters. 
And despite being a Bluetooth adapter, OBDLink MX+ is no slouch when it comes to transferring information. Its speed is close to the wired adapters. Only note that you shouldn't stray too far from the car, as the connection can become easily disconnected beyond a distance of 5m.
Overall, I am very satisfied with its performance.
If you are on the hunt for a Forscan Bluetooth adapter that would provide full support for FORScan, OBDLink MX+ is the best option.
Today's best OBDLink MX+ price:
Read more: OBDLink MX+: OBD2 Bluetooth ABS SRS Scanner Review
---
#2. Vgate vLinker FD: Cheaper option, but support fewer functions
If you're looking for a budget-friendly Bluetooth version, Vgate vLinker FD is worth considering.
Because it's a cheaper Bluetooth adapter, it's natural that some functions are not supported, unlike its wired brother, Vgate FS.
I must admit, my experience with the Bluetooth version wasn't as mind-blowing as the wired one. Even the manufacturer themselves recommend going for the USB adapter if you want Forscan's full features. 
Yet, you can still read and clear codes as normal with the vLinker FD. It's the basic stuff that works fine. However, some service functions and programming options might be a bit limited. 
Oh, and let's not forget about the Bluetooth connection. It can sometimes be a bit finicky, which is a common weakness of Bluetooth adapters. The vLinker FD isn't immune to it. If you need stability, I'd recommend sticking with a trusty USB adapter. 
So, if you are finding a cheap Forscan Bluetooth adapter, you can go for Vgate vLinker FD. It won't give you the full Forscan experience but will allow you to do half of those functions.
Today's best Vgate vLinker FD price:
---
Conclusion
There you have it, guys! 
Thank you all for sticking with me till the end of this post!
Remember, the right Forscan adapter can make all the difference in diagnosing, repairing, and coding your Ford.
Depending on your needs and budget, you'll find your favorite one.
If you found my list helpful or have any questions, please leave a comment below.