Numerous scanners for VW/Audi make you confused and not know which one is best suited for your car.
My suggestion is to ask yourself one question before you start your search:
"What do you want to use the scanner for?" (read & clear codes, smog check, service functions, car coding, etc.)
So there you have it! With my expert guidance, you'll be able to find the best OBD2 scanners for VW/Audi in no time.
If you're in a rush and need my quick recommendations, read my comparison table below.
7 Best OBD2 Scanners For VW/Audi Comparison Chart
[Note: Swipe left for full table]
Click HERE to see full comparison chart (PDF, Free Download)
---
Table of contents:
---
Best VAG diagnostic tools for basic to mid-level tasks
#1. Autophix 7610: Best VAG diagnostic tool with 10 service functions
I know what you're thinking: "More expensive? What's the catch?" Well, let me tell you, Autophix 7610 is worth every penny if you're looking for extra service functions like battery registration or DPF regen.
But wait, there's more! 
In addition to basic function – read and clear codes, you can:
use live data to uncover the hidden cause of trouble codes, 
prepare for smog checks thanks to I/M readiness, 
and even check your car battery's health with its battery test function.
The more functions it offers, the more money you can save.
Moreover, with Autophix 7610, I can get to perform up to 10 functions, including:
reset oil light after oil change
perform rear brake servicing
register a new battery
and more.
Scanning for error codes may take a little longer. It took me 20 seconds to scan all 14 systems. Still, I believe this speed is fast enough.
But these two scanners share a similar downside. The cable length is only ~3.2 ft, which means you won't be able to hold it up to your eye level. I mean, come on, guys, give us a bit more length to work with! 
At the $140 price point, I still think Autophix should improve this.
Overall, Autophix 7610 is the best VAG OBD2 scanner if you 
want to tackle a lot of mid-level tasks, 
and don't mind paying $70 for more functions (which means more money saved), 
Today's best Autophix 7610 price:
Read more: Autophix 7610: Is This the Best Choice for Your VW/Audi under $150?
#2. Foxwell NT510 for VAG: Best professional VW/Audi scan tool with active tests
Foxwell NT510 can read and clear trouble codes from full systems, including engine, transmission, ABS, SRS, and more. 
So, you can easily pull both generic and manufacturer-specific codes without having to go to a repair shop.
However, keep in mind that scanning all systems can take longer than expected, so you may need to be patient.
Also, I find it really helpful that Foxwell NT510 can show live data in two different ways: 
Numbers: as many PIDs as you want.
Graphs: only 2 PIDs are allowed.
Yet, you can choose to watch one graph or two graphs or merge them to see both at the same time. What's more, it's possible to save and print the data for later use.
By watching the real-time live data, you have the "real picture" of what's happening in the vehicle.
And the coolest feature of the Foxwell NT510 is its bi-directional control and various service functions for under $200. With active tests, it's easy to temporarily activate or control a vehicle system or component.
For example:
turning on the radiator fan, 
modulating the throttle, 
opening and closing windows. 
Needless to say, for many service functions it offers, you can use this scanner to re-calibrate, adapt, or configure certain components.
And you might need to know that the procedure of updating the tool needs some steps and a micro SD card reader. You must own a Foxwell ID, register the scan tool, and then update it. 
All in all, Foxwell NT510's active tests are the most valuable feature that you should consider if you want a deep diagnosis for your VW/Audi.
Today's best Foxwell NT510 for VAG price:
Read more: Foxwell NT510 for VAG: A Bi-directional Scanner under $200 for VW/Audi
#3. ANCEL VD500: Best OBD2 scanner for VW/Audi with 3 necessary service functions
If you're on the hunt for an affordable scanner that can handle basic services like inspection due or EPB reset, then I've got just the thing for you, Ancel VD500. This little tool is specialized for Audi cars and comes from a reputable brand of scanners.
And let's not forget about the quality of this scanner – it's pretty good for its price tag of $70!
Regarding its service functions, I've got some good news – I've successfully tested three of the functions offered by this Ancel VD500.
These functions will save you hundreds of dollars if you're someone who regularly heads to the dealer and shells out $80 just to reset the Audi service light. And thanks to VD500, it totally can be done at home within 1-2 minutes.
On top of that, I was even able to replace the rear brake pads (Ancel VD500 can disengage the electronic parking brake). Can you believe all this was possible with a $70 scanner? I was seriously impressed!
That being said, if you're not familiar with how to use the service functions, you might have to head over to YouTube for some help because the user manual can be confusing.
I'm also satisfied with its ability to scan trouble codes from all car systems (other universal scanners don't). And speaking of speed, this scanner is no slouch – it only took me 6 seconds to scan all 14 systems on the car I tested. It's even faster if you scan each system individually. 
Well, I hate to rain on parade, but I couldn't read live data or check if the car is ready for the smog check with Ancel VD500. For anyone looking for these features, you might want to consider getting the Autophix 7610 instead.
In a nutshell, if you're looking to save some cash but still want a scanner that can handle all codes and execute some major service functions, then Ancel VD500 is the best Audi OBD2 scanner for you.
Today's best Ancel VD500 prices:
Read more: ANCEL VD500: Audi VW OBD2 Scan Tool Review
#4. ANCEL AD310: Best cheap Audi code reader
ANCEL AD310 is one of the most popular code readers in the market, and it's a great tool for basic engine system diagnostics. With this scanner, you can easily scan the engine system and identify any potential issues that may be affecting its performance.
For live data monitoring, the ANCEL AD310 is an excellent choice as it provides real-time data. However, it's important to note that it doesn't support graphing live data, so you won't be able to visualize the information in a graph format.
Another helpful feature of the AD310 is its I/M readiness function. This allows you to check if your vehicle is prepared for the national emissions test. It's always good to ensure your car meets the necessary criteria before taking it for the test.
While the AD310 works well on various Audi models, such as the 2012 Audi A4, 2012 Audi Q5, and 2017 Audi S3, it's essential to keep in mind that it's a universal scanner and not specifically designed for Audi. As a result, it may not cover all Audi models.
In conclusion, the ANCEL AD310 is a low-budget choice for very basic home diagnostics. 
Today's best Ancel AD310 prices:
---
Best VW/Audi diagnostic tools for car coding
#1. OBDLink MX+ & Carista app: Customize your car with different subscription packs
Let me tell you about my experience using the awesome combination of OBDLink MX+ and Carista app (app purchased separately). 
First, one thing that really caught my attention is that Carista offers three different packages: 1 month ($9.99), 3 months ($19.99), and 1 year ($49.99). The longer the package, the more money saved.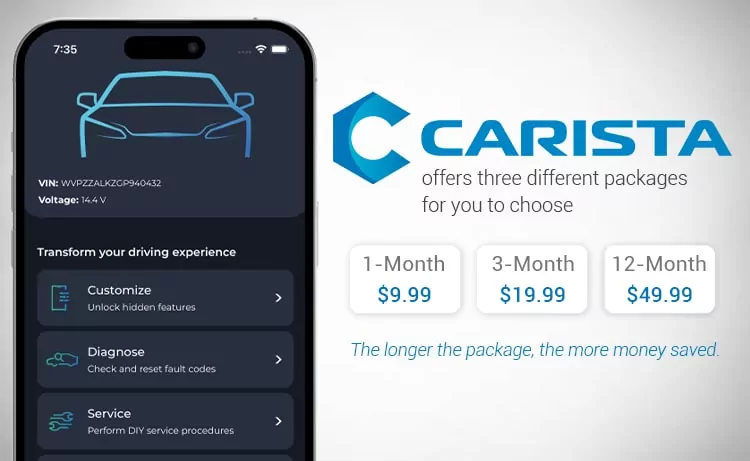 And the best part? I can dip your toe in the water with the 1-month package, and if it's suitable for me, I can walk away without any hard feelings.
But, the real MVP feature of Carista is car coding. If you're tired of annoying features on your VW/Audi, I'm sure Carista is here to help. Especially for those who dislike the seatbelt warning ding (we've all been there), Carista allows you to turn it off. Say goodbye to that headache-inducing beep sound!
That's just the tip of the iceberg. Not only is this annoying sound, but there are also many systems you can customize as long as you want. For example,
Light system,
Locking system,
Mirror,
Trunk,
Wipers & washers.
The good news is that Carista still delivers on its promise of basic functions like: 
providing the correct codes and their definition to know what's going on with your car
and checking live data (numbers only) to diagnose the issue 
or even telling you if your car is ready for a smog check. 
However, every time I navigate through the menu or scan the full system (which has 50 systems and takes about 7 minutes), I have to wait a while for it to load. 
I can't help but wonder, is it the adapter or the app causing the delay?
But let's not dwell on that!
If you're looking for an Audi OBD2 scanner that can not only diagnose issues but also give you some control over your car's annoying features, OBDLink MX+ and Carista combo is the way to go!
Today's best OBDLink MX+ price:
Read more: OBDLink MX+: OBD2 Bluetooth ABS SRS Scanner Review
#2. OBDeleven: Best VW/Audi diagnostic tool for various coding options
OBDeleven is another great choice for those who want to customize their VW/Audi. 
I've used both Carista and OBDEleven, and I have to say, OBDeleven has more customization options than Carista. For example, on a 2016 Audi A4, I have
~90 options with OBDEleven
~60 options with Carista.
But there's a catch – you need to use credits to perform certain service functions and codings. It's like a special "currency" that you have to pay for. 
And, don't worry, it's still cheaper than going to the dealer for the same thing. 
For anyone who doesn't want to pay for credits, there's always the option of manually changing the settings (that's Long Coding). Just make sure you know what you're doing with it (it's easy to mess up your car)!

Then, I tried the one-click apps (which allow me to customize the car within one click). The first thing to do with OBDEleven is removing annoying features like Start/Stop function!
Or, it's so easy to allow passengers to watch videos while the vehicle is moving. Plus, there are so many more options for customization – you can even disable your exhaust flap!
And given what I've done with OBDeleven, it's also acceptable to pay for the credits.
Besides car codings, OBDeleven also offers more features than Carista: 
Scanning codes and give the severity of them: you will know whether it's safe to keep driving with those codes.
Reading live data in numbers, graphs, gauges, etc.
One noting downside is that the functions can be a bit messy. For example, the battery registration function is in "Adaption", not service functions.
Overall, OBDeleven is your perfect choice if you love coding and reading the car's live data.
Today's best OBDeleven prices:
Read more: Carista Vs. OBDeleven: Which Is Better For My Car?
#3. TOPDON AD Pro: Best bi-directional scan tool with (ECU Coding)
TOPDON ArtiDiag Pro is a new diagnostic tool that has quickly gained popularity in the industry. An impressive 4.7-star rating from all customers on Amazon says it all.
One of its standout features is ECU Coding. With this tool, you can unlock hidden features in your vehicle and customize various systems. It gives you total control and opens up a world of possibilities.
But that's not all! The TOPDON ArtiDiag Pro has many other enhanced features that will be perfect for advanced DIYers.
It can diagnose any system in your vehicle and has bi-directional control for precise troubleshooting.
It offers over 31 common service functions, so you can take good care of your vehicle right from your own garage.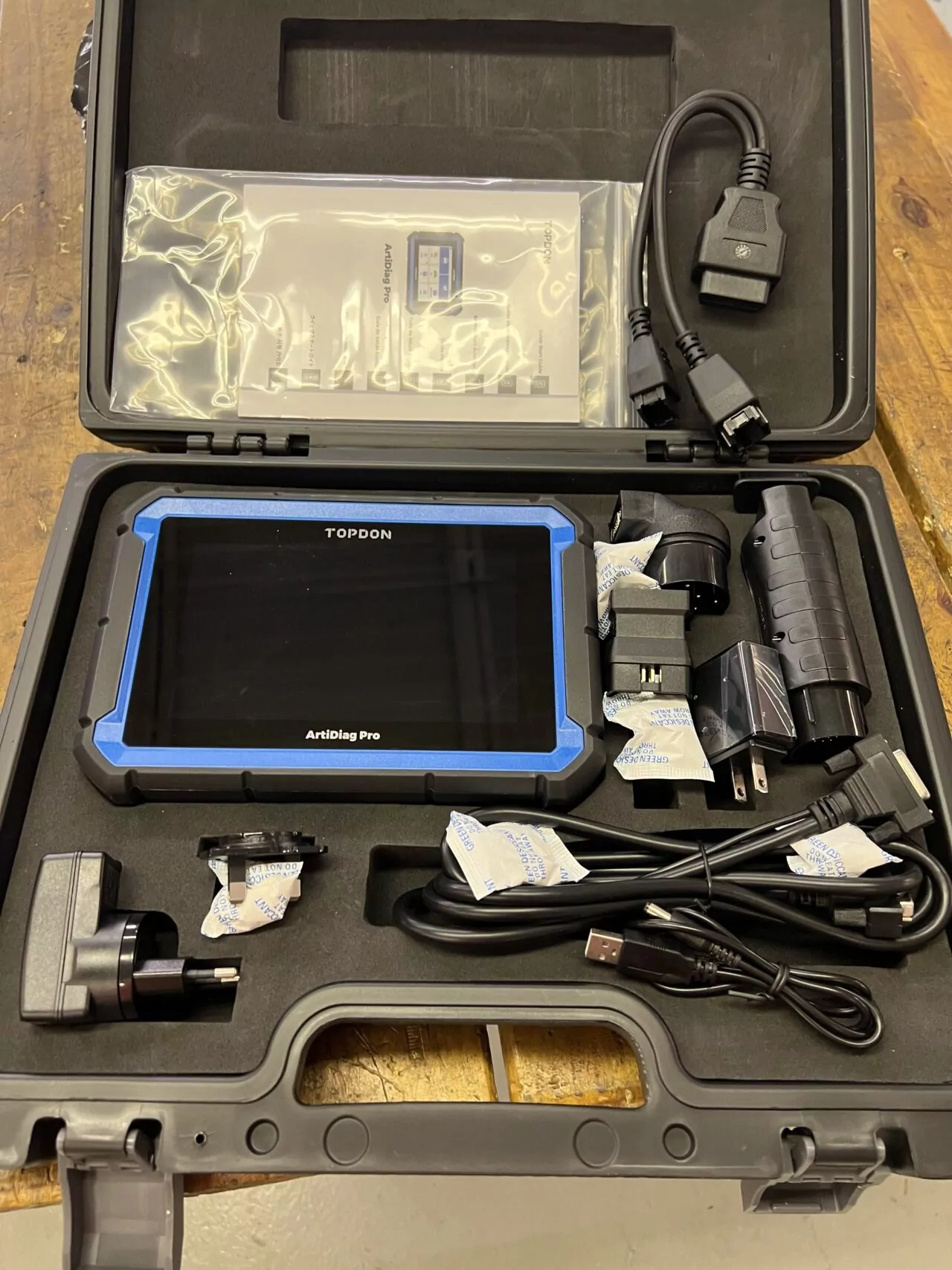 Just a heads-up – the TOPDON ArtiDiag Pro is not wireless. But because it is a wired scanner then, the connection is very strong, and it does all the tasks reliably.
Another heads-up is this TOPDON ArtiDiag Pro is not made exclusively for Audi. While it should work on most Audi models during my test, just make sure to double-check the vehicle coverage before making the purchase.
All in all, TOPDON AD Pro is the perfect choice for Audi enthusiasts on their way to explore the hidden part of their vehicles, along with comprehensive diagnostics and maintenance.
Today's best TOPDON ArtiDiag Pro price:
---
7 Best OBD2 Scanners For VW/Audi: Full Comparison Chart
[For mobile users: Rotate your phone and swipe left for full table]
| | AUTOPHIX 7610 | FOXWELL NT510 | ANCEL VD500 | OBDeleven | TOPDON AD Pro | OBDLink MX+ | ANCEL AD310 |
| --- | --- | --- | --- | --- | --- | --- | --- |
| | | | | | | | |
| DIAGNOSTICS | | | | | | | |
| Engine-system diagnostic | ✅ | ✅ | ✅ | ✅ | ✅ | ✅ | ✅ |
| Full-system diagnostic | ✅ | ✅ | ✅ | ✅ | ✅ | ✅ | - |
| OBD2 functions | 6 | 10 | 3 | 10 | 10 | 10 | - |
| Live data | Number and graph | Number and graph | - | Number and graph | Number | Number | Number |
| Active tests | - | ✅ | - | - | ✅ | - | - |
| OTHER FUNCTIONS | | | | | | | |
| Smog check | ✅ | ✅ | - | ✅ | ✅ | ✅ | - |
| Service functions | 10 | 30 | 3 | 15+ | 31+ | 10+ | - |
| Oil reset | ✅ | ✅ | ✅ | ✅ | ✅ | ✅ | - |
| EPB reset | ✅ | ✅ | ✅ | ✅ | ✅ | ✅ | - |
| Throttle relearn | ✅ | ✅ | ✅ | ✅ | ✅ | ✅ | - |
| Register battery | ✅ | ✅ | - | ✅ | ✅ | ✅ | - |
| Car coding | - | - | - | ✅ | ✅ | ✅ | - |
| 1-touch update | - | - | - | ✅ | ✅ | ✅ | - |
| VEHICLE COVERAGE | VAG cars | VAG cars | VAG cars | All car brands | All car brands | All car brands | All car brands |
| DESIGN & HARDWARE | | | | | | | |
| Connection type | Wired | Wired | Wired | Bluetooth | Bluetooth | Bluetooth | Wired |
| Screen size | 2.8" | 2.8" | 2.8" | Depends | 7" | Depends | 1.4" |
| AFTER-SALES SERVICE | | | | | | | |
| Free update | Lifetime | Lifetime | Lifetime | Lifetime | 2 years | 2 years | Lifetime |
| Waranty | 2 years | 1 year | 2 years | 2 years | 2 years | 3 years | 3 years |
| Customer service | 8.0/10 | 8.5/10 | 8.5/10 | 8.5/10 | 9.0/10 | 9.0/10 | 8.5/10 |
| | Check Price | Check Price | Check Price | Check Price | Check Price | Check Price | Check Price |
| | | | | | | | |
* Service functions: Vary by vehicle models.
Conclusion
After reading this in-depth review, I'm sure you can find out which one is the best scan tool for your VW/Audi.
But I'd love to hear from you: 
Which one do you prefer? 
Is there another VW/Audi scanner you'd like to see on this list?
Share them with me in the comment section below.
If you want to support me, be sure to use the link provided in this post when you make your purchase. Remember, I don't get any commissions from brands, so your support is what keeps this website up and running.