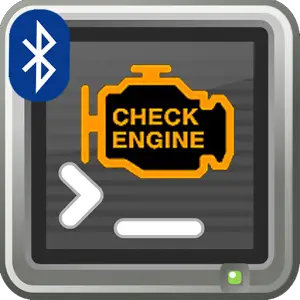 Really to buy a best obd2 bluetooth scanner?
Then you've come to the right place.
OBDII Bluetooth scanners are new and exciting products in car diagnostics.
Since we have just about everything else on our mobile devices these days, it's really nice to get detailed info about our car on a screen we already use every day.
Let's take a look at some of the top selling Bluetooth OBDII scanners.
We Reviewed 5 Best OBD2 Bluetooth Adapters on the market. Here's What We Talk About!
1. BAFX 34t5 Bluetooth Obd2 Reader for Android
This is a very popular Bluetooth scanner for good reasons.
Most scanners at this price point do not include J1850 and CAN protocols, but this one does.
You can be confident that this will work on all OBDII vehicles model 1996 and newer.
Bafx doesn't include a mobile app, but it does come with PC software. It communicates easily with your Android device and works nicely with third-party apps.
Really hard to beat this scanner in this price range due to its versatility.
2. BlueDriver Bluetooth Professional OBDII Scan Tool for iPhone, iPad & Android
Even though this is the most expensive scanner on our list.
Bluedriver still offers an outstanding value!
It's the only one that is compatible with both Android and iOS, so it's already the most versatile.
People are happy to pay just under $100 for this scanner because of the excellent features it offers.
Bluedriver comes with a user-friendly app that's very intuitive with the scanner that plugs into the diagnostic port.
It displays information clearly without much clutter on the screen. It has the useful feature of reading and diagnosing problems with ABS and SRS on top of reading regular trouble codes.
A feature unique to the BlueDriver is the database of over 4.3 million fixes for specific problems on specific vehicles.
Instead of just telling you what's wrong, the app can actually tell you how to fix it.
The fixes are verified by real mechanics so you know you're getting good information.[/cta_box_4]
3. OBDLink LX OBD Bluetooth Code Reader
Right around the middle of the price range for Bluetooth scanners is the OBDLink LX.
This one is intended to be left plugged into your car constantly collecting data.
It not only acts as a diagnostic tool, but it can also give you accurate information about the performance of your car. It can act as an MPG tracker, real-time performance monitor, and trip computer.
OBDLink LX comes with an app for reading, saving, and graphing your data.
It's an excellent app with beautiful digital gauges and an overall pleasant user interface.
It's big on security and speed.
It claims to be four times faster than the leading competitor.
That means quick, real-time data and very little waiting around for scan results.
A sophisticated multi-layer security system keeps hackers from getting any of the data you collect.
A couple things this scanner is lacking is iOS support and ABS/SRS monitoring.
It's a good, mid-range scanner and if you don't see yourself needing those lacking features it would be a great pick.
4. OBDLink MX OBDII Bluetooth Scan Tool
The OBDLink MX is extremely similar to the OBDLink LX.
Like the LX, it's intended to be kept plugged into the car and it operates on the same app.
Only difference, the MX can read a couple more protocols than the LX can.
The MX can read single-wire CAN (GMLAN) and Ford medium-speed CAN (MS-CAN).
You like the OBDLink LX, but you need a tool that can read those specific protocols, then the MX is the scanner for you.
If you don't need those capabilities, then this scanner simply isn't worth the extra cost.
5. Veepeak Bluetooth OBD2 Reader Adapter
The Veepeak Bluetooth scanner is the budget proposition of this list.
At only around $15, it offers plenty of bang for the buck.
If you're looking for a basic, low-cost scanner that can link up to your mobile device via Bluetooth, this is the unit for you.
It doesn't come with an app, but it works just fine with third-party apps like Torque.
Shop around on the Android or Windows marketplace and find an app that you like.
This particular model is compatible with Android and Windows Phone. It's getting harder to find scanners compatible with the mobile Windows operating system so get this one while you can if you have a Windows phone.
Right Now! Let's Choose One…
The Bluetooth scanner I recommend the most is the BlueDrive.
[Click Here to Buy It Now on Amazon.com]
It's a little expensive, but it's absolutely worth the price.
The app is terrific, the device is easy to use, and the database of repairs is an outstanding resource. It takes the next step after diagnosing a problem by offering a solution. Not to mention it's the only scanner on the list compatible with iOS.
The best value is the Veepeak.
[Click Here to Buy It Now on Amazon.com]
There are a lot of scanners out there perfectly capable of reading and clearing trouble codes and this one does a perfectly adequate job of doing just that.
If you want something basic with Bluetooth, the Veepeak is a terrific value.
Why OBD2 Bluetooth Scanners?
I'm personally a big fan of OBD2 Bluetooth Scanners for lots of reasons.
Before we had Bluetooth scanners, messing around with a diagnostic tool was kind of a pain. You had to plug the wired scanner into the car and mess around with a clunky user interface and buttons that didn't work half the time.
With Bluetooth Scanners, you can use your mobile device with an extremely intuitive app. They become so much easier to use when they're on your smartphone or tablet.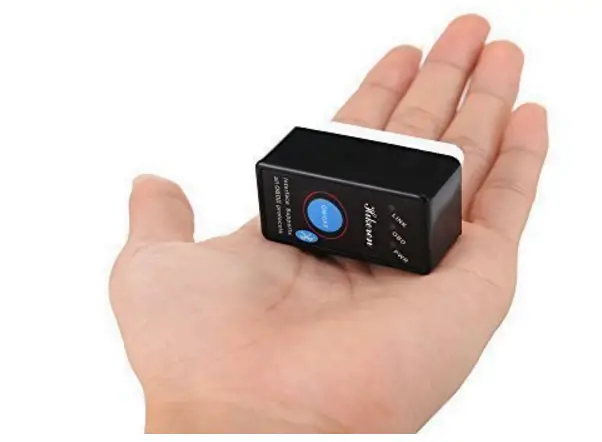 You used to have to pay big money if you wanted a scanner with a full color screen. Now it's standard thanks to our phones and tablets.
The fact that they're totally wireless is a nice perk as well.
Bluetooth scanners are great options for gearheads and mechanics who do everything else on their smartphone or tablet already. The convenience and advanced tech of Bluetooth OBDII scanners just make your mobile device that much more useful.
Questions you should answer before buy an obd2 bluetooth scanner:
Like anything else in life, you need to consider how you're actually going to use this product when you're shopping for it.
Do you just need something that can read and clear codes, but don't want to mess with wires?
How often will you use it?
Is the scanner you like compatible with your vehicle and mobile device?
Want something more advanced that can read ABS and SRS codes?
Are you picky about what app you can use?
What's your budget?
Asking yourself these questions can easily help narrow down which one is right for you.
Bonus: Click here to see the Buying Guide [the guide aslo includes a bonus INFOGRAPHIC] that will show you things to consider for choosing an OBD2 scanner that's right for you.
It's easy to find scanners that are compatible with your vehicle.
However, it's still always a good idea to make sure the scanners you're looking at will work with your car. Your vehicle might use an unusual interface that isn't universally common in diagnostic equipment.
The way these Bluetooth scanners communicate with our mobile devices is through short-range radio signals. While Bluetooth is a fairly new technology, it's rooted in old fashion radio waves. The scanner and the smartphone or tablet give off the same frequency and that's how they link up and communicate.
Since it's just radio waves, it's quick and easy to pair devices.
Now that you know a little more about Bluetooth OBDII diagnostic equipment and a few of the big sellers on the market, decide which tool is right for you!
There's something out there for everyone from the casual enthusiast to the hardcore professional.
Buy the scanner that fits your wants and needs.
You'll be glad you did!
The Bottom Line
Don't forget! If you have a question or thought, make sure to leave a comment right now.