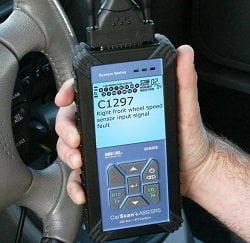 Have you ever been stuck with a check engine light?
They can be confusing and frustrating because they don't actually give you any information.
All they tell you is that something is wrong.
You know you need an on-board diagnostic scan tool to read the code, but shopping for a scanner can be just as confusing.
There are inexpensive handheld devices, pricey professional equipment, and all kinds of options in between.
Which one is right for you?
Today I'm going to show you how to buy a best OBD2 scanner / code reader online meet with your needs.
But First, take a look at 3 most prominent on our list here:
(Including 1 vehicle owner code reader, 1 DIY scanner and 1 Professional diagnostic scan tool)
| | | | |
| --- | --- | --- | --- |
| | 1 | 2 | 3 |
| | | | |
| | | | |
| | | | |
| | | | |
| | | | |
| | A great unit for showing multiple and detail codes as well as easily clear codes. Reasonable price is plus. | Compact, cheap, easy to use, work well and exactly. | A handy device and reliable product, can provide a lot of information and work well on most of modern cars. |
| | Sometime you have to try 2-3x to erase the codes. | Don not work on some cars that have advanced features. | Limited on some western car models. |
| | If you are looking for something to read code. Come with this device, you will not regret for money. | Useful and well worth the money. Highly recommend for DIYers and car owners. | This device is excellent enough to use and save thousands of dollars. |
Buyer's Guide: How to choose the best car diagnostic tool?
The INFOGRAPHIC below is a simple guide that tell you things to consider when picking an obdii scanner.
[Note: Click on image to view the full version]
Here's my take on the OBD2 scan tool buying guide from the infographic:
Types of OBDII Scanners
The first thing you need to do is narrow down what type of scanner you need.
Basically, there are three different categories of OBDII scanners. There are basic code readers, DIY scanners, and professional equipment.
Basic code readers are the least expensive scanners.
They're the ones you can find at any auto parts store. You plug them into the diagnostic port of your car and they read any Diagnostic Trouble Codes (DTC) that come up.
Most of these basic code readers just tell you the code, but not what it means.
The easiest way to figure out what the code actually means is to just look it up online.
BEST CHOICE: ANCEL AD310 Classic Enhanced Universal OBD II Scanner
The next step up is DIY scanners.
These are more advanced than basic code readers.
Not only do they read DTC's, they often tell you what they mean plus a lot more. For a little more money, you get a lot more features.
A lot of these can connect to your mobile device via Bluetooth or Wifi.
They can tell you what's going on in your car like MPG, ABS and SRS info, and more information that your car might not tell you. Some of them even offer graphing capabilities.
DIY scanners offer a lot of bang for the buck.
BEST CHOICE: BlueDriver Bluetooth Professional OBDII Scan Tool
If you need something really serious you can get professional equipment.
These are expensive tablet sized machines that tell you absolutely everything about what's going on in your vehicle.
Some of them even work on heavy duty commercial trucks.
These are the way to go if you operate a shop and work on many different types of vehicles on a regular basis.
BEST CHOICE: Innova 3160g Code Reader / Scan Tool
What Kind of OBD2 Scanner Do I Need?
It's easy to determine what type of obd2 scan tool is right for you once you figure out your needs.
If you just need something that will tell you what your check engine light is saying, save some money and get a basic code reader.
Don't bother paying for extra features if you're never going to use them.
If you're an enthusiast who wants to know a little bit more info about your car on top of reading DTC's, I recommend a DIY scanner.
I personally really like these because of the excellent value.
A lot of them come in under the $100 mark with a ton of features. Connectivity to my mobile devices is a must for me. I love the slick, easy to use mobile apps that a lot of these obdii scanners come with.
They make car diagnostics fun!
Reference: In my opinion, BlueDriver OBD2 Bluetooth is the best DIY scanner. If I had to pick one, it would be the BlueDriver. The whole package makes for an outstanding value.
As for the professional gear, I'd really only recommend something like that if you really need it for work.
If you have your own shop and need OEM level diagnostics or you're working on commercial trucks, by all means, get some serious professional equipment.
If you're just a regular gearhead like me, it's simply not worth the money.
STOP! Don't skip this: It's truly a business expense for real professionals who need something powerful on a regular basis. Click here if you really want to know what is this!
How to Find the Best OBD2 Scanner?
There are a lot of resources online that can help you shop for the right scanner and you've got one right here! Check out our other articles here on this site for reviews of specific scanners and tips on which ones are the best.
I highly recommend reading our best OBD2 scanner reviews & comparison 2017 below for an in-depth look at some of our favorite diagnostic tools on the market right now.
However, we're not the only resource for good information on automotive diagnostic tools.
Eric the Car Guy and his friend ScannerDanner have a great video going over what you need in a scanner and what to look for when shopping for the right one.
A good old fashioned way to get recommendations for quality scanners is to ask someone who knows.
Do you have a mechanic that you trust and visit regularly? Ask what he uses or recommends.
Is there a certain parts store that you frequent? Do the people working there know you by name? Ask which automotive scan tools they use and what they think would be good for you.
The professionals you trust will often point you in the right direction.
Conclusion
In the end of this buying guide, it's really up to you which scanner is right for you.
Look at your wants, look at your needs, and look at your budget. Use your resources, read our articles, and find the best obd2 scanner that will make your life easier!
Let's See The OBD2 Code Reader Comparison Table
| Scanner | Rating | Action |
| --- | --- | --- |
| BAFX Products 34t5 Bluetooth for Android | 4.5 / 5 | See Details |
| Oxgord Direct Scan and Read Out | 4.1 / 5 | See Details |
| Foseal WiFi Adapter for iOS & Android | 4.4 / 5 | See Details |
| Veepeak WiFi Adapter for iOS and Android | 4.5 / 5 | See Details |
| IdeaPro Bluetooth Wireless for Android | 4.5 / 5 | See Details |
The Bottom Line
Since all of the scanners in this category have very similar functionality aside from the OxGord, all you need to do is decide what kind of connectivity you like.
I personally prefer Bluetooth over WiFi.
It prevents confusion in your mobile device forgetting your home WiFi and connecting to the new WiFi from the scanner.
With Bluetooth, you can just stay on your home network while connected to the scanner.
I recommend the BAFX 34t5.
I'm the most confident that one will work with absolutely any OBD-II car.
However, it only works for Android, so if you're an Apple user, you'll have to choose one of the other options.
Let's See The DIY Scanner Comparison
Review of 5 Best OBD2 Scanners for DIY
DIY Scanner Summary
All of these scanners are so good that it's tough to narrow down just one to recommend.
It really depends on what you're looking for in a scanner.
If I had to pick one, it would be the BlueDriver Bluetooth scanner.
For just under the $100 mark, you're getting every feature you could possibly need with a slick mobile app and a huge database of fixes for what's wrong with your car.
It not only diagnoses, it guides you through the next step of fixing your car. It does this through an intuitive interface that's a pleasure to use.
The whole package makes for an outstanding value.
Speaking of value, if you want a wireless scanner that you can just leave in your car that will read codes and also gives you information like MPG, the OBDLink LX Bluetooth is the scanner for you.
While it is half the price of the BlueDriver, its lack of iOS compatibility and ABS/SRS reading make it less versatile and useful as a diagnostic tool.
Looking for something a little old fashioned?
The Innova 3040c is the best of the corded handheld scanners.
It gives you tons of information on a gorgeous color screen and specializes in really tracking down what's wrong with your vehicle.
The handy battery/alternator test makes it useful for a lot more than just reading your check engine light.
---
Professional Grade Diagnostic Equipment Comparison
| Scanner | Rating | Action |
| --- | --- | --- |
| Autel DS708 Automotive Diagnostic and Analysis System | 4.2 / 5 | See Details |
| Fcar F3-G Advanced Professional Diagnostic Scanner | 5.0 / 5 | See Details |
| Autel MaxiSYS MS906 Auto Diagnostic Scanner | 4.9 / 5 | See Details |
Professional Grade Diagnostic Scan Tool Summary
These three professional scanners are just that – professional.
Their high prices make them tough to recommend for any casual mechanic who just needs something to diagnose the cars in his garage.
However, if you're in a business where you have all kinds of vehicles coming into your shop every day, these scanners can put you at a huge advantage.
As I mentioned earlier, if you're working on heavy duty rigs, the Fcar F3-G is your only choice.
It'll be painful to make the initial purchase with that sky high price tag, but you'll quickly see that it's worth the money once you start using it.
If you'll never need to scan anything other than American, European, or Asian passenger cars, trucks, vans, and SUV's, I recommend the Autel MS906.
The hardware and software are both very easy to use for any mechanic.
It's tough to recommend the other Autel over this one since the MS906 is just better than the Autel DS708 in every measurable way other than price.
The price of the MS906 is easily justified for a professional scanner.
The Buttom Line
The market is so saturated with different kinds of scanners. Shopping for them can make your head spin!
Narrowing down what you actually need the equipment for is the first step to finding the right one for you.
Ask yourself what features you want and need.
Do you just need something that will simply read and clear codes?
Do you want the scanner to tell you what the codes mean?
Would you rather have corded or wireless?
Do you need to save or graph the data you collect?
Will the scanner be used for your business?
Do you need to diagnose ABS or SRS?
What is your budget?
Simply asking these kinds of questions will quickly narrow down the crowded field of products to choose from.
Our goal is to inform you and help you make the right purchase.
We only wanted the best automotive diagnostic scanners on this list, so we went through hundreds of professional and consumer reviews, looked at the age of the popular products, and narrowed them down to what you just read.
We based our recommendations on what matters to the customers of these products.
We know cars and the hard-working people who repair and maintain them. Like everything else in your toolbox, you expect your scanner to get the job done every time.
You need something you can depend on.
Take a look at the facts, take a look at our opinions, and buy the best obd2 scanner that's right for you!
Now it's your turn. I want to hear from you.
What do you think of this obd2 scanner review?
Leave a quick comment below. I'll be around today to reply to comments and answer questions.
References: