As the name suggests, this Veepeak Mini Bluetooth vs. Veepeak Mini WiFi vs. Bafx Products Bluetooth comparison article will help you pick the best car diagnostic tool. 
These tools are often pitched opposite each other because they offer similar features. However, it is crucial to be able to pick the right OBDII scanner if you want to enjoy all the advantages.
Let's check out how these three diagnostic tools compare to each other first.
Veepeak Mini Bluetooth Vs. Veepeak Mini WiFi Vs. Bafx Products Bluetooth
Editor's Pick
Perfect for Professionals
Best affordable

Veepeak Mini Bluetooth


Veepeak Mini WiFi


Bafx Products Bluetooth

Customer Rating

Price
Product Dimensions
2.8" x 2.4" x 1"
1.9" x 1" x 1.3"
2.8" x 1.5" x 1"
Item Weight
1.12oz
0.32oz
3.04oz
Read & Clear Codes
✔
✔
✔
Freeze Frame Data
✔
✔
✔
Live Data
✔
✔
✔
DTC
✔
✔
--
ABS
✔
✔
--
Android
✔
✔
✔
IOS
--
✔
--
Pros
Not being too light makes it easy to find.

Easy to connect.
Supports all devices including iOS, Android, and Windows.

Easy to use.
Supports a wide range of vehicles including international cars.

Quite an affordable product.
Cons
Uses older Bluetooth version 3.0.
Signals can drop.
Doesn't support iOS.
Vehicle supported
OBD2 Cars, SUVs, 12V trucks
OBD2 Cars, SUVs, 12V trucks
OBD2 Cars, SUVs, 12V trucks
In this section, we'll compare the three products and highlight what makes them unique: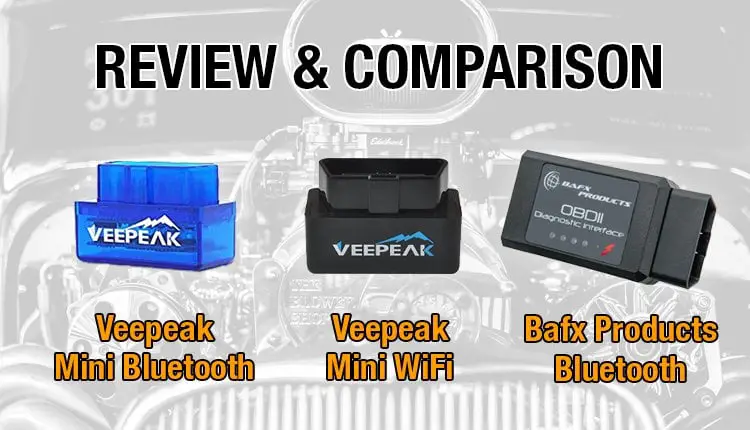 Key Things In Common
Veepeak Mini Bluetooth and Veepeak Mini WiFi have a lot in common since they come from the same manufacturer. However, they use different technologies to make a connection. The former uses Bluetooth, and the latter counts on WiFi. Based on our experience, Bluetooth is more reliable than WiFi to connect. The third option, Bafx Products Bluetooth, also uses Bluetooth.
All three models support only OBDII vehicles manufactured in or after 1996 in the US. Some of the top brands included are Toyota, Nissan, Kia, and Chevy.
You will find that all scanners can perform basic functions such as view freeze frame data and check engine light.
None of the scanners will work on their own. You will have to use a supported app to be able to perform functions. They tend to support the same set of apps, such as Torque Pro and OBD Fusion. However, what you'll do with a device will always depend on the app you use.
Key Differences
Out of the three options, only Veepeak Mini WiFi supports iOS devices. The other two only support Windows and Android devices, including phones and tablets.
While they are all relatively small and lightweight, Veepeak Mini WiFi is the lightest of them all at under 1 ounce. However, you may have to compromise a little on speed if you go with the WiFi option since it's slower than Bluetooth scanners.
Bafx Products Bluetooth can be a good pick if you want to scan international vehicles. Veepeak scanners may fail in this regard. 
However, the Bafx scan tool cannot check complicated systems like ABS and SRS. The two Veepeak scanners can read ABS and other complicated functions but only on some cars such as Ford.
Key Differences Explained
Design And Specifications
Technically speaking, they all work the same way as they use wireless technology. You will not be tangled in wires. The Bafx is the heaviest of all at slightly over 3 ounces, but it's still lighter than your average OBDII scan tool. They also look the same size since there isn't much of a difference in dimensions.
2. Overall Features And Functions
All three scan tools offer basic functions, including:
Smog test
CEL
Live sensor data 
Freeze frame
Oil temperature
Veepeak scanners, however, deserve extra points for offering a detailed library to help you understand a code. In addition to this, they also offer dashboard customization, so you can easily find what you need.
3. Extra Features/Functions
While these scanners are promoted as basic scan tools, we found that the two options from Veepeak have an edge because they can support some complex functions like ABS. You will be able to perform this on some brands such as Ford. However, make sure to use an app that supports the function.
4. Supported Protocols
All three scan tools are equal here as they support all major OBD2 protocols:
CAN 
ISO9141-2
J1850 VPW 
KWP2000
J1850 PWM
5. Supported Vehicles Makes
All three options support the same set of vehicles – OBDII compatible. They work with many top brands found in the US, including Toyota, Nissan, Honda, and Kia.
Veepeak models are best if you want to test hybrid cars, light-duty diesel trucks, or electric vehicles as the Bafx OBDII scanner doesn't support electric cars. However, it has some benefits since it supports many international manufacturers, unlike Veepeak car diagnostic tools.
6. Software and Updates
None of the companies offer software updates.
7. Reliability:
Veepeak Mini WiFi OBD2 Scanner for iOS and Android
It works on all devices and is a great pick for car owners who want to be able to know why the engine light is on and get rid of it.
Veepeak Mini WiFi: This is reliable in terms of being acceptable as it accepts all OS, but you will not be able to browse on your mobile while using it.
Veepeak Mini Bluetooth OBD2 Scanner OBD II Car Diagnostic Scan Tool
It's similar to the Veepeak Mini Wifi but only works on Windows or Android devices.
Veepeak Mini Bluetooth: Some users may face issues due to an older version of Bluetooth. Hence it's crucial to be close to your vehicle when connected.
Bafx Products - Wireless Bluetooth OBD2 / OBDII Diagnostic Car Scanner & Reader Tool
It's easy to use and reliable, a suitable option for those looking for an affordable OBDII scanner.
Bafx Products Bluetooth: This one is quite reliable but can only help you solve minor issues.
Recommendation
Now that you know all about the products, here are our suggestions on which one to opt for:
Veepeak Mini WiFi: Get your hands on this scan tool if you want one that works on all devices, including Mac, Windows, and Android. This option even works on laptops and can be an excellent pick for car owners who want to be able to know why the engine light is on and get rid of it. 
The wide support is Veepeak Mini WiFi's USP since there aren't many scan tools that support all platforms. It supports most cars found in the US as long as they are made in or after 1996 since it only works with OBDII compliant vehicles. The best part is that it covers some e-cars as well. However, it doesn't offer many advanced features. All you will be able to do is test the ABS light and ensure the system works fine. However, even this feature doesn't work on all vehicles, and you will need to use a third-party app that comes with the ABS function for it to work.
Check Price at Amazon
This scan tool and the other Veepeak model have almost everything in common except for the platforms supported. You can opt for this one if you have a Windows or Android device since it doesn't work on iOS devices. You'll have to do away with iOS support but enjoy better connectivity and few signal drops.
Check Price at Amazon
Bafx Products Bluetooth:
This OBDII scan tool can be a suitable option for those looking for an affordable obd2 scanner. Bafx Products Bluetooth is easy to use and reliable. However, remember that it is only a basic card reader at best and cannot perform complex tasks such as check SRS or ABS.
We think it is best suited for users who do not know much about cars but want to save money by reducing trips to the mechanic. This diagnostic tool can identify and solve small problems.
Check Price at Amazon
FAQs
#1 Can you leave Veepeak scanners connected to your car?
While you can, manufacturers recommend disconnecting once done. Keeping it connected can drain the battery.
#2 Does the Bafx Bluetooth scanner come with its own app?
No, you can use third-party apps.
#3 Do these work on laptops as well?
Yes, on Windows laptops.
#4 Which is better, WiFi, or Bluetooth?
Both options have their pros and cons. Experts believe that WiFi is faster but less reliable. However, the biggest con of WiFi is the inability to use the internet when you're connected. Hence, if you have to Google something, you'll first have to disconnect.
We hope this Veepeak Mini Bluetooth vs. Veepeak Mini WiFi vs. Bafx Products Bluetooth comparison guide will help you pick the right OBDII scanner.
Read More: Veepeak Mini Bluetooth Vs Mini WiFi Vs Bafx Products: Review and Comparison