Want to know more about Launch X431 Pro but not sure where to go? You're on the right place!
Launch X431 Pro (also known as X431 V, X431 V Pro, or X431 V PRO 4.0) is designed to take care of both basic and complex car issues that affect performance. This 8-inch tablet diagnostic tool has been hunted by hundreds of car enthusiasts, auto technician and shop mechanics due to the enormous features it offers.
In this Launch X431 V PRO review, we will be looking at the hardware and technical specifications, system diagnostic capability, and advanced service functions. We will also highlight supported protocols, vehicle coverage, warranty, software update, and many more. You will learn everything about the Launch X431 V PRO auto diagnostic tool.
First, let's see how good it is in comparison to the competitors.
Launch X431 V Pro Vs. X431 V+ PRO Elite Vs. X431 PROS Mini comparison chart

LAUNCH X431 V PRO


LAUNCH X431 V+ PRO Elite 4.0


LAUNCH X431 PROS Mini

Customer Rating

Price range
$799-$1,299
$1,199-$1,499
$799-$899
CPU Processor
Quard-core 2.0 GHz
8-Core 1.8GHz
Quad-core 1.3 GHz
RAM
3GB
3GB
2GB
Battery capacity
5000mAh
7000mAh
4680mAh
Operating system
Android 9.0
Android 9.0
Android 7.0
Screen size
8.0"
10.1"
7.0"
Storage
32GB+128GB
(extenable)
32GB+128GB
(extenable)
32GB
OBD2 functions
10/10*
10/10
10/10
System diagnostics
10/10
10/10
10/10
Advanced
service functions
9/10
9/10
9/10
Speed
8/10
9/10
7/10
*Notes: Excellent: 9-10; Good: 7-8; Fair: 5-6; Poor: 3-4; Very poor: 1-2
Launch X431 Pro (X431 V, X431 V Pro) overview
Launch X431 Pro: Excellent Bi-directional Scan Tool
The Launch X431 V PRO is marketed for a large audience. It is recommended for technicians and advanced DIYers. Home mechanics, car dealers, or auto repair shop owners can also consider Launch X431 V Pro. It has all the functions and capability to handle the everyday auto diagnosis. More than 100,000 Shops and Automotive Technicians are using this diagnostic tool for their daily work. Be the next guy to buy it.
Launch X431 V PRO is an 8-inch tablet auto diagnostic tool designed to help solve both basic and complex issues. It is the number one auto diagnostic tool for advanced DIYers, auto technicians, and shop mechanics because of its advanced capability. With it, you can perform ECU coding on over 150 brands of vehicles sold globally.
This powerful auto tool can perform all OBD2 diagnostic functions, advanced system diagnostics, and advanced service functions. You can use it for adaptation programming, gear, SAS, IMMO, BMS, ETS, among others. Launch X431 V PRO also gives you the power to effectively perform CASE relearn procedures and complete repairs and maintenance on time.
Let's dive deeper and learn what this advanced diagnostic tablet scanner can do: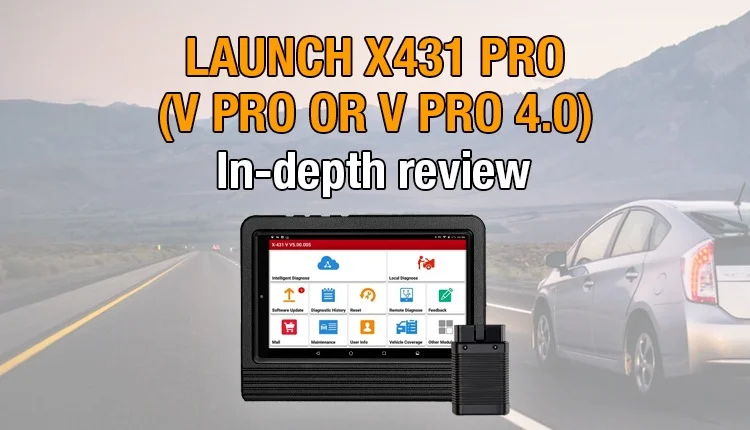 31+ advanced service functions
Launch X431 V PRO has over 31 advanced service functions that help you perform car maintenance at a professional level. It is capable of the following:
Engine, ABS, SRS, and transmission reset
TPMS reset
EPB reset
Steering angle calibration
Battery registration and management
ABS bleeding
Electronic Throttle Position reset or relearn
Diesel particulate filter regeneration
Gear learning
Injector coding
AFS reset
EGR adaptation
Headlight Fitting
Seat Matching
Door and Window Initialization Study
Air Suspension Matching
Multimedia Video Reset
Cluster Reset
Immobilizer Service
EGR Adaptation
SUS reset, etc.
Launch X431 V PRO is a complete tool you can use to perform all crucial advanced service functions. That is why we recommend it to auto technicians and advanced DIYers. You can use it to solve almost any problems that cars typically face.
Launch X431 V PRO
Launch X431 V PRO is an advanced auto diagnostic tool designed with hardware and software that live to the expectations. It is rugged, light, fast, and easy to use. It also has all the features and diagnostic capabilities you would expect of a high-end tool like it. The Launch X431 V PRO can perform all OBD2 diagnostic, advanced system functions, and over 31 special service functions.
Excellent bi-directional controls, coding, and programming abilities
Launch X431 V PRO is an advanced tool with bi-directional, coding, and programming capabilities. All these functions are only found on high-end car diagnostic tools for professionals.
Bi-directional control
The tool allows you to perform bi-directional testing. You can send information to the ECU and receive a response back. That is what mechanics use to troubleshoot different systems in the car to find problems and possible solutions. You can also use it to perform gear learning, among other functions below:
Actuator testing and matching: By entering commands into the CPU, you can test individual components for faults. Thanks to the bi-directional capability of this tool.
Coding and programming
Launch X431 V PRO can perform module coding and injector coding. This helps you test and repair injectors because you can create a link between the firing events and ECU. Online coding is also supported for some vehicle models such as Audi, Benz, BMW, Seat, Porsche, etc.
ECU coding
The tool allows you to change different settings when you replace an ECU. You can match, relearn, and code the newly installed ECU module and get everything back on track. Through ECU coding and programming, you can customize your car and disable any annoying features.
IMMO key programming
Launch X431 V PRO allows you to add, delete, and reprogram keys. You can also rewrite and replace all lost smart keys and replace KNOB ignition. However, you will need a PIN Code to perform key programming. Anti-theft IMMO service is supported for brands such as Volkswagen, Audi, Skoda, Seat, etc.
Launch X431 V Pro
Extensive supported protocols and vehicle coverage
Launch X431 is compatible with both OBD1 and OBD2 vehicles. It covers over 150 brands from Asia, America, and Asia with OBD2 functionality. OBD1 vehicles supported are limited, usually including the 1990s Ford and Toyota models.
| | | |
| --- | --- | --- |
| European Brands | Asian Brands | American Brands |
| Abarth, Alfa Romeo, Aston, Martin, Audi, Bentley, BMW, Bugatti, Citroen Dacia, DR Automobiles, Ford (Europe), Ferrari, Fiat, GAZ, Iveco, Jaguar, Lamborghini, Lancia, Land Rover, Maserati, Maybach, Mercedes Benz, MG (Saic), Mini, Opel, Peugeot, Porsche, Renault, Rolls Royce, Rover, Saab, Seat, Skoda, Smart MB, Sprinter, Vauxhall, VAZ, Volvo, Volkswagen | Acura, Daewoo, Daihatsu, Holden, Honda, Hyundai, Infiniti, Isuzu, Kia, Lexus, Mahindra, Maruti, Mazda, Mitsubishi, MVM, Nissan, Nissan GTR, Perodua, Proton, Samsung, SsangYong, Subaru, Suzuki, Tata, Isuzu (Thailand), Toyota, JAC, Jac Refine, JMC, MG (SAIC), Maxus, SGMW, DF Citroen, FAW(Tianjin), Jinlong, Gonow, GWM, Hafei, Brilliance, BYD, Changan, Changhe, Chery, etc. | Buick, Cadillac, Chevrolet, Chrysler, Dodge, Ford (USA), Ford (Australia), General Motors, Jeep, Lincoln |
Supported Protocols: OBDII/EOBD standard protocols (except J1850), private protocols, CAN BUS protocols, control protocols; ISO 9141-2(K line), ISO 14230-4 (CANBUS), ISO 11898 (CANBUS), etc.
Warranty, price, and software update
Price and warranty
Launch X431 V PRO costs less than $1,000. The price might change over time. So, check on Amazon for the latest price tag. It comes with an extensive warranty that should give you peace of mind. With every product purchase you make, you can expect a 2-year warranty and 24-hour technical support. If you are not satisfied or the diagnostic tool you bought malfunctioned, you can return it within 60 days.
Software update
This Android tablet auto diagnostic tool has a one-click update feature that allows you to get free software updates for two years. After this grace period, you will have to pay for any new updates at discounted prices. You do not lose the functionalities of the last update installed even if you do not update the software.
The Launch X431 V PRO has more advanced hardware, including an in-built 2.4GHz and 5GHz Dual-Frequency Wi-Fi adapter for internet connection. The software updates are performed over a Wi-Fi connection through this adapter.
Launch X431 V Pro
Weaknesses
This is a powerful auto diagnostic tool. For its price, I can say it is the best on the market. However, it has some weaknesses that I want to point out.
Printing the diagnosis report is a bit challenging with this tool. That is because the print button is designed for the bespoke Launch Printer. You might be forced to install a different PDF viewer that is compatible with your printer.
This product cannot also check battery health and crank voltage, and performance deteriorates if different PIDs are accessed concurrently.
Marketed users: Professionals only
The Launch X431 V PRO is marketed for a large audience. It is recommended for technicians and advanced DIYers. Home mechanics, car dealers, or auto repair shop owners can also consider Launch X431 V Pro. It has all the functions and capability to handle the everyday auto diagnosis.
The tool is designed with an intuitive user interface and equipped with engine code definitions. That also makes it ideal for DIY beginners and backyard mechanics.
Launch X431 V Pro
Bonus: Honest Review of the Best Launch Scan Tools 2021
FAQs
1. Launch USA Vs. Launch China: Which is better?
Launch USA, Launch China, Launch Europe, and Launch UK all belong to Launch company. All Launch products are made in China. Launch USA and Launch Europe mainly focus on R&D (Research & Development). All Launch agencies all over the world sell the products and take care of their customers themselves.
2. Can I store data on Launch X431 V Pro?
Yes. It comes with a 128GB TF card, which you can use to store pictures, DTCs, reports, etc.
3. Is it durable?
Launch X431 Pro comes enclosed in an anti-slip and anti-grease protective sleeve, which is drop tested. Hence, it is very durable.
4. Can I use this in an older car? Do I have to pay extra?
You can use it in older cars, and you don't have to pay extra because it comes with an OBD1 adapter. However, it may not support all older cars.
5. Will the scanner still work after two years if not updated since the updates are only for two years?
Yes, it will. However, you may not be able to enjoy the latest features.