LAUNCH X431 V isn't a low-price scan tool.
But it's one of the best automotive diagnostic tools for under $1,000 that professionals can't wait to have.
This review will tell you what you can do with it, its benefits, pros, cons, and use cases.
Let's start!!
LAUNCH X431 V Pro
Paid $1,000, Got $10,000
Scanner type: Bi-directional scan tool
Fit For: Experienced enthusiasts
Vehicle type: Car/Light truck
(Gasoline/Diesel)
Connection type:
Work on: OBD2 & OBD1 Vehicles
Price range: Under $1,000
Buy this scan tool if you want to …
DON'T buy it if you want to …
Pros
Fast and easy to use
Affordable price
Large vehicle coverage
ECU online coding
Bi-directional controls
Key Programming for most makes models
Remote OBD connector
Cons
Pictured user's manual not included
LAUNCH USA does not support
Registering is a little tricky
LAUNCH X431 V Pro 4.0 is an updated version of LAUNCH X431 V 3.0.
It's also known as LAUNCH X431 V Pro Elite 4.0, LAUNCH X431 V, LAUNCH X431 Pro, or X431 Pro.
Is this a cheap scanner to buy?
Nope!
But it is worth it. 
To find out if the quality of the product matches its price point or not, scroll down and read my review.
RELATED POST: Launch X431 V+ Pro vs. V PRO vs. CRP Touch Pro Elite: Which I shouldn't buy?
LAUNCH X431 V Pro Pricing: Pay For Itself In The First Use
Spending nearly $900 for a scan tool is a bit hard to swallow at first. But once you get it, you will change your mind.
It's hard to believe, but I've received $10,000 from this scan tool for 5 years by fixing the 5 cars in my family.
How?
According to Harris Poll on behalf of Ally Bank: "Americans spend about $397 per year on vehicle maintenance and repairs."
Even if you own a new car, it should be in the shop twice, assuming you are using full synthetic oil. And it probably would cost you around $300-$400.
Buy a LAUNCH X431 V PRO, which will help you LOWER your maintenance costs.
LAUNCH X431 V Pro can pay for itself in a short time as it saves you from missing work and going to a dealer. 
With it, you can diagnose problems in your car or even your family's cars.
For example, imagine that you need to program your key fob. LAUNCH X431 V Pro will help you save at least $150 by doing what you would pay the Dealership to do.
What makes this tool different is that it enables you to be a self-sufficient mechanic. The extra functionality over basic scan tools makes diagnosing more complicated issues easier. 
LAUNCH X431 V Pro Vehicle Coverage: Cover 95% Of OBD2 Cars And Light Trucks
Much to my surprise, LAUNCH X431 V Pro works well with every vehicle brand without buying different scanners separately. It also works on cars that the Snap-On Solus cannot.
This scanner is compatible with both OBD1 and OBD2 vehicles. It covers up to 150 brands from Asia, America, and Europe with OBD2 functionality. 
But please note that Launch X431 V Pro doesn't cover 99.99% of vehicles as advertised. This is because:
Firstly, it can not work on 24V heavy-duty trucks.
Secondly, it cannot support construction vehicles: excavators, bulldozers, road rollers, etc.
Last, you cannot connect this scanner to Chevy cars before 1996. For Toyota and Ford, the earliest model it can support is 1990.
So make sure this LAUNCH scan tool works on your car model before making a purchase decision.
You can check the vehicle coverage here.
Note: Choose "Online-Sale" => "Professional diagnostic" => "X431 V"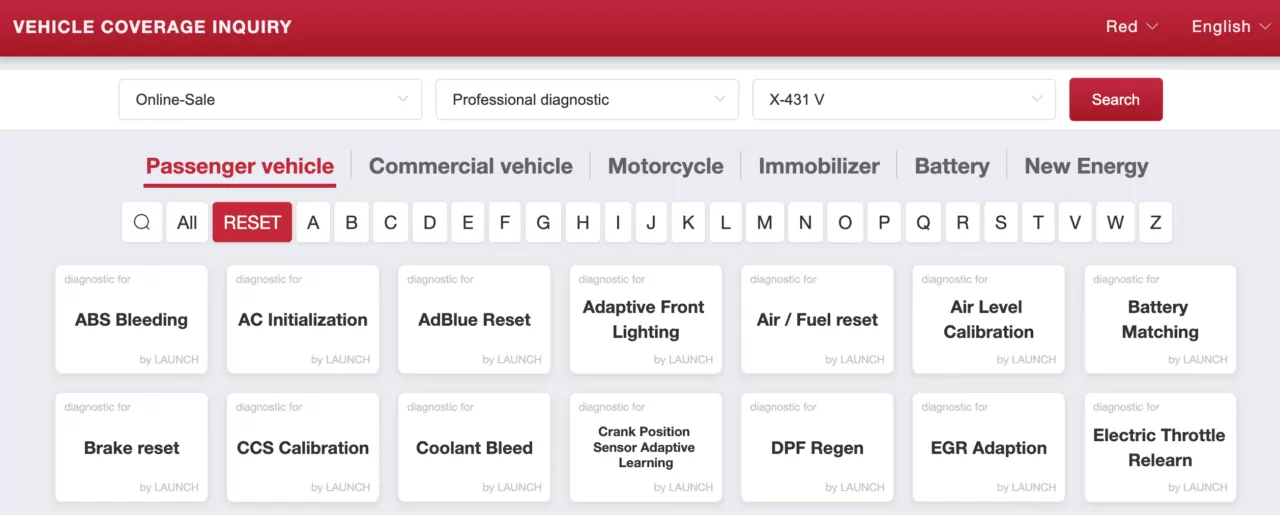 Besides, you can double-check with the list of supported vehicles below by entering your car brand in the "Search Box". E.g. Ford, Chevrolet, Audi, BMW, etc.
Supported Vehicles
Abarth
Acura
Alfa Romeo
Aston
Audi
Bentley
BMW
Brilliance
Bugatti
Buick
BYD
Cadillac
Changan
Changhe
Chery
Chevrolet
Chrysler
Citroen Dacia
Daewoo
Daihatsu
DF Citroen
Dodge
DR Automobiles
FAW(Tianjin)
Ferrari
Fiat
Ford (Australia)
Ford (Europe)
Ford (USA)
GAZ
General Motors
Gonow
GWM
Hafei
Holden
Honda
Hyundai
Infiniti
Isuzu
Isuzu (Thailand)
Iveco
JAC
Jac Refine
Jaguar
Jeep
Jinlong
JMC
Kia
Lamborghini
Lancia
Land Rover
Lexus
Lincoln
Mahindra
Martin
Maruti
Maserati
Maxus
Maybach
Mazda
Mercedes Benz
MG (Saic)
MG (SAIC)
Mini
Mitsubishi
MVM
Nissan
Nissan GTR
Opel
Perodua
Peugeot
Porsche
Proton
Renault
Rolls Royce
Rover
Saab
Samsung
Seat
SGMW
Skoda
Smart MB
Sprinter
SsangYong
Subaru
Suzuki
Tata
Toyota
Vauxhall
VAZ
Volkswagen
Volvo
LAUNCH X431 V Pro Hardware & Design: Have A Solid Build And Feels Good In The Hands
1. Have longer working time with a sensitive tablet
LAUNCH X431 V is equipped with an 8-inch branded Lenovo tablet. I like this large touch-screen as it gives a clear view when reading live data. 
The case it comes in is sturdy and molded. This allows you to grip the tablet easily and hold it securely.
Since it is a 9.0 Android tablet, you can easily add extra apps or research for more information you need on Chrome without using the mobile phone.
How convenient it is!
Additionally, this tablet does have a 2MP front-facing camera that can be activated with a different camera app. However, the plastic case and rubber cover have that camera blocked. So you'd have to make adjustments before taking some pictures you need.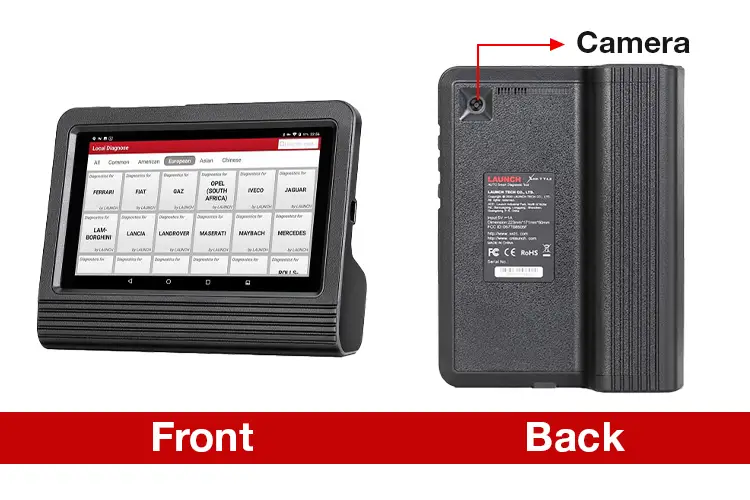 The thing I am impressed with the most is that the tablet runs fast. At least, it operates much faster than most of my old scanners.
The tablet of the 2023 version also has a noticeable improvement in the battery compared to the previous version. 
LAUNCH has claimed that the battery life issue of the 2020 version is fixed. Therefore, the run time can be extended up to 10 hours of continuous use on a single charge.
In fact, if you continuously use this scan tool for long-term diagnostics, it only lasts about 4 hours. Not excellent as advertised, but it's acceptable.
2. Scan your car from remote locations with a Bluetooth adapter (VCI)
Another thing I really like is that the LAUNCH X431 V Pro uses a Bluetooth adapter (Bluetooth OBD2 VCI) instead of a wire for the OBDII port. This enables me to walk around the vehicle while running diagnostics. 
According to the manufacturer, the wireless connection will have a good working distance of at least 15 feet (~5m) from the car under test.
It's not a lie.
During my testing, the Bluetooth did have a reliable connection range of around 5 meters. The plus is that the Bluetooth connection is very sturdy and impressively fast.
This Bluetooth adapter applies to all 12V OBD2 compatible cars. The case that covers the adapter is solid and rubberized to protect it from damage.
I also find that the 2-feet OBD2 extension cable provided is very useful. If the OBD2 connector is hard to get to under the dash, you can use it to easily connect the VCI connector to the OBD2 vehicle's DLC.
Note:
The VCI is pre-installed in the docking slot on the top of the display tablet. Use the hand to press the VCI once, it will be automatically ejected from the docking slot. 
You'd better insert it into the slot when it is not in use to avoid loss.
RELATED POST: Launch X431 Torque Vs. X431 V PRO Vs. AUTEL MS906BT: Which are professional mechanics using everyday?
3. Connect to any vehicle you have with a large selection of adapters
I also have to mention that this scan tool comes with MANY OBD1 connectors that older vehicles used.
However, you might also get a bit confused as the connectors for different vehicles are not marked. Pictured User's Manual is not included. And it will take time to identify which adapter you need for your car.  
Useful Tip:
After unboxing the product, all connections should be labeled for each car manufacturer. This helps you identify the connection you need from many similar-shaped connectors.
The image below also helps you quickly find your suitable connector.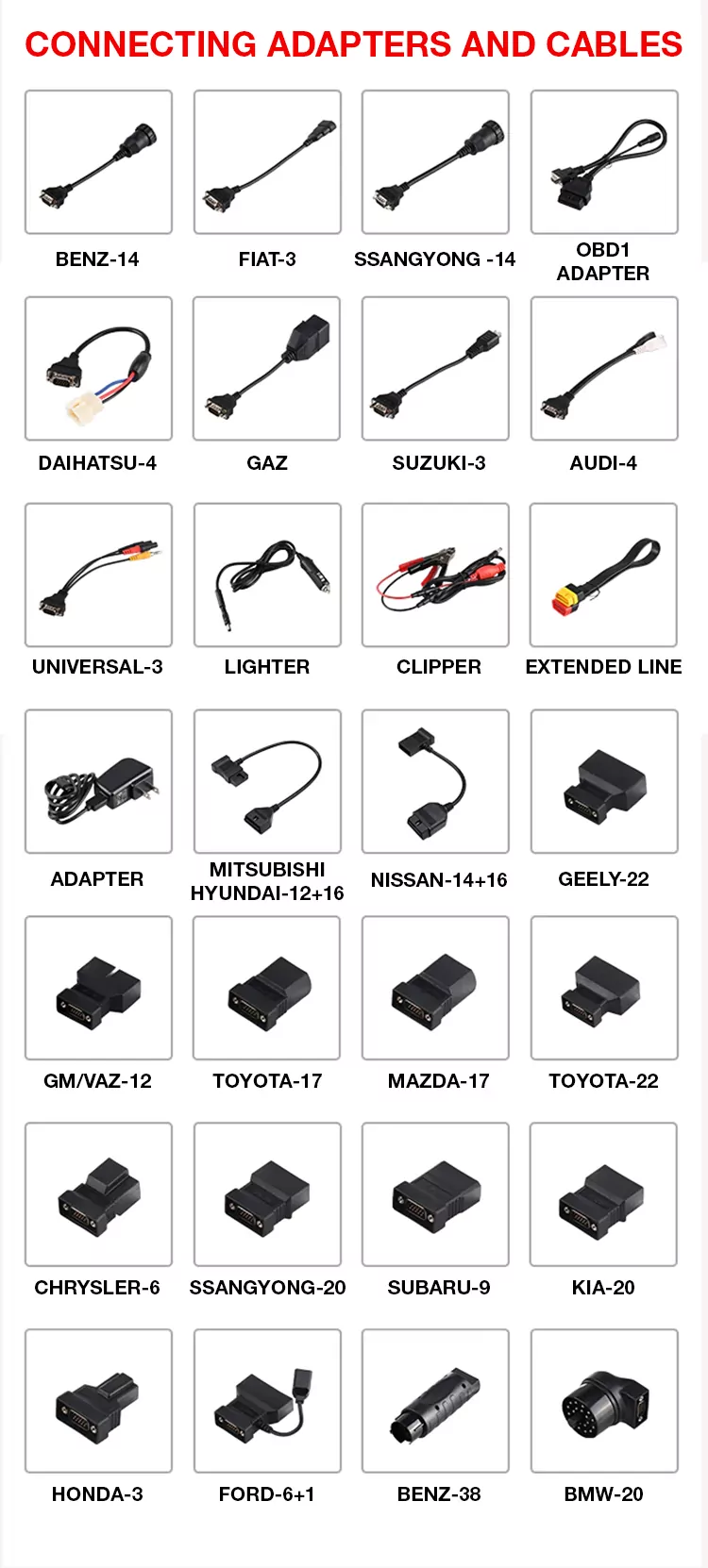 This video introducing the main cables and OBDII connectors of LAUNCH X431 V Pro might be what you need:
LAUNCH X431 V Pro Performance: Work Like A Charm
No one likes being stuck in traffic. 
Why spend hours bringing your car to the repair shop when you can diagnose and fix it at home?
But how?
You will get the answer if I own a LAUNCH X431 V Pro. This scan tool provides tons of the functions you need to diagnose and repair your car at home.
No longer need to wait at a repair shop for hours to resolve your car problems because, with this scanner, you can:
1. Make your car perform as you want
The first function that makes me love the LAUNCH X431 V Pro is that it supports advanced ECU coding for 12V vehicles, including cars, SUVs, MPVs, Pickups, etc… 
With the ECU coding function, you can address the following issues:
Make a new code and recognize the new actuators when you change the bad actuators or certain parts.
Change the code with the ECU coding to improve vehicle performance.
Enable multiple car systems to recognize each other, and then the actuators can start to work.
2. Communicate with your car
Next, the Launch X431 V pro is a full bidirectional scan tool. It means you can send the command to the ECU and receive a response. 
That is what mechanics use for different systems in the car to find problems and possible solutions. 
You can also use it for actuation tests like testing trans solenoids.
Thanks to the bi-directional capability, I could actuate a solenoid in the transmission when fixing the car of my client. Then I found that the solenoid was faulty, causing the engine light. After replacing the solenoid, I used this scanner to clear the light. 
And my client's car worked normally immediately.
The bi-directional control makes this tool do everything a small shop or home mechanic would need.
But that's not all!
You can also …
3. Perform car maintenance like a professional 
LAUNCH X431 V Pro has 31+ service functions of all the overpriced scanners provide.
Wow, amazing product, right?
However, only 5 advanced functions can impress me as they are always possible with a factory scan tool. They are:
ABS bleeding
DPF regeneration
Injector coding
Immobilizer Service
Steering angle calibration
With this scanner, I can bleed the ABS on my cars, which my previous scan tool doesn't support. 
It also offers other service functions that help you perform car maintenance at a professional level:
Engine, ABS, SRS, and Transmission reset
Oil lamp reset
TPMS reset
EPB reset
Battery registration and management
Electronic Throttle Position reset or relearn
Gear learning
AFS reset
EGR adaptation
Headlight Fitting
Seat Matching
Door and Window Initialization Study
Air Suspension Matching
Cluster Reset
Multimedia Video Reset
EGR Adaptation
SUS reset, etc.
If you want a detailed explanation of each function, check here.
LAUNCH X431 V Pro is one of the few tools to offer a wide variety of advanced functions I have ever used.
4. Conduct a full system diagnosis to timely find faults in any system 
It doesn't matter what system you want to diagnose; LAUNCH X431 V Pro will cater to your individual needs.  
The tool will work flawlessly to diagnose a problem in minutes. This saves you hours or an expensive trip to the dealer. 
Plus, if you own a repair shop, you can also generate a complete system Diagnostic Report and send it directly to your customers.
Best tool ever, right?
Launch X431 V Pro
LAUNCH X431 V Pro Setup: Take Only 10 Minutes To Download And Set Up
To diagnose a vehicle using Launch X431 V Pro, follow these steps below:
1. Register a user first.
WARNING: Getting this device registered before use is tricky if you can't find the CAPTCHA. First, try to create an account on the website. Then you can log in on the scanner, and it will work perfectly after that. 
2. Next, activate the connector.
3. Then, let the device update in a few minutes.
Now you have all the functions you need to diagnose and fix any issue in your car.
LAUNCH X431 V Pro Warranty & Update: 5 Years Warranty & 2 Years of Free Update
Launch x431 V Pro comes with a 5-year warranty.
However, I don't like that the seller is selling Chinese-supported models. As a result, they are NOT WARRANTIED by LAUNCH USA. You have to deal with your non-USA supplier.
If your unit requires repair service, return it to the manufacturer with a copy of the sales receipt and a note describing the problem. 
The scanner will be repaired at no charge if it is under warranty.
It will be fixed for a nominal service charge plus return freight if the unit is out of warranty.
Moreover,
You will also love the 2 years of free software updates when owning LAUNCH X431 V Pro. It allows you to take advantage of it as new features and fixes are added all the time.
After the free subscription ends, it is up to you whether you want to update more next year or just keep using it with old software.
If you still want to enjoy the latest features, it will cost you $399/year to update.
If not, you can still use all functions available on your LAUNCH X431 V Pro since your last update without a problem.
An upgrade mainly adds new model years to the software. The system software function will be updated as well. However, the annual update fee seems quite high.
So the update is necessary if you own a repair shop and want to read all newer vehicles accurately.
Before ordering the update, you should email the manufacturer to make sure that the updated functions are the things you need.
Find the information about how to update Launch X431 V Pro after 2 years by watching the video below:
Launch X431 V PRO Alternatives
If you're looking to get the most out of the Launch X431 V PRO scanner, I'm here to help.
Scroll down to see my other recommendations.

LAUNCH X431 V PRO


LAUNCH X431 V+ PRO Elite 4.0


Autel MaxiCOM MP808K

Customer Rating

Price range
CPU Processor
Quard-core 2.0 GHz
8-Core 1.8GHz
Cortex-A9 processor
RAM
3GB
3GB
1GB
Battery capacity
5000mAh
7000mAh
3200 mAh
Operating system
Android 9.0
Android 9.0
Android 4.4.4
Screen size
8.0"
10.1"
7.0"
Storage
32GB+128GB
(extenable)
32GB+128GB
(extenable)
32GB + 32GB (extenable)
OBD2 functions
10/10*
10/10
10/10
System diagnostics
10/10
10/10
10/10
Advanced
service functions
9/10
9/10
9/10
Speed
8/10
9/10
8/10
*Notes: Excellent: 9-10; Good: 7-8; Fair: 5-6; Poor: 3-4; Very poor: 1-2
#1 Alternative: Autel MP808K
The LAUNCH X431 V Pro scanner works well. But what to do if you want to own an all-in-one scanner at a lower price?
You could try the Autel MP808K.
It's $100 cheaper than the LAUNCH X431 V Pro and has the same features to do what LAUNCH X431 does.
---
RELATED POST:
---
#2 Alternative: LAUNCH X431 V+ Pro Elite 4.0
Don't buy LAUNCH X431 V Pro if you need a scan tool to diagnose heavy-duty trucks. This is because it is not compatible with heavy-duty modules. 
Instead, LAUNCH X431 V+ Pro Elite 4.0 is a better choice. This scan tool has everything you need for any vehicle, including heavy-duty trucks. 
Buy an additional heavy-duty truck diagnostic module for about $900, and you'll have a diesel-integrated diagnostic device with powerful functions.
Is there any other reason why you should spend more than $300 buying LAUNCH X431 V+ Pro?
Yes, there are 3 other main reasons:
Firstly, the CPU processor of LAUNCH X431 V+ is upgraded to 8-core 1,8GHz, while LAUNCH X431 V has a 4-core 2,0GHz CPU. Therefore, LAUNCH X431 V+ runs faster and offers you a smoother user experience.
Secondly, the battery life of the V+ Pro is 1.49 times better than that of the V Pro. This allows you to work with the scanner for a longer time and avoid frequent charging. 
And finally, the LAUNCH X431 V+ Pro screen size is 2 inches larger than V Pro. The large screen can display 15 data streams simultaneously, which is easy for users to navigate.
It is definitely a stronger alternative for LAUNCH X431 V Pro.
---
RELATED POST:
---
Final Thoughts
That is all about Launch X431 V PRO, one of the great value-for-the-money professional diagnostic tools. 
As this Launch X431 V PRO review explains, it offers a ton of functions, ECU online coding, and Bi-directional control. 
So, if you own a repair shop or are a professional who wants to save time and money, this tool will be beneficial.
Launch X431 V Pro
FAQs
1. LAUNCH USA Vs. LAUNCH China: Which is better?
LAUNCH China, LAUNCH USA, LAUNCH Europe, and LAUNCH UK all belong to the LAUNCH company. All Launch products are made in China. 
LAUNCH USA and LAUNCH Europe mainly focus on R&D (Research & Development). All LAUNCH agencies worldwide sell the products and take care of their customers themselves.
2. Can I store data on LAUNCH X431 V Pro?
Yes. It comes with 32 and 128GB (EXTENDABLE) storage, which you can use to store pictures, DTCs, reports, etc.
3. Is it durable?
Honestly, I've used Launch products for the past ten years without any problem.
And I believe that this LAUNCH X431 V Pro scanner can last a long time as well.
This is because it comes enclosed in an anti-slip and anti-grease protective sleeve, which makes it easy to grip and hold securely. It has been drop tested as well to examine its durability.
4. Can I use this in an older car? Do I have to pay extra?
You can use it in older cars, and you don't have to pay extra because it comes with an OBD1 adapter. However, it may not support all older cars (before 1996).
5. Will LAUNCH X431 V Pro program the ECU?
No, it can not program ECU. 
It can support ECU coding only, enables multiple car systems to recognize each other, and then the actuators can start to work.
If you need a scanner that supports ECU programming, Autel MaxiSys Elite is a great choice to consider.
---
RELATED POST:
---