In our comprehensive review of the LAUNCH X431 V Pro, we put this scanner to the test, examining its features, performance, and user-friendliness. Our hands-on experience allowed us to assess its capabilities thoroughly, ensuring an accurate and detailed evaluation.
Let's move on to explore!
Testing Records
| | |
| --- | --- |
| Shopping platform | Amazon |
| Price | $647 (28% discount) |
| Shopping date | 19 Oct |
| Tester | Jack Gannon |
| Test period | 26 Oct - 2nd Nov, 2023 |
| Vehicles tested | 2012 Toyota Camry, 2018 Hyundai i10, 2009 Mercedes C300, 2006 Ford Expedition. |
| Functions tested | Live data; Service functions; Bi-directional Controls; ECU Coding |
LAUNCH X431 V Pro Overview
Price range: Under $1,000
Score: 9.3
Target user: Professionals
Pros
Full-system diagnostics
ECU Coding
Fully Bi-directional controls
Key Programming
37 Reset Services
Cons
Support from overseas
Complicated registration process
Performance
Performance Summary
| Product | LAUNCH X431 V PRO |
| --- | --- |
| Performance Rating | 9.5 |
| Code Reading Time | ~40s (full-system scan) |
| Full system Diagnostic | ✓ |
| Bi-directional system tests | Full Support |
| Live Data Retrieving Time | ~6s |
| ECU Coding | ✓ |
| Key Programming | ✓ |
| Service Functions | 37+ Reset functions |
Bidirectional Controls
The bi-directional control feature enables communication with the car's computer, allowing testing of vehicle components. The LAUNCH X431 Pro offers full bi-directional functions based on the car's make and model. This includes testing transmission solenoids, gauges, A/C clutch, and more.
For instance, we tested the function on our 2012 Toyota Camry to check the radiator fan status. We accessed "Actuation test" → "Cooling fan" → used buttons (20%, 40%, 50%, 70%, 90%) to operate the fan. The fans responded accurately to commands. It took us about three minutes to check the fan carefully.
This scanner simplifies tasks; without it, manual checks involve locating the fuse box, pulling it out, using a multimeter, and assessing the readings. You have to spend a lot of time seeing the radiator fan status. Especially in a repair shop context, you could repair far more cars each day.
The LAUNCH X431 PRO's wide range of active tests makes it a worthwhile investment, offering genuine full bi-directional functions.
ECU Coding
We are genuinely impressed with the integration of the ECU coding feature in the X431 V PRO. With this function, you can:
Create a new code and recognize new actuators when replacing faulty actuators or specific parts.
Modify the code using ECU coding to enhance vehicle performance.
Enable various car systems to recognize each other, allowing the actuators to function properly.
Through our testing process, we found that the LAUNCH X431 V PRO supports ECU coding on a wider range of vehicles compared to the XTOOL D7 or D8, especially focusing on Audi and BMW models. Therefore, this X431 V PRO is highly suitable for auto shops that frequently work with various car models.
Serviced Functions
The X431 Pro offers a wide range of useful functions, up to 37 in total. Having more functions makes it easier for mechanics to do complex tasks without much hassle. This tool stands out because it supports various functions, making it one of the most comprehensive scan tools available.
We tested this tool on different cars, and while not every car supports all 37 functions, essential ones like ABS bleeding, DPF regeneration, injector coding, immobilizer service, and steering angle calibration are consistently available.
Let's take a look at key programming on our 2018 Hyundai i10. Before programming the key, make sure you have a replacement key fob and the vehicle PIN (usually provided by the dealer).
In the Special Functions menu, we selected "IMM Teaching." Then, we entered the vehicle PIN in the blank space. The scanner prompted us to place the un-programmed key into the ignition for programming. After confirming some information, we were done. That's all we needed to do to have a new key ready to use.
If you're a DIY enthusiast, you can do this yourself and save up to $200 instead of visiting an auto shop. It's effortless; just a few button presses and you're done. Plus, there are other convenient functions, like registering a new battery after replacement or resetting dashboard lights with just one touch. How convenient!
Vehicle Coverage
The X431 V PRO by LAUNCH is an essential tool for mechanics. It covers a broad spectrum of vehicles. Not only can it scan most OBD2 protocol-equipped cars from 1996 to 2023, but it can also read OBD1 codes for certain models made before 1996. The kit includes various connectors designed to work with both OBD1 and OBD2 cars, including those not intended for the US market.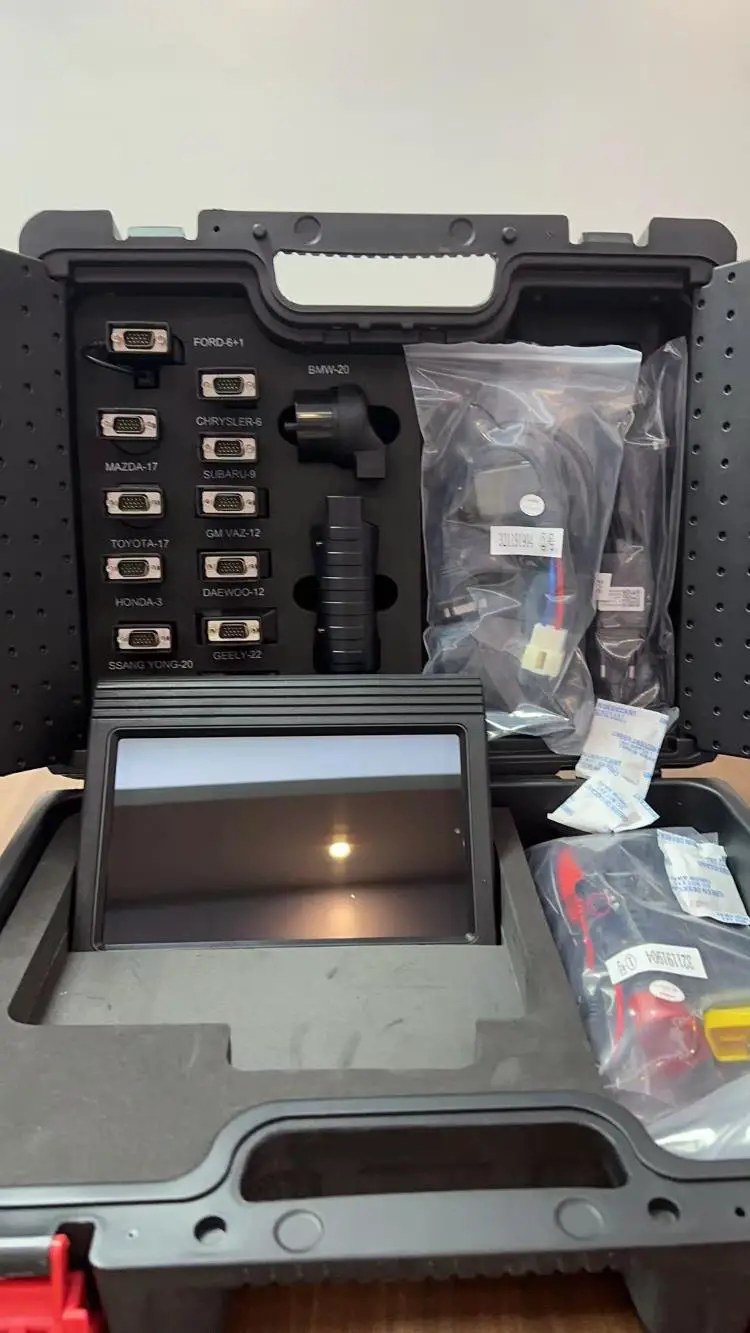 Here's the list of cables that come with the X431 Pro: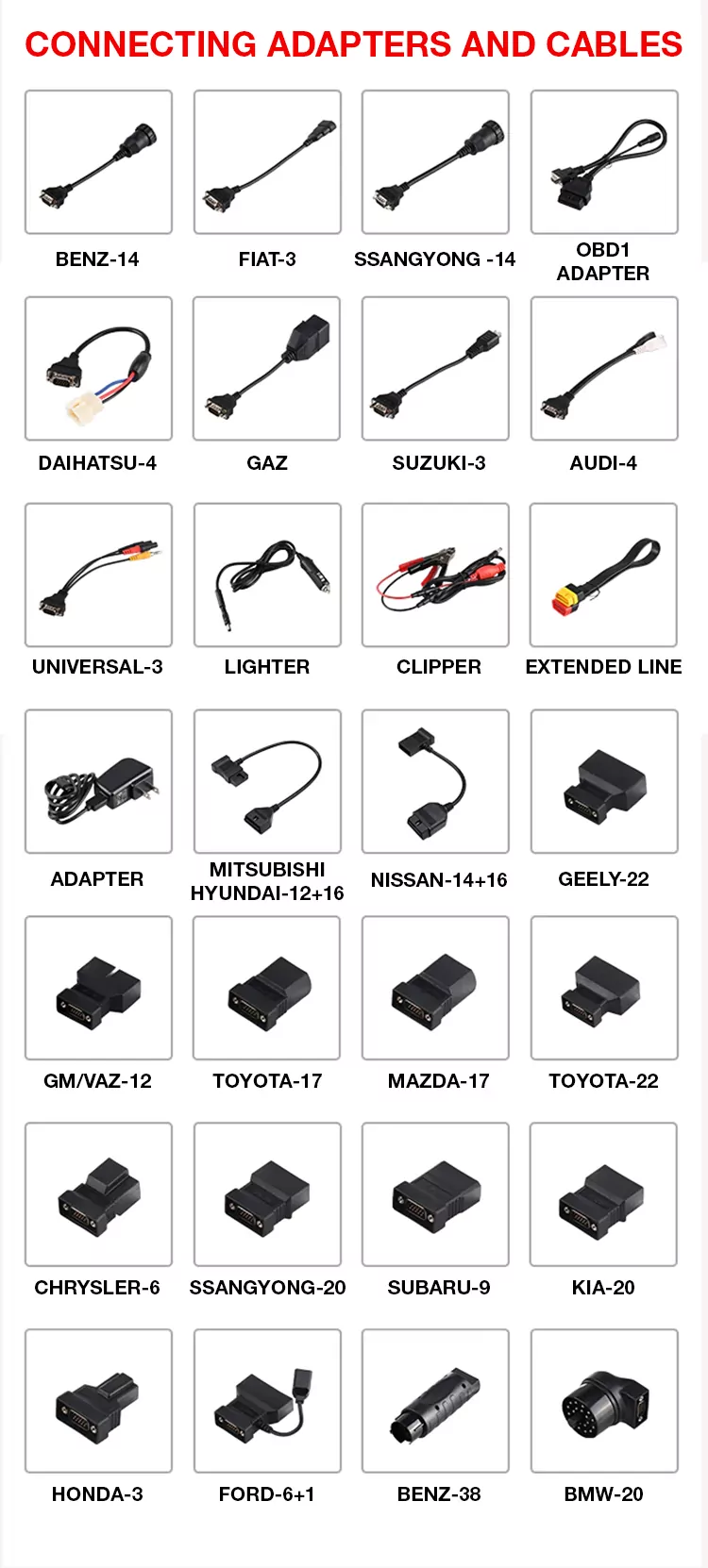 For vehicles with an OBD2 port, you can plug the Bluetooth adapter (VCI) directly into the port. For other types of ports, you need to hook up the suitable cable on one end, and on the other end, you can connect the VCI. This wireless connection allows you to move around the car and check things during the repair process. This feature provides a significant advantage over competitors like XTOOL D8, which doesn't offer wireless mobility.
We tested the Bluetooth connection on the mentioned cars and found it to be stable. During the test on our 2009 Mercedes C300, we tried retrieving live data as we moved around the car, gradually moving farther away. We concluded that the connection worked well within a range of 16 feet. In terms of processing speed, the X431 V PRO outperforms the XTOOL D8 due to its stronger configuration (X431 V PRO's quad-core 2ghz compared to the quad-core 1.8ghz of D8).
Important Note: The VCI is pre-installed in the docking slot on the tablet's top. Press it once, and it will be automatically ejected. Remember to insert it back into the slot when not in use to avoid loss.
While it covers almost all types of vehicles on the market, there are still some exceptions. This product doesn't support:
Heavy-duty trucks (24V trucks)
Pre-1996 models from certain manufacturers like Chevrolet, Chrysler, Cadillac, etc.
Therefore, it's essential to check the vehicle coverage to ensure compatibility before making a purchase.
Note: You need to choose "Online-Sale" => "Professional diagnostic" => "X431 V" to check.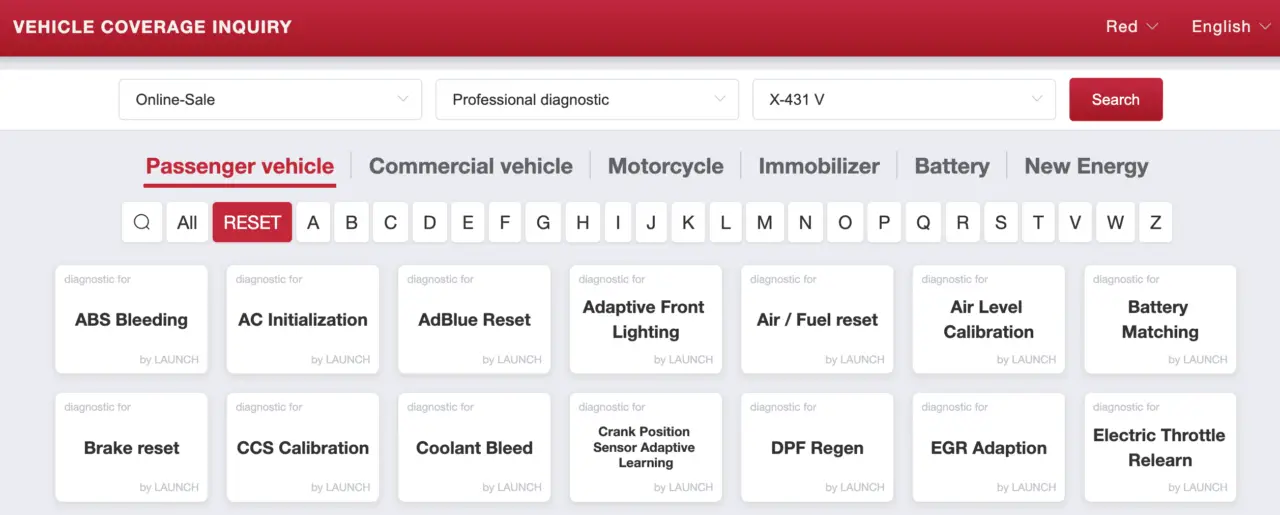 We tried out this product on different cars to see if it works well and what features are supported for each model. Here are the cars we used for testing and the outcomes:
| | 2012 Toyota Camry | 2018 Hyundai i10 | 2009 Mercedes C300 | 2006 Ford Expedition |
| --- | --- | --- | --- | --- |
| Full-system code reading | ✓ | ✓ | ✓ | ✓ |
| Bi-directional control | 17 active tests | 24 active tests | 14 active tests | 9 active tests |
| Live data | Full-system support | Full-system support | Full-system support | PCM, ABS, RCM, etc. |
| Key Programming | ✓ | ✓ | ✓ | ✓ |
| Service Functions | A/T Code Reset, CVT Oil Pressure Calibration, etc. | Pressure Sensor Calibration, TPMS Test, etc. | Sensor rotor adaptation, activation of fuel pump, etc. | ABS Service Bleed, Power Balance, etc. |
Ease of Use
The LAUNCH X431 PRO has a straightforward and easy-to-use interface. You don't need extensive guidance to navigate its features, whether you're updating software or using different functions. Plus, the touchscreen is responsive and smooth, making your tasks faster and easier.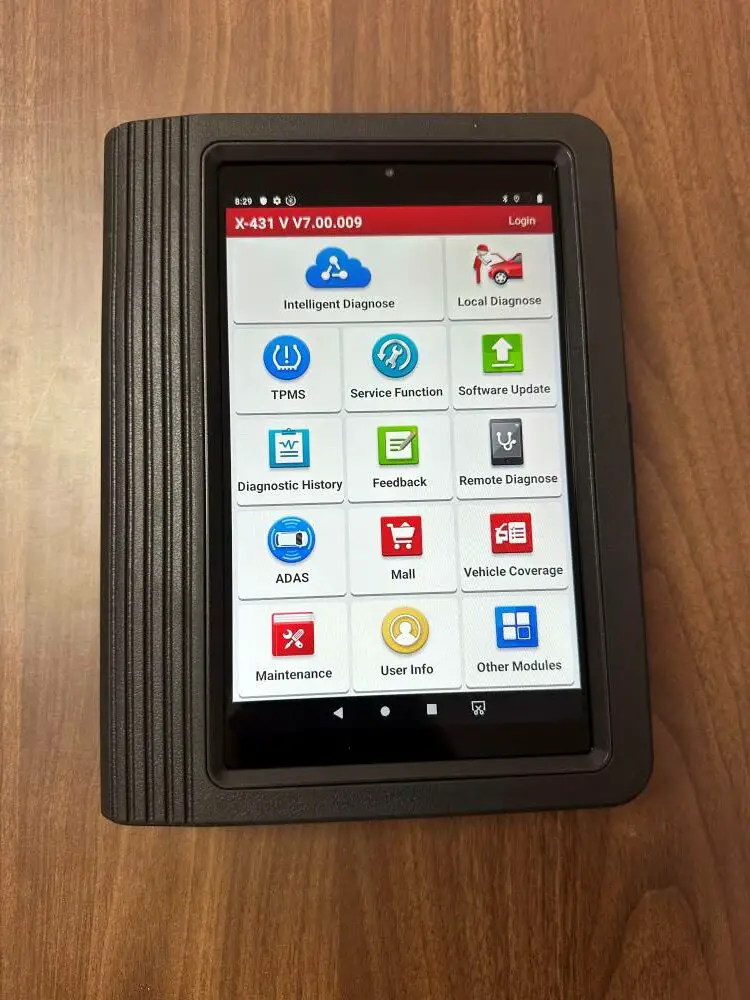 Registering might seem a bit complicated, but don't worry! We'll show you a helpful video guide to walk you through the process step by step.
After-sales Services
When you purchase the LAUNCH X431 PRO, you'll receive 2 years of free updates. After the initial two years, if you wish to continue updating, the cost will be $399 per year. If you choose not to update, you can still continue using the older version without any issues. In case you decide to extend your updates, it's advisable to contact the manufacturer to ensure the new features align with your needs, preventing unnecessary expenses.
One aspect we really appreciate about this product is that LAUNCH consistently releases updates to add new features or support new car models in the market.
You'll also receive a 5-year warranty package. However, please note that the product won't be covered by LAUNCH USA because it's sold by the Chinese distributor. If your unit needs repair within the warranty period, it will be repaired free of charge. If it's out of warranty, there will be a nominal service charge plus the cost of return freight for the repair.
Durability
We're really impressed with the design of the LAUNCH X431 V PRO. Its rubberized coating provides a solid grip, even when your hands are oily from working on engines. Plus, the scanner's case is incredibly sturdy. So, if you accidentally drop it, it's well-protected from damage. With such a design and a 5-year warranty, we believe you can confidently use this product for a long time, whether you're running a car repair shop or working on your own vehicles at home.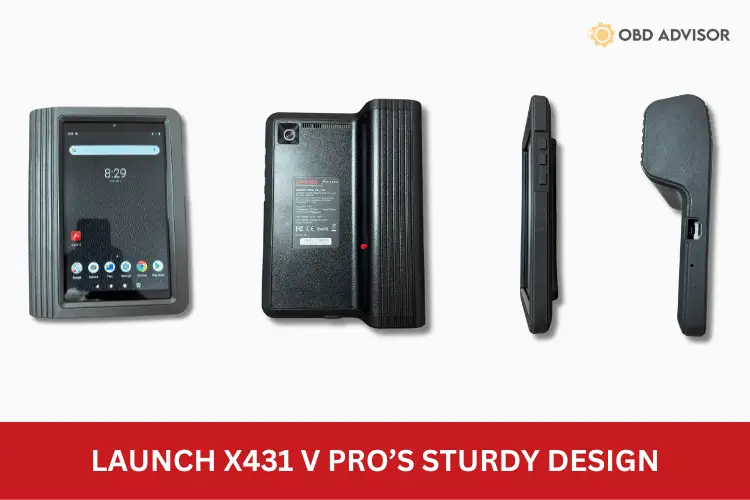 Final Thought
Conclusively, the LAUNCH X431 V Pro stands out as a versatile diagnostic tool catering to both home mechanics and professionals. Our in-depth analysis revealed its wealth of features, making it a powerful ally for diagnosing various vehicle issues. From its user-friendly interface to its extensive range of functions, it offers a comprehensive solution for automotive diagnostics. While some limitations exist, they are outweighed by the scanner's overall capabilities. Whether you're a seasoned professional or a DIY enthusiast, the LAUNCH X431 V Pro proves to be a valuable investment.
Feel free to ask any questions you have by dropping them in the comment box. We're here to assist you!
---
Launch X431 V Pro
FAQs
Is Launch X431 bidirectional?
Yes, the Launch X431 is bidirectional. It means it can send and receive information from your vehicle's computer system, allowing for more advanced diagnostics and control over various vehicle functions.
Will LAUNCH X431 V Pro program the ECU?
No, it cannot program ECU. 
It can support ECU coding only, enables multiple car systems to recognize each other, and then the actuators can start to work.
If you need a scanner that supports ECU programming, XTOOL D9 Pro is a great choice to consider.