If you ever go out to buy a scan tool, you will have to compare between these three models: Launch CRP123E vs. CRP123X vs. CRP123. These are among the best Launch scanners.
While they are all good, the right one depends on your needs. To help you pick the best option, given below is a comparison between all three automotive tools.
Launch CRP123 Vs. CRP123E Vs. CRP123X comparison table
| | | | |
| --- | --- | --- | --- |
| | Launch CRP123E | Launch CRP123X | Launch CRP123 |
| Customer Rating | | | |
| Price range | $169-$189 | $149-$169 | $139-$159 |
| Operating System | Android 7.0 | Android 7.0 | Graphical (Simple) |
| Touch Screen | ✔ | ✔ | -- |
| OBD2 functions | 10/10* | 10/10 | 10/10 |
| System diagnostics | 6/10 | 6/10 | 6/10 |
| Advanced service functions | 4/10 | 4/10 | 1/10 |
| Vehicle coverage | Cars, SUVs, 12V trucks (1996 and newer) | Cars, SUVs, 12V trucks (1996 and newer) | Cars, SUVs, 12V trucks (1996 and newer) |
| | | | |
*Notes: Excellent: 9-10; Good: 7-8; Fair: 5-6; Poor: 3-4; Very poor: 1-2
Launch CRP123E and CRP123X are better than Launch CRP123 in terms of features, premiership, updates, and software. Launch CRP123X is 99% the same as CRP123E except for the full touch screen.
Let's have a look at the similarities and differences among these three OBDII scan tools.
CRP123 Vs. CRP123E Vs. CRP123X: Key things in common
Features: All three OBD2 scanners can read and clear codes from 4 major systems, including engine, transmission, ABS, and SRS. Apart from that, you can use a variety of features on these tools such as I/M readiness, DTC, freeze frame, Auto Vin, live data, etc. But more importantly, they support all 10 modes of OBD2.
Corded: All three devices are corded. Connect the tool to the OBD2 port to start.
CRP123 Vs. CRP123E Vs. CRP123X: Key differences
Design: Launch CRP123 has a 3.5″ TFT screen while CRP123E and CRP123X, both, have a 5″ touch display.
Update Mechanism: Launch CRP123 can only be updated using an OBD2 cable, while CRP123E and CRP123X can be updated over WiFi.
Touch+Keypad: CRP123 offers navigation via the keypad. However, CRP123E is a touch screen (720P) device, and CRP123X offers both keypad and touch screen options for navigation and 720p resolution.
Interface: There's a simple graphical interface on Launch CRP123, but CRP123E and CRP123X operate on the now popular Android interface.
Launch CRP123 is short on features when compared to the other two devices. The details are given below:
Design and specifications
Launch CRP123: It has a 3.5 inch TFT LCD screen and 7 navigation buttons that help move, enter, and exit the menu. This corded device operates when connected to the car's OBD2 port. With a weight of 1.4 pounds and dimensions of 5.9 x 1.7 x 3.6 inches, it's comparatively smaller than most OBD2 devices.
Launch CRP123E: This one has a 5 inches touchscreen with 8 GB ROM, 1 GB RAM; hence it's faster than other options. It is meant to run for many hours thanks to the 4000 mAh battery, with which it is equipped. This device weighs 2.7 pounds only and has dimensions of 8.6 x 1.3 x 4.7 inches.
Launch CRP123X: This Launch OBD2 scan tool has a 5″ touch screen and runs on Android 7.0. It's pretty convenient to use with a weight of 1.3 pounds and dimensions of 11 x 9 x 3.5 inches.
Launch CRP123
Launch CRP123E
Launch CRP123X
Features and functions
Basic Features: These diagnostic tools offer a variety of basic features. These include read engine light codes, check DTC, I/M readiness, smog test, request vehicle information, O2, and EVAP test. They do not differ in terms of basic features.
ABS/SRS: Launch CRP12E, Launch CRP123E, and Launch CRP123X can read and erase ABS and SRS codes in a vehicle.
Engine And Transmission Codes: All three devices are capable of reading engine and AT codes.
They will let you identify problems in the engine, cylinders. The devices also check misfire status and read other parameters, including vehicle speed and transmission components.
10 OBD2 Modes: You will be able to perform all 10 OBD2 modes using any of the tools.
Battery Monitoring: CRP123E and CRP123X both can monitor your car's battery and tell you if it requires a replacement or not. The voltage is shown in a graphical format that is easy to interpret.
Supported protocols and vehicle coverage
Launch CRP123: It supports ISO9141, KWP2000 (ISO 14230), J1859-41.6, J1850-10.4, and CAN (Control Area Network ISO 11898) protocols.
Launch CRP123E and Launch CRP123X: They support all the major OBD2 protocols.
Launch CRP123: It covers all 1996 or newer vehicles including Suzuki, Honda, Mitsubishi, Nissan, Toyota, Mazda, Daewoo, Hyundai, Kia, Subaru, Infiniti, Lexus, and Accura.
Launch CRP123E: This is an upgraded version of Launch CRP123, and it supports more than 10,000 vehicles, including American, European, and Asian cars.
Some top supported brands include Jeep, GM Dodge, Chrysler, Opel, Buick, Lincoln, Volvo, Jaguar, Benz, BMW, Porsche, Buggati, Seat, Saab, Samsung, Suzuki, and Subaru.
Launch CRP123X: It covers more than 57 car brands, including Chrysler, Jeep, Hyundai, Kia, Mazda, Nissan, Jaguar, Toyota, Lexus, Ford, Honda, Land Rover, and Mercedes-Benz.
Software and updates
Launch CRP123: It operates on a simple graphical interface. You can use the keypad to navigate between menus. Moreover, it can be updated using an OBD2 cable.
Launch CRP123E: This OBD2 scanner operates on Android 7.0 and can be updated over WiFi. It's also known for the one-click update feature.
Launch CRP123X: It is the same as CRP123E when it comes to the software and updates. With Android 7 and WiFi updates, this is an intuitive scan tool.
Updates are free for all three scanners.
Pros and Cons of Launch CRP123
Pros
3-year warranty and limited 100% refund policy.
Enclosed in a TPU protect red shell case.
Lifetime free updates.
Supports 10 OBD2 modes.
Cons
Updates can be downloaded from the PC only.
Launch CRP123
Pros and cons of Launch CRP123E
Pros
5-year warranty and 2-month replacement warranty.
Long-lasting 4000 mah battery.
Supports 10 OBD2 modes and ABS bleeding
Shows voltage drop when cranking.
Cons
It doesn't support the 2005 Toyota Camry model.
Launch CRP123E
Pros and cons of Launch CRP123X
Pros
2-year warranty and 2-month replacement warranty.
Supports both touchscreen and keypad navigation.
4 GB internal storage and 4000mah battery.
Supports voltage monitoring
Launch CRP123X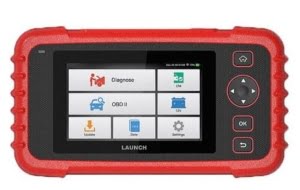 Video reviews
FAQs
Is Launch a good brand?
Yes, Launch is one of the most reliable brands when it comes to scan tools. All its products are durable and known to be quick and easy to use. The three models discussed above are among the most popular Launch scan tools available.
Which Launch CRP scan tool covers the most number of cars?
Launch CRP123E supports the most cars – over 10,000 models. The other models also cover a wide range of models but not as high as Launch CRP123E.
Which is the best: Launch CRP123 vs. Launch CRP123E vs. Launch CRP123X?
For us, it's a tie between CRP123E and CRP123X because both offer identical features, run on the same software, and provide a one-click update option to download updates over the WiFi.
Which scan tool out of the three offers both touch screen and keypad functionality?
Launch CRP123X offers this feasibility. You can operate it via the keypad or touch screen.
Which scanner has the longest warranty?
Launch scanner CRP123E offers a warranty of 5 years while CRP123 and CRP123X come with 3 and 2-year warranties, respectively.
Read more: Launch CRP123 vs. CRP129: Honest Review and Comparison