Anyone that has been looking for the best affordable OBD2 scanner might have heard of the Launch CRP129 series. 
But which one should you buy: CRP129E or CRP129X? 
What are the differences between them? 
Therefore in this post, we'll look at these 2 models from top to bottom. This includes their performance, designs, vehicle coverage and more!
Launch CRP129E vs. CRP129X: Full Comparison Chart
| | CRP129E | CRP129X |
| --- | --- | --- |
| OBD2 FUNCTIONS | | |
| Four-system diagnostics | ✅ | ✅ |
| Live data | Text, Graph | Text, Graph |
| Smog tests | ✅ | ✅ |
| Full OBD2 modes | ✅ | ✅ |
| RESET FUNCTIONS | | |
| Oil reset | ✅ | ✅ |
| SAS reset | ✅ | ✅ |
| Throttle reset | ✅ | ✅ |
| TPMS reset | ✅ | ✅ |
| BMS reset | ✅ | ✅ |
| EPB reset | ✅ | ✅ |
| DPF reset | ✅ | ✅ |
| Injector coding | ✅ | ✅ |
| VEHICLE COVERAGE | | |
| OBD2 car/light truck | ✅ | ✅ |
| HARDWARE/ DESIGN | | |
| Connection type | Wired | Wired |
| Screen size | 5″ | 5″ |
| Android OS | Android 7.0 | Android 7.0 |
| Screen | Full touch screen | Touch screen + buttons |
| Battery | 6,100mAh | 6,100mAh |
| AFTER-SALES SERVICE | | |
| Free update | Lifetime | Lifetime |
| Warranty | 5 years | 5 years |
| Customer support | 8.5/10 | 8.5/10 |
| | Check price | Check Price |
| | | |
Click here to DOWNLOAD the Full Comparison Chart in PDF (FREE)
---
Launch CRP129E vs CRP129X: Key Differences & Quick Comparison
The CRP129E and CRP129X are pretty similar in what they can do. The main difference is how they look:
CRP129E has only a touch screen.
CRP129X comes with a touch screen and handy buttons on the side.
Check the pic below to really get what I mean.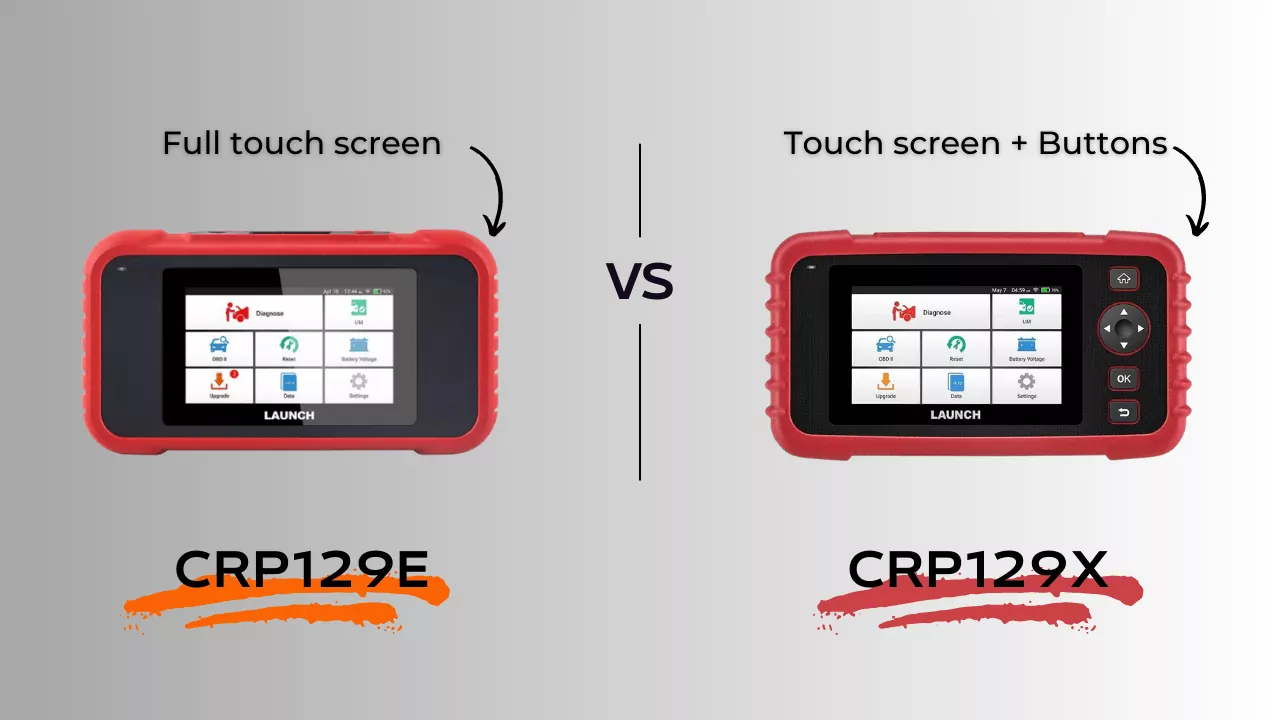 So, it's up to you:
CRP129X. It's got buttons on the side to help out. These buttons also save the day if the touch screen, unfortunately, has trouble.
If you love touchscreen but worry about dirty hands, go for
CRP129E. It's got a full touch screen for that luxurious feel.
But if you like a fancy-look scanner, choose
---
Launch CRP129E vs. CRP129X: Key Similarities
Performance
Remember, CRP129E and CRP129X are like twins in function.
They both cover four main systems: Engine, Transmission, ABS, and SRS.
What's cool is they scan these systems on their own after VIN detection and give a report about which one has issues.
Scanning speed? It takes 15s-30s for the full scan – I timed it. After that, you get a report like the one below.
Besides that, CRP129X and CRP129E do 8 more service things:
Oil Reset,
TPMS Reset,
Brake Reset,
Throttle Adaptation,
Steering Angle Calibration,
Injector Coding,
Battery Registration
And DPF regen
Not just that, CRP129X and CRP129E have a Mall where you can grab extra Reset Functions, Full-system Diagnostics, or Active Tests. But these extras last only one year.
So, bottom line, these scanners cover a home mechanic's needs like a champ. They handle most DIY repair jobs without the high price of an OEM tool.
Today's best Launch CRP129E price:
Today's best Launch CRP129X price:
Design & Hardware
The touchscreens on both models are pretty responsive, just like a smartphone.
Scanners with touchscreens like CRP129R and CRP129X are easy to navigate, super speedy, and smooth. It's a real time-saver for:
Finding functions easily.
Updating software through wifi, no need for a computer.
You'll love this: a built-in 6,100mAh battery that stays charged well. A huge plus!
Another cool feature is their 5 inch screen! That means you can see live data on a clear graph.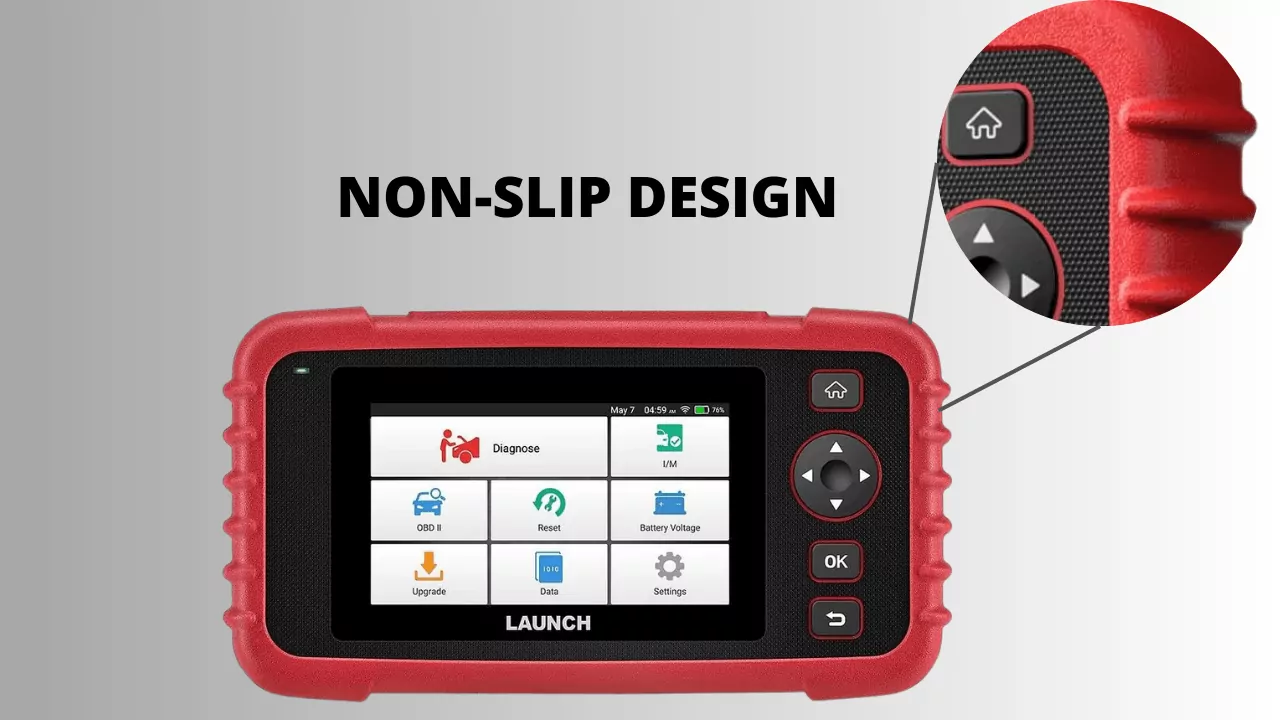 Last thing I really like is the non-slip design.
Those ribbed sides on both CRP129X and CRP129E mean even if your hands are sweaty or oily, the scanner won't slip away. Such a smart design, right?
Today's best Launch CRP129E price:
Today's best Launch CRP129X price:
Vehicle Coverage
Both Launch CRP129E and CRP129X cover most cars made after 1996.
I use these scanners sometimes on my clients' cars in the garage. I can't exactly measure how good the coverage is compared to their ads, but I've had a great time using them.
You can trust the coverage, though. After all, Launch scanners are always on top, covering the most types and models of vehicles in the world. They've got you covered!
After-sales service
Both CRP129X and CRP129E come with a cool 5-year warranty from Launch. But let me break it down for you:
For the first year, you get free maintenance for quality issues and software help.
Then, for the next 4 years, you're covered with software technical support only.
And one more thing! These are global models. So, if you run into any trouble, just email the sellers. That's how you'll get help.
Now, here's the cool part: These products come with a lifetime of free updates. When you buy the scanner, you get new stuff every year, like support for new car brands and fresh functions. No extra charge at all! 
Today's best Launch CRP129E price:
Today's best Launch CRP129X price:
---
Recommendation
So, CRP129E and CRP129X are totally wallet-friendly with 8 HOT service functions, 4-system diagnostics, touch screens, and lifetime free updates.
For those who love full touchscreens, go with CRP129E.
Today's best Launch CRP129E price:
But if you're concerned about potential touchscreen issues, the CRP129X is the solution. It has navigation buttons alongside the touchscreen, giving you complete peace of mind while using it!
Today's best Launch CRP129X price: