Important Notice: Launch CR619 is currently unavailable. We highly recommend that you take the Autel MaxiLink ML619 for your car diagnostics.
The Launch CR619 is one of the most popular products in Launch Tech's Creader series of scanners. Most buyers who have used it have nothing but positive feedback.
Be that as it may, I've come to learn that different people can have different experiences with OBD scanners. That's why I had to test the Launch Creader CR619 for myself to find out if it's worth the buzz. Here's my review, and I hope it helps you decide whether this OBD2 scanner is suitable for your needs.
Overview of the Launch CR619
First available on the market in 2017, the Launch CR619 is a relatively new OBD2 scanner. It comes as a full package that contains the scanner itself, the scanner's protective case, an OBD2 connector cable, a USB cable, a carry bag, a quick start guide, and a comprehensive user manual.
The quick start guide has three languages (English, Spanish, and French), while the user manual has seven (English, Spanish, French, German, Russian, Japanese, and Portuguese). I guess LAUNCH wanted the Launch Creader CR619 to be a scanner that can be used anywhere in the world.
A large part of the scanner is made of textured plastic, save for the screen and its bezel, which are both smooth. All the sides and the back are covered with a rubber sleeve. Of course, the sleeve is meant to absorb most, if not all, the shock if the device falls or takes a knock.
At the top of the scanner is an OBD2 port where you plug the OBD2 connector. The bottom side has a USB port. Keep in mind that you will need to connect it to a computer via USB to update the software.
Speaking of which, be sure to update the software as soon as you receive your Launch CR619. You don't want to start using it without incorporating all the latest features and functions, especially in vehicle compatibility.
Quick look at design and interface
Overall, the Launch Creader CR619 looks sleek and easy to use. It has 10 buttons only, 4 of which are navigation buttons. On the right side of navigation buttons is an 'OK' button for making a selection, while the left side has an 'EXIT' button.
Just above those six buttons is a set of 4 hotkeys (shortcuts) labeled "DTC," "E.R.," "I/M," and "?". "DTC" takes you straight to diagnostic trouble codes, while "E.R." is for erasing the codes. The "I/M" key is for checking I/M readiness while the "?" button takes you to the help menu.
When you connect the Launch CR619 to a vehicle, it automatically powers on. You will hear a beeping sound as the scanner notifies you that it is now on. In just about 3 seconds, you will see the main menu.
There are 4 items on the main menu: Diagnose, Record Mo (Record Mode), Settings, and Help. The most important item is undoubtedly "Diagnose." Now, when you open that one, you get two sub-menus named "OBDII/EOBD" and "Scan."
The first one (OBDII/EOBD) is for the engine and emissions-related diagnostic functions. The latter (Scan) is for all your ABS and airbag diagnostic functions. Wanna know more about the functionality of this scanner? Hop down to the next section.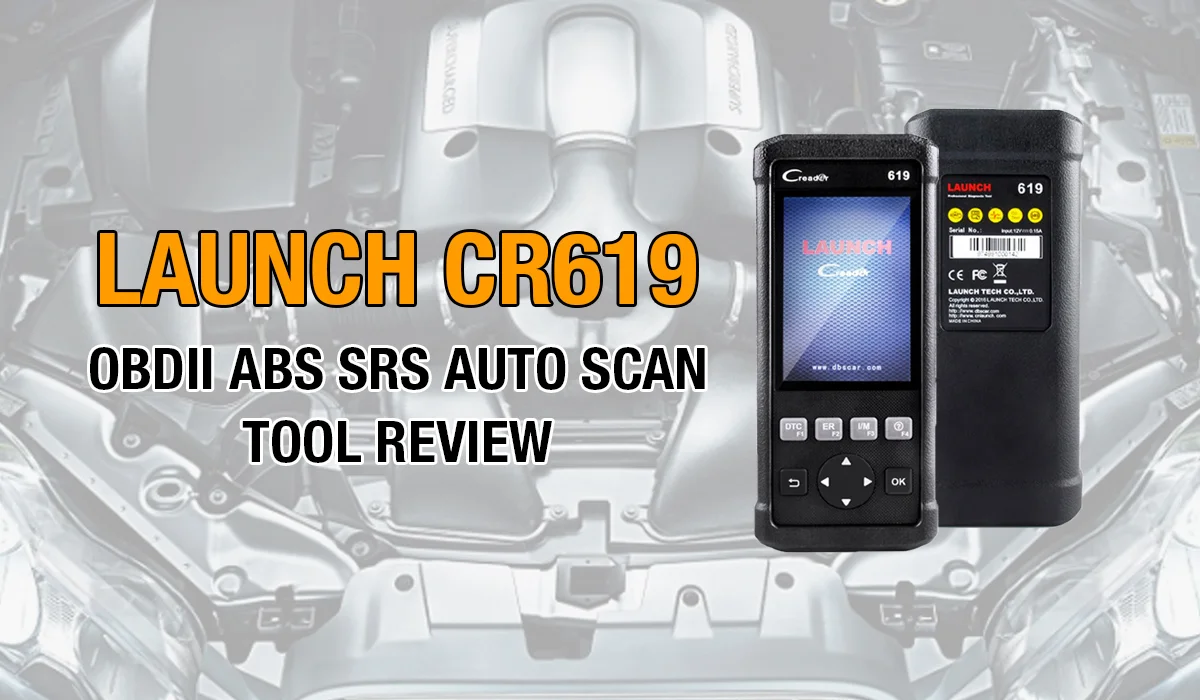 Launch Creader CR619 functional review
So what can you do with the Launch CR619? To put it simply, it's a scan tool for diagnosing the engine, checking emissions status, scanning the emissions system, and running ABS & SRS diagnostics. Here's a detailed breakdown:
Diagnostic trouble codes
With the Launch CR619, you can read and erase current and pending trouble codes from the engine, ABS and SRS. It follows that you can use it to reset the MIL, ABS, and SRS warning lights. And you get a brief description of each code to help you understand the problem better.
In other words, as far as basic diagnostics, the CR619 covers most ends. The only issue is that you can't use it for diagnosing the transmission system. Otherwise, it would have been an excellent tool for DIY enthusiasts. As it is, it would probably serve ordinary car owners better.
Data
In addition to trouble codes, the Launch Creader CR619 provides a relatively wide range of data. You can view real-time dynamic data from the powertrain, including RPM, engine temp, airflow rates, vehicle speed, and so much more.
Additionally, the scanner provides live sensor data from the ABS and SRS. That should make it a lot easier to identify faulty sensors, monitors, and modules when diagnosing those two systems. It supports textual and graphical display of data. Even better, you can compare as many as 4 graphs on one screen.
Alongside the above sets of data, the Launch CR619 displays freeze frame data. That is basically historical data used to identify when a code was recorded or when a problem first occurred.
To top it all off, you can use the device to pull vehicle information. Whether you want to know its historical owners or you're looking to buy aftermarket replacement parts, vehicle info will come in handy.
Emissions
Emissions-related codes generally fall under powertrain codes. But it's worth mentioning that the Launch CR619 can read I/M readiness status, perform O2 sensor tests and run on-board monitor tests.
To put it simply, besides checking whether your vehicle will pass federal and state smog tests, the Launch CR619 can diagnose the EVAP system and pinpoint problems. The most common EVAP issues are leaks, poor wiring, and faulty sensors.
OBD2-compatibility
According to Launch Tech, the CR619 is designed to work on all OBD2-compliant vehicles. It should therefore work on any domestic or foreign vehicle made or sold in the U.S. since 1996. That goes for cars, light trucks, and SUVs that run on 12V.
The reality is a bit different, though. While it's compatible with plenty of vehicles, there are others where it fails to connect completely. An example case is the 2003 Subaru Outback.
That said, the scanner should generally work on most OBD2-compliant vehicles. It actually supports all the 9 OBD2 modes. So if it's compatible with your vehicle, you can do a whole lot of things with it.
Pros
Free software updates for the product's lifetime
Impressively wide vehicle compatibility
Diagnoses three main systems, i.e., engine, ABS, and SRS
Fairly compact, can easily fit anywhere inside the car
Doesn't require you to but anything else before using the scanner
Well-built and has a durable feel
Cons
Limited functionality, especially for enthusiasts and professionals. You don't get functions like the diagnosis of transmission, EPB, TPMS, BMS, etc.
Doesn't have the best customer service. The scanner is not supported by Launch Tech USA or Launch Tech U.K. For any help and assistance, you will have to rely on the seller, not the manufacturer.
Launch CR619 FAQs
1. Will the Launch CR619 work on my car?
The scanner works on most OBD2-compliant vehicles. If your car is a 1996 or newer model, then it may be compatible.
2. Will it turn off the MIL?
Yes. Start by fixing the issues that triggered the light. Clear all powertrain, and emission-related codes, then do a drive cycle to turn off the MIL.
3. Does the Launch CR619 read transmission codes?
No, it does not.
4. Do I have to Google codes, or will the Launch CR619 tell me what's wrong?
No, you don't have to. The scanner provides code definitions.
5. How do I update the software?
Connect the Launch CR619 to a Windows P.C. via USB, then download the latest software update from Launch Tech's website to the device. It will automatically update.
Read more:
Never buy Launch X431 PRO (V PRO or V PRO 4.0) before reading this review