Are you looking to save money on repairs with a DIY-level scanner?
Take a look at the Innova 5610 vs 5160RS scan tools.
You may have heard about these scanners, but how do they differ?
This post will tell you all about their similarities and differences to help you choose wisely.
Let's take it to the last paragraph, guys!
---
Hey there! We, the OBDAdvisor testers, have created a comparison video to help you decide between the Innova 5610 and 5160RS scanners. Our video covers all the similarities and differences between these two, so we recommend checking it out before making your decision.
Innova 5610 vs. 5160RS: Key Differences
If you're curious about the distinctions between these two scanners, there are unfortunately only three differences to note. Specifically:
Design: Innova 5610 comes in gray and black colors. Meanwhile, Innova 5160RS is available in blue and black.
Sellers: These two scanners are offered by different offline stores. Innova 5610 is sold at O'Reilly, whereas Innova 5160RS can be found at Autozone and Advance Auto. However, if you choose to make your purchase through Amazon, the seller will be Innova directly.
In summary, the Innova 5160RS and 5610 are the same tools with identical functionalities. However, they vary in terms of color, and part numbers depending on the retailer you purchase them from. 
---

From Oct 28 to Nov 25 (2023) , Innova is giving a 10% discount on Innova 5610 at Amazon.
You can access the discount through this link: https://amzn.to/497tOCH.
The discount will be applied automatically when purchasing through the provided link, so no need to enter a code.
---
Innova 5610 vs. 5160RS: Full comparison chart
| | Innova 5610 | Innova 5610RS |
| --- | --- | --- |
| DIAGNOSTICS | | |
| Full OBD2 Modes | ✅ | ✅ |
| Full diagnosis | ✅ | ✅ |
| Suggested fixes | ✅ | ✅ |
| Live data | Basic & OEM | Basic & OEM |
| Active tests | ✅ | ✅ |
| OTHER FUNCTIONS | | |
| Service functions | 6 | 6 |
| Oil reset | ✅ | ✅ |
| Battery initialization | ✅ | ✅ |
| SAS reset | ✅ | ✅ |
| EPB reset | ✅ | ✅ |
| DPF regen | ✅ | ✅ |
| ABS bleeding | ✅ | ✅ |
| Key programming | - | - |
| VEHICLE COVERAGE | | |
| OBD1 car/light truck (*) | ✅ | ✅ |
| OBD2 car/light truck | ✅ | ✅ |
| DESIGN & HARDWARE | | |
| Color | Black & grey | Black & blue |
| Screen size | 3.5" | 3.5" |
| Cable length | 6 ft | 6 ft |
| Lighted connector | ✅ | ✅ |
| Battery included | - | - |
| AFTER-SALES SERVICE | | |
| Free update | Lifetime | Lifetime |
| Warranty | 1 year | 1 year |
| Customer service | 9/10 | 9/10 |
| | Check price | Check price |
| | | |
Click here to DOWNLOAD the Full Comparison Chart in PDF (FREE)
(*): OBD1 cable needs to be purchased separately.
---
Innova 5610 vs. 5160RS: Key Similarities
Now, let's explore the key similarities between the Innova 5610 and 5160RS, which will provide you with an understanding of the benefits you can get from both scanners.
1. Functions: Offer suggested repair solutions and bi-directional control
In terms of what they can do, Innova 5610 and 5160RS have the same functionality. They can read codes from all systems in a vehicle, such as ABS, SRS, TPMS, etc. If you need real-time data from the systems to aid in diagnosing issues, both scanners can provide that.
Additionally, all scanners from Innova come with a useful app called RepairSolution2. This app gives you more details about the codes you've scanned, including possible causes, required parts, and estimated costs.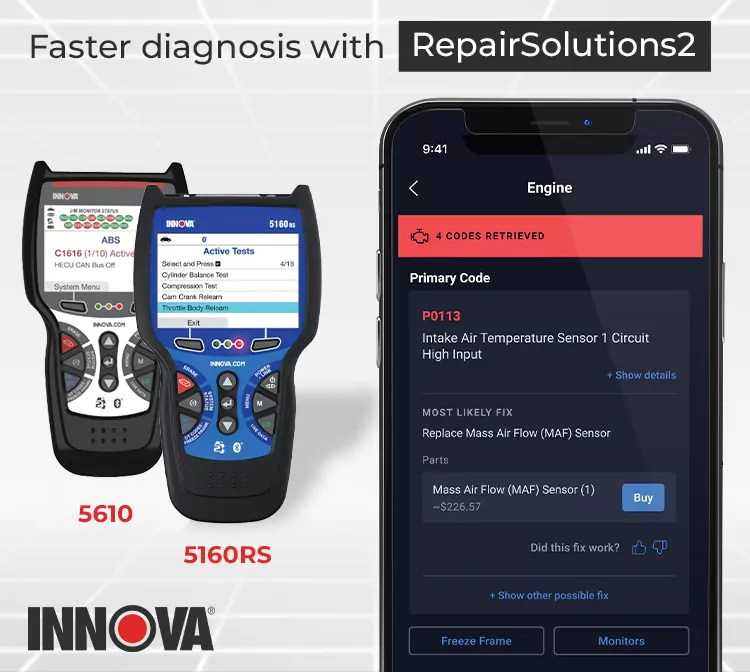 If you're interested in bi-directional control, both the Innova 5610 and 5160RS are reasonable options priced under $400. However, please note that the active test feature is available only for the engine system.
When it comes to advanced service functions, these two scanners offer six functions: 
ABS bleeding 
DPF regeneration 
Oil reset 
Battery initialization 
EPB reset
SAS reset
Today's best INNOVA 5610 price:
Today's best INNOVA 5160RS price:
2. Vehicle Coverage: OBD1 & OBD2 vehicles covered
Both the Innova 5610 and 5160RS are compatible with OBD1 and OBD2 vehicles, including cars and light trucks. 
However, you should know that their accessories only come with an OBD2 cable. If you intend to use the scanner for OBD1 car diagnostics, make sure to purchase an additional OBD1 cable or adapter separately.
Today's best INNOVA 5610 price:
Today's best INNOVA 5160RS price:
3. Design & Hardware: Comes with a lit-up connector and a long cable
The button layout on both scanners is identical. In addition, they both feature a 3.5-inch screen size, which may be slightly small for some users, but the text is still large and clear enough to read comfortably. 
The cords provided with the scanners are also long, approximately 6 feet, ensuring that you can work with them conveniently.
One notable feature of these scanners is the built-in light connector, which makes it easier to locate the OBD2 port in the dark.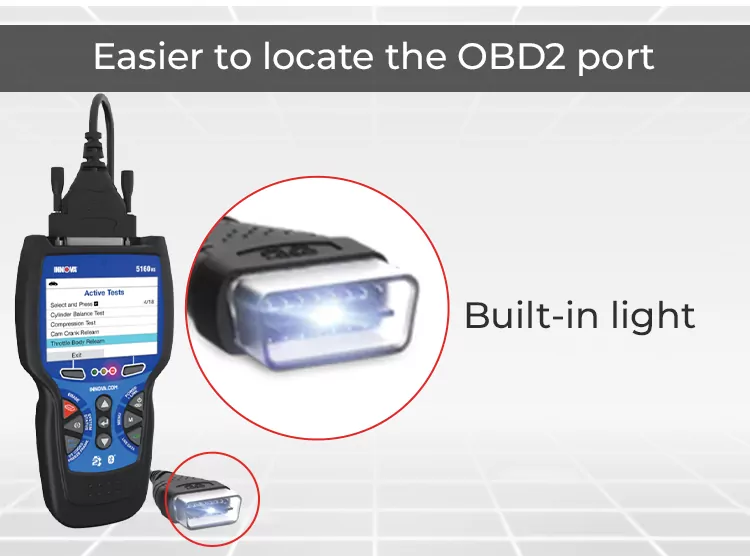 However, these scanners require batteries to function, and unfortunately, they are not included. You will need to purchase the batteries separately.
Today's best INNOVA 5610 price:
Today's best INNOVA 5160RS price:
4. After-sales service: Deliver lifetime free updates and a 1-year warranty
Innova 5610 and 5160RS provide lifetime free updates and a 1-year warranty when purchased on Amazon. 
In terms of customer support, being a US-based scanner company, contacting them via email or phone is quite convenient. The customer agents are also very friendly and responsive, readily addressing all of my questions. 
As for other issues, I haven't personally encountered any, so I cannot provide further information.
Today's best INNOVA 5610 price:
Today's best INNOVA 5160RS price:
Recommendations
Now that you've finished reading this article, you should know the similarities and differences between the Innova 5610 and 5160RS. 
In my opinion, these distinctions aren't significant, and it can be said that these two scanners are very similar when it comes to their functionality, design, and vehicle coverage.
However, if I had to make a choice, I would prefer the Innova 5610 because it is a top-selling product from Innova and ranks among the top #50 in the scan tool category on Amazon.
Frequently Asked Questions (FAQs)
1. Can the Innova 5610 do a brake pedal position sensor relearn?
No. The Innova 5610 and the other two scanners listed here do not support this function. You will need a much more advanced scanner for that feature.
2. Can you program vehicle keys with the Innova 5610?
No. This function is not supported on the 5610. All three scanners do not have any coding or programming capabilities. The tools cannot change any ECM features or customize the vehicle. They are more diagnostic and service tools than fine-tuning devices.
3. Will the Innova 5160RS clear TPMS low tire pressure warning light?
Yes, the Innova 5160RS can read and clear codes that trigger a TPMS low tire pressure warning light in an indirect TPMS system. As for a direct TPMS system, the warning light resets automatically after tire inflation or rotation.
4. Can Innova 5160RS read codes from 2022 vehicles?
Scanners usually have two to three years lag when supporting vehicles in the current year. Nonetheless, the Innova 5160RS supports most 2021 vehicles after performing a device update. The 5610 model is compatible with some 2022 models like the Audi A6 Allroad and the 2022 Ford Explorer.
5. Will you get a diagnostic report on these scanners?
Currently, none of these scanners have this feature. However, the Innova devices have an alternative report on the RepairSolutions 2 app that gives information about predicted repairs, part recommendations, recalls, etc.
Read more: Innova 5410 vs. 5510 vs. 5610: Why many home mechanics bought them?