Looking for a bi-directional scan tool under $300?
Check out the Innova 5610.
It can perform active tests on 5 car brands and comes with RepairSolutions 2, a useful feature for DIYers.
Read my review for more information.
Quick Review
INNOVA 5610
Price:
Scanner type: Bi-directional scan tool
Made for: Home mechanics
Vehicle covered: OBD1 & OBD2 cars/light trucks
Connection type: Corded
Buy this product if you want to:
Gain insight before taking your car to the mechanics

Read trouble codes of all systems

Perform advanced service functions

Perform active tests
Pros
Accuracy scans

Very cheap

Repair solutions app for phone

Easy to use

Lifetime free update
Cons
No software updates

Limited bi-directional controls

Printed manual is unavailable
Vehicle Coverage
INNOVA 5610 supports any foreign or domestic 1996 or newer OBD2 vehicle sold in the US or Canada.
However, some specific functions depend on specific car makes.
Therefore, you should check the compatibility before the purchase to ensure this OBD2 scan tool can work on your car. 
More importantly, the Innova 5610 is not a scanner for newer model vehicles (post-2018 vehicles).
Although the Amazon product title implies this is the 2022 version of Innova 5610, the firmware is from 2019.
Therefore, this outdated firmware cannot support most of the features on new vehicles manufactured after 2018. 
What Makes Me Like INNOVA 5610?
The INNOVA 5610 is a must-have tool for home technicians. 
Providing accurate and comprehensive diagnostic information, its user-friendly design and affordable price make it a top choice. 
If you want to know more about why I love the INNOVA 5610, keep reading to find out!
1. No more surfing the Internet for solutions, let RepairSolutions2 take the rest
I appreciate the thoughtfulness of the INNOVA company. 
This is because they came up with the idea of providing users with an app called RepairSolutions2.
With this app, you can get access to instructional videos that contain all kinds of fixing solutions.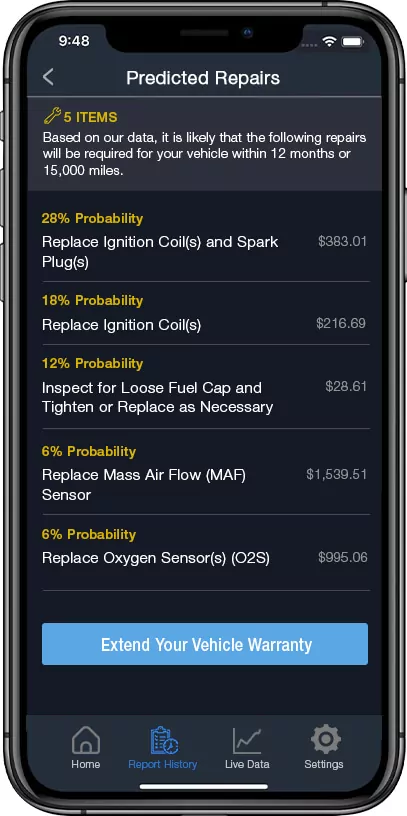 Furthermore, you can buy any parts you want to replace via the app. 
The app also includes scheduled maintenance and predictable failures based on your vehicle's mileage.
Bear in mind that the RepairSolutions 2 app is only available for US & Canadian users.
2. Limited but reliable bi-directional controls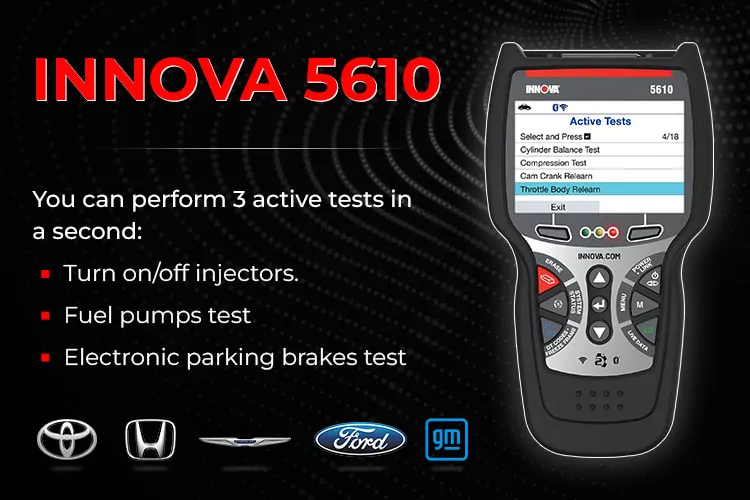 If you are a DIY-er or a household mechanic, you will know how meaningful this function is in a scan tool.
And thanks to the INNOVA 5610's bi-directional ability, you can perform some actuator tests in a second. 
To be more specific, here are the 3 active tests you can do with INNOVA 5610:
turn on/off injectors, 
fuel pumps test, and 
electronic parking brakes test. 
In this way, discovering faults before they manifest themself or fixing them is no longer a big deal.
Also, you should note that this INNOVA 5610 tool only supports bi-directional control on 5 makes: 
Chrysler, 
Ford, 
Toyota, 
Honda, and 
GM. 
3. Say no to double-check on error codes
I have a habit of testing scan tools not only for reviews. 
I do that to make sure they work accurately before applying them to my client's cars.
That's why when I first used this INNOVA 5610, I diagnosed all the vehicles by LAUNCH X431 V PRO to see if it gave me the same results.
And as expected, this OBD2 scanner always gave me the correct outputs. 
It's been such a long time so I cannot remember all the code names I scanned with both X431 V PRO and INNOVA 5610. 
However, if my memory serves me right, here are the cars I got diagnostics on to test the INNOVA 5610's accuracy.
They are all my coworkers' cars:
2012 Ford Focus
2015 Nissan Altima
2011 Acadia
What I Dislike?
1. Limited bi-directional controls
This scan tool can only perform active tests such as:
turn on/off injectors, 
fuel pumps, and 
electronic parking brakes.
It CANNOT perform other active tests like:
evap purge solenoids, 
vent solenoids, 
camshaft phasers, etc.
2. No user manual
When unboxing the INNOVA 5610, I was a bit surprised that this unit didn't come with a user manual. 
Instead, they have a PDF manual available online. 
Luckily, the manual clearly describes all the information by giving images and icons. 
It also provides us with step-by-step instructions for the actuator tests.
To save you some time, here is the link to the Innova 5610 PDF manual. 
Price & Update Fee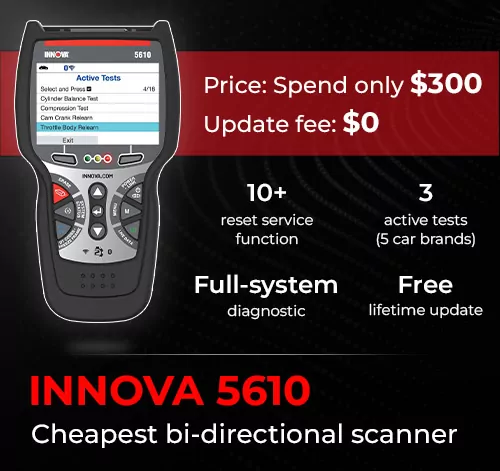 You might be surprised that this bi-directional scanner only costs you $329. 
This price also includes free updates for life. It means you can keep updating your Innova 5610 for free as long as you own it.
INNOVA 5610 is the only bi-di scan tool that offers lifetime free updates.
However, from my experience, you should not expect any updates from Innova.
I've tried numerous times to download the Innova update software. However, it always stated that the unit was up to date.
Key Takeaway
Reliability and lifetime free updates are the key things about INNOVA 5610.
It's not strong at active tests.
But,
If you have a low budget but bi-directional control is what you are looking for, INNOVA 5610 is a suitable pick. 
Check INNOVA 5610's latest price now:
INNOVA 5610's Alternatives
#1. XTOOL D7: Powerful alternative for active tests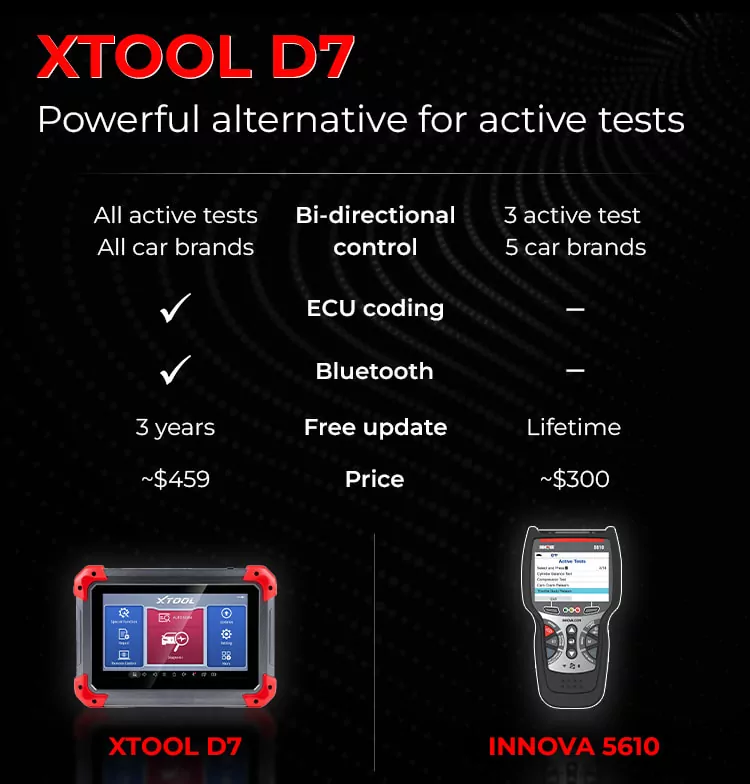 If you need a powerful scanner with full bi-directional controls, XTOOL D7 is made for you.
Unlike the Innova 5610, XTOOL D7 can do plenty of actuation tests for most vehicles in my shops such as:
power windows, AC compressors, vent and purge valves, fuel pumps, cooling fans
activate abs pump, evap purge
test sensors
ect.
ECU coding function on XTOOL D7 also allows you to customize hidden features on your cars.
You can get this scanner for around $460 or even lower if you caught it on sale on Amazon.
For the price, it's an excellent all-purpose bi-directional scan tool. 
Check XTOOL D7's latest price:
---
What's Next?
I hope this article can help you decide whether the Innova 5610 is right for you.
If you have any questions about this product, please leave them in the comments section below.