The Innova family of diagnostic tools has plenty of remarkable features that enable you to troubleshoot vehicles quickly.
Whether you're a weekend DIYer or an ASE certified mechanic, the Innova 3120 obd1 & 2 scan tool can easily handle any vehicle computer errors.
INNOVA 3120 Diagnostic Scan Tool/Code Reader for OBD1 and OBD2 Vehicles
Worked perfectly the first time I needed it and it wasn't too hard to figure out the instructions. Just need to sit down and read them. Couldn't believe how fast it arrived too!
Innova 3120 vs. Autel AL619 vs. Autel MD802 comparison chart

INNOVA 3120


Autel AL619


Autel Maxidiag (DIY Version of MD802)

Customer Rating

Price
Product Dimensions
2.5" x 15" x 10.5"
7.8" x 4.1" x 1.5"
7.8" x 4.1" x 1.5"
Item Weight
2lbs
2.05lbs
1.1lbs
Pros
Innova 3120 can perform both OBDI and OBDII functions;
Free upgrades and updates plus a 1-year warranty;
Shows over 20 diagnostic information in a single view.
Various OBDII Functions;
Offers ABS/SRS code reading & Clearing functions;
Compatible with OBDII and CAN;
Includes DTC Lookup;
Shows Advanced Mode 6 data.
Offers full OBDII Modes and full-system diagnosis;
Performs various reset services.
Cons
Cannot read or clears ABS and Airbag (SRS) codes;
No live data.
Not cover all OBD2 Vehicles, including GM after 2013, Audi 2000 ABS codes.
Possible Compatibility Problems.
Bottom Line
Innova 3120 perfectly suits average car owners, beginners, and DIYers.
Autel Al619 is a great pick of OBD2 scan tool for average vehicle owners.
Autel MD802 is for experienced DIYers and enthusiasts.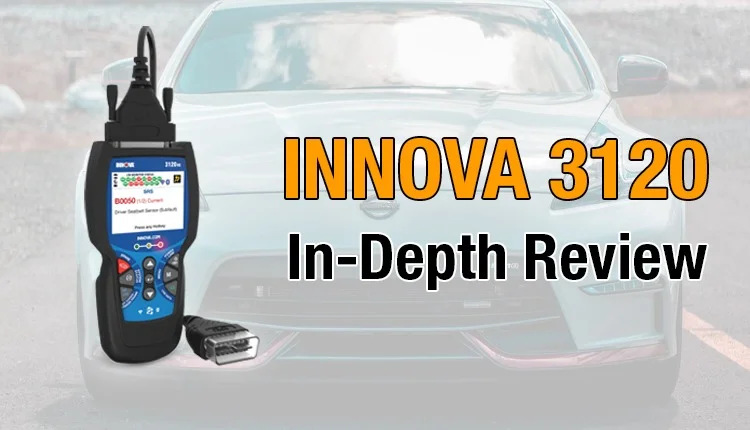 Innova 3120 detailed review
Compatibility
The Innova 3120 obd1 scan tool is compatible with most American, Japanese, and European vehicles built since 1996.
It also performs OBDI functions on Ford, GM, Chrysler, Toyota, Jeep, and Lexus vehicles built from 1981 to 1995.
The Innova 3120 can be connected to the car using an OBDI adaptor for OBDI compliant vehicles.
Display
The scanner has a 2.8-inch grayscale display. It shows over 20 pieces of information in the form of clear and understandable icons in one view.
The tool also has a user-friendly interface that looks appealing to the eye and easy to navigate.
Software
The gadget has intelligent software designed to retrieve Original Equipment Manufacturer (OEM) codes and generic specific codes.
The Innova 3120 obd1 scan tool can diagnose and reprogram the vehicle's computer through its OBDI or OBDII full mode functions alongside conducting I/M readiness monitoring.
After every 30 seconds, the Innova 3120 obd1 scan tool automatically refreshes data to confirm the repairs that are made.
Read More The Difference Between OBD1 and OBD2 Scanners
Features and functionality
  1. OBD1 and OBD2 parameters and functions
The gadget provides live data in addition to a standardized series of diagnostic trouble codes (DTCs), which provide for quick identification and rectification of malfunctions within the vehicle.
The Innova 3120 obd1 scan tool identifies problematic codes and provides the option to clear them. Some of the error codes are the cause of transmission or emission failures.
It can request for and clear emission-related diagnostic trouble codes that may occur during a driving cycle.
Other than reading powertrain and vehicle information, this scanner can read and erase current, pending, and permanent error codes.
The Innova 3120 obd1 scan tool has a battery and oil reset function. You can accurately read the battery's power and check the oil.
  2. Supported languages
When the scan tool has given the diagnostic trouble code definition, it can be displayed in English, French, or Spanish.
  3. On-screen icons
The G and M icons on the screen help indicate whether the code set is either a generic specific code (G) or a manufacturer specific code (M).
The car and computer icons show whether the scanner communicates appropriately with the car and PC, respectively.
Numerous emission icons are also situated under an I/M monitor status title. They indicate whether your vehicle's emission monitors are functioning as required or not.
  4. Keys
On this tool's keypad, there is a button labeled FF. When you press this button, the tool will display Freeze Frame data.
The red button on the left turns off the check engine light (MIL) function.
The green button on the right is used to signal the tool to begin communicating with the vehicle.
  5. Light Indicators
Another unique patented feature of the Innova 3120 is the three-color emission status warning lights. These lights indicate how your vehicle will perform in emission or smog tests.
Green means pass, yellow means there could be potential problems, and red means you will undoubtedly fail an emission test. Over 30 states in the US now use an OBDII-based system to check for emissions readiness.
Who is Innova 3120 built for?
Innova built this device with ease of use in mind. Therefore, it can perfectly suit average car owners, beginners, DIYers, car enthusiasts, and professional mechanics.
If you own a repair shop, Innova provides the ideal software solution by giving you a program that allows you to keep track of all repairs you have ever made on the vehicles. You can also print out these reports for your customers.
It works perfectly for a wide variety of vehicles. Only one device is needed for the different cars. A client mentioned in a review that it works exceptionally well on his two cars and those of his relatives. The cars they had were a 2000 Dakota, 2 Dodge Rams (1995 and 2005), and his step son's 1998 Durango.
Another customer also tried the Innova 3120 obd1 scan tool on a 1995 Ford. When the check engine light turned on, he ran a scan using this tool, but it didn't bring up any fix codes for the check engine light. Instead, a 111 "all systems functioning normally" notification kept popping up.
Check Price at Amazon
The bottom line
The main reason people go for the Innova is that they can perform both OBDI and OBDII functions. It is worth noting that OBD I compliant vehicles have fewer diagnostic trouble codes available than OBD II equipped vehicles.
The Innova 3120 obd1&2 scan tool comes with all the features and functions you'll find in the industry's best selling hand-held diagnostic tools.
This here is a genuinely scientific scan tool. A lot of extra effort has been put in by Innova to ensure that the 3120 gives precise diagnostics and quality solutions. You'll certainly get much more than your money's worth.
Read more: Autel Al619 OBD2 ABS SRS Scan Tool Review