Looking for the best Ford diagnostic tool, but feeling overwhelmed by numerous options?
Then let me tighten the list for you. I have compared and picked out 5 best tools in different price ranges and skill levels. From amateurs to professionals, there's a scanner for everyone.
This post will closely examine my and other customers' experience with each scanning tool.
Le't dive right in!
5 Best Ford Diagnostic Scanners Comparison Chart
[Mobile users: Swipe left for full table]
Click HERE to see full comparison chart (PDF, Free Download)
---
Table of contents:
---
#1. AUTOPHIX 7150: Best OBD2 Scanner for Ford/ Best scanner for Ford Diesel (with DPF Regen)
My First-hand Experience
AUTOPHIX 7150 isn't a scanner with high-class features, but it offers sufficient functions.
I understand how frustrating it can be to depend on mechanics for every little thing. With this tool, you can diagnose and solve problems on your own.
Not to mention that the AUTOPHIX 7150 is designed for Ford vehicles!
"For Ford" must be one stand-out function. This function is similar to the OBD-II functions (read and clear codes), but much more thorough. I can even read modules like Passive Anti-Theft System or Parking Aid. 
Clearly, it can be why beginners stick with AUTOHPIX 7150.
But I want more than that, and AUTOPHIX 7150 can satisfy me.
Have you ever heard about cleaning the amount of black smoke in your vehicles? Or testing the car's emission control for state emission tests? Or something more advanced, like asking fuel to circulate throughout the vehicle? 
As you can see from my examples above, this small gadget has DPF regen function, which makes it the best fit for Ford diesel vehicles. I mean, blocked DPF is one common issue of Ford, and AUTOPHIX 7150 can fix that problem quickly.
AUTOPHIX 7150 can help me do all these tasks with no problem. To see the whole testing process, read my AUTOPHIX 7150 review.
When it comes to the bad side, I find this AUTOPHIX 7150's short cable and small screen quite uncomfortable. 
What Are Customers Saying?
AUTOPHIX 7150 received 4.3 points from 387 ratings (updated February 21, 2023), with more than 80% positive and only 10% negative feedback. 
Many customers praised how AUTOPHIX 7150 let them know what is going on with their car, which helps their vehicles' performance and maintenance much better.
"Device worked great cleared all the codes and did a manual regen. Truck is running great." – Shy
"You have a Ford and a DIY this is a must have" – Robbie can fix
The problem is customers were not satisfied with AUTOPHIX's poor customer support.
 "Poor customer service" – Amazon Customer
Bottom line:  
The AUTOPHIX 7150, with its thorough Ford diagnostics and a few mid-class functions, is great for Ford owners that care about cars' performance and maintenance.
---
#2 ANCEL FD500: Best Cheap Ford OBD2 Scanner
My First-hand Experience
Are you a novice and don't want to spend more than $100 for a scanner? 
No worries. I will get you covered with ANCEL FD500, which is the best bet here!
Talk about the interface first; everything about the ANCEL FD500 is designed for easy use, from the menu layout to the buttons. 
In fact, the most important feature of any scanner is that it can read engine codes. And ANCEL FD500 let me do it in three ways:
I check basic systems in the "OBD-II" function
To check specific systems, I choose the "For Ford" function
If it's still not enough, I ask for some live data to diagnose the Fords' current condition
Personally, the Battery Check and BMS Reset functions are what make ANCEL FD500 stand out. 
First, I can check the vehicle's voltage with ONE CLICK. Then, I can pair the new battery with the vehicle system with 3 STEPS. 
Check my full ANCEL FD500 review to see how I used these functions in real life.
Needless to say, Battery Check, Replacement and Registration are essential to battery maintenance.
What Are Customers Saying?
ANCEL FD500 received a 4.3 score on Amazon based on 193 ratings, with more than 80% positive and only 10% negative feedback. 
Customers think the most significant part of ANCEL FD500 is it gives them codes, and they can get an idea of what's going on with their car.
 "Good for Reading Codes"  – B. Wackerbarth
"Time and money saver" – peachy
However, some functions don't work on some customers' vehicles. 
"Would not read my F150 Truck" – Paster J. W.
Bottom line: 
If you're looking for something basic and low-budget to understand what's going on with your Ford vehicles, the ANCEL FD500 is a solid bet.
#3. OBDLink EX Adapter: Best Ford adapter for configuration & programming
My First-hand Experience
Beware that OBDLink EX is an adapter. It doesn't work on itself; it works with the software. Here, I recommend using the OBDLink EX Adapter with FORScan software. This is truly a premium combination. (Not to mention that FORScan is the best Ford diagnostic software).
The best thing about OBDLink EX is its super wide vehicle coverage. It can work great on every Ford vehicle, from Ford F150, Ford Ranger, Ford Focus, Ford Superduty, and many more.
It is impressive that this adapter can unlock the coding/ programming functions of FORScan. I can disable all annoying features like "Bambi" mode or double honk. I can also deactivate some buzzing sounds, enable multiple functions of the comfort module, and more.
In short, I can personalize the vehicles with OBLink EX. As if that wasn't enough, OBDLink EX + FORScan also has bi-directional control. I can send commands to vehicles to test things like fuel pump on/off, etc.
And, of course, this adapter helps me with all necessary tasks, including
Full system diagnostics
Live data streams in three ways (dashboard, graph, and table)
Plenty of reset functions: BCM Reset, ABS Reset, etc.
The only downside I can think of is its complex interface. As I said, OBDLink EX works best with FORScan. And FORScan is never easy to use unless you spend time learning.  But on balance, I swear it's worth the effort.
What Are Customers Saying?
Few scanners have an above 4.5-star score, but OBDLink EX received a 4.8 star! There are 95% positive and only 5% negative ratings on this OBD adapter.
There are many things customers love about this adapter. They love how it can work flawlessly with FORScan. They love the automatic toggle switch. They also love the ability to make changes to the vehicles. And a lot more.
 "Forscan works with this flawlessly" – Chris W
"Great tool, no need for a toggle on this one." – Scott
But as I always said, nothing is perfect, right? Some buyers struggled with the driver process and the connection with their USB 2.0 and MAC devices.
"Drivers won't install. Googled for solutions, nothing." – ODA534
You know what? I have given the solutions to these problems in the OBDLink EX detailed review. Check it out!
Bottom line:
Pick OBDLink EX Adapter if you want to unlock all the highest-standard features of FORScan.
---
#4. XTOOL D7: Advanced Ford DIYers' Choice
My First-hand Experience
I love a tool to perform well in the garage, so something powerful like XTOOL D7 must be my top choice. 
The thing I love about XTOOL D7 must be the bi-directional control. I can ask the vehicles to do everything in a few clicks, from raise/ lower windows to more complex tasks to test systems' working status.
What's more?
Well, XTOOL D7 can help me
go through unlimited systems to show the troubles 
know the systems' condition via live data
clean the DPF filter, eliminate the air in the braking system
code a new injector
etc.
Did I mention that XTOOL D7 can add new keys to the car and disable lost keys? I had programmed a bunch of keys with this scanner. So far, so good.
That's only the beginning of XTOOL D7 features. This bidirectional scanner can help double my productivity in the garage.
On the other hand, XTOOL D7's battery is a minus for me. It needs charging all the time. 
What Are Customers Saying?
Thousands of people have already voted XTOOL D7 4-star and 5-star with their wallets. 
Many buyers that are home mechanics or own repair shops claim that XTOOL D7 helps them a lot in the garage. The fantastic customer service also makes XTOOL D7 stand out from other scanners. 
"XTool D7 Is the Shop-Level Diagnostic Tool for the Motivated DIY Mechanic" – Ralph W.
 "A must-have tool for diy mechanics" – Timothy Lovitt
However, the battery of XTOOL D7 brings customers a lot of headaches.
"Battery dies quickly" – BP
I did give tips to solve this problem in my XTOOL D7 review, too.
Bottom line:
Do you have good knowledge of automotive repairs? Do you work on cars as a hobby or a job? Then, XTOOL D7 must be great for you with its mid- to high-level features.
---
#5. OBDLink MX+: Best Ford OBD2 Bluetooth Scanner
My First-hand Experience
The greatest thing about OBDLink MX+ is its wireless connection. The most convenient thing ever.
OBDLink MX+ supports many operating systems, including Android, iOS, and even Windows.
I often use OBDLink MX+ via its OBDLink app on my iPhone 11 Pro Max. It's free!
OBDLink MX+ helps me access thousands of diagnostic codes and parameters, like everything. I can read data related to ABS brake systems, tire pressure monitoring systems, transmission temperature, and a lot more.
And the way OBDLink MX+ shows live data in landscape mode also impresses me. It's easy to paint a picture of how the Ford vehicle is running.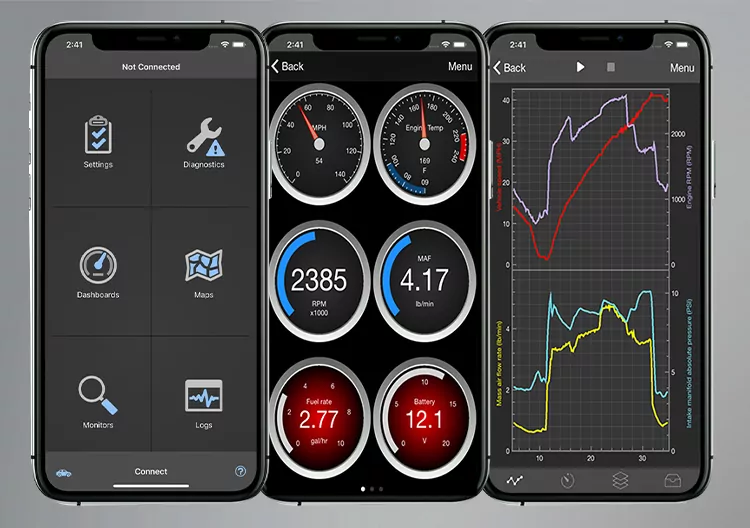 Another thing I love is that the OBDLink MX+ can be plugged in all the time. It has a feature called the "Battery Saver" technology, which prevents the battery from draining.
The seller claims that MX+ is 300% faster than other competitors. And it's true. OBDLink MX+ is among the fastest scanners I have used. It saves me a lot of time in the garage. 
The bad side?
The connection seems to have a few bugs. Sometimes this scanner loses connection while collecting data, then shuts itself down. 
What Are Customers Saying?
A 4.6-star from 10,892 ratings (on Amazon) is enough to say how much OBDLink MX+ satisfies its customers, right?
There are 90% positive ratings and 10% negative ratings on this Bluetooth scanner.
I won't say anything here. Let the customer feedback speaks for itself:
"Best quality OBD Adapter in the market." – ibmford
"Best money spent" – Big Daddy Sean
"Perfect Device and Support" – Octi
But, some customers think this Bluetooth scanner is a little expensive. Yes, it is, compared to other Bluetooth scanners in the market. But for the value, that price is understandable.
Bottom line: 
If you are willing to pay, I bet there's nothing more convenient to deal with than OBDLink MX+. And, of course, this Bluetooth scanner offers all the essential functions.
---
5 Best Scan Tools for Ford Full Comparison Chart:
[For mobile users: Rotate your phone and swipe left for full table]
| | AUTOPHIX 7150 | ANCEL FD500 | OBDLink EX | OBDLink MX+ | XTOOL D7 |
| --- | --- | --- | --- | --- | --- |
| DIAGNOSTICS | | | | | |
| Engine codes | ✅ | ✅ | ✅ | ✅ | ✅ |
| All-system codes | ✅ | ✅ | ✅ | ✅ | ✅ |
| Ford-specific codes | ✅ | ✅ | ✅ | ✅ | – |
| Live data | ✅ | ✅ | ✅ | ✅ | ✅ |
| OTHER FUNCTIONS | | | | | |
| Smog tests | ✅ | ✅ | ✅ | ✅ | ✅ |
| Oil reset | ✅ | ✅ | ✅ | ✅ | ✅ |
| Battery Registration | ✅ | ✅ | ✅ | ✅ | ✅ |
| ABS Bleeding | ✅ | – | ✅ | ✅ | ✅ |
| DPF Regen | ✅ | – | ✅ | ✅ | ✅ |
| Key programming | – | – | ✅ | – | ✅ |
| ECU coding | – | – | ✅ | – | – |
| VEHICLE COVERAGE | Ford/ Mercury/ Lincoln | Ford/ Mercury/ Lincoln | All car brands | All car brands | All car brands |
| HARDWARE/ DESIGN | | | | | |
| Connection type | Wired | Wired | Adapter | Wired | Bluetooth |
| Screen size | 2.6″ | 2.4″ | – | 7.0″ | – |
| Carrying case | ✅ | ✅ | – | ✅ | – |
| Touch screen | – | – | – | ✅ | ✅ |
| AFTER- SALES SERVICE | | | | | |
| Free update | Lifetime | Lifetime | Lifetime | 3 years | Lifetime |
| Update fee | $0 | $0 | $0 | $99 | $0 |
| Warranty | 8 years | 1 year | 3 years | 2 years | 3 years |
| Customer support | 7.5/10 | 7.5/10 | 9.5/10 | 10/10 | 9.5/10 |
| | | | | | |
| | | | | | |
---
What's Next?
That's it for my opinion on the best Ford scanners. As you can see, I didn't claim any winner in this post. Every scanner has its pros and cons. It's up to your needs to choose the best one.
Now, I'd love to hear from you:
What's your best Ford scanner among these 5 options?
Is there any other name in your mind when it comes to the best Ford scanning tool?