Looking to buy an OBD1 or OBD2 scanner for your Ford? I've got you covered.
Today, I am going to reveal the powerful scan tools for those that are driving Ford, Lincoln, or Mercury cars, SUVs, light trucks, heavy-duty trucks, and F-service trucks (both OBD1 and OBD2). (I've never shared this before!)
In fact, Ford-specific scanners generally perform better than the universal ones, simply because they are made specifically for a particular car brand. For that reason, they are tailored to work almost flawlessly when running diagnostics on those vehicles.
If you are an owner of a Ford, Lincoln, Mercury or frequently find yourself working on the brands, my advice is "Get a scan tool that is specifically made for it".
In this post, I will show you the:
Let's go!!
Best Ford Scan Tools Comparison Chart (Editor's Picks)
Top 3 Ford OBD2 scanners
Most OBD2 scanners can only analyze the engine status for Ford Vehicle models whose version dates from 1996 and onwards. These OBD2 gasoline and fuel-dependent models include Ford Aerostar, C-max, Connect, Cougar, E150, E350, Escort, Expedition, Explorer, F150, F250, Fiesta, Focus, Galaxy, Ka, Kuga, Maverick, Mondeo, Mustang, Puma, Ranger, S-max, Scorpio, Taurus, Transit, Turner, Windstar, and newer non-electric models.
Top 3 Ford OBD2 scanner comparison chart
*Notes: Excellent: 9-10; Good: 7-8; Fair: 5-6; Poor: 3-4; Very poor: 1-2
Now, let's take an overview of the 3 choices:
1. Autophix 7150
The Autophix 7150 is an ideal scan tool that helps you save money and time through an easy diagnosis of your car from anywhere. It can read and clear error codes thereby saving you thousands of dollars in maintenance costs.  
The scan tool comes with many features which include Battery registration, oil light service reset, ABS Service Bleed, Reset PCM KAM, Clear crash data memory, SAS calibration, Fuel Injector Correction Factors, and DPF Parameter Reset. Others are Transmission Tables Reset, EGR Adaptive Tables clearance, etc.  
The 2.6 TFT 262K true color LCD display screen makes it easy for the tool to show test results and with the smooth silicone keypad, you can check each menu option to understand the results and figure out how to solve identified problems.  
One of the weaknesses of AUTOPHIX-7150 is the inability of the scanner to do a forced DPF regeneration in static or dynamic mode. Also, the automotive scanner tool only supports updates on Windows; you cannot update it on MAC operating systems. Lastly, AUTOPHIX-7150 does not support activating the ABS pump.
2. OBDLINK MX+
OBDLINK MX+ is an affordable, easy-to-use, and complete OBD2 Bluetooth scan tool that is super effective. It is gaining a whole lot of momentum because it is reliable, faster, and offers better performance compared to older devices. It easily connects your vehicle to an Android device, iPhone, or PC, providing a free audit of OBD2 software and a scanning tool together. 
Importantly, it provides fantastic performance, top-notch security, amazing third-party support, and free firmware and software updates forever.
This Ford scan tool is the master when it comes to compatibility. Presently, it is compatible with every 1996 and newer car sold in the US except the electric and hybrid cars. 
You can easily connect with additional models of cars, read and clear codes in all OBD-compatible cars. Also, the free OBDLink app provides exciting capabilities that make it easy to check, graph, log, and send engine data.  
The OBDLink MX+ uses BT version v3.0 + EDR + iAP2, but it does not support pull SRS or ABS code for some automobile models. Apart from requiring a reset every time you want to connect via BT, the reset button looks fragile and could break easily if not handled with care when in use.
3. LAUNCH CRP909E
The LAUNCH CRP909E is an essential and complete diagnostic scan tool that optimizes the efficiency of diagnosing, scanning, and repairing your car. Apart from the ability to perform full OBD2 functions in at least 54 car brands, it can run full system diagnostics and come with 15 other special functions. It provides accurate and detailed results for technicians and mechanics to help them identify how to fix vehicles easily.   
The LAUNCH CRP009E can also read vehicle information to decide the tested control unit, read and delete DTCs, and access live data for deep actions.
With only a single click, the tool enables you to do several things like Auto-scan the VIN and Update to the latest software and hardware.
The scanner is ideally designed for mechanics and courageous DIYers who don't want to wait for technicians before checking, fixing, and using their vehicles. 
LAUNCH CRP909E requires payment of about $75 for updates annually after the first year. The scanner does not support a CKP relearn on some models. Also, the LAUNCH CRP909E scanner does not support ECU coding/programming. This scanner requires installing many updates before use—so it is impossible to use them immediately after purchase.
Bonus 1: OBDLink CX Vs. OBDLink MX+ Vs. BlueDriver: Which most home mechanics are using in their garage?
Top 3 Ford OBD1 scanners
There are several Ford vehicles that OBD1 scan tools can run diagnostics on. Most, if not all, were produced before 1996 when OBD2 protocols replaced the OBD1. 
Some of the Ford OBD1 vehicle models that these OBD1 code readers are compatible with include Orion, Probe, Pronto, Laser, Sierra, Telstar, Taurus, Tempo, Aspire, Maverick, Freda, and some other makes.
Top 3 Ford OBD1 scanners comparison chart
*Notes: Excellent: 9-10; Good: 7-8; Fair: 5-6; Poor: 3-4; Very poor: 1-2
1. FOXWELL NT510 Elite
FOXWELL NT510 Elite is an easy and unique scanning tool that enables you to access and diagnose your vehicle in no time with spectacular load time and accurate results. 
Apart from having code and real-time data as basic functions, it also offers advanced functions such as adaptation, coding, and programming. 
You can choose from different arrays of scanning options and it also has superior pairing tech for garages, small maintenance and offers technicians the opportunity to provide OE grade diagnostics for all systems.  
The scan tool is specially made to transmit live data for your daily needs. Simply plug your OBD II scanner and you can start the transmission. 
Also, the FOXWELL NT510 Elite allows you to carry out other popular functions like oil service light reset, throttle body adjustment, DPF regeneration, and a lot more for less.
Upgrading your FOXWELL NT510 Elite scanner requires payment after 18 months of use, which many users find disappointing despite the effectiveness of the BMW diagnostic tool.
This Ford diagnostic tool doesn't code batteries after or during the registration of a replacement battery.
2. INNOVA 3145
INNOVA 3145 is an ideal scan tool for old Ford cars made before 1996 even though it is quite dynamic and it can work for some car makes and models.
The INNOVA 3145 is easy to use and almost anyone can operate it without issue. As a result of this, it is an exciting tool for everyone who wants to read and clear codes on their vehicles and save money in the process.
Innova 3145 OBD1 code reader comes with a big digital display screen that is simple to use and helps car owners understand the test results.  
Innova 3145 requires an additional extension cable to enable you to watch the code from inside the vehicle, which implies that it cannot check anything directly without support. This Ford code reader is not built for reading mechanical issues like ignition timing or oil pressure. Also, the barbs on the terminal blades are too tiny to stamp into them.
3. ACTRON CP9690 Elite
The ACTRON CP9690 Elite is easy to use. It is tailored towards providing a quality scan tool. It was built with strong and quality materials that can control shock and work extensively for a long time.  
Part of its features includes reading manufacturer-specific DTCs, mapping engine data, recording, and playback of vehicle details. 
Action CP9690 Elite can fix any kind of data encoding, including resetting the check engine light.  
The scan tool is simple to operate because it can work with different languages. Apart from this, it has one of the advanced features of a scanner. It is a dream tool for car owners and DIYers that want to save time and money.
Actron CP9690 Elite doesn't work on a car like a diesel LandCruiser. It is also relatively expensive compared to other scanners and works well in the United States.
Bonus: Actron CP9690 Trilingual Professional-Grade OBD2 / OBD1 Scanner Review
Top 3 Ford Diesel Truck Scan Tools
Ford truck scan tools are designed to run diagnostics and programming functions on your gas/diesel light trucks and heavy-duty trucks ( beside cars and SUVs). The models they are compatible with include the F-150, F-250, F-350, F-450, F-550/F-4000, F-650/750, and a few others manufactured from 1996 to date.
Top 3 Ford Truck Scan Tools Comparison Chart
Below come the comparison chart of the 3 best scanners for Ford trucks.
*Notes: Excellent: 9-10; Good: 7-8; Fair: 5-6; Poor: 3-4; Very poor: 1-2
Here is an overview of the 3 scan tools:
1. ANCEL FD500
ANCEL FD500 is a unique scan tool specially designed for Ford, Lincoln, and Mercury vehicles for optimal scanning results. 
It came about because many people were requesting a smooth DIY scan tool that can work extensively and fix underlying issues. 
The scan tool can work wonders for Ford vehicles and can perform all system diagnostic tests. 
It also has numerous OBD2 functions and can help with I/M readiness, data stream, evaporative system test, and vehicle information. 
The ANCEL FD500 can scan and reset systems of ABS, SRS, EPB, Oil Light, Throttle, BMS, BAT, ETC, PCM, and others. 
It is an ideal tool for technicians and DIYers. The scanner provides free lifetime updates to repair the latest error or add new things to make sure your OBD2 scanner always has the latest fault code database.
ANCEL FD500 requires technical know-how to an extent before it can be used for reading codes. Instructions are also challenging to understand, particularly for people who are not used to using them. Also, the scanning tool does not come with a protective case to prevent it from breaking.
2. Launch CRP909E
The LAUNCH CRP909E is fabulous for DIYers and technicians who want to have a holistic scan and have accurate results. It has numerous features like full system diagnostics and is compatible with more than 54 vehicles. It is one of the best OBD2 scanners around with respect to price and performance.  
As a result of its diversity, it can work with multiple languages ranging from English, Spanish, French, German, Italian, Russian, Portuguese, Japanese, Korean, Chinese Traditional, and others. 
If you are looking to cut down on maintenance cost, the CRP909E offer a Free 1-year update for the software. 
Launch CRP909E requires payment of about $75 for updates annually after the first year. The scanner does not support a CKP relearn on some models. Also, the LAUNCH CRP909E scanner does not support ECU coding/programming. The scanner requires installing many updates before use, so it is impossible to use them immediately after purchase.
3. Autel MS908CV
The AUTEL MS908CV has been designed to provide comprehensive vehicle diagnostic functions for truck technicians.  
A notable improvement on this scan tool is the addition of the superior A9 quad-core processor that provides a 50 percent speed increase compared to other products.  The 9.7 LCD digital screen with a high-resolution touch screen makes it easy to operate and get results.  
This professional heavy-duty truck scan tool comes with the industry's foremost multi-tasking Android operating system and the complete OE-level vehicle coverage that Autel is widely acclaimed for.
Autel MS908CV does not come with a manual to guide its usage. As a result, it may not be easy to use for novice or mid-level users. The software update is relatively expensive.
Bonus: Best heavy-duty truck scan tools review 2021/2022
Best Ford Scan Tool PC-based Software for Personal Use
PC-based diagnostics software can be linked to OBD2 adapters and run diagnostics or module programming on your vehicle. These OBD2 adapters usually either connect to your PC via Bluetooth, Wi-Fi or with a cable. 
I will be comparing the top three software that works on PCs for your Ford vehicle below. 
Keep reading to find out which one suits your needs more. 
Top 3 choices of PC-based software for Ford comparison chart
*Notes: Excellent: 9-10; Good: 7-8; Fair: 5-6; Poor: 3-4; Very poor: 1-2
Best PC-based software for Ford: FORScan, Focccus, or ELMconfig?
OBD2 Functions
Foccus and ELMconfig are INcapable of running OBD2 diagnostics, which is a significant liability. The FORScan software easily tops the other two here as it does all OBD2 functions on your Ford vehicle. These include reading and erasing trouble codes, checking the I/M readiness of your car, requesting manufacturer-specific information of your vehicle, etc.
Advanced system diagnostics
FORScan still dominates in this category as it is capable of making full system diagnostics. The software can check for faults in your vehicle's power control unit, brakes, exhaust systems, etc. Focccus and ELMconfig are not capable of doing any of these as they are basic module programming applications.
Advanced service functions
The FORScan can make typical resets on your vehicle as long as a compatible adapter is plugged into your car. FORScan can perform ABS light reset, SAS calibration, SRS light reset, Air temperature reset, and battery matching. The others cannot do any of these, so the FORScan comes at the top again. 
However, both the Focccus and ELMconfig are capable of module programming. This means that they can connect to your vehicle's Electronic Control Module, ECM. 
With Focccus and ELMconfig, you can do certain things like activate your windshield wipers, unlock your doors, open your vehicle's windows, etc.
Protocol compatibility
While Foccus and ELMconfig can only work with Ford MS-CAN and HS CAN occasionally, the FORScan software can do much better. The software runs on Ford UBP, Ford 9141, Ford SCP, and Ford MS-CAN protocols.
 Supported adapter
All three are compatible with OBD2 adapters. However, ELMconfig and Focccus work with a few select adapters like OHP USB adapter. While the FORScan software works best when linked to the OBDLink MX+ and OBDLink EX.
Vehicle coverage 
The three support Ford as a brand but to varying degrees. The ELMconfig works on Focus II, C-Max, Kuga, Mondeo IV, S-Max, and Galaxy types. Notably, the Foccus software works only on Ford Focus III. 
However, the FORScan application works on most Ford, Lincoln, and Mercury OBD2 compatible vehicles made from 1996 to 2019.
Weaknesses
You need a USB 3.0 cord to use FORScan, as it is highly selective. Sometimes, it is difficult to establish communication, and some users complain about downloading issues. FORScan also requires that you are tech-savvy to a particular extent to get it working.
Focccus have lesser features and functionality than other PC-based software for personal use.
ELMconfig is not ideal for people that are not computer savvy. Therefore, if you intend to use it with your laptop, you must be very good at operating computers. The user manual is complex to a large extent.
Software download
FORScan: http://forscan.org/download.html
ELMconfig: http://civil.iffc.ru/ELMConfig/
Focccus: http://ford.xtlt.ru/FoCCCus/
Read more: Best FORScan OBD2 ELM327 adapters review 2021
[for dealership only] Ford Factory Scan Tool Software 
Most Ford scan tools used by Ford technicians come with either of the three software designed by Ford for diagnostics on their vehicles. They are the Ford Integrated Diagnostic Software (Ford IDS), Ford J2534 Diagnostics Software (FJDS), and Ford Diagnostics and Repair Software (FDRS). Although not all scan tools are equipped with this software, they enable Ford scan tools to run diagnostics and resets on your vehicle. Below, I'll be reviewing and comparing them. Make sure to keep reading to find out which one your dream scan tool has.
Top 3 Ford factory scan tool software packages comparison chart
*Notes: Excellent: 9-10; Good: 7-8; Fair: 5-6; Poor: 3-4; Very poor: 1-2
Best Ford factory scan tool software: Ford IDS, FDRS, or FJDS?
OBD2 Diagnostics 
Ford IDS, FDRS, and FJDS software can run complete vehicle diagnostics. They receive regular software updates and licensing that enables them to do so. 
The Ford IDS system comes top here for vehicle diagnostics because it runs diagnostics on all vehicles manufactured from 1996 to date.
System diagnostics
All three software are capable of making full system diagnostics. They are capable of running tests on your car's electrical system, engines, and body system to know if there are any issues. 
They can detect faults in your vehicle's exhaust, throttle, brakes, transmission, oil tank, fuel injection pressure, etc. 
Nevertheless, Ford IDS tops the other three here as it works on most vehicles made from 1996. 
VCI interface compatibility
All three software have VCMII compatibility in common. However, they differ in the degree of Vehicle Communications Interfaces they support. 
The FJDS is compatible with VCMII and J2534. The FDRS works with VCM II, VCMM, and J2534. In terms of VCI compatibility, the Ford IDS tops the others. 
The software supports only VCM, VCM II, VCMM, and VMM. The Ford IDS's only shortcoming is its incompatibility with the J2534 interface.
Module Programming
The Ford IDS and FJDS can integrate with and control the ECMs of most Ford models from 1996 to date. 
Meanwhile, the FDRS is only compatible with ECMs of select 2018 and newer models. 
The FJDS takes the advantage here, being compatible with J2534 interfaces and still works on older models.
Vehicle coverage
The FDRS works only on Ford vehicles manufactured from 2018 to date because of its futuristic design. 
The FJDS and Ford IDS work on all Ford, Lincoln, and Mercury vehicles manufactured from 1996 till date. 
The FJDS comes as the best here because it provides complete dealership-level diagnostic software for all 2018 to present Ford and Lincoln vehicles.
Weaknesses
Ford IDS is relatively difficult to use, especially on Windows 10. And only those with the knowledge can get beyond the connection stage. Also, it doesn't work with outdated vehicles and cannot function without subscribing to Ford, which is relatively high for low-income earners.
FDRS can only work on new Ford models manufactured from 2018 till date.
FJDS is relatively expensive to use, given the associated subscription after the first year of purchase. This scan tool can only program ECU for BMW and Mercedes. This implies that despite the capabilities it possesses, it does not work on all vehicles. Also, the language change is not supported at all times due to technical issues encountered.
Download
Ford IDS and FDRS: https://www.fordtechservice.dealerconnection.com/vdirs/wds/diagnosticsites/vcmdvd/mcs/idssoftware.asp
FJDS: https://www.fordtechservice.dealerconnection.com/vdirs/wds/diagnosticsites/vcmdvd/mcs/idssoftware.asp
How to install Ford IDS:
How to install FJDS:
Final Recommendation
When it comes to Ford OBD2 scan tools, the Autophix 7150 is the best option for you as the device runs all OBD2 diagnostics needed by a DIYer. 
For OBD1 codes, you may want something basic, the Innova 3145 is a good choice then. But if you're looking for something that offers real value and functionality, the FOXWELL NT510 Elite becomes the perfect option.
The Autel MS908CV offers everything you need to have when working with any trucks, including trailers. But you should buy the device if you are a professional truck technician.
The LAUNCH CRP909E nearly matches its effectiveness at a lesser price and offers many advanced service functions. These features make the LAUNCH CRP909E an excellent option for gas/diesel trucks.
The OBD2 and advanced service functions FORScan performs make it a formidable PC-based diagnostics software for you to use. Offering optimal functionality at a fair price, this scan tool is perfect for every dedicated DIYer.
Ford has fantastic factory scan tool software ranging from the Ford IDS to the promising futuristic FDRS. Although the rest work well with newer models, the Ford IDS works with most vehicles. Ford IDS is highly functional and the most versatile and best option in this category. 
Hopefully, with these comparisons and reviews, I have been able to bring out which vehicle utilities are best for your Ford vehicle. Do well to make your selection based on your taste and, obviously, this review.
5 steps to choose the right Ford scan tool
Step 1: What Are The Top Brands?
Buying a scan tool from a trusted brand is the best way to know you'll get a reliable, accurate reading. Devices made by top-tier brands will also be backed by better customer service and support. Among the top brands for Ford diagnostic tools are:
OBDLink focuses on OBD2 Bluetooth scanners and USB adapters. Scan tools of OBDLink are famous for reliability and durability. They do well all that they are made to do and known to do. The two best products of OBDLink for Ford, Lincoln, and Mercury are OBDLink MX+ and OBDLink LX. My recommendation is an OBDLink MX+ Bluetooth OBD2 scanner for iOS, Android, and Windows.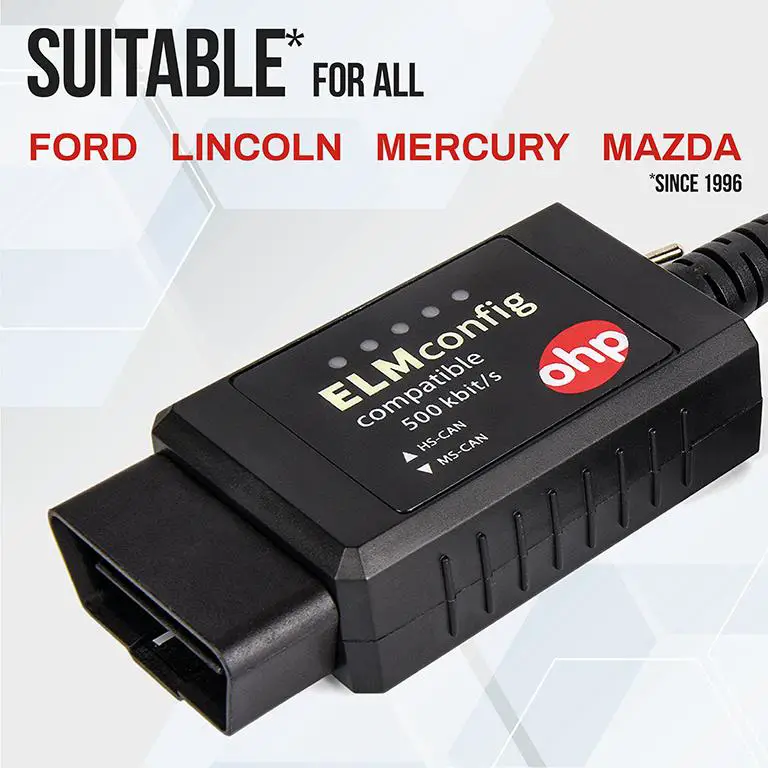 The affordable cost of OHP diagnostic adapters is the first thing you'll notice. OHP adapters are designed to work with popular software like FORScan (made specifically for Ford vehicles). This lets you get in-depth, professional-level diagnostics at DIY-er prices. My recommendation is the OHP FORScan OBD2 USB Adapter (for Windows ONLY).
This global manufacturer of OBD2 and DIY repair equipment is one of the top names on the market. Autophix has an exceptional quality control team, producing durable and reliable tools at all price levels. Their support for customers is also well-regarded. Autophix has a line of products for famous car brands such as Ford, BMW, Audi/VW, etc. Autophix 7510 is the most wanted OBD2 scanner for Ford in 2021 and 2022.
This US-based company is a leader in the automotive aftermarket industry. Their advanced testing and innovative designs are their main claim to fame. Innova uses a network of certified repair technicians to develop its diagnostic database, ensuring a higher accuracy level for users. INNOVA is strong at both OBD1 and OBD2 scanners. Their best pick of OBD1 code readers for Ford is the INNOVA 3145.
Step 2: What type of scan tool is suitable for you?
There are OBD1 code readers for those made before 1996 and OBD2 scanner for the newer by year. Do you remember the year of your car? By functionality, Ford scanning tools can be divided into three groups: (1) basic code readers, (2) enhanced OBD2 scanners, and (3) advanced professional diagnostic tools. Because of price gaps, the benefits you will get from the devices are different. A basic code reader like INNOVA 3145 can only read codes of the engine system, while an enhanced OBD2 scanner such as the OHP FORScan USB adapter can diagnose non-OBD2 systems like ABS, airbag, and transmission beside the engine system. Professional automotive diagnostic tools offer more functions and services and usually for experienced DIY people or mechanics. The more you pay, the more you get.
Step 3: Compatibility/vehicle coverage
An automotive scanner for Ford is built to work with vehicles from the manufacturer. That said, not every Ford, Lincoln, and Mercury uses the same processes. While all Ford scanning tools will provide basic diagnostics on all vehicles, more advanced features may not be widely supported. The first division is between OBD1 and OBD2. Before 1996, cars used the OBD1 diagnostic system. This simple system uses a different style of plug. Some OBD2 scanners will read OBD1 information, but you'll need an adapter to connect it to an older vehicle.
It's a good idea to check the compatibility of any scan tool you're looking at, even one that's made for Ford. You can often find lists of compatible vehicles broken down by make and model year on the scan tool company's website. To verify a particular function's compatibility, contacting the company's customer service is your best bet.
Step 4: Pricing
The pricing of car scanning tools is mostly dependent on which features they offer. Devices made for a specific manufacturer, like automotive scanners for Ford, typically cost less for the features provided than those with wider compatibility. This can make them an excellent value, especially for DIYers. For a beginner, a Ford scanner in the range of $20-$100 should give you what you need. These tools can read OBD2 codes and may offer diagnostics of other central systems. Beginners won't miss the lack of advanced repair functions since they probably wouldn't be comfortable making those repairs at home anyway.
More advanced DIYers and professional mechanics will want to look for more fully functional diagnostic tools. The good news is, these don't have to cost thousands of dollars. Something in the budget of $100-$500 should meet your needs.
Step 5: Software
Adapters like those made by OHP require compatible diagnostic software before you can use them. You can find a range of different diagnostic software options out there. The best ones to use with Ford are:
FORScan. FORScan is compatible with Ford, Lincoln, and Mercury vehicles. As for adapters, it will work with any that are compatible with ELM327 or J2534. It can run service features and advanced diagnostics, as well as reading sensor data and OBD2 codes. While FORScan is a paid software, the free FORScan Lite version is free and has all the functions a beginning DIYer needs.
ELMconfig. This free software is primarily used for adaptations, activations, and configuration of modules. Since it doesn't read or clear codes, it's not sufficient for diagnostics on its own. The compatibility is somewhat limited, as well. However, it can be an excellent addition to something like FORScan to expand its functionality.
FoCCCus. Another free program, FoCCCus has similar functionality to ELMconfig. The main difference is that it's designed for use with the Ford Focus, which is not supported by ELMconfig.
Read more: