Autel Maxilink ML629 is a brilliant OBDII diagnostic tool that helps you diagnose your car. It allows you to read and erase diagnostic trouble codes as well as clear Check Engine Light.
You will also be able to perform special functions such as resetting Engine, ABS, SRS, and Transmission warning lights.
But,
Never buy it before you study the comparison below.
Autel ML629 Vs. Autel AL629 Vs. 

Autel ML619 MaxiLink Comparison Table

Autel Maxilink ML629


Autel AL629


Autel MaxiLink ML619

Customer Rating

Price
Product Dimensions
10.6" x 7.5" x 3.4"
7.2" x 3.6" x 1.3"
7.3" x 10.2" x 3"
Item Weight
2.1oz
8.3oz
1.95lbs
Pros
Can reset ABS/SRS;
Supports live and freeze frame data;
Supports ABS/SRS/Engine/Transmission Diagnosis;
Supports AC/DC Voltage Test.
Can reset ABS/SRS;
Supports Auto VIN retrieval;
Supports live and freeze frame data;
Has DTCs lookup library;
Retrieve generic and manufacturers codes.
Offers Full OBD2 Functions;
Can perform ABS/SRS diagnosis;
Compatible with OBDII and CAN;
Includes DTC Lookup;
Shows Advanced Mode 6 data;
Extensive vehicle coverage.
Cons
Customer service is not really good;
For OBD2 vehicles before 2013 Only.
Tech support is not really good;
Not support Sprinter 2004 and Chevy Astro models;
Rather cumbersome to update.
Possible update service issues.
Bottom Line
Autel ML629 is built for average car owners and DIYers.
Autel Al629 is great for DIYers and average car owners.
Autel ML619 is built for average car owners and DIYers.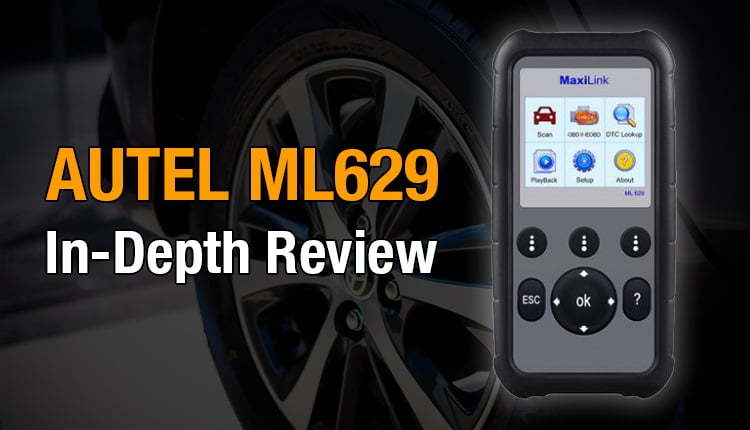 Autel Maxilink ML629 Overview
Since Autel Maxilink ML629 is an upgraded version of Autel Maxilink ML619, it performs more special features.
These features include diagnosing the transmission system and the engine. It can also support the CAN, the latest protocol.
Continue reading this comprehensive review to find out more about the diagnostic functions of Autel Maxilink ML629.
Detailed Review Of Autel Maxilink ML629
Autel Maxilink ML629 Code Reader Auto OBD2 Scanner Automotive Scan Tool
The Autel ML629 is built to help you to determine why the Malfunction Indicator Light or the Engine/ABS/SRS/Transmission warning light is on. Supporting all 10 test modes of OBDII test, ML629 provides you a complete diagnosis.
Features And Functionalities
1. Reset SRS Warning Lights
Strength
Not every scan tool can effectively reset SRS warning lights.
However, Autel Maxilink ML629 is a great DIY scanner with an effective SRS feature.
When there is a problem with the airbag system, the SRS light will blink and stay on.
However, there is one major limitation of SRS warning lights.
It can only tell you that there is a problem with the airbag system but does not specify the problem's exact source.
And this is where Autel Maxilink ML629 comes into play.
This scanner can help you to retrieve SRS Diagnostic Trouble Codes (DTCs).
The most common faults that affect the airbag system include damaged airbag, blown-up fuse, or defective airbag sensors.
Depending on the retrieved DTC, you can either replace the fuse or the sensors, which can be costly.
Even worse is when the airbag itself is damaged.
Replacing the airbag and the sensors is pretty expensive.
Once the repairs are made, you can use Autel Maxilink ML629 to reset the SRS lights.
Weakness
Autel Maxilink ML629
Although the manufacturer claims a wide diagnostic coverage for this scanner it cannot perform SRS functions on some car models such as 1999Nissan Altima and Mitsubishi RVR2000 models.
READ MORE: Autel MaxiLink ML619: ABS & SRS Diagnostic Tool Review
2. Diagnose Transmission Problems
Strength
Transmission replacement or repairs are stressful, inconvenient, and expensive.
However, you can stay one step ahead of transmission problems with Autel Maxilink ML629.
Although the transmission system is prone to wear and tear than most parts of your vehicles, this scanner can help you identify most of the problems quickly.
Whenever you suspect that there is unusual behavior such as lack of response or leaking fluid, it is recommended that you scan your car immediately.
Luckily, this scanner can retrieve diagnostic trouble codes for most transmission problems.
You will get to know why your car is shaking, is getting stuck on the gear, or why it is dragging clutch.
Often, when there is a problem with the transmission system, the Check Engine Light comes on.
You will be able to clear the Check Engine Light once the underlying issue has been resolved.
Weakness
The scanner usually displays linking errors on some vehicles indicated as compatible such as the 2006 Grand Vitara and 1996 Jeep Cherokee XJ L4.0.
3. Performs ABS Functions
Strength:
If you find that your car is skidding when braking, then there must be a problem with the ABS.
What's the first thing that you should do?
To begin with, you should check your dashboard if the ABS light is on.
This is because the onboard computer stores a trouble code when it detects a problem.
Secondly, you should use Autel Maxilink ML629 to scan the ABS system.
This scanner will retrieve the diagnostic trouble code stored on the onboard computer.
You will notice that the most common problem that causes ABS light to stay on is the faulty wheel sensors.
You should replace the faulty sensors and use the scanner to clear the dashboard's ABS warning lights.
The best part about Autel Maxilink ML629 is that it will save you money and time as you can scan and clear the codes without taking your car to a mechanic.
Weakness:
It can read but fails to clear ABS codes in TIIDA 2006 car model and Mitsubishi RVR 2000 car models.
4. Checks The Engine
Strength:
Your car engine is a complicated component having dozens of parts working in unison.
However, when one part fails to function properly, it may compromise the performance of the engine.
It may fail to effectively burn fuel or experience engine misfiring.
Such engine problems are accompanied by Check Engine Light popping on the dashboard.
The good news is that you can use Autel Maxilink ML629 to diagnose the engine.
Once you have identified the fault, you can fix it if you are a DIY or have it fixed by a mechanic.
The scanner will also help you to know if the repairs are complete.
Finally, you can use the scanner to turn off the Check Engine Light.
Weakness:
When you try to update the software, it sometimes fails to check the engine and other diagnostic functions.
Compatibility
Autel Maxilink ML629 is compatible with most of the vehicles manufactured from 1996 as well as newer models.
It supports OBDII and CAN protocols both on foreign and imported vehicles.
This scanner is also compatible with windows software, allowing you to connect to your PC.
Pros
It can quickly clear Check Engine Light
You will notice that it supports live data
It records, stores as well as playback data
You will be able to retrieve both the manufacturer and generic codes
This scanner supports 10 test modes
You can use it to retrieve VIN, CALID, and VIN.
It can print data when connected to a PC.
Cons
It fails to recognize some models especially the newer models
The scanner is really difficult to update
It can read codes but fail to clear the codes in some models
The scanner is not easy to use
It comes with a manual with poor instructions
Who Is It For?
If you are a DIYer, then Autel Maxilink ML629 could be an invaluable diagnostic tool for you.
You will be able to perform both basic and special functions using this scanner.
Autel Maxilink ML629
The Bottom line
A good scanner will help you to make an accurate diagnosis and perform better maintenance and repairs on your car.
Autel Maxilink ML629 is a high performing scanner that can help you effectively scan your vehicle.
The only downside of this model is that it fails to recognize some models such as TIIDA 2006, Mitsubishi RVR 2000,999Nissan Altima, and Mitsubishi RVR2000 models.
However, it is a great scanner that can perform basic and some special functions.
Read more: