Is Autel Maxisys Ultra worth the price of $4,900? You might be afraid of paying a large amount of money. Owning an Ultra urges me to write a detailed review of this professional scan tool.
Simply put, Autel Maxisys Ultra deserves to be put in your professional shop if you are offering complex services on cars/light trucks/medium-duty trucks. In addition, with a bigger screen and option for split screen viewing, this scan tool is worth the investment!
But to make a final decision, keep reading my Autel Maxisys Ultra review.
Quick Review
Autel MaxiSys Ultra
Price:
Scanner type: Scan tool with ECU programming
Made for: Car/light truck mechanics
Vehicle covered: OBD2 cars/light trucks
Connection type: Bluetooth
Buy this product if you want to:
Perform advanced service functions

Perform active tests

Code and program car's EC

Pros
5-in-1 VCMI functionality

Advanced BMW and Benz ECU programming and coding

Comprehensive reset services

8+ hours of battery life

Split screen
Cons
Only programs two vehicle brands

Technical support could be bette

Vehicle Coverage
Autel MaxiSys Ultra is compatible with 99% of domestic, Asia & European vehicles in 1996 and newer sold in the US. It even covers the latest models to 2022: 
95% coverage of models after 2000,
85% coverage of models after 2019.
However, some functions only work on supported vehicles. 
For example, the ECU programming function cannot be applied to all cars. Only BMW and Mercedes-Benz are applicable.
Thus, you can check this link for more information to make sure it can work on your car.
What Makes Me Like Autel MaxiSys Ultra?
1. I can double-check the parameters with VCMI
Autel MaxiSys Ultra features advanced 5-in-1 VCMI, which makes this scan tool so powerful:
VCI connection (Wi-Fi/BT/USB)
Oscilloscope
Waveform generator
Multimeter
CAN BUS check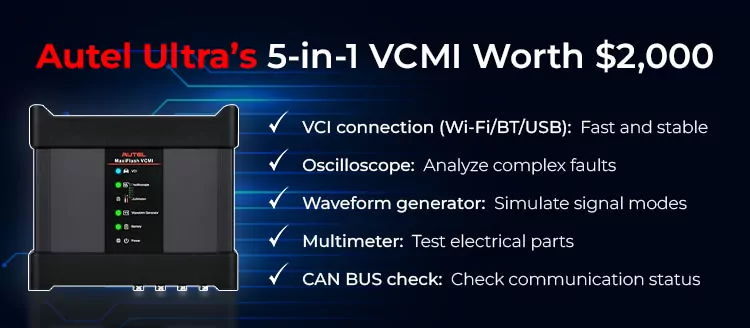 Thanks to VCMI, I save my time when diagnosing car problems. For example:
When observing the live data of an electrical part, how do you know that the number is correct? 
For me, I can double-check it with the "Multimeter" function integrated into the VCMI wirelessly. 
Wanting to get a little bit more precise than just a digital multimeter? The "Oscilloscope" function will help you too.
With the VCMI, you can change it from a multimeter to an oscilloscope. 
And to observe two data at the same time, Autel Maxisys Ultra's split screen helps me a lot. Check the part below to know more about this feature.
2. I can view more data at the same time on the split screen
With the split screen display ability, Maxisys Ultra is a great assistant for professionals. 
In other words, I suppose this ability is one of the main reasons that makes Autel MaxiSys Ultra more high-priced than MS919. 
This is because you can view multiple data at the same time, shortening the time to inspect your vehicles.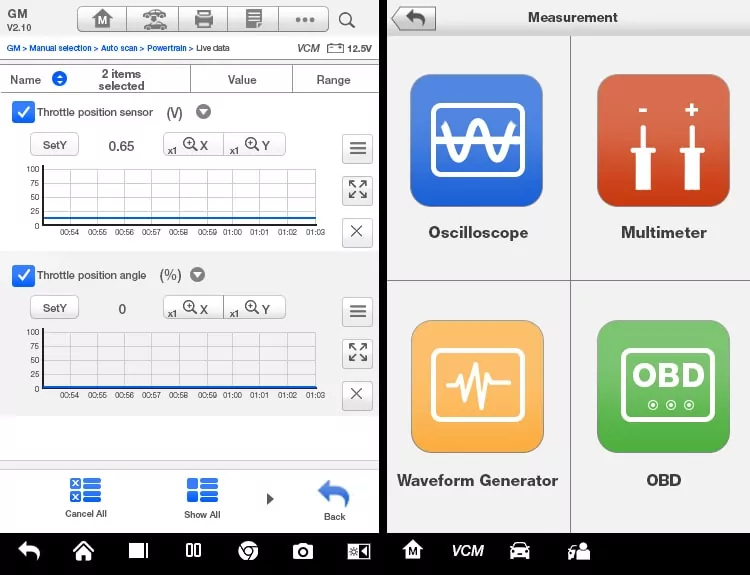 I first used this function in a 2021 Honda Accord to test the accuracy of Maxisys Ultra. 
I have to confess this. 
At first, I doubted that when viewing all different components' data at once, the scanner may generate incorrect parameters. 
Therefore, I checked it before putting it into practice on my clients' cars. 
My testing process went like this. 
I viewed the throttle position sensor and my car's voltage at once when my car was in "Park" mode. 
All the graphed data representing the sensor and voltage was flat.
Then, I swept the throttle position sensor to see if there were any changes in the graph. 
And yes, the graph displayed on both split screens for the sensor and the voltage were slowly changing at the same time. 
Also, the values were very close to each other. 
Got to say, Autel MaxiSys Ultra delivered on its promise.
3. I don't have to recharge the scan tool during a working day
Autel Maxisys Ultra has a battery capacity of 18,000 mAh, while MS919's is 15,000 mAh. 
They both can last 8 hours working continuously. 
However, from my experience, the Autel Ultra can work a little longer than MS919 with the same workload.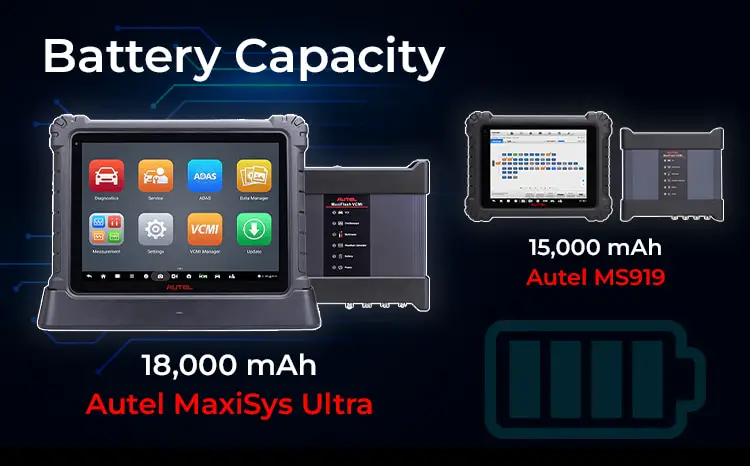 Please, remember that if you use this car diagnostic tool for ECU coding & programming, the battery will go low way faster.
4. I don't have to search for repair procedures anymore
One more thing worth mentioning is that this model from the Autel brand provides me with a library. 
Not a library full of books, it's all about useful repair procedures on DTCs troubleshooting.
Don't underestimate this feature. 
If you are a professional technician/mechanic working at a shop, you will need the procedure to make sure everything is done in the correct order. 
And if you are a backyard mechanic, it allows you to discover more knowledge and tips on auto repair procedures. 
Needless to say, it's still helpful one way or another.
What I Dislike?
1. No TPMS service
It's a bit annoying that you cannot perform TPMS services with Autel Maxisys Ultra. 
I mean, how can an ultimate scan tool like this be designed without that advanced service?
But it's still acceptable compared to what other things it can offer.
Anyway, I've already had a TPMS service tool with me like any other professional.
2. "It's too expensive"
Last month, one of my blog's visitors named Kenneth, a professional working at a shop in Texas, sent me an email complaining about the price of Autel Maxisys Ultra and asking for a recommendation.
He said: "…I think its price of $5,000 is too high. Any scan tool with J2534 ECU programming that isn't going to break my bank?…"
I replied: "… Sure. You can take the LAUNCH X431 PAD V at around $2,300. 
But, remember that you'll never have a chance to experience what the advanced 5-in-1 VCMI offers.
With this 5-in-1 VCMI, you have a combination of 5 tools: 
a VCI, 
an oscilloscope, 
a waveform generator, 
a multimeter, and 
OBD2 CAN BUS Check. 
Thus, you don't have to buy the tools separately. All are in one."
I added: "If you want a scan tool with the 5-in-1 VCMI but at a lower price, take the Autel Maxisys MS919.
The key difference between the Ultra and the MS919 is the split screen and screen size. 
You can have the screen of Autel Maxisys Ultra split into 2 to view simultaneous things. For example, viewing an active test and the oscilloscope wave at the same time."
Two days later, he told me that he had decided to buy the Autel Maxisys Ultra because he really needed the split screen for his job.
Note 
After the service subscription expires, you can still use the functionalities of the last update, except for ECU coding & programming.
Price and Update Fee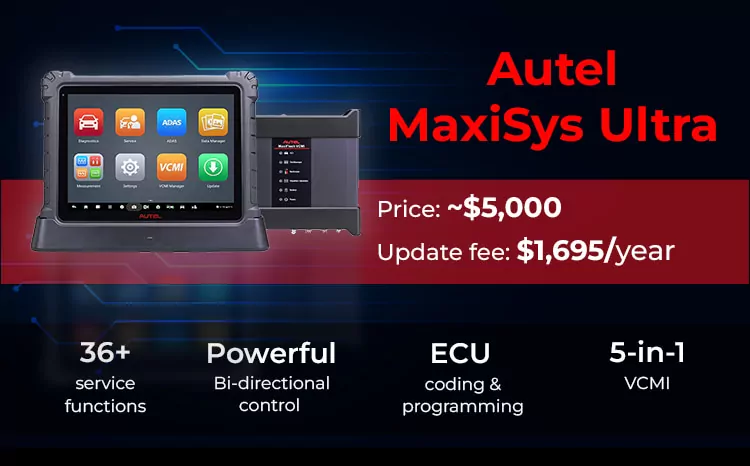 Compared to what Autel Ultra can offer me like VCMI and split screen, $4900 is the price I can afford. From the benefits I gained from it, the scanner had paid for itself.
About the update fee. paying a fee of $1,695/year is required if you want to continue to perform ECU coding & programming. Also, you can work on the latest vehicles after they are released. 
However, all the current functions except ECU coding & programming are available if you don't update the scanner.
How To Register & Update
Before using Autel Maxisys Ultra, you'll need to register the scanner first.
It will take you 10-15 minutes to complete this task. And I'll write down the instruction here for anyone who needs it right now.
Step 1: Register your Autel ID
If you had used Autel scanners before and already had an account, move to step 2.
And if you haven't had an Autel account yet, go to its website at Autel.com and register your account.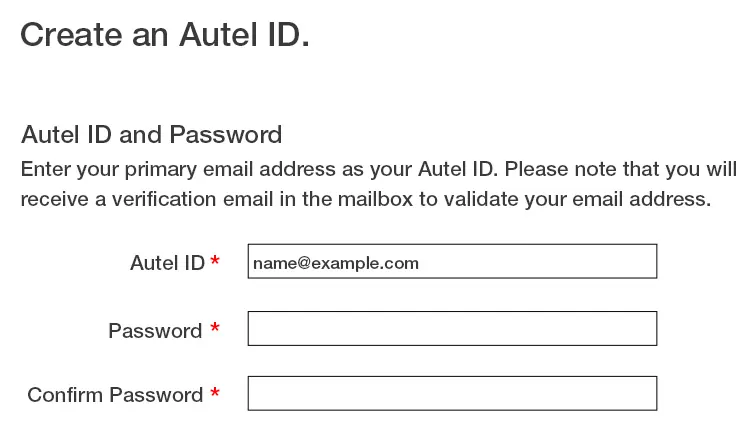 Step 2: Log in with your account and password 
Go to "Product Registration" page. First, choose Autel Maxisys Ultra. Then type in the serial number, Register Password, and Code. 
Click Submit to finish the registration.
Note: You can find the Serial Number and Register Password in Settings/Setup → About menu on the device screen.
How about update?
It's easier than registering the scanner. First, turn on the Ultra, then open the main screen. Choose "Update". There you go, download any software you want.
Key Takeaway
Autel Maxisys Ultra is the upgraded version of Autel MS919. But the Ultra is the best choice for professionals who want to work on a larger scan tool with a split screen. 
This professional automotive diagnostic scanner can meet any picky needs a "big boy" at your shop may think of.
Check Autel Maxisys Ultra's latest price:
Autel Maxisys Ultra's Alternatives
Autel Maxisys Ultra is one of the most expensive scan tools I've ever used. So in this part, I only mention its cheaper alternatives. Check the 2 products below to find out if they suit your specific needs.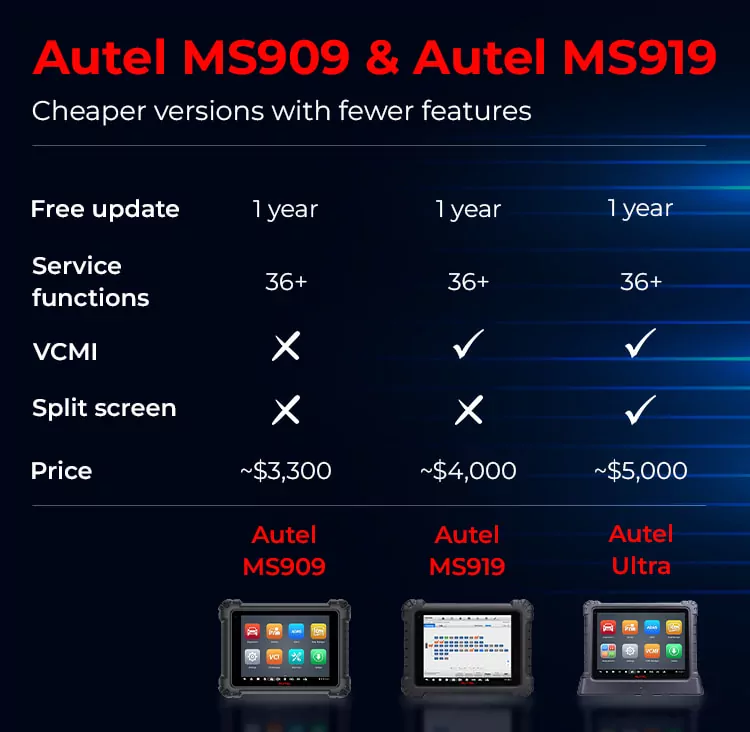 #1. Autel MS909
Autel MS909 is a scan tool with ECU programming thanks to the newer J2534 interface with protocols for 2018+ vehicles. Also, it comes with a newer version of the software with some information access. For example, TSBs, code repair info, and network maps.
The only difference between the MS909 and the Ultra is the VCI on the MS909 does not have the built-in scope . 
If you don't need an oscilloscope, I highly recommend the MS909. 
Check Autel MS909's latest price:
#2. Autel MS919
Autel MS919 is the upgraded version of MS909 but has a built-in 4-channel oscilloscope/multimeter/signal generator.
And Autel MS919 has most of the same functions as Autel Maxisys Ultra. The difference between them is that Ultra came with a bigger screen and an option for split-screen viewing. 
If you are satisfied with a smaller screen and don't need to split it, Autel MS919 is virtually the same for less money.
Autel MS919 has everything you will ever need. 
Check Autel MS919's latest price:
Here is my conclusion about these 2 products:
Do you need the Ultra? No, MS919 has the same features but is cheaper.
Are you going to use the scope? If not, you don't need the MS919, just get the MS909.
What's Next?
If you scroll down to this end, I hope you find out the best professional scan tool for you. Yet, I am here to answer any question you have about Autel Maxisys Ultra. 
Don't hesitate to let me know your confusion or your chosen product in the comment below.