Want to read the honest review of ANCEL AD510? Then you've landed on the right page.
When the check engine light on your car's dashboard flashes red, it spells problems. Therefore, an automotive scanner in your car toolbox can be a saver for you.
Has your vehicle ever stalled in the middle of nowhere and you couldn't find what the problem was?
In that case, an automotive scanner is a useful tool that is used to interface with, diagnose and reprogram your car's computers. It helps you find answers to various components of your vehicle.
The ANCEL AD510 scanner is a convenient gadget to have with you when you travel. It will save you time and money when your car has a problem.
Compatibility
ANCEL AD510 scanner is compatible with cars with OBDII plug. So it can be used on European 2001, Asian 2005 car models and the US-made cars from 1996 to present. The ANCEL AD510 scanner also supports most newer models of vehicles in the market.
Not only that, the scanner also comes with a USB cable that can be connected to Windows, IOS, and Android run devices to give real-time reading son engine status.
Bonus: Best Ancel Scanners Review 2018
Display
The scanner comes with a 2.8-inch LCD backlight screen that is big enough for one to read without strain. Moreover, the interactive interface is available in eight languages. People can read, store and playback live data collected on Evap system.
In addition, the scanner can withstand falls if five feet from the ground without cracking. Also, the rugged design is anti-slip to make the tool durable.
Software and Features
This scanner is easy to use. The interface is straightforward to read even for a beginner. The scanner has three lights. First, a green light indicates no fault code. Second, yellow means there is a pending fault code. And, red shows there is a permanent fault code.
Also, it supports several operating systems such as iOS, windows and Android. A lot of sensors data is captured like short term fuel-trim, vehicles speed, the status of the fuel system, the coolants temperatures. The built-in DTC library is useful in retrieving general codes and clearing them. You can read fault codes, turns off and reset the monitor.
With over 3000 systems, you will be able to solve many problems with the device.
Features
Aside from functionality, this scanner is armed with unmatchable features such as:
Durability
When you dropped the scanner from a five feet height, it maintained its shape without cracks on the screen or dents. Furthermore, the drop did not interfere with the overall performance of the device. The casing is hardened plastic that keeps the inside parts intact making the tool last long.
Functionality
The onboard monitoring system makes it possible to get real-time information about your car. All you need are to plug it and make a diagnosis and use the built-in DTC function which has over 2000 generic codes that allows you to find the cause of the problem without going online.
This small device will help you solve a lot of your engine problems early enough for them not to be a significant problem in the future.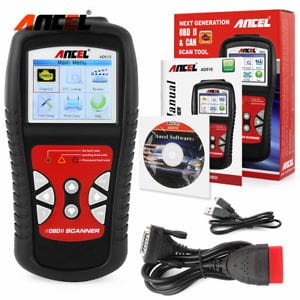 Multi-language support
The scanner supports eight languages. Many late car models from various countries are able to use it. The scanner can be upgraded by connecting to the internet as well. You can print your car diagnostic history too when you join online and check the overall health of your car's engine.
This information is helpful when you experience a significant problem. Your mechanic can use this information to track and do repairs using it.
Battery voltage check
There is a shockproof case for the scanner. It supports battery check function which allows you to check the real-time battery status and to decide if the battery should be charged before or after starting. The battery check helps monitor the condition of the car battery to determine if it has enough power to run your car's systems.
Installation
This unit is a plug-n -play tool. All that the user has to do is plug the machine into the car's system and start taking readings.
Pros and Cons
Pros
It works with eight languages
The 2.5-metre cable is long enough to reach any part of your car
There is no need for a charger
It's easy and fast to use
Also retrieves information about the vehicle
Cons
Does not work on heavy duty trucks
Comparison with Other Products
1

2

3

• Easy and fast to use
• Reads, saves and retrieves information about the car
• Multilingual operating system

• Fast scanning
• Live data stream
• Supports many car brands

• Fast read and clear of DTC codes
• Internet update capable
• Heavy truck coverage

• No support for Wifi / Bluetooth Connection

1.5 pounds
10.1 x 7.3 x 3 inches
Works with all OBD-II/EOBD compliant US, European and Asian vehicles

0.75 pounds
8.9 x 6.9 x 1.4 inches
Beginner friendly, fast scan and clearing trouble codes.
I/M monitor readiness test

0.7 pounds
9.1 x 6.4 x 1.5 inches
HD OBD+OBDII Diagnosing, Supports O2 Sensor and EVAP (Evaporative Control) support.
Diagnosing Reports and update review and print diagnostic reports
Who Is This Built For?
The Ancel AD510 scanner is made for the car enthusiast and beginners who want to take reading off their vehicles. This scan is not a professional one and can often give unclear readings. Therefore, to get a more detailed reading, you should take your car to a mechanic for a more comprehensive system check.