Do you ever feel tired or confused when buying a Scanner?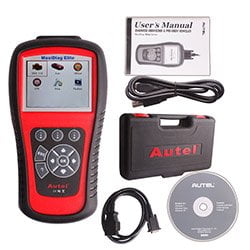 I think Yes.
This is very common because there are so many brands to choose from!
Today I will save you a lot of time doing your own research, since I've done a lot of it for you. And one of the best brands I highly recommend is Autel.
But how can you know which Autel Scanner are the best out of the dozens of products in their portfolio?
Based on my experience and countless hours of research, I've compiled the 7 best products that Autel offers below.
Read my detailed reviews below to get the full picture.
But first…
Take a look at this quick comparison chart of the seven best Autel Scanners
Autel Scanner Comparison Chart
Detailed Reviews of 7 Best Autel Scanners
I've personally used the seven Autel diagnostic scan tools below and can confidently recommend them to you as being the best available.
Here are the top Autel scanner reviews in detail:
1. Autel AutoLink AL319 OBD II & CAN Scan Tool
The Autel Autolink AL319 is a very basic vehicle scanner, but customers love it because of the simplicity and reliability.
Since it retrieves both generic and specific manufacturer codes, you'll be able to easily see what's wrong with your car when the check engine light is on.
Since this scanner is designed for the average vehicle owner who wants to save a few dollars by fixing the car themselves, it doesn't have a lot of the bells and whistles that other scanners have. However, it gives you just enough information to be able to fix basic problems that happen on vehicles frequently.
The main thing that people complain about is the unit doesn't give very much information.
It does require you to do your own research when it gives you a code, so if you want your scanner to do more than that, then you'll need to spend a little extra money on a better model.
Overall, this is a handy scanner for the average vehicle owner.
It's not recommended for mechanics or people who work on cars frequently, but it's perfect for saving you a trip to the mechanic shop to fix a simple issue in many cases.
2. Autel AL519 Autolink Scan Tool
The Autel AL519 works on all vehicles made in 1996 and later and can display live sensor data for customers. The large display screen and Autel's patented One-Click Readiness Key gives you a state emissions check with just a press of a button.
While this scanner can provide you with quite a bit of information, many users like it because you can select what data you want to see on the screen. The unit will show the live data in graph form for only the information you select, or all of the data. The flexibility is very attractive among customers.
Even though the product claims to be able to work on all vehicles made in 1996 and later, some customers have complained that it didn't work on theirs. However, this is just a small amount of people, so it could just be isolated issues that can be fixed with a simple call to Autel customer service.
Any DIY'er would appreciate having this Autel scanner since it's fairly inexpensive and displays just enough information to fix your car and maybe a couple others. It might still be a good product to have in your shop as a mechanic for a backup, but you probably need a higher quality one for the everyday work.
3. Autel AL619 Autolink Scan Tool
The Autel AL619 is similar to the AL519, except this one can also diagnose ABS/SRS codes.
You can also view the information on the large color screen when it displays the live data, and even freeze the screen so you can analyze the information it provides.
But one of the best things customers like about this scanner is the DTC Lookup feature.
When the device provides you with either generic or manufacturer specific codes, you can quickly enter the code in the DTC Lookup field and it will give you the definition of the code so you know exactly what the problem is.
Similar to the Autel AL519, customers have shown some frustrations that the AL619 doesn't read all newer vehicles as advertised.
And sometimes it will read standard codes, but not the ABS/SRS codes.
This is very frustrating if that is the main reason why you're purchasing the product, so keep that in mind before you buy it.
This product displays a lot of the information you need to work on just about any vehicle. Because of that, it's a quality device for both the average vehicle owner and the mechanic alike.
Mechanics still may want a higher quality one for their main use in the shop, but this is definitely a reliable one to have around.
4. Autel Maxidiag Elite MD802 Scanner
Now I want to talk a little bit about the Autel Maxidiag Elite MD802 Scanner. The customer reviews are pretty good, but not quite as good as some of the others on my list for a variety of reasons.
In addition to the basic scans you can do with most code readers, this one also performs oil light resets, electronic brake testing and reads and erases codes on all chassis, powertrain and body and communication modules.
And the best part about it is the information is displayed in an easy-to-read color screen with a One-Click AutoScan feature to make the process quick and simple.
Most of all, people like the usability of this scanner combined with the amount of information it displays. The live data is so quick and easy to read that you can do scans on multiple cars in a short amount of time!
It's nice that you can update the scanner by plugging it into a computer, but just make sure you have the correct system requirements to do so. Some customers have indicated you can't update the scanner on an Apple computer, so you'll have to have a Windows computer to perform the updates.
Other customers have indicated that they would like to see more data on the screens, but for the price you pay, there is a decent amount of information show on the live data display.
You will pay a little more for this scanner, but there are definitely more expensive ones out there. When you combine the features and take the price into consideration, this is one of the best values on our list.
It can be used by both the average vehicle owner and mechanics because of the combination of the ease of use and amount of information it displays.
5. Autel Maxidas DS808(Upgraded Version of DS708)
The Autel DS708 scanner is the perfect scanner for mechanics because of the live data features, the ability to update via Wi-Fi, large color screen and the ability to print recorded data if you have Wi-Fi printing capabilities.
Mechanics appreciate this unit because it is essentially a complete solution for diagnosing and fixing problems in vehicles. And the large touch screen is easy to use and operate, so you won't have to spend a lot of time learning the product.
Even with the somewhat high price tag, mechanics still believe it's worth the money!
With a highly technical product comes the likelihood of technical failures. Many customers have complained that it's hard to update this scanner, and they can't connect it to Wi-Fi at times. A simple call to Autel customer service should fix the problem, but that's definitely not something you want to spend your time doing when you're at work and needing the device immediately.
From a mechanic's standpoint, this is one of the best values on our list of Autel scanners.
The amount of information it displays is phenomenal and the additional features make it easy to use in any professional environment.
6. Autel Autolink AL301 Code Reader Scan Tool
Switching gears now to a simpler and less expensive model, the Autel AL301 Code Reader.
Right when you take a first glance at this scanner, you'll see how easy it is to use. But don't let the size or simplicity fool you.
It can still scan for basic generic and manufacturer specific codes to help save the average person a trip to the mechanic shop.
Since this is a code reader for beginners, Autel also includes a CD with definitions of trouble codes to reduce the amount of research you have to do. This comes as a very welcoming additional feature for people who don't have a lot of experience working with vehicles.
The limitation that this code reader has is one of the main things people complain about. But for the inexpensive price, sometimes people have higher expectations than they should have. It doesn't display a lot of technical data, but it's not designed to. So if you want more information, you'll have to spend a little more money and get a higher quality model.
This code reader does exactly what it's designed to do. It's perfect for the beginner who just wants to figure out why their check engine light is on without spending hundreds of dollars at the mechanic shop. Basic functionality and the inexpensive price makes this a good starter tool.
7. Autel Maxisys MS906 OBDII Automotive Diagnostic Scanner
The Autel MaxiSYS MS906 Auto Diagnostic Scanner is the newest product on my list, and it's also the top of the line.
The Autel MS906 is the updated version of the Autel DS708, which I described a little earlier for you. It includes the same features as the DS708, but it runs at a faster speed and allows more multitasking.
From a mechanic's standpoint, this scanner has everything you need for your daily operations, and even some additional features that you may or may not need, like Wi-Fi capability. It has a very large color screen and is easy to use so you won't have to waste time when you're on the job!
Technology is going to fail at times, and that is no different with this scanner. Sometimes it may not update properly and sometimes it might not connect to the Wi-Fi right away. These are really the only downfalls of this product, but they are usually quick fixes with a call to customer service.
Many mechanic shops have this diagnostic scanner in their shop because of the usability and functionality.
It's definitely not designed for the average vehicle owner, and the price point shows that.
If you want the best quality scanners in your shop, and you aren't afraid to pay a higher price, then this is the one you need.
Recommendation
If you're the average vehicle owner who likes to do routine maintenance on your own cars, then I would recommend purchasing the Autel AL619 AutoLink Scan Tool.
You don't want to buy a cheap model that won't give you a lot of information, but you also probably don't want to spend a lot of money. This one is right in the middle, making it perfect for the average DIY'er, so buy it today if this is what you're looking for.
For mechanics, there's no question that the Autel MaxiSYS MS906 Auto Diagnostic Scanner is the top of the line. If your budget will allow it, you owe it to yourself and anyone working on cars in your shop to purchase this scanner right away. It will pay for itself in a relatively short amount of time due to the abundance of information it provides and the amount of time you'll save looking up codes!
Buying Guide
When you're shopping for a vehicle scanner in general, you need to know what you want to buy one for. In general, though, these are the main features you should look for:
• Easy-to-read display screen
• Reads and erases basic codes
• ABS/SRS coverage
• Provides definitions of codes
• Emissions check
Many of the mid-range scanners today have these features since they are the most basic. However, there definitely are lower-end models that don't have them all, and higher-end models that feature much more information.
If you want to spend some extra money to get a top-notch scanner, you will find that they have features like Wi-Fi capability, live data and graphing, freeze frame data, OBD-I vehicle capabilities and more.
Once you determine why you want to buy a vehicle scanner, it will be easier to narrow down the features that you need. This will ultimately make your buying experience much easier and ensure you get exactly what you want out of your scanner.
Conclusion
I've given you all the information you need to make an informed decision about your Autel scanner purchase. You can trust my countless hours of research and know that I only have your best interest in mind.
Autel is one of the best brands of vehicle scanners on the market, so get one from this list today and you will thank yourself later. After you enjoy using it, leave me a comment below and let me know how my reviews helped you out and how much you like the scanner you purchased!