If you're searching for a reliable, easy-to-use diagnostic tool for cars that can streamline your workflow, look no further than the TOPDON Phoenix Plus.
As a mechanic, I have put the TOPDON Phoenix Plus to the test on various car repairs. Its advanced features, intuitive operation, and dependable performance make Phoenix Plus one of the best car scan tools for the price.
If you are curious about its features, scroll down to learn more about the scanner's: 
pros & cons 
and my real experience using it.
Quick Review
TOPDON Phoenix Plus
Price: $919.20
Scanner type: Bi-directional scan tool
Made for: Experienced enthusiasts
Vehicle covered: OBD1 & OBD2 cars/light trucks
Connection type: Bluetooth
Buy this product if you want to:
Perform advanced service functions

Perform active tests

Code car's ECU
Pros
Topology map

Advanced ECU coding

Powerful bi-directional control

35+ advanced service functions

Guided function for VAG cars

Cons
Annual subscription fee

Repair Info is for generic codes only
Vehicle Coverage
TOPDON Phoenix Plus supports 150+ car brands across worldwide markets and can diagnose vehicles up to the year 2022. 
This means that mechanics and DIYers can use this scan tool on a wide range of vehicles, including popular brands such as: 
BMW
Honda
Fiat
Ford
Audi
Toyota
GM
Bugatti
Land Rover, and many more.
Before purchasing the Phoenix Plus, it's important to check its compatibility with your vehicle. Although it is OBD2 compliant, some advanced functions may vary depending on the specific car model.
If you have any questions or concerns, the brand's support team is available at [email protected] to assist you.  Or you can check the compatibility on its vehicle coverage page.
Design and Hardware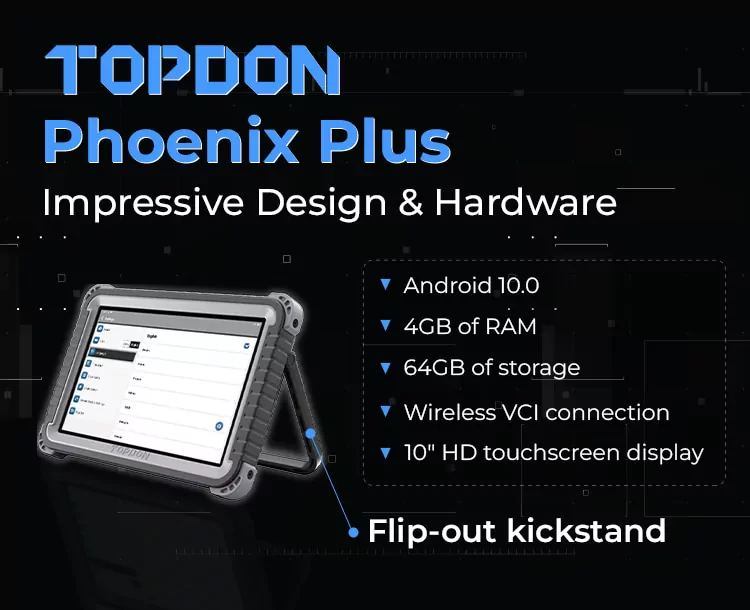 The device runs on the latest Android 10.0 operating system and is powered by a lightning-fast 2.0GHz quad-core processor. With 4GB of RAM and 64GB of storage, you'll have plenty of space to store all the information you need.
One of the standout features of the Phoenix Plus is its 10″ HD touchscreen display, which is crisp and easy to read. 
The wireless VCI connection allows for hassle-free scanning, and the rubberized housing provides added protection against accidental drops.
TOPDON Phoenix Plus also has a flip-out kickstand, which can be hung on the steering wheel for hands-free viewing. 
Performance
1. I can perform advanced ECU coding 
The TOPDON Phoenix Plus helps you restore your car's functionality after repairs or replacements. It also lets you customize and upgrade your vehicle to your liking.
ECU coding allows you to modify the software and alternate factory settings.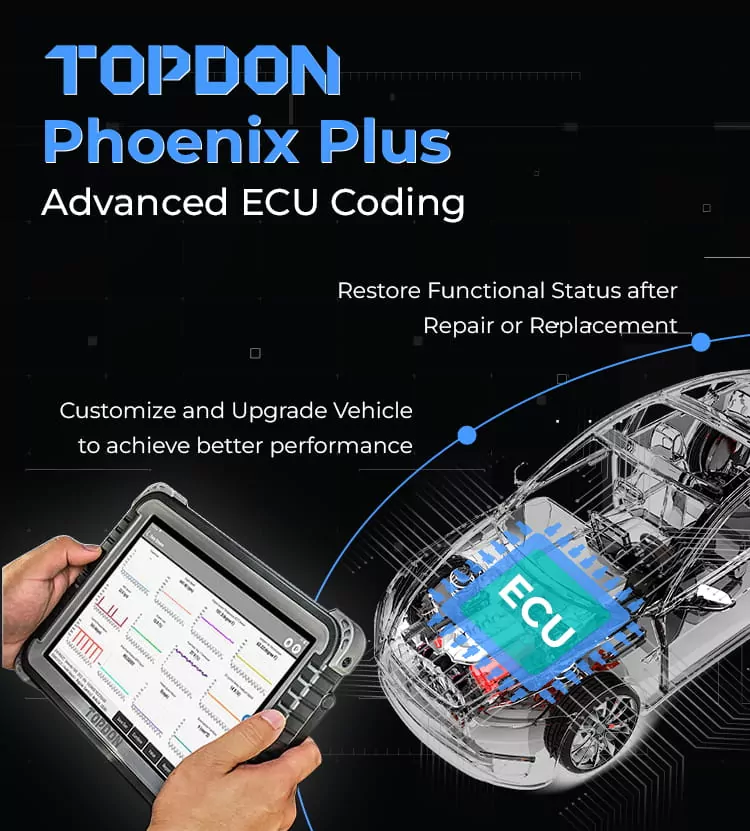 For example, you can disable the automatic start/stop feature or activate high-end features like one-press unlocking car doors. 
Additionally, customizing the fuel gauge to display real-time fuel levels or incorporating unique sound effects is easy when locking your car.
With this scan tool, the possibilities are endless.
2. I can reset your car's memory after parts replacement
The TOPDON Phoenix Plus scanner is a great tool for resetting your car's memory after parts replacement. 
I recently used it to reset a 2014 Toyota Corolla, which worked like a charm. The process was simple. I just had to connect the scanner to my car and select the "Reset Memory" option under the "Special Function" menu. 
A notice popped up explaining the purpose of this function, and all I had to do was follow the instructions. I turned the ignition switch off and back on, and drove the vehicle in a "stop and go" pattern for 15 minutes. Then performed the "CVT Pressure Calibration." 
After that, I was able to delete all DTC. 
Overall, I found this feature of the TOPDON Phoenix Plus very useful, helping you avoid wasting time at a repair shop. 
3. I can own a topology map with only $1,200
With its advanced configuration, TOPDON Phoenix Plus can quickly diagnose the full systems on your car. 
I was impressed by how it displayed the topology map, with malfunctioning systems turning red. This made it easy for me to determine the root cause of the issue in no time.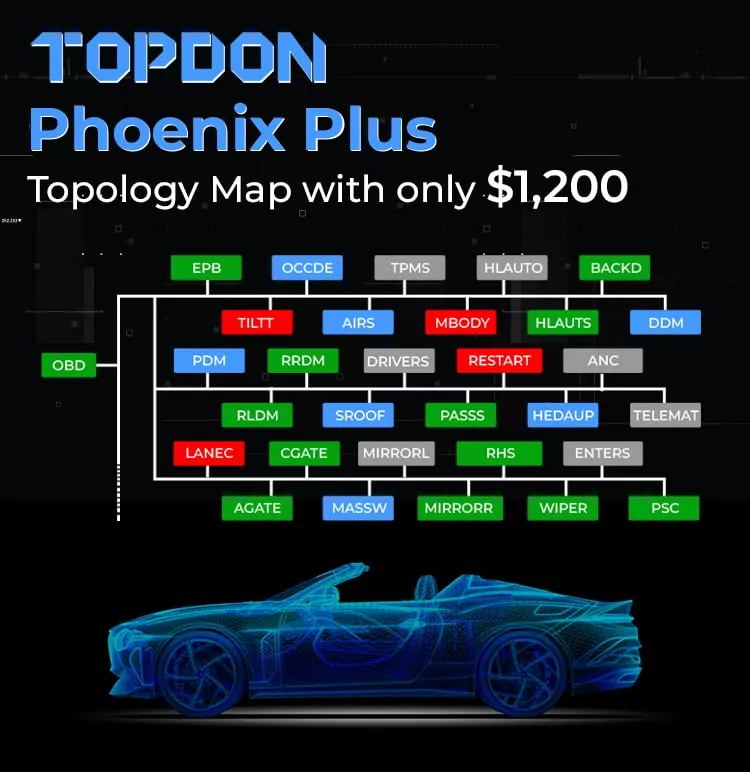 The best part? I was able to do all of this for only ~$1,200. 
Also, the tool's color-coded topology display and its ability to display the fault simply by clicking on the module made it a game-changer for me. 
I saved a lot of time and got the results I needed.
And you know what?
You can't find this function on many scanners in this price range, except for some from TOPDON and XTOOL.
4. I can perform 34+ advanced service functions and bi-directional control
With TOPDON Phoenix Plus's advanced functions, I can perform comprehensive diagnosis and repair of issues. 
Also, diagnosing and repairing car's problems is easier than before thanks to the bi-directional capability. 
In my personal experience, I used the TOPDON Phoenix Plus on a BMW 120i and a Lexus ES300h. 
On the BMW, I was able to replace a module and code it using the reference for the adaptive headlights. On the Lexus, I ran an active test on the sunroof window, setting it to open and close.
5. I can save time with the Guided function for VAG cars
This tool makes diagnosing VAG group vehicles a breeze with its VAG-guided function. 
This feature simplifies the matching, calibration, and basic settings process for Audi, Volkswagen, Skoda, and Seat vehicles by skipping the security access code and channel number.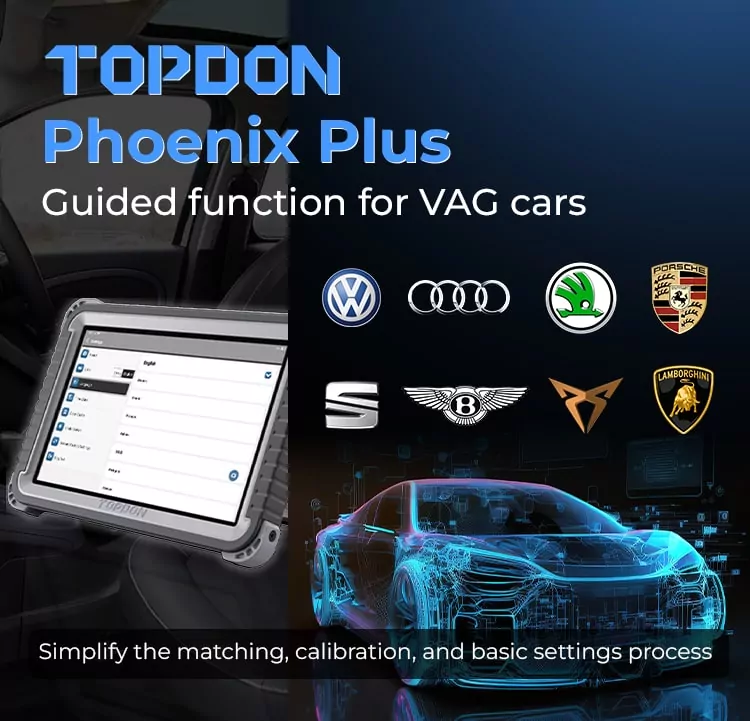 As a professional auto mechanic, I can ensure the effectiveness of the Guided function. Once, my customer's 2013 Audi A4 had two codes from the SAS system, which were B116854 and C10ACF0. 
To erase them, you need to perform steering angle sensor (SAS) calibration.
After following the guided steps, all the trouble codes above were cleared.
The guided function saves time and makes diagnosis quick and straightforward. 
6. The Repair Info feature needs to be improved
The performance of the TOPDON Phoenix Plus is noteworthy, but limited. 
The Repair Info feature supports generic fault codes but doesn't provide information for manufacturer-specific codes.
I contacted TOPDON to inquire about their diagnostic tool. They confirmed that Phoenix Plus only provides explanations for generic codes and not for manufacturer-specific codes. 
Though, recommended solutions for only generic codes are still useful and help you repair car's issues easier. 
Price, Warranty & Update Fee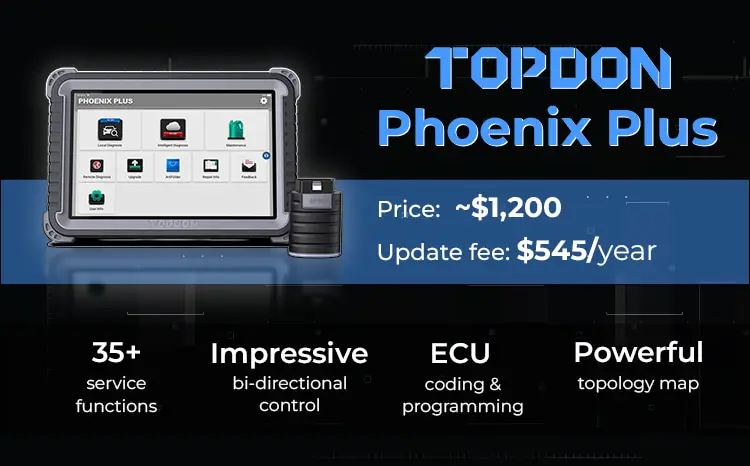 The TOPDON Phoenix Plus is priced at $1,169 and comes with a one-year warranty. Its 2 years of free updates make it a smart investment for any mechanic looking to keep their tool up to date. 
The Phoenix Plus stands out with its comprehensive diagnostic capabilities and real-time data display for various domestic and imported cars. 
But what really sets it apart is its topology map feature, a rarity at this price point. With an easy-to-use interface and fast and accurate scans, you can save time and increase efficiency on the job.
The Phoenix Plus requires a $545 annual update fee after the initial 2-year period. But you will retain the last update's functions even without renewal. But the ECU coding and active tests are not supported anymore.
TOPDON provides easy internet-based updates via Wi-Fi, ensuring you stay up-to-date with the latest vehicles and industry advancements.
How To Register
To register and activate your TOPDON Phoenix Plus Scanner, follow these simple steps:
Step 1. Go to the TOPDON website and log in with your existing account or create a new one using a valid email address.
Step 2. Locate the serial number and activation code, which can be found in the "Password Envelope" that came with your scanner.
Step 3. Input both the serial number and activation code into the activation page on the TOPDON website.
Step 4. The diagnostic VCI dongle will be bound to your account once the activation process is complete. 
With your scanner fully registered and activated, you'll be ready to diagnose your vehicle and get the information you need to make the necessary repairs. And remember, if you have any questions or issues during the registration and activation process, you can reach out to TOPDON support for help. 
Key Takeaway
Ready to take your vehicle's diagnostic experience to the next level?
TOPDON Phoenix Plus offers 150+ car brand coverage and a unique topology map among its advanced features.
Ideal for professional mechanics and DIY enthusiasts alike, this scan tool will quickly become your go-to for all your vehicle diagnosis needs. 
You can also consider the Launch X431 V+ Pro or XTOOL D9 as alternatives to the TOPDON Phoenix Plus. Both have strengths and weaknesses, so choose the one best suited to your needs.
Check TOPDON Phoenix Plus's latest price:
TOPDON Phoenix Plus's Alternatives
#1. Launch X431 V+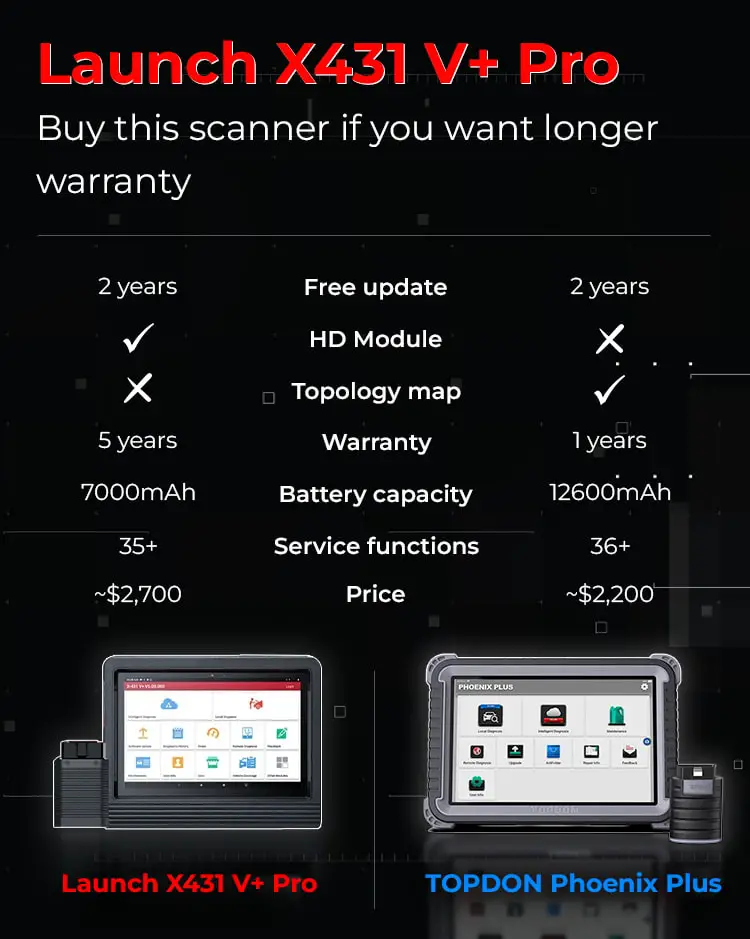 The Launch X431 V+ Pro is a good alternative to the TOPDON Phoenix Plus for vehicle diagnostics. 
It is compatible with the HD Module for heavy-duty vehicles and has a 5-year warranty compared to the TOPDON Phoenix Plus' 1-year warranty. 
However, the Launch X431 V+ Pro lacks a topology map and has a shorter battery life with a capacity of 7000mAh compared to TOPDON Phoenix Plus' 12600mAh.
Check Launch X431 V+'s latest price:
#2. XTOOL D9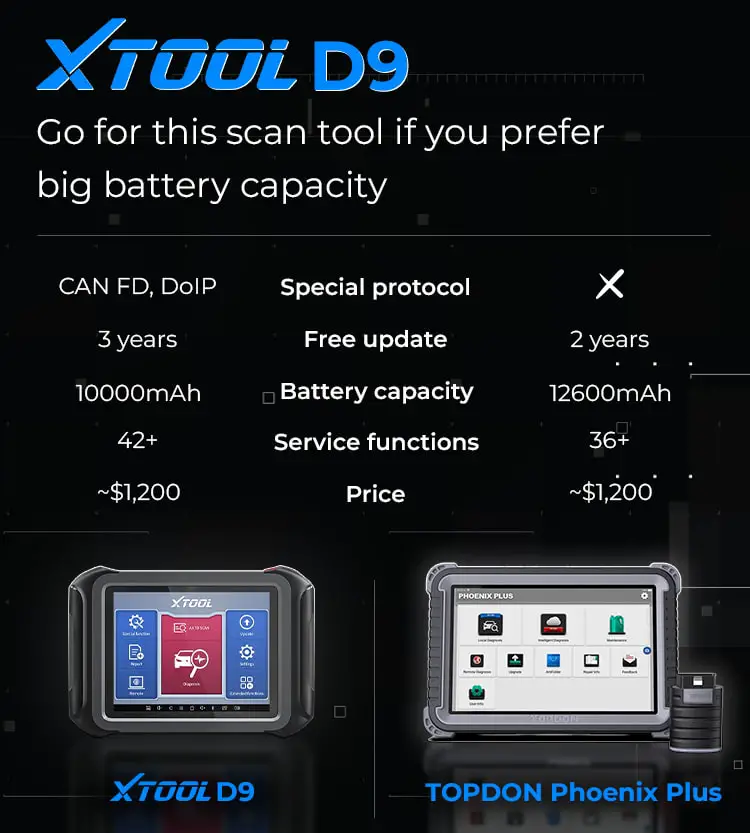 The XTOOL D9 is the main competitor of Phoenix Plus because of its topology map. 
It supports advanced service functions, two special protocols (CAN FD & DOIP), and has a 3-year free update compared to the TOPDON Phoenix Plus' 2-year update. 
However, it has a slightly shorter battery life with a 10000mAh capacity while TOPDON Phoenix Plus' capacity is 12600mAh.
Check XTOOL D9's latest price:
What's Next?
So, what do you think about TOPDON Phoenix Plus's functions? Does it meet your needs?
We'd love to hear your thoughts and opinions on this scanner. Share your experience and insights with us in the comments section below!