A powerful diagnostic tool never lets you waste your money on necessary car repairs. 
Topdon Phoenix Lite 2 is one such tool that offers advanced functions to diagnose and solve any car issues quickly and accurately.
In this review, I'll share my thoughts on Topdon Phoenix Lite 2's performance, features, and overall value. 
Keep reading to see if this tool is the right fit for your need.
Quick Review
TOPDON Phoenix Lite 2
Price: $829.00
Scanner type: Bi-directional scan tool
Made for: Experienced enthusiasts
Vehicle covered: OBD1 & OBD2 car/ light trucks
Connection type: Bluetooth
Buy this product if you want to:
Read trouble codes of all systems

Perform advanced service functions

Perform active tests

Code car's ECU
Pros
Wide vehicle coverage

Strong battery for 3 continuous working days

Convenient Bluetooth connection

Advanced-level features

Useful topology function
Cons
Relatively high price

Too advanced for newbies
Vehicle Coverage
TOPDON Phoenix Lite 2 can work on almost all OBD2 cars and light trucks.
However, some functions cannot be compatible with some specific cars.
For example, the TOPDON Phoenix Lite 2 cannot perform key programming on a 2011 Audi A5.
Therefore, remember to check the vehicle coverage to make sure it works on your car well with all the functions you need.
What Makes Me Like Topdon Phoenix Lite 2?
1. Top-rated bi-directional scan tool
TOPDON Phoenix Lite 2 was first available in May of 2022 but it got 4.9/5 stars (91% are 5 stars) from 116 global ratings after 5 months (figures updated on Mar 23, 2023).
With excellent bi-directional control, TOPDON Phoenix Lite 2 sets you free from dependence on cable, making it easier to fix cars. 
Like LAUNCH X431 V+ PRO or LAUNCH X431 Pro, TOPDON Phoenix Lite 2 offers Bluetooth connection but at a much more affordable price. 
After connecting the unit to my friend's husband's 2009 Chevrolet Spark, I could tell its connection stability is as good as its competitors.
Thanks to that, I could get access to all subsystems and parts of his car via the bi-directional function.
Furthermore, I could also send some commands to Chevy to see if the components are working properly.  
More specifically, I turned on and off some parts such as:
fuel injectors, 
coolant injectors, 
windows, and 
windshield wipers. 
And here was the result I got: 
They all followed my commands correctly. 
Since then, I can put my faith in the responsive active test function of this TOPDON scan tool with no doubt.
Also, I used this feature to switch transmission solenoids on and off and listen to their sound. 
In this way, I could tell the solenoids' condition exactly and save myself some time doing other stuff.
2. Expand your ability to repair cars with 28+ service functions.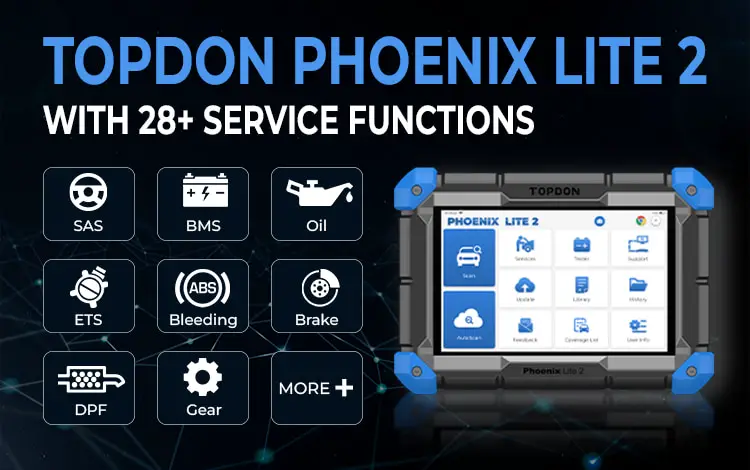 I am also impressed by the service functions that this car diagnostic tool offers to users, such as:
SAS (Steering Angle Reset)
BMS (Battery Matching)
Oil (Maintenance Light Reset)
ETS (Throttle Matching)
Bleeding (ABS Bleeding)
Brake (Electronic Park Brake Reset)
DPF (DPF Regeneration)
Gear (Tooth Learning)
…
Thanks to all of these powerful service functions, you can do more than just read & clear DTCs in your cars.
For instance, after replacing the steering angle position sensor or body repair, with the SAS service, you can reset the steering angle to zero. 
This helps the cars keep running straight afterward.
3. Helpful topology for easier troubleshooting of any car's problems
In the product description, TOPDON didn't state the topology function. 
When I found out about this feature, I wondered why the manufacturer didn't mention it as it's good as expected.
The screen for topology mapping will pop up after you scan whole systems in your car.
This map indicates 2 important pieces of information:
One is for the relationship between modules available in the car that you plug in. 
And the other is for the condition of each system shown by different colors.
There are 3 different colors indicating the status of the modules:
Green illustrates that the module is normal, meaning it's still within the ideal parameters.
The red color means the module scanned is abnormal for specific reasons.
And bear in mind that if you see gray, it's telling you that the module is not suited to the vehicle you have just scanned. 
What I Dislike?
While the topology map is available, it is limited to specific vehicle models. For older vehicles, there may not be a topology display at all.
Additionally, the map is often not accurate when compared to the OEM topology.
For example, when my ABS module is disconnected, the scanner shows "not equipped" instead of "no communication," which can be misleading. 
For instance, when I disconnected my ABS module, the scanner displayed "not equipped" instead of "no communication," which can be misleading.
I hope that Topdon will improve the accuracy of this function soon to provide more reliable results for all vehicle models.
Price, Update Fee & Warranty
At just $850, the Topdon Phoenix Lite 2 packs in all the features I need as a full-time mechanic, including:
active tests, 
ECU coding, 
topology maps, 
TOPDON Phoenix Lite 2 also comes with a 30-day free return service, 1-year warranty, and 2-year free software update. 
Once the free update period is over, an annual fee of $430 will be charged for continued updates. 
If you choose not to renew, the scanner can still be used offline. Only a few online functions, such as ECU coding, will be unavailable.
Key Takeaway
TOPDON Phoenix Lite 2 is the top-rated bi-directional scan tool in the market today, thanks to its quality and accuracy. 
I bet you cannot find a second scan tool like this. If you are looking for a reliable bi-directional scan too with ECU coding and a Topology map, this is right for you.
---
What's Next?
Thank you for taking the time to read my review of the Topdon Phoenix Lite 2.
Now, I'd like to hear from you:
Have you used any other diagnostic scanners before, and if so, how does the Topdon Phoenix Lite 2 compare?
Do you have any questions that I haven't addressed in my review?
I would love to hear your thoughts and help you with any further information you may need.