Are you a home mechanic torn between TOPDON ArtiDiag800 and the ArtiDiag800 BT? While TOPDON is a top brand for buying top-of-the-line diagnostics tools, choosing between two almost similar products is not easy. This TOPDON ArtiDiag800 vs. ArtiDiag800 BT post will give you a detailed look into the distinguishing features of these scan tools.
The TOPDON ArtiDiag800 and the TOPDON ArtiDiag800 BT hit the market only months apart. So, most people easily confuse the two. Nevertheless, they are not equal since the ArtiDiag800 is a wired OBD2 scanner while the ArtiDiag800 BT has Bluetooth functionality.
Hang on as I compare the two scan tools side by side.
TOPDON ArtiDiag800 vs. ArtiDiag800 BT: Complete Comparison Table

Topdon ArtiDiag800


Topdon ArtiDiag800 BT

Customer Rating

Price
OBD2 Functions
10/10*
10/10
System Diagnostics
10/10
10/10
Service Functions
26
28
Coding/Programming
Injector coding,
IMMO key programming
Injector coding,
Key Fob programming for particular vehicles.
RAM
2GB
2GB
Storage
16GB
16GB
Battery Storage
6,100mAh
3,100mAh
Specialties
Has a large 7-inch screen
Bluetooth connection
Can merge graphic live data stream
Lifetime free updates
Supported Protocols
KWP2000 ISO9141 J1850 VPW J1850 PWM CAN
KWP2000 ISO9141 J1850 VPW J1850 PWM CAN
Vehicles Coverage
1996+ cars, SUVs, minivans, and 12V light-duty trucks.
1996+ cars, SUVs, minivans, and 12V light-duty trucks.
*Notes: Excellent: 9-10; Good: 7-8; Fair: 5-6; Poor: 3-4; Very poor: 1-2
TOPDON ArtiDiag800 vs. ArtiDiag800 BT: Similarities
OBD2 Functions
Both ArtiDiag800 and ArtiDiag800 BT are full OBD2 scanners. They can give you both generic and manufacturer-specific codes, making it easy to identify the exact problem behind the check engine light.
You'll also be able to reset trouble codes, see the freeze frame data, and perform I/M readiness tests. The scanners have a DTC library to check the code's definition, so you don't have to google DTCs meaning.
If you cannot find the code's definition, there's an online feedback feature where you send a question to the technical service team.
Both tools have automatic VIN recognition and also support manual VIN input. Apart from the VIN, you'll also be able to see the car's CID and CVN from the vehicle's onboard computer.
Of the two scanners, I recommend the ArtiDiag800 since it has all OBD2 modes, but it comes at a lower price than the ArtiDiag800 BT.
Topdon ArtiDiag800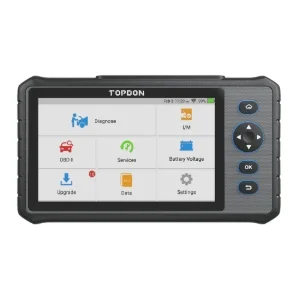 System Diagnostics
TOPDON ArtiDiag800 and ArtiDiag800 BT can diagnose all accessible systems in many vehicle brands. Hence, apart from the engine, airbag, transmission, and the ABS, they can also check the SAS, emission, body, chassis, etc.
This feature allows the devices to access the car's computer faster, giving you better and more accurate results than standard scanners.
Supported Protocols
TOPDON ArtiDiag800 and ArtiDiag800 BT support all five OBD2 protocols. These are KWP2000, ISO9141, J1850 VPW, J1850 PWM, CAN.
TOPDON ArtiDiag800 vs. ArtiDiag800 BT: Differences
Advanced Service Functions
This is where the two scanners take on a distinct path. The original TOPDON ArtiDiag800 only has 15 service functions. These include; oil reset, SAS, ABS bleeding, BMS reset, EPB, Immobilizer, sunroof reset, gearbox reset, AFS headlamp reset, TPMS reset, injector coding, gear learning, throttle adaptation, tooth learning, and DPF.
The 2022 TOPDON ArtiDiag800 has 26 service resets. It now includes; AC system initialization, AdBlue reset, A/F reset, Coolant bleed, NOx sensor reset, seat recalibration, tire reset, windows recalibration, and stop/start reset.
As for the TOPDON ArtiDiag800 BT, this device has all the service resets from the TOPDON ArtiDiag800, except you can also perform airbag reset and EGR reset.
With these maintenance resets, you'll be able to go from resetting the oil service lamp to resetting the battery's monitoring unit in a cinch. Also, you can achieve a firm brake pad after air exhaustion and accomplish many other functions in different cars.
Nevertheless, these functions are not supported in all vehicles. For example, the ArtiDiag800 supports AFS reset in 21 car brands and sunroof initialization in only four brands. Hence, you may need to verify the maintenance functions you can expect for your specific car model with customer support.
Another unique feature of the ArtiDiag800 BT is that it can store up to five commonly reset functions for quick access.
I recommend the ArtiDiag800 BT for those in need of a more comprehensive scan tool.
Topdon ArtiDiag800 BT
Specialties
The ArtiDiag800 BT uses a VCI OBD2 dongle to connect to a vehicle via secure Bluetooth 4.0. Hence, the scanner is no longer tethered to the OBD2 port, and you can use it outside the car from anywhere within 33ft.
Unlike the ArtiDiag800, which only has a year of free updates, the ArtiDiag800 BT boasts a lifetime of free updates. You'll be able to see the available updates on the upgraded software section.
Nonetheless, the ArtiDiag800 has a large 7-inch screen, making it easier to see the live gauges than on the ArtiDiag800 BT, which has a 6-inch screen. However, you cannot merge the graphic live data stream on the ArtiDiag800, but the ArtiDiag800 BT supports this feature.
ArtiDiag800 has a bigger 6100 mAh battery, and it can charge when it's connected to the OBD2 port. Therefore, you may never experience a dead battery. On the other hand, ArtiDiag800 BT's battery is rated at 3100 mAh. This is a relatively small capacity that you may end up with a dead battery during heavy use of the device.
Vehicle Coverage
TOPDON ArtiDiag800 and ArtiDiag800 BT support various vehicle brands and models. The ArtiDiag800, in particular, works with 15,000 car models from 57 car makers from 1996. Meanwhile, the ArtiDiag800 BT works with 1000+ car models from 96 vehicles brands from 1996. The scanners support most mainstream vehicles such as GM, Chrysler, US-Ford, Dodge, Jeep, Buick, Cadillac, Isuzu, Toyota, Porsche, Audi, Benz, BMW, Jaguar, Ferrari, and Bentley, among others.
Owing to these scanners' broad vehicle compatibility, they also support multiple languages. The ArtiDiag800 has eight languages, while the ArtiDiag800 BT has nine languages.
TOPDON ArtiDiag800 vs. ArtiDiag800 BT: Pros and Cons
TOPDON ArtiDiag800
Pros
Cost-effective
Easy to use as a tablet
Features commonly used functions
Includes a storage case
Supports data printing
Features injector coding
Cons
Not bi-directional
Only one year of free updates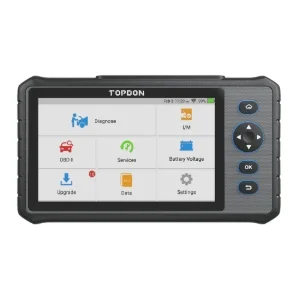 Topdon ArtiDiag800
The ArtiDiag800 is an excellent diagnostics scanner with advanced functions for a bargain. This scanner gives you pro-grade functionality, whether you want to troubleshoot various systems or perform maintenance functions.
ArtiDiag800 BT
Pros
Lifetime software upgrade
Nine languages
Includes Bluetooth dongle
Fast and accurate results
Live data from every parameter item
Cons
Limited to Asian models for key IMMO service
Maintenance services are not for supported car brands
Topdon ArtiDiag800 BT
Handle complex vehicle diagnostics with the ArtiDiag800 BT. This scanner was designed with the professional in mind. Thus, its high-quality features are what you need for a smooth workflow in the garage or on the go.
Recommendation
Are you ready to order one of these scanners? I hope this head-to-head TOPDON ArtiDiag800 vs. ArtiDiag800 BT review has helped you distinguish between these products. In summary, the ArtiDiag800 is an affordable choice for DIYers and enthusiasts. It has all the functions you could need for a fleet of vehicles.
The home mechanic and small garage owner will appreciate the ArtiDiag800 BT. With a Bluetooth dongle, you'll never have to be tied to a vehicle. You can troubleshoot systems and perform repairs without going back and forth from the vehicle.
Go on and choose the TOPDON diagnostic scanner that suits your specific needs.
Bonus: