Launch X431 Pro 3 is one of the latest Android-based devices for troubleshooting vehicles. This device is an upgrade of the Launch diagnosis, and it is developed for internet applications.
Launch X431 Pro 3 vs. Launch X431 Pros Mini vs. Autel MS906BT Comparison Chart

Launch Tech X431 Pro 3


Launch X431 PRO Mini


Autel MS906BT

Customer Rating

Price
Product Dimensions
15.9" x 11.9" x 4.2"
30.1" x 18" x 7.2"
Item Weight
7.45lbs
19.15lbs
Pros
Offers a wide coverage of the vehicle models it diagnoses;
Gives a detailed diagnostic printout;
Performs ECU Coding;
Display real-time diagnosis.
Wireless Bluetooth Diagnoses;
Smooth Operation;
ECU Coding;
ALL Systems Diagnoses;
11 Special Functions;
Anti-theft Matching.

Autel MS906BT can perform Full-system, Full-OBD2 diagnoses,
ECU Coding, etc.
Cons
A little bit expensive.
Compatibility issues (should be checked carefully before buying.)
Almost none.
Bottom Line
Launch X431 Pro 3 is for you if you're a shop mechanic or an experienced enthusiasts.
Launch X431 Pros Mini is an excellent pick for car enthusiasts and shop mechanics.
Autel MS906BT is designed and built for mechanics or experienced enthusiasts only.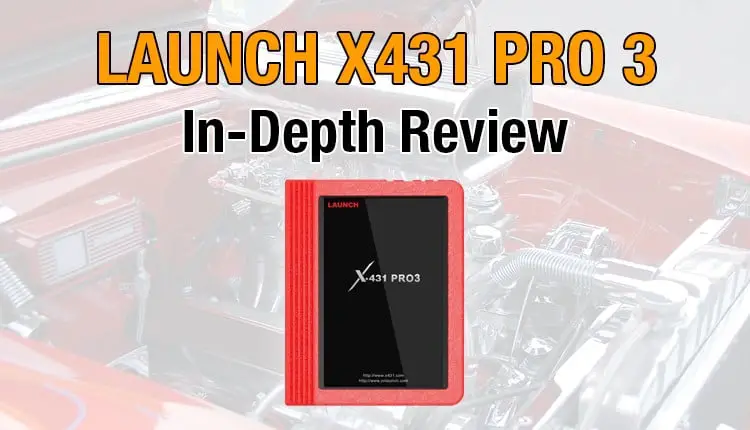 Launch X431 Pro 3 Overview
Therefore, the Launch X431 Pro 3 diagnoses a wide variety of cars. It gives accurate test results and has powerful functions.
This diagnostic device achieves a full system of the car's model and vehicle diagnosis. It also integrates more services and applications.Also, it is equipped with a 5.1 Android OS.
Launch X431 Pro 3 Detailed Review
Scanner Launch X431 Pro 3
The Launch X431 Pro 3 is a must-have vehicle troubleshooting device with specialized functionality.
Compatibility of Launch X431 PRO 3
The Launch X431 Pro 3 is compatible with diesel and heavy-duty gas-fuelled vehicle models of 12 Voltage and 24V. It is also compatible with vehicles built in America, Europe, and Asia and individual vehicles' software.
It also integrates services and applications like remote assistance and instant messaging.
It takes advantages of the mobile internet to offer the following:
Datastream reading.
DTC clearing.
DTCs readings.
Actuation Test.
Other special functions.
The device has also been inbuilt in a way that it is compatible with workshops via Bluetooth and wireless connectivity.
Check Price at Amazon
Besides, the Golo business manager makes it possible for the device to offer a remote diagnosis. Furthermore, other functions available on this device include:
A free online repair database.
Cinet vehicle management.
Online repair.
Service resources.
Moreover, it comes with an inbuilt Wi-Fi module, which enables free internet browsing. You can also send and receive emails on this troubleshooting tablet.
Display
The Launch X431 Pro 3 has an HD display of 10.1 inches with an LCD resolution of 1200 by 800. It also has capacitive touchscreen properties.
Software
The following are the software that you should download to your Launch troubleshooting device:
X431 Master/Diagun.
CRecorder 2.
X431 pro-fix.
CReader 5.
X431 pro 3 Fix.
CReader 6.
Features and Functionality of Launch X431 Pro 3
ECU coding – New code modules that work with your car's system like ABS units, Fuel injector, Airbag module, etc.
Clear fault codes – Also clear warning lights like engine lights, airbags, etc.
Real-time diagnosis – Offers real-time diagnosis for Golo users.
Auto search and VIN recognition.
Multiple graphing.
Recording of live data.
Provides description- It does this by reading fault codes.
Actuation and component testing.
Pros
Provides detailed accurate test results
Offers remote diagnosis for Golo users
Connects vehicles and workshops
It gives a detailed diagnostic printout
Reads and clears fault codes
Cons
The device is quite expensive and might be unaffordable to average income earners.
Recommendation
The Launch X431 Pros 3 troubleshooting device is highly recommended because it offers accurate testing results.
With this device, it's not only possible to do remote troubleshooting but also connect vehicles with workshops for Golo users.
The device is also recommended since it offers fast and reliable results for a wide range of vehicles and has access to a car database and repair tips. Another reason we recommend this device is that it integrates services and applications.
Who Is Launch X431 Pro 3 Built For?
Launch X431 Pro 3 is built for professionals and garage shops. Besides, enthusiastic car owners will find it a great choice.
Check Price at Amazon
The Bottom Line
The Launch X431 Pro 3 is a must-have vehicle troubleshooting device with specialized functionality. It offers accurate test results and enables remote diagnosis.
Read more: Launch Scan Tool: The Best Choices Review 2021