Do you need a powerful OBDII scan tool? The Innova 5410, Innova 5510, and Innova 5610 are all excellent choices, putting a range of diagnostic and repair capabilities in your pocket. Any of these tools can save you hundreds of dollars on car maintenance, sparing your trips to the mechanic (and arming you with knowledge when you do need a professional). 
What sets each of these tools apart from the others? Which one is the ideal choice for your vehicle? Let's take a look at the Innova 5410, 5510, and 5610 side-by-side to help you find the answer. 
Innova CarScan Pro 5410 vs. 5510 vs. 5610: Comparison Table
| | | | |
| --- | --- | --- | --- |
| | Editor's Pick | Runner up | Also great |
| | Innova 5610 | Innova 5510 | Innova 5410 |
| Customer Rating | | | |
| Price range | | | |
| OBD2 functions | Full OBD2 functions | Full OBD2 functions | Full OBD2 functions |
| System diagnostics | All systems | All systems | All systems |
| Battery Maintenance | ✔ | ✔ | ✔ |
| Oil Reset | ✔ | ✔ | ✔ |
| TPMS Reading | ✔ | ✔ | -- |
| ABS Bleeding | ✔ | ✔ | -- |
| EPB Reset | ✔ | ✔ | -- |
| OBD1 coverage | ✔ | ✔ | -- |
| SAS Calibration | ✔ | -- | -- |
| DPF Regeneration | ✔ | -- | -- |
| Bi-directional Controls | ✔ | -- | -- |
| Vehicle coverage | Cars, 12V trucks, SUVs, or hybrids | Cars, 12V trucks, SUVs, or hybrids | Cars, 12V trucks, SUVs, or hybrids |
| | | | |
*Notes: Excellent: 9-10; Good: 7-8; Fair: 5-6; Poor: 3-4; Very poor: 1-2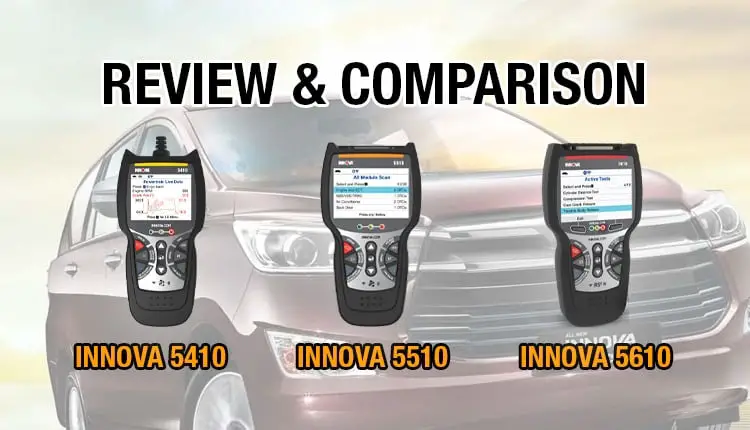 Innova CarScan Pro 5410 vs. 5510 vs. 5610: What Do They Have in Common?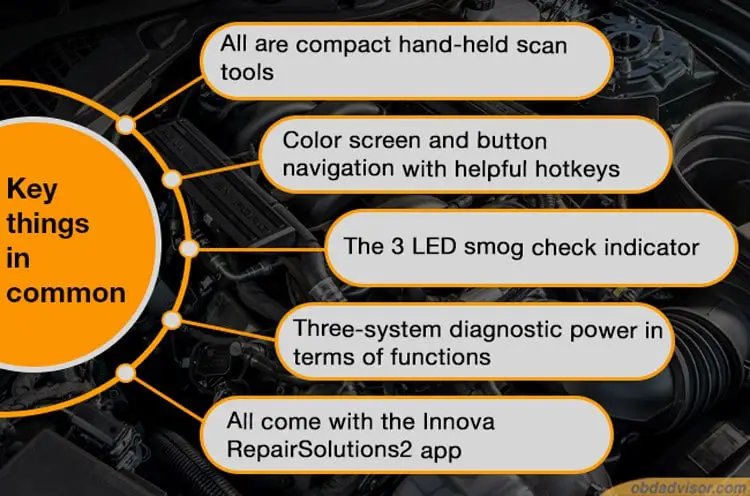 Looking at the Innova CarScan Pro 5410, 5510, and 5610, you'll see their designs are very similar. All three are compact hand-held scan tools with a color screen and button navigation. This navigation panel includes helpful hotkeys for commonly used functions as well as general navigation controls. 
 Another great feature shared by these three Innova scanners is the 3 LED smog check indicator that shows you, at a glance, your vehicle's overall status. Green indicates you'll pass the emissions test, and yellow tells you there are some minor issues, and red is the sign significant repairs are needed. 
The scanners share 3-system diagnostic power in terms of functions, including reading and clearing codes from the engine, ABS, and SRS. Along with this, you'll be able to read sensor data and other information helpful for making at-home vehicle repairs. 
Finally, all three of these OBD2 scan tools come with the Innova RepairSolutions2 app. With this, you can see suggested repairs verified by certified mechanics and even identify and purchase the parts you need to make repairs. It's also an easy way to keep up with any recall information or technical bulletins released for your vehicle. 
Innova CarScan Pro 5410 vs. 5510 vs. 5610: What are the Key Differences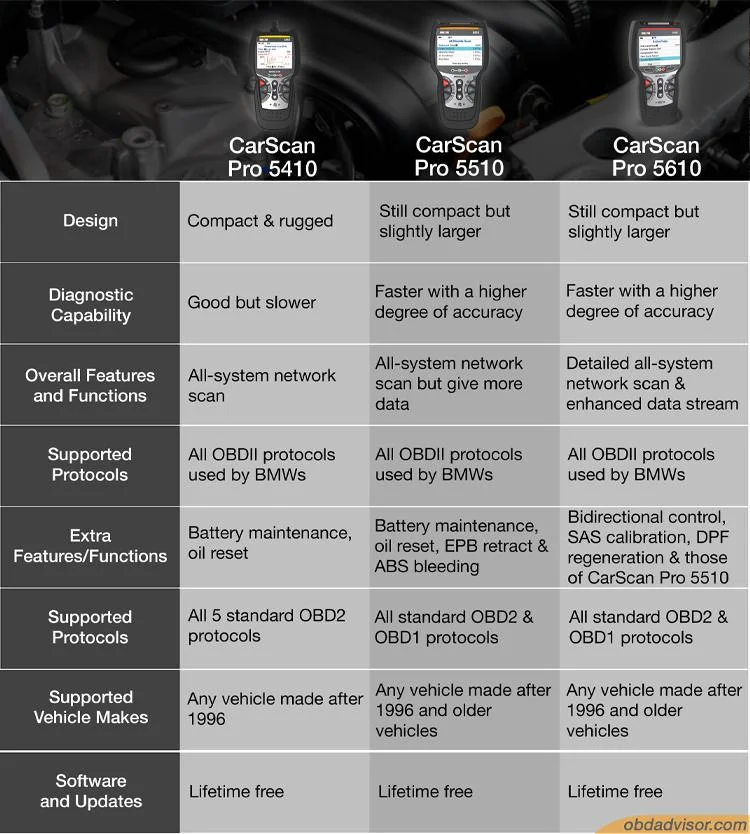 Design and Specifications
The Innova CarScan Pro 5410 is a compact and rugged OBD2 scan tool with a unique all-in-one display and hotkey navigation. You can see more than 20 distinct pieces of information on the screen at once, which makes it fast and easy to get a complete picture of your vehicle's health. 
The Innova CarScan Pro 5510 and 5610, while still compact, are slightly larger than 5410. Along with this, they're a bit more sophisticated in terms of their data reading and processing capabilities. They still have the hotkeys and display capabilities of the 5410 but conduct diagnoses faster and with a higher degree of accuracy. 
Innova CarScan Pro 5410
Overall Features and Functions
Innova CarScan Pro 5410 Code Scanner
Innova CarScan Pro 5110 is a great choice for everyday drivers and DIY beginners.
The essential functions of the Innova 5410 car diagnostic tool start with its all-system network scan. This checks for trouble codes from the engine, powertrain, SRS, and ABS. Additionally, it can read live data in real-time and view freeze frame data from any trouble codes that come up. 
Innova CarScan Pro 5510 Code Scanner
The Innova CarScan Pro 5510 is an appealing option for intermediate home mechanics.
That all-system network scan is the base of the Innova CarScan Pro 5510 functions, as well. It gives you more data, though, reading things like the tire pressure and brake pad life, which you can't see with 5410. All of this data can be graphed, recorded, and played back for more in-depth analysis.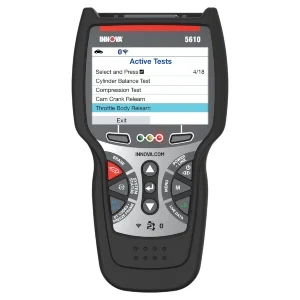 Innova CarScan Pro 5610 Code Scanner
Innova CarScan Pro 5610 can be a great portable diagnostic tool for professional mechanics.
For the most robust essential functions, the Innova 5610 is your answer. You'll get all the capabilities of the 5510 plus an enhanced data stream from the four major systems (engine, transmission, ABS, SRS). This provides real-time readings of live data other OBD2 scanners don't display. 
Extra Features/Functions
Battery maintenance is one helpful feature of the Innova 5410. It can read the voltage of both standard and hybrid batteries, reset, and initialize the system when installing a new battery. Oil reset is also included on this OBDII scanner, giving you access to maintenance information and resetting the system after an oil change. 
The repair functions of the Innova 5510 include oil reset and battery maintenance but adds EPB retract and ABS bleeding. The only caveat here is that these functions aren't supported for all compatible vehicles.
Ultimately, Innova 5610 is the most potent OBD2 scanner of the three. First of all, it includes bidirectional control so you can manually test actuators and other components. This is a big help in identifying the source of issues. Its range of reset functions includes those of the Innova 5510, adding SAS calibration and DPF regeneration.
Innova 5510
Supported Protocols
The Innova 5410 supports all five standard OBD2 protocols. This is also true of the Innova 5510 and Innova 5610, though those tools go a step further with coverage for OBD1 protocols. You will need to buy an adapter for the OBD1 port to take advantage of this support. 
Supported Vehicle Makes
All 3 of these Innova car diagnostic tools will conduct OBD2 diagnostics on any vehicle made after 1996. Both the Innova 5510 and 5610 also support OBD1, so they will work on older vehicles, too. 
As we mentioned above, however, that compatibility may vary for non-OBD2 functions. The best way to figure out what's supported for your vehicle is to use Innova's coverage checker. Choose a tool and enter your vehicle information. It will show you precisely what's supported. 
Innova 5610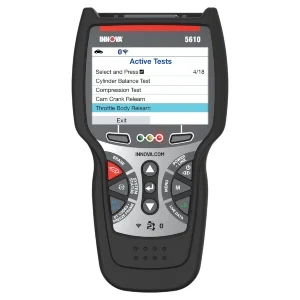 Software and Updates
Updates for these Innova scan tools come through the RepairSolutions2 app that can be downloaded onto any Windows or Apple computer. Once the software is installed, you can connect your device to the computer with a USB cable. You'll receive an on-screen prompt if updates are available. These updates are free for the entire lifespan of the scanner. 
One thing to note about the updates is that they can take a while to install (up to 30 minutes, in some cases). You'll need to keep the tool connected and the computer turned on for the entire length of the update, so make sure you have enough time set aside before you start. 
Recommendation
We recommend Innova 5410 for everyday drivers and DIY beginners. It provides a comprehensive, accurate diagnosis of the four major systems and the battery and supports necessary repairs like changing your oil or replacing the battery. 
For intermediate home mechanics, the Innova 5510 is an appealing option. You'll get data and repair functions not available on the 5410, expanding your repair capabilities to include the tires and parking brake. 
We recommend the Innova CarScan Pro 5610 to advanced home mechanics, who will appreciate the option of bi-directional control and the enhanced data stream. It can also be a great portable diagnostic tool for professional mechanics.
Read more: Innova CarScan Pro 5160 Vs. 6030P Vs. 6100P: Which I shouldn't buy?
FAQs
What is the manufacturer's warranty on the Innova 5410, 5510, and 5610?
All of these tools are covered by a 1-year limited warranty from the date of purchase. Should the device fail within its first year, you can send it to Innova's service center for repair or replacement free of charge. 
Does the Innova 5410 read transmission codes and data?
You can read trouble codes from the transmission with the Innova 5410. However, it will not read live data like the transmission temperature. Both the Innova 5510 and 5610 have this ability if you need this function. 
What languages are supported by these scan tools?
These scan tools support the three most common languages in North America (English, Spanish, and French). 
Where can I get an OBD1 adapter for use with the Innova 5510 or 5610?
Innova sells an OBD1 adapter kit that includes a range of adapters for different OBD1 vehicles. The whole package is a bit pricey if you don't need all of the adapters. You can buy them individually through Amazon if you know the exact type of car you need to diagnose. 
Will these scanners read battery data specific to hybrid and electric vehicles?
Unfortunately, no. You can read basic voltage information from these types of batteries and perform battery initialization and reset. However, they will not show advanced data specific to EV batteries. 
Related posts: