Innova is one of the world's leading manufacturers of automotive diagnostic equipment. The company's reputation for innovation and responsive customer support makes its OBD2 scan tools a popular choice for DIY mechanics and professionals. An Innova OBDII scanner is an excellent investment for any car owner. Even a basic model can save you hundreds of dollars at the mechanic, allowing you to conduct smog checks and troubleshoot engine issues at home. More advanced models include service and reset functions that expand their usefulness in making vehicle repairs.
How do you choose the right Innova car diagnostic tool for your needs? We've reviewed three of their most popular models here: the Innova CarScan Pro 5160, Innova 6030P, and Innova 6100P. Check out the full comparison below to decide which is the best OBDII scan tool for you.
Innova CarScan Pro 5160 Vs. 6030P Vs. 6100P comparison chart
Editor's Pick
Innova 6100P


Innova 6030P


Innova 5160

Customer Rating

Price range

Repair Solutions 2 APP
✔️
✔️
--
OBD2 Functions
Full
Full
Full
System diagnostics
Engine, ABS
Engine, ABS, SRS, Transmission
All systems
Service Functions
MIL Reset
MIL Reset, Battery & Alternator Test, Oil Reset
MIL Reset, Battery Test, TPMS Reset, SAS, DPF, etc.
Bi-directional control
--
--
✔️
Vehicle coverage
OBD2 cars, SUVs, 12V trucks, hybrids
OBD2 cars, SUVs, 12V trucks, hybrids
OBD2 cars, SUVs, 12V trucks, hybrids
*Notes: Excellent: 9-10; Good: 7-8; Fair: 5-6; Poor: 3-4; Very poor: 1-2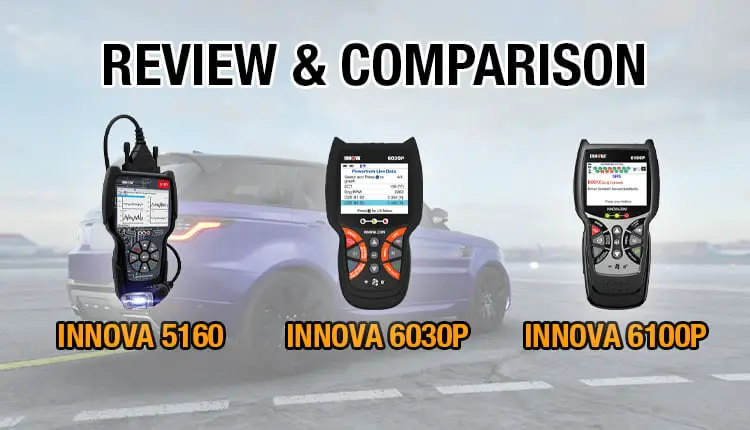 Innova CarScan Pro 5160 Vs. 6030P Vs. 6100P: Key Things In Common
From the outside, these three scan tools look very similar. All three are portable and compact hand-held OBDII scanners, weighing in at less than 2 pounds and small enough to fit easily in a glovebox. Data is displayed on a 3.5″ color screen, showing both text-based and graphical readings with equal clarity. One design feature shared by all three scanners is the LED light system status indicator below the screen. This lets you see your overall engine health at a glance.
Functionally, these tools have some similarities, as well. The Innova 6030P, Innova 6100P, and Innova CarScan Pro 5160 all have full OBD2 diagnostics, including reading and clearing codes, reading freeze frame, or live data, and emissions-related testing. Beyond this, their supported functions vary, with the 6030P being the most basic model and the 5160 supporting the most repair and diagnostic functions. Let's take a closer look at what sets each scan tool apart from the rest.
Innova CarScan Pro 5160 Vs. 6030P Vs. 6100P: Key Differences
Design And Specifications
While the navigational interfaces on these three scan tools are similar, there are some notable differences. The Innova 6030P and 6100P are the most similar, sharing a 9-button control panel with navigation arrows and hotkeys for quickly reading or erasing codes and seeing live or freeze frame data.
Though the button layout of the Innova 5160 has a different look, the controls and hotkeys are similar, and we found the navigation equally easy, on the whole. The display has more capabilities, too, capable of graphing up to 4 data sets simultaneously.
Innova 6030P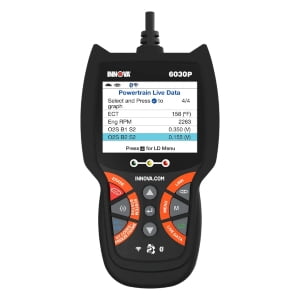 Overall Features And Functions
You'll get two-system diagnostics from the Innova 6030p. Along with all 10 modes of OBD2, it can also read data and fault codes from the anti-lock brake system (ABS). It tells you the code's severity level as well as its definition—very helpful info to have as a beginner, letting you know when it's a problem that needs to be fixed right away.
The Innova 6100P and 5160 support airbag system (SRS) codes and data, as well as the same full engine and ABS diagnostics that are available on the 6030P. You can turn off the warning light for all 3 systems by reading and clearing associated trouble codes.
While you can read similar codes and data from the Innova 6100P and CarScan Pro 5160, the latter lets you see more simultaneous data and has a better processor for faster and more accurate results overall.
Extra Features/Functions
One helpful function of both the Innova 6030P and the 6100P is battery system check capability. This includes troubleshooting for both the battery and alternator, making it more useful than scanners that only read battery voltage.
The Innova 6100P also supports oil light reset, with step-by-step guidance to walk you through the process. That's super helpful for DIY mechanics who want to change the oil themselves.
As you might expect, the Innova 5160 has the most functions of the 3. It supports active testing, for one thing, letting you manually activate valves, sensors, and other components. Reset functions like steering angle reset (SAS) and electronic parking brake reset (EPB) expand its repair capabilities into the professional realm.
On this point, the Innova 6100P, 6030P, and 5160 all perform equally well. All 3 scan tools support all OBD2 protocols, including CAN networks.
Innova 5160
Supported Vehicle Makes
For basic OBD2 diagnostics, all three of these scan tools are compatible with the majority of OBD2-compatible vehicles made between 1996 and 2020. The compatibility of these tools varies with their non-OBD functions, like ABS diagnostics or oil reset. 
With the Innova 6030P, ABS codes are available only for US-made vehicles. It won't work with European makes, even those otherwise compatible with OBD2 like BMW and Volkswagen.
Exactly which functions you'll get for your vehicle from the Innova 6100P varies widely from one make and model to the next. It supports ABS and SRS diagnostics for 29 manufacturers, and oil reset for 39. You can use the coverage checker on their website (available here) to verify which functions are available for your vehicle.
The diagnostic coverage on the Innova 5160 is the broadest. It offers engine, SRS, and ABS diagnosis for any OBD2 compatible vehicle made after 1996.
Innova 6100P
Software And Updates
All Innova scan tools come ready to use right out of the box without first registering the device or installing updates. When you need to update your tool, you can do so free for life, so you don't need to worry about your tool becoming outdated. 
With the Innova 6030P or 6100P, you can update it through any Windows PC by plugging it into the USB port and installing the update software downloaded from Innova's website.
The Innova 5160 can be updated using either a Windows or Mac device, though some users report it taking longer and getting stuck mid-update when doing so through a Mac. It can take quite a while to update—up to 30 minutes if you haven't done it in a while.
Recommendation: Who Is Each One For?
Innova 6100P OBD2 Scanner
It's our top choice for beginning home mechanics and everyday drivers. It represents a great value at around $100, providing basic money-saving diagnostics in an easy to use package.
The Innova 6100P is our top choice for beginning home mechanics and everyday drivers. It represents a great value at around $100, providing basic money-saving diagnostics in an easy to use package.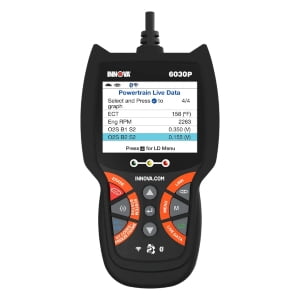 Innova 6030P OBD2 Scanner
It's a great choice as it's just as user-friendly as the 6100P and more affordable.
For intermediate DIY mechanics, the Innova 6100P is a great choice. It's just as user-friendly as the 6030P (and not much more expensive) and supports a broader range of home repairs.
Innova 5160 Code Reader
It's worth the investment for experienced DIYers, and can also serve nicely as a travel OB2 scan tool for repair professionals.
Of the 3, the Innova CarScan Pro 5160 is both the most advanced and the most expensive. It's worth the investment for experienced DIYers and can also serve nicely as a travel OB2 scan tool for repair professionals.
FAQs
Does the Innova 6030P require batteries to use?
No. This scan tool is powered by your vehicle's engine when you plug it in and doesn't require an external power source. 
Can these scan tools diagnose OBD1 vehicles?
Unfortunately, no. Even if you have an adapter for the port, Innova's software doesn't support OBD1 diagnostics, only OBD2. The good news is this will only affect vehicles made in 1995 and earlier. 
Why won't my check engine or airbag light turn off after I clear codes with the Innova 6100P?
Most often, this means there's an issue that needs to be fixed in that system. This makes the code trigger again after you've cleared it, keeping the light on. Reading the codes will give you more insights into where the problem is located and how you can fix it. Once the repair is made, you'll be able to turn the light off by clearing the codes. 
How do you install updates for these Innova tools?
Start by downloading the RepairSolutions app from Innova's website (find it here). You'll also need to register your device on the website if you haven't done so. Once that's done, you can simply connect your tool to your computer and follow the on-screen prompts. 
Can I bleed ABS with the Innova 5160?
No. While this tool can diagnose issues with the ABS system on most vehicles, its bidirectional control doesn't include bleeding the brakes. 
Can the Innova 5160 perform throttle position relearn?
Yes, for some vehicles. You can reach out to Innova's customer support with your make and model to find out if this function is supported for your vehicle.
Read More: Innova Scan Tool: Top 5 Picks Review 2021 [Update]