It's hard to get a quality scanner with a restrictive budget, but the Innova 3100j is a welcome exception to this rule.
The scanner has premium features found in much pricier scanners. So, you will still enjoy high-quality scanning and code reading with this device despite its affordability.
Check out how it compares to other scanners first.
Innova 3100j vs. Innova 3140g vs. Innova 3150F comparison chart
[table "615" not found /]
Read more: Innova 3140g cheap OBD2 scanner detailed review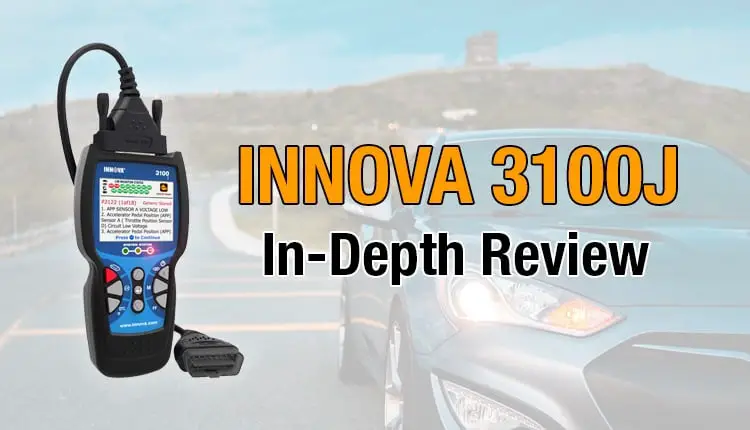 Innova 3100j overview
INNOVA 3100J Diagnostic Scan Tool/Code Reader
The Innova 3100J is the perfect entry-level tool designed to facilitate any general users or technicians. This code reader is compatible with all 1996 and newer OBD2 cars, light trucks, SUV's, hybrids, and minivans.
Among the highlights of the INNOVA 3100J is that it can work with most vehicles. Additionally, the OBD2 scanner will also help you read and erase engine issues in all compatible vehicles.
Moreover, if you need a quick fix to check engine light problems, this code reader/scan tool is worth trying. It offers ABS and SRS scanning for OBD2 vehicles as well.
In general, this scanner works with cars, light trucks, SUVs, and hybrids made in 1996 or later. Many domestic and foreign car models will also work with this scanner.
Here are some other things you need to know about the Innova 3100J as you consider placing your order.
Detailed review of Innova 3100j
What makes Innova 3100J special?
Compatibility
The Innova 3100J is compatible with many car brands. It can work practically with any vehicle that was made in 1996 or after. The general domestic and foreign vehicle categories where diagnostic support is available with this tool include:
Cars
Light trucks
SUVs
Hybrids
Minivans
Specific car models that work with this scanner include the following:
GM
Ford
Honda
Chrysler
Toyota
OBD2 is the only protocol supported by this scanner and reader. Luckily most vehicles in the world today feature this protocol.
Functionality
As far as functionality goes, the Innova 3100J offers users a lot of benefits. The scanner will reveal the reason for the Check Engine Light warning on all compatible vehicles.
Moreover, users can diagnose and fix ABS and SRS Airbag light issues on most OBD2 vehicles when using this scanner.
The 3100J is also useful for Battery and Alternator tests if you need to see how your vehicle's charging system is doing.
You can especially check on the general status of your engine, including fuel trim and the engine coolant temperature, among other problems.
Furthermore, you can know the state of these vehicle metrics when the warning signal was set off.
The scanner can also store the last three vehicles scanned. However, to clear a stored vehicle, you would have to scan another to replace the older records.
With the oil and battery reset feature functionality, drivers will be given a step-by-step process on how to do this on OBD2 vehicles from 1996 and later.
Interface
The scanner's interface is very efficient and user-friendly. You can easily view live data and have graphical views of the data it reads from the vehicle's computer.
Compact size
This device is very compact, and that makes it easy to carry around. Usage is also much easier due to its small size, making it much easier to wield during operation. Its weight of just 1 pound also makes it easy to carry around.
Shortcomings of Innova 3100J
Compatibility
Some users have had issues with this scanner when using it with some computer systems. In particular, Windows Vista does not work very well with the scanner without a software update.
Functionality
Many users are happy with the functionality of this device. Nevertheless, they lament the fact that a manual is not available with the purchase. This little document could enhance the 3100J usage experience and ensure users get more out of what it has to offer.
The scanner also lacks live data display functionality. Fortunately, it keeps a record of engine data when the vehicle's error code was generated.
Besides, the screen is difficult to see in bright outdoor settings unless you can turn off the back-light feature.
Interface
The 3100J has a simple and yet professional interface, making it good for both beginners and novices. The only challenge would be learning what the buttons do, given that clear instructions are not available with the purchase.
Who is the Innova 3100J meant for?
Innova claims that the 3100J is meant for general car users and technicians for some reasons:
Disregarding the documentation issue for a while, this is still a very easy-to-use OBD2 scanner. General car users can use Innova 3100J to get error codes when the check engine light goes on. Consequently, drivers can avoid calling the mechanic over small engine issues.
This scanner's diagnostic power also makes it suitable for mechanics because, in addition to supporting many car models made in 1996 and later, the scanner can provide manufacturer-specific error codes.
Similarly, anyone else between (novices, car enthusiasts, and DIY'ers) should find this scanner appropriate for their needs.
Check Price at Amazon
The bottom line
The Innova 3100J may be a budget scanner, but the friendly price is not all it has going for it.
The gadget has a compelling list of features, the highlight of which is its powerful premium performance. The capabilities of this device are typically available in much pricier scanners.
Still, the Innova 3100J has a few shortcomings, such as a lack of live engine data. But that is to be expected of a scanner within this price range and not a deal-breaker.
However, one undeniable truth about the INNOVA 3100J OBD2 scanner is that it is worth every penny of its price. In short, you will not regret your purchase if this is the best scanner you can afford.