BAFX Bluetooth OBD2 Adapter for Android is the best diagnostic scanner for Android, which can clear DTCs and read them.
First,
Please take a look at the chart below to find out how good it is compared to the competitors.
BAFX Products vs. Foseal Wifi vs. Panlong

BAFX


Foseal


Panlong

Customer Rating

Price
Product Dimensions
2.8" x 1.5" x 1"
3.5" x 2" x 1"
1.9" x 1" x 1.3"
Item Weight
2.88oz
1.6oz
0.64oz
Pros
Offers various diagnostic functions;
Work smoothly with third-party apps;
Optimized for vehicles in the United States only.
Same physical profile as the BAFX;
Great in diagnostics involving CEL;
Support for iOS devices.
Compatible with Android devices, protocol J1850;
Good for reading and clearing error codes, CEL, sensors.
Cons
Not support iOS devices.
Wifi, not Bluetooth;
Possible connection issues.
Possible Bluetooth connection problem;
Bottom Line
Bafx products is suitable for beginners and average car owners.
Foseal Wifi Car scanner is great for beginners to turn off CEL and do simple diagnosis.
Panlong Bluetooth scanner is another competitor of Bafx.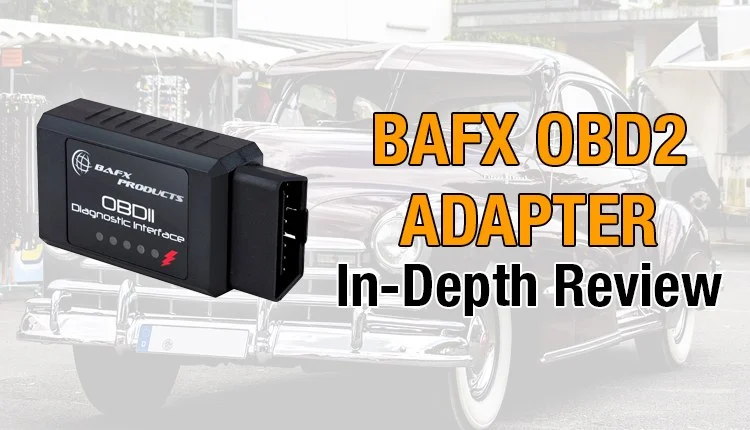 Bafx Products Overview
The days of OBD2 readers that had to be connected to your car's OBD port are long gone. These days, you don't need cables to diagnose your vehicle.
Your phone's Bluetooth connection can help you get reports about your vehicle's error codes and give you suggestions on rectifying them.
Some of the features that the BAFX Bluetooth OBD2 Scanner has to offer include the fact that it can clear diagnostic codes (DTC) and read them. Other than the Android platform, the scanner can also work with Windows PCs.
BAFX products Detailed Review
BAFX Products for Android (Bluetooth):
BAFX Products Bluetooth Diagnostic OBDII Scanner for Android Devices
Work on all OBD2 vehicles model 1996 and newer, include J1850 and CAN protocols, BAFX Products 34t5 is the best bluetooth OBDII scanner for Android.
If you're a fan of Apple, check out BAFX OBD2 Adapter for iOS (WIFI) below:
BAFX Products WIFI OBDII Adapter for iOS Devices
BAFX is one of the best cheap OBDII WIFI Adapter for iOS devices today.
Compatibility
With its ability to work on all vehicles in the US, BAFX Bluetooth Scanner is appropriate for mechanics, thanks to its ability to identify several issues.
Some of the cars it can work with include:
Ford,
Chevy,
Mercedes,
Suzuki,
Land Rover,
Nissan,
Toyota,
Honda,
Audi,
Hyundai,
Volkswagen,
Jaguar,
GM,
and BMW.
The BAFX scanner also supports all OBD2 protocols. These are:
SAE J1850 PWM,
ISO9141-2,
ISO 1430-4 KWP,
SAE J1850 VPW,
and ISO15765-4 CAN.
Some of the readings you can get with the BAFX scan tool include:
O2 readings,
speed,
fuel trim,
balance rates,
EOT (Engine Oil Temperature),
EGT (Exhaust Gas Temperature),
and throttle.
The scanner can also detect and report engine data such as RPM and identify other critical information about your vehicle.
Highlights About BAFX Products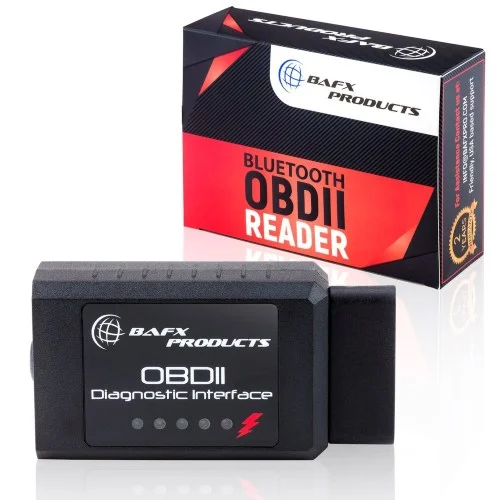 The BAFX Bluetooth Scanner for Android can transmit error codes to your phone. Additionally, the gadget can generate manufacturer-related error codes. The unique sensor on this scanner gives it the ability to identify any diagnostic issues on any OBD2 compliant vehicle in the US.
In total, this scanner can display more than 3,000 error codes.
This should be quite a relief and a considerable upgrade from the check engine light's vague diagnostic capabilities.
Some of the information you can expect from this scanner includes:
DPF (Diesel Particulate Filters) temperature,
O2 readings,
RPMs (Revolutions Per Minute),
and so forth.
The information about the issues with your car is transmitted directly to your Android phone. All you need is an appropriate third party diagnostics app from Google's Play Store.
Pros
Work smoothly with third-party apps.
Compatible with many kinds of vehicles.
Provides real-time sensor information and transmits it to your phone using Bluetooth.
Get a demo software with the scanner when making their purchase.
A 2-year manufacturer's warranty is provided
Cons
Buyers outside the US might face compatibility issues.
No support is provided for iOS devices
Who is BAFX Built for?
In general, the BAFX Bluetooth scanner is built for users who want a diagnostics aid to deliver a good performance.
In particular, this OBD2 scanner is appropriate for mechanics, thanks to its ability to identify several issues.
It is also suited to average car users and beginners as it offers an easy setup and user experience.
Check Price at Amazon
The Bottom Line
The BAFX scanner offers professional-grade car diagnostics and a user-friendly user experience that should make it a handy accessory for any car owner.
With its wide ability to work on all vehicles in the US, and the capacity to go over and beyond to give users an enhanced user experience by supporting protocols that are often ignored by scanners in its class, the BAFX Bluetooth OBD2 scanner is good value for money.
So, take one, try, and you will find how amazing BAFX can offer you then!!
Bonus: Best Bluetooth OBD2 Scanners Review 2021
Related Posts:
The 9 Best OBD2 Scanners for 2022: The Only Review You Need