Looking for a top-quality diagnostic tool for your BMW without breaking the bank?
For under $200, the Autophix 7910 is an excellent choice.
In this review, I'll dive into Autophix 7910's price, design, and performance. Then you will have enough information to determine if it matches its price tag. 
Keep reading to learn more.
Quick Review
Autophix 7910
Price:
Scanner type: Full-system scan tool
Made for: Newbies, Home mechanics
Vehicle covered: OBD2 cars/light trucks
Connection type: Corded
Buy this product if you want to:
Perform full-system diagnostics

Prepare for smog check

Perform advanced service functions

Pros
Cheap price

Easy to operate

Full system diagnosis

16+ service functions

6-year warranty
Cons
Cannot update software with Mac

No PID graphing function
Vehicle Coverage
This scanner is designed to carry out diagnostic tests on BMWs, Minis, and Rolls Royces after 1998. So, if you consider using it on any other vehicle, don't.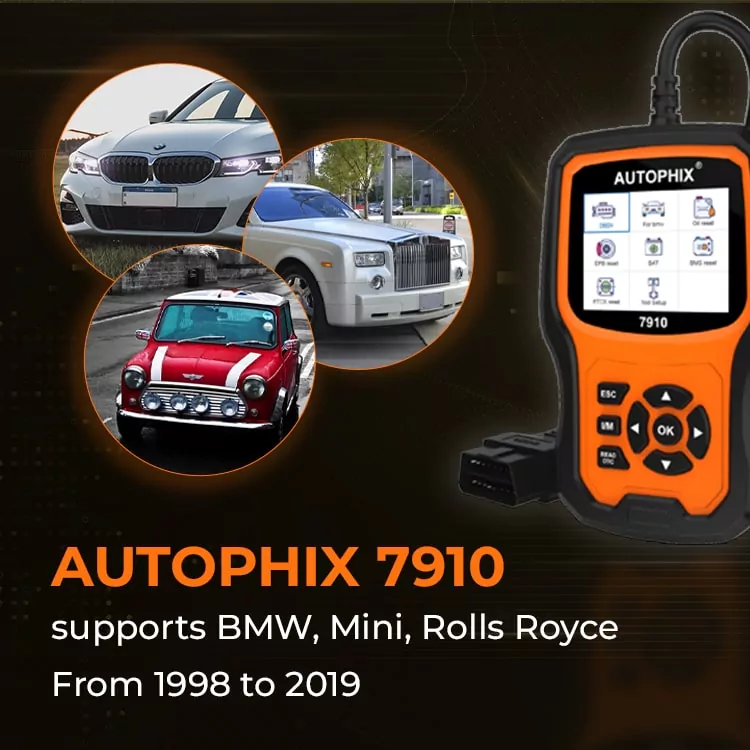 To verify if your vehicle is compatible, it is recommended that you contact the seller directly.
Hardware & Design
You will find that this tool is very useful and well-made. 
When you place it in your hand, it feels sturdy and has some heft to it.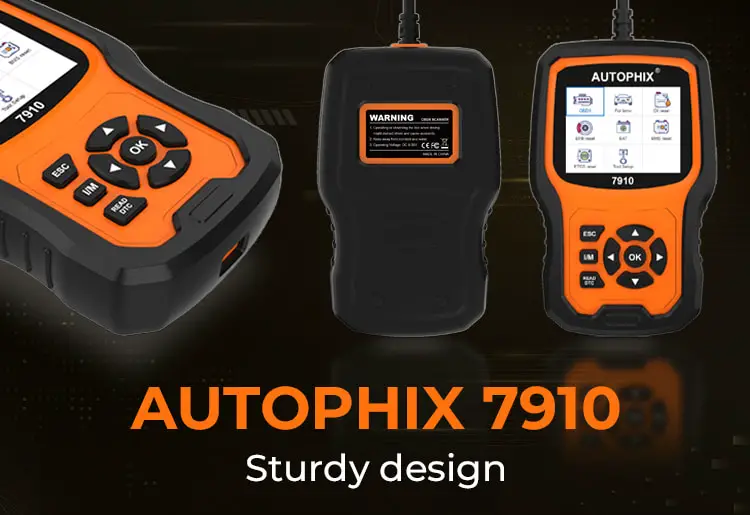 The addition of the rubber coating helps to ensure that when you are using it, it will not slide around. 
Plus should you accidentally drop this device, you don't need to worry as the rugged case will protect it from any damage. 
The menu layout that appears on the LCD display screen is easy to understand, so you will not find it hard to figure out how to use it.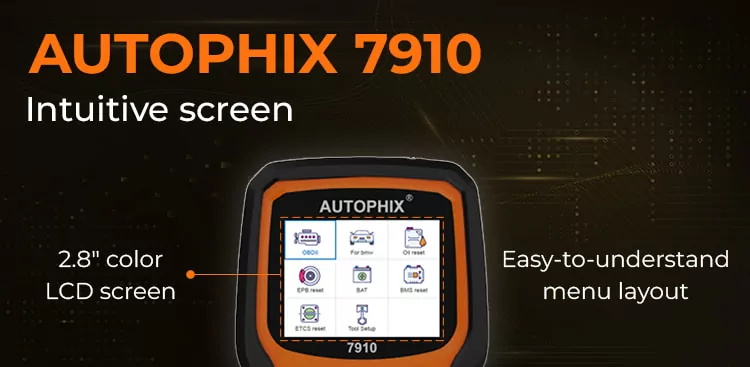 The inclusion of a GD chip also ensures that it will quickly respond to any commands you input into it in just five seconds. 
Unfortunately, this model isn't fitted with an internal battery, so if it comes disconnected from the port into which it's plugged then the scan will fail. 
So you need to make sure that it remains plugged into the OBD2 port at all times. It's inconvenient especially if you want to show the scan results to a mechanic or somebody else. 
Performance
How convenient would it be for you to be able to diagnose any problems with your BMW and then fix it yourself at home? 
Well, I have the answer for you, and it is the Autophix 7910 that I purchased. 
You can use this tool to quickly identify any problems with your car, which you can then repair at home.
You no longer have to waste time at the local repair shop waiting for answers to car-related problems.
Autophix 7910 will …
1. Provide accurate codes that will help to avoid any unnecessary repairs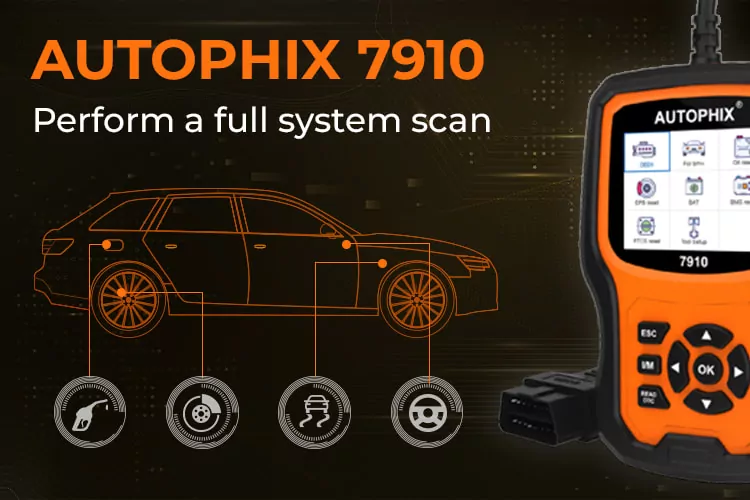 This OBD2 scanner is able to read and then clear any trouble codes for those that aren't mechanically minded. 
It provides you with results in plain English, and there are no P codes that need to be looked up. 
I found this system worked well when I noticed a fault code kept appearing in relation to the tire pressure system on a 2018 X2. 
With this reader, I was able to find out the specific code that in turn allowed me to replace the sensor that was faulty. 
Now the vehicle's tire pressure system is working fine. 
3. Allow you to reset the battery management system (BMS reset)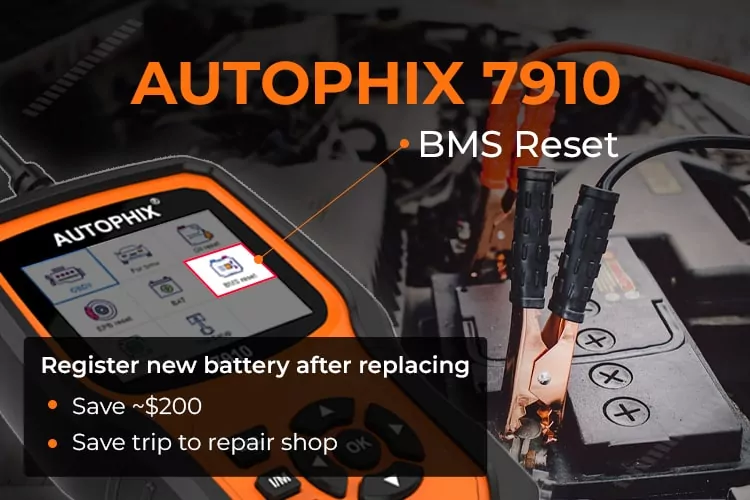 When it comes to replacing the battery in your BMW, you will find that the new one needs registering. 
I decided to purchase this one specifically in order for me to be able to install a new battery in my customer's BMW E90 M3. 
When making this change I discovered that I needed to replace the battery like for like. If you use an alternative one, you need to do coding. And this Autohphix scanner doesn't support that function.
Rather than spending $500 to change the battery in my BMW for mechanics. Just buy this device and you will be able to do it yourself. 
Then you'll save up to $300 as the cost of the battery came in at just $175.00.
4. Perform service resets 
With this scanner, you can use it to reset the system when any service notifications arise. 
Plus it also helps you to save money in the future as you can use it to do things like oil changes yourself rather than taking it to the repair shop.
Other reset functions you are also able to carry out using this device include:
Brake reset
ABS bleeding
Fuel injection rate
TPMS reset
Or choose to defer any service requests. 
5. But it doesn't have graphing live data
The only issue I have with this device is that it doesn´t have a PID graphing function. 
Unfortunately, without this feature, it's hard to carry basic O2 sensor diagnostic tests on your vehicle. 
Yet having said that I still feel that this is a great scanner that will offer you pro-level graphics in real-time. 
Love that you can stream every piece of real-time data from the ECU, only wish there was some way to connect it to a larger display!
Price, Warranty & Update Fee
The Autophix 7910 costs nearly $170.
Once purchased, it comes with a 5-year warranty, and any upgrades to the system are provided for free over the device's lifetime.
So, all in all, I would say that this device is worth buying.  
Key Takeaway
The best diagnostic tool available at present for any BMW owner, who is more than happy to carry out minor repairs to their vehicle. 
You will find the Autophix 7910 an extremely useful tool when thinking about buying a used BMW in the future. 
A great tool if you are constantly going to the repair shop because of regular faults or codes appearing on your car's dashboard. 
---
Autophix 7910 Alternatives
#1. Foxwell NT510 Elite: Great alternative for graphing live data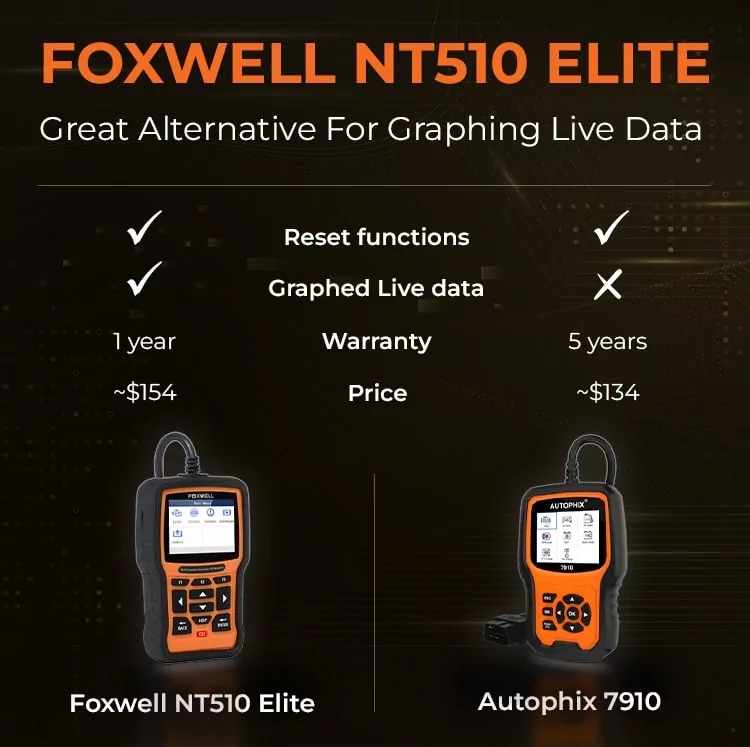 The Autophix 7910 is a great diagnostic tool, but if you are happy to spend a little more, you may want to consider getting the Foxwell NT1510 Elite. 
With this device, you are able to read live data in graph format immediately. 
However, even with this additional feature, you may find spending an extra $60 on this device a little too much.
Check the Foxwell NT1510 Elite's latest price here:
#2. OBDLink CX + Bimmercode: Cheaper but strong alternative for coding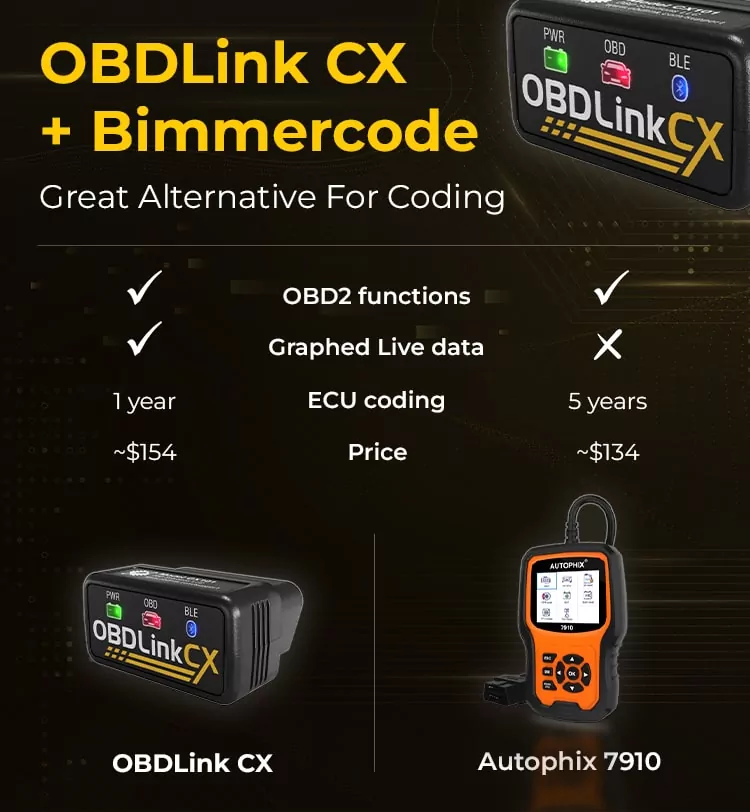 I wouldn't recommend buying the Autophix 7910 if you want a scanner to customize the settings. 
Instead, I would suggest the OBDLink CX + Bimmercode combination. 
With this combination, you are able to perform tons of advanced functions like coding that aren't available with the Autophix 7910.
However, be aware that in order to use its OBD2 functions you need to download another app. 
Check the OBDLink CX's latest price here:
---
What's Next?
I hope that the information I've provided above proves helpful and you find that using such a device is cost-effective. 
Why not let me know what you think about this article and let other readers know your opinions by leaving your comments below?