Are you looking for an affordable scanner for your VW/Audi? You are in the right place. 
Autophix 7610 is worth trying if you need a code reader that can help you read and clear trouble codes. Also, with the ability to perform 10+ advanced service functions, there's no need to visit the dealer to reset the oil light anymore.
In this review, I'll show every detail of Autophix 7610. You can scroll down to decide if it suits your requirements.
Quick Review
Autophix 7610
Price:
Scanner type: Full-system scan tool
Made for: Newbies, Home mechanics
Vehicle covered: OBD2 cars/light trucks
Connection type: Corded
Buy this product if you want to:
Perform full-system diagnostics

Prepare for smog check

Perform advanced service functions
Pros
Read codes from all systems for VAG cars

Perform 10+ advanced service functions

Lifetime free update

Vivid live data
Cons
Unclear user manual

Not full OBD2 functions

Short cable
Vehicle Coverage
Autophix 7610 can work on most VW vehicles sold in the US with the model year from 1996 to 2019. 
It will not be compatible with other car brands like Toyota, Honda, Chevy, etc. 
For more information, please contact the manufacturer via [email protected] before buying.
What Makes Me Like Autophix 7610?
1. Save tons of diagnostic fees from mechanics by reading and clearing trouble codes yourself
With its ability to read codes from all systems, you can fix and clear any trouble codes at home. 
There's no limit when reading codes. 
Autophix 7610 displays from the engine, transmission, ABS, SRS, EPB, HVAC codes, etc. 
You don't need to visit the dealer whenever the dashboard light is on. 
Invest in Autophix 7610, and it will save thousands of dollars at the dealer, especially the diagnostic fee.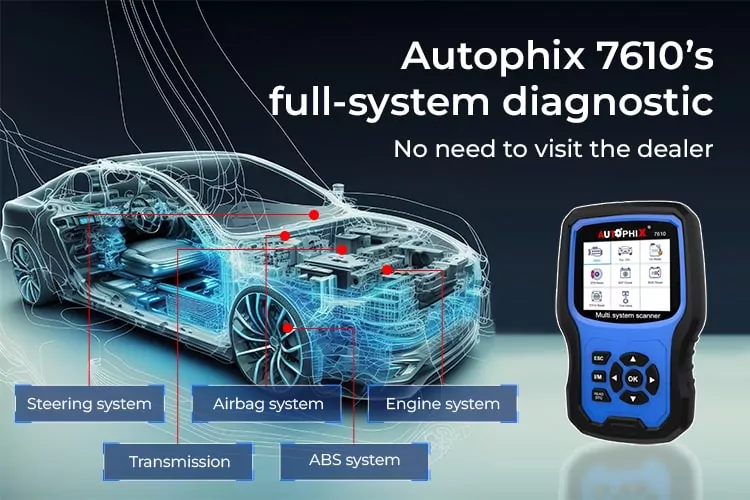 After testing this scanner for one week, its accuracy impressed me greatly.
Autophix 7610 has helped me figure out several things with my client's VWs. 
I have used it to clear the airbag light that came on after the bumper sensor was taken off to do auto body work. 
Besides, my customer's 2017 Volkswagen Passat had the dashboard lit up like a Christmas tree recently. 
Use this scanner to read the trouble codes, and the problem was the left rear ABS/wheel speed sensor. 
I replaced it and cleared all the fault codes within about 30 minutes. 
The part was estimated at $175 by VW dealer and only $65 if you buy the new part and replace it yourself.
2. Perform Oil/BMS/SRS/ SAS reset, battery registration, or even ABS bleeding at home
Aside from reading and clearing codes, Autophix 7610's advanced service functions are a big plus.
With a price under $150, this scanner allows you to perform more than 10 functions, depending on each vehicle:
Oil reset
EPC reset
BMS reset
SRS reset
Battery Registration
TPMS reset
SAS reset
Throttle adaptation, etc.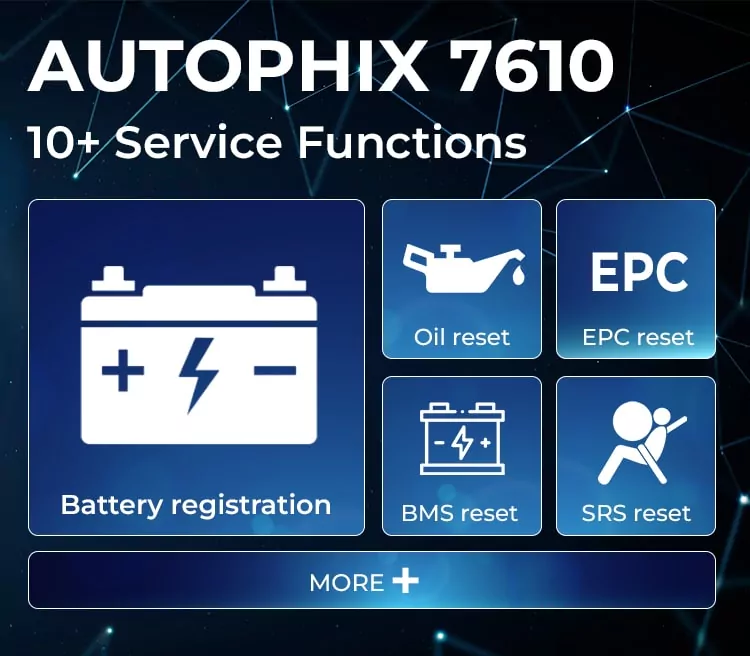 Here is my experience with Autophix 7610 after testing it for one week:
It worked well on a 2019 Tiguan to perform rear brake servicing and command caliper actuators in before replacing the brake pad.
In addition, my client's 2013 Audi A3 needed to change the fuel filter. It would cost her $250 to change it at the dealer, so she came to my shop. 
I used Autophix 7610 to run the fuel pumps to purge the lines of air after a filter change. 
It turned on the pumps for less than a second and then turned off. 
The option to run the fuel pump is not only easy to find in the menu, but the pump also stays activated until you hit the "OK" to stop it. 
I ran it 3 times at 30 seconds a run, and the car started right up.
Regarding the battery registration function, I tried it on a VW Atlas. 
First, remove the old battery and install a new one. 
Next, enter the battery digit code to match it.
Here you go; everything's done!
3. Easily find the root of your car problems with the help of live stream data
The live data function of Autophix 7610 is amazing.
On my client's 2013 Audi S4, he had one of the speed sensors out on the car, which triggered a total of 17 fault codes over the 5 systems. 
Those are ABS, airbag, power steering, tire pressure, and ASR. 
The only verifiable code was the front left speed sensor which then could be confirmed faulty with the live data from all 4 wheels. 
While 3 wheels showed speed, one was showing no speed. Found it easily!
What I Dislike?
1. The cable is too short to hold the scanner to your eyesight level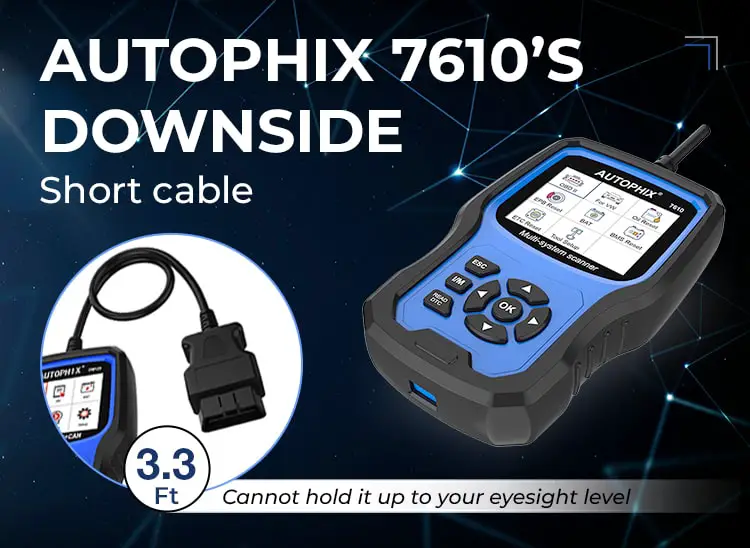 The first annoying thing is how short the OBD2 cable is.
You can't hook it to the port and hold it to your eyesight level. 
It won't be possible if I need to check any live data while someone else drives. 
It's because the cable is so short that it would not reach even the center console. 
I wish they would make the cable a little longer to get the engine compartment.
2. User manual is badly translated
Bad user manual seems to be the identical downside of most scanners coming from China. Autophix 7610 is not an exception!
After reading the user manual, my first impression was a 7-year-old elementary student in China might draft it. 
The manual is very sparse, with few explanations. 
The way they organize the manual and the language is kind of confusing. 
Yet, they added the illustrations of a step-by-step guide, so it's easier to follow the instruction than ANCEL VD500 AND VD700.
Price and Update Fee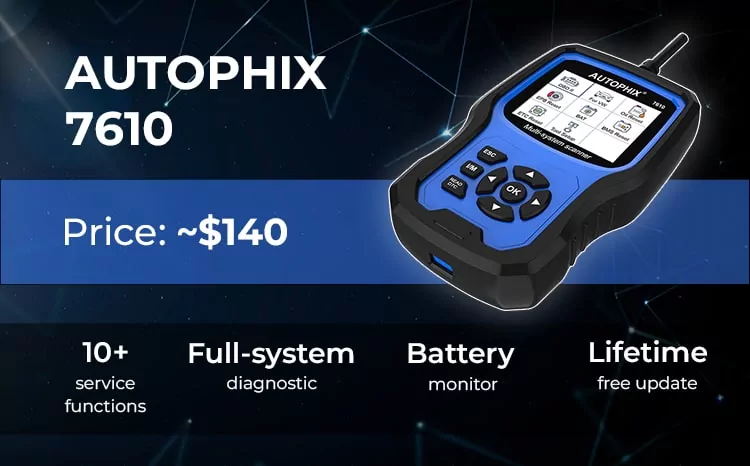 For the price of $140, Autophix 7610 is a big deal if you can make use of every function. Especially, with its advanced service functions, you can save hundreds of dollars by maintaining your VW/Audi on your own. 
About the update, don't worry, it is free to keep your scanner up-to-date as long as the update file is released.
Key Takeaway
Need a cheap but versatile scanner with a lifetime free update for your VW/Audi? Autophix 7610 scanner is for you.
You only need to pay once.
Then you can:
read and clear codes on any module.
read real-time data.
and perform many service functions.
No need to spend more money on new software updates.
Save you tons of money by doing car repairs and maintenance at home.
Definitely worth the money.
Check Autophix 7610's latest price:
Autophix 7610's Alternative: Ancel VD700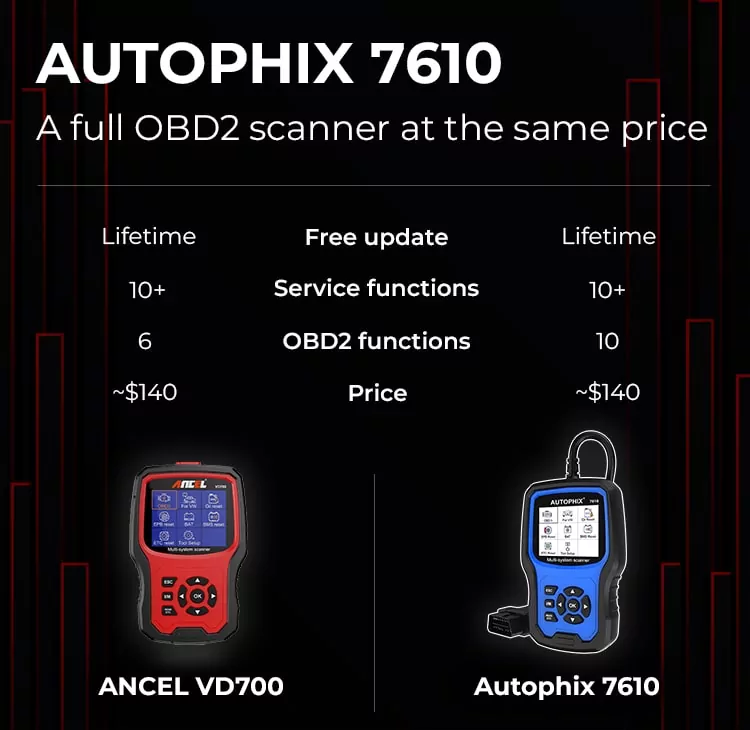 In the same price range as Autophix 7610, Ancel VD700 is its main competitor. 
These two scanners are neck and neck in terms of functions and features so the decision may come down to price. 
My advice to you is to look for discounts or coupons for these scanners. You could end up saving a bundle! 
It's always nice to keep a little extra cash in your pocket, right? 
Check Ancel VD700's latest price:
What's Next?
Any questions about Autophix 7610's functions? Or its aftersale service?
Please let me know if you have any in the comment section below.