The Autel MaxiCOM MK808BT delivers an OE-level diagnosis that includes basic, advanced, and professional functions. This mid-range device resembles a tablet, which makes it relatively easy and fun to operate.
But how does it perform? This Autel MaxiCOM MK808BT review looks at the main features and functionality. We have also covered how it compares with other similar scan tools. So buckle, and let's get started.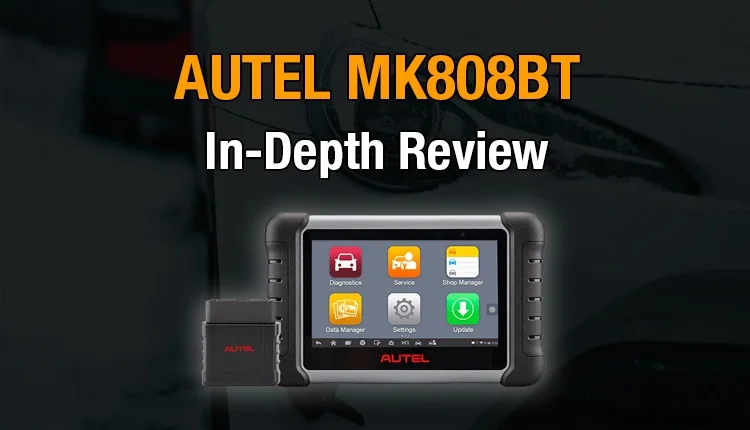 Autel MK808BT's Features and Functionalities
Autel MaxiCOM MK808BT OBD2 Scanner Diagnostic Tool
The MK808BT diagnostic tool can help detect the engine ignition, fuel injection, air and fuel ratio, and exhaust emission conditions in Engine system to enhance vehicle performance, save energy and reduce exhaust emission.
The Autel MaxiCOM MK808BT is built with Android 4.4.2 KitKat. And with the tablet-like design, operating it is a breeze. If you know how to use a smartphone or tablet, you can easily find your way around the MK808BT.
It has dimensions of 9.4 x 5.9 x 1.4 inches, which makes it easily portable. That's an essential consideration if you are a mechanic and need a scan tool to walk around with.
It's undoubtedly a well-designed device. But how does it go in terms of functional features?
Autel MK808BT's Connectivity
The MaxiCOM MK808BT connects to the car's computer wirelessly via Bluetooth. Its package includes a MaxiVCI Mini that plugs into a car's OBD2 port and acts as a link between the scanner and the car's computer systems.
Connect the MK808BT with the MaxiVCI Mini via Bluetooth, and you will be useful to run diagnostics. It allows a range of up to 33 feet (10 meters), which is pretty convenient if you want to do remote vehicle diagnostics.
Autel MK808BT's Vehicle Identification
This Autel scanner uses auto VIN to identify a vehicle's make, model, and year automatically. The good thing about this feature is that you won't have to manually enter your car's information unless it's missing in the scanner's database.
On the downside, it's actually possible that the Autel MaxiCOM MK808BT might not have your car in its database. Some models, especially the latest ones (from 2015), cannot be identified automatically. In that case, you will have to enter that information manually.
Autel MK808BT's Basic Diagnostics
As a full-system diagnostic scanner, the Autel MaxiCOM MK808BT supports all OBD2 protocols. They include all universal modes and some brand-specific modes like Diag-H by Honda and UART by GM.
As such, the device gives you access to the engine (ECU), transmission, ABS, SRS, and all the major systems. You can read and clear their codes.
Autel MK808BT's Advanced Diagnostics
Besides pulling and clearing codes, you can use this Autel scanner for EPB service, mileage/interval service reset, oil service reset, BMS service, and IMMO (immobilizer).
EPB service checks to ensure that your electronic brake system works efficiently. When you reset interval or mileage, the service light turns off. Similarly, resetting the oil service turns off the oil light.
While BMS service gives you the ability to register a new battery and monitor its current, the IMMO function allows you to disable lost keys and program new ones.
If you are a mechanic, repairer, or DIY enthusiast, you will need all those functions.
This scanner does deliver on all saves for IMMO. You can't use it to program new keys.
Autel MK808BT's Professional Functions
The Autel MaxiCOM MK808BT supports forced DPF regeneration, TPMS sensor relearning, SAS reset, and relearning of the new parking brake pad. These are professional-level functions that experienced auto technicians, and fully-fledged auto shops need.
Even so, the scanner still lacks in this respect. It doesn't support actuation, coding, and adaptation. So while it's possible to use it professionally, you may even need a better device with more professional functions.
Check Price at Amazon
Autel MK808BT's Vehicle Coverage and Compatibility
Will the Autel MaxiCOM MK808BT work on your vehicle? On paper, if the car is OBD2 compliant, it should. In other words, if the vehicle is a 1996 or newer model, the device should connect with its onboard computers and deliver all the basic, advanced and professional functions advertised by Autel.
The reality is a bit different, though. Let me start by saying that you can use the MaxiCOM MK808BT to perform all basic diagnostics (ECU, transmission, ABS, SRS, and any other systems) on all OBD2-compliant cars, light trucks, SUVs, and hybrids that are domestic and foreign.
However, some advanced and professional functions don't work on certain car brands. For example, it doesn't do injector tests on some VW and BMW cars. Similarly, TPMS service doesn't work on some Honda, Hyundai, and Benz cars.
Before placing your order, you may want to contact Autel just to ensure that the functions you need are supported on your car make and model.
Pros
Bluetooth allows for remote vehicle diagnostics
Supports basic, advanced, and professional diagnostics
The package includes a one year warranty
Has internet access for research, troubleshooting, and downloading updates
The intuitive menu makes operation easy
Cons
Compatibility issues, especially with foreign cars
Software updates are not free after one year since purchase
Who is it for?
The Autel MaxiCOM MK808BT is ideal for DIY enthusiasts, beginner auto mechanics, and small garages.
If you run a fully-fledged auto shop, you wouldn't want to use it as your primary diagnostic tool.
It lacks some critical professional-level functions that are important to auto shop operators.
Check Price at Amazon
Alternatives of Autel MK808BT
The two alternative of Autel MK808BT are MK808 and MK808TS.
Let's find the similarities and differences among them in the detail comparison post below:
FAQs
What is OBD?
OBD is short for onboard diagnostics. It refers to how a car's computers identify and report problems that exist within the car's systems. You need an OBD scanner like the Autel MaxiCOM MK808BT to be able to retrieve diagnostic reports.
2. What are CEL and MIL?
They stand for Check Engine Light and Malfunction Indicator Lamp respectively. Both are dashboard lights that come on when the car's engine and/or EVAP system has a problem that needs fixing.
3. Is the MaxiCOM MK808BT compatible with my car?
It is compatible with most 1996 and newer cars, both domestic and foreign. Please refer to the 'COMPATIBILITY' section above.
4. Can I use the MaxiCOM MK808BT to reset the CEL?
Yes, you can.
5. Can I use the MaxiCOM MK808BT to register a new battery?
Yes, you can.
6. Which type of data does the MaxiCOM MK808BT provide?
You can view live data, freeze frame data, and vehicle information (like VIN and CIN).
7. Are there other reliable scanners?
Yes, the Autel MaxiCOM MK808 and the Autel MaxiDiag Advanced MD808 make great alternatives if you don't like the MaxiCOM MK808BT.