Many car enthusiasts and repair shop owners are touting the Zurich ZR Pro as one of the best professional car diagnostic tools in the market today. But, how does it compare with the competitors? Is it an ideal tool for your line of work?
This article compares it with its closest rivals: the Autel MS906BT and the Launch X431 V+ and sees how it stacks up in terms of features, specifications, functions, and more. 
So, let's get started.
Zurich ZR Pro vs. Autel MS906BT vs. Launch X431 V+: Comparison table

Zurich ZR Pro


Autel Maxisys MS906BT

Editor's Pick

Launch X431 V+

Customer Rating

Price
Product Dimensions
12.83" x 7.32" x 2.13"
10" x 6.9" x 1.4"
13.78" x 5.91" x 9.84"
Item Weight
1.34 lbs
19.81 lbs
13.2 lbs
OBDII Functions
Full
Full
Full
System diagnostics
All systems
All systems
All systems
Service functions
15+
31+
31+
Coding/ Programming
Key coding/programming
Injector Coding
Key coding/programming
Injector Coding
ECU Coding
Key coding/programming
Injector Coding
ECU Coding
Pros
A stylus will mitigate the need to use your fingers.
A kickstand for hands-free use.
Equipped with modern diagnostic features making it ideal for modern vehicles.
Weekly software updates.
Remote scanner troubleshooting or maintenance from the Autel support team.
Straightforward registration on their website.
Tons of advanced diagnostic features.
Live feedback with real-time data for advanced diagnostics.
Easy to carry around
Full body diagnosis
Bluetooth connectivity to communicate with the VIC.
Cons
Expensive compared to its competitors.
No stylus or kickstand.
A limited warranty of one year.
No stylus or kickstand.
Limited internal storage.
Supported Vehicles
OBD2 cars, SUVs, 12V trucks
OBD2 cars, SUVs, 12V trucks
OBD2 cars, SUVs, 12V trucks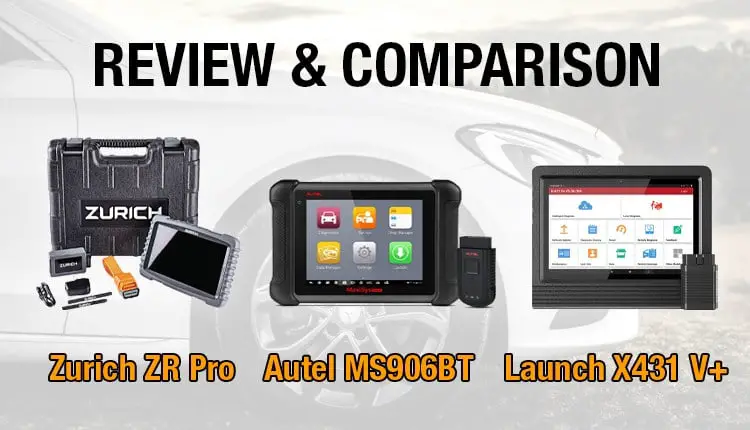 Zurich ZR Pro vs. Autel MS906BT vs. Launch X431 V+: Similarities 
Bluetooth 4.0 and Wi-Fi
The three diagnostic tools are equipped with Bluetooth 4.0, which allows you to do diagnostics remotely. That is, you can move around as you visually gauge the state of the car. On the other hand, the Wi-Fi features enable you to connect to the internet and share car data with your clients.
Front and rear cameras 
With the help of the integrated cameras, you can take pictures of broken/faulty parts. As such, you can send them to the car manufacturer for further assessment. The Launch X431 V+ has a 3.2MP rear and a 0.3MP front camera, while the Autel MS906BT and Zurich ZR Pro come with an 8.0MP rear camera. 
Android operating system
The devices run on the Android operating system. As you know, Android is easy to use and is compatible with numerous car models. The Launch X431 V+ runs on Android 9.0, Autel MS906BT runs on Android 4.4.2, and the Zurich ZR Pro runs on Android 7.1. The best part: you can upgrade the OS via the internet. 
Internal storage: 16GB vs. 32GB vs. 2GB
To enable you to save pictures and other diagnostic aspects of your customers' cars, they are equipped with large capacity internal memory. The Zurich ZR Pro boasts of 16GB, Autel MS906BT has 32GB, while Launch X431 V+ is equipped with 2GB internal memory. You can always add an external memory card if you need more space. 
Zurich ZR Pro vs. Autel MS906BT vs. Launch X431 V+: Key differences explained
In this section, we are going to compare their designs, specifications, pricing, and more. Let's see how they stack up.
Design and specifications 
Our Rating: Zurich ZR Pro: 4.3/5 | Autel MS906BT: 4.7/5 | Launch X431 V+: 4.5/5
Autel MS906BT
This diagnostic device comes with an Android 4.4.2 KitKat and a Samsung Exynos 6-Core processor, facilitating accurate and rapid diagnostics. Unlike the Launch X431 V+, it comes with a larger RAM of 2 GB, the same as Zurich ZR Pro. This means you can carry out more complex diagnostics.
With an 8.0 inch LED display, you can rest assured of greater control. Besides, LED touchscreens are more responsive and energy-efficient. As such, your battery will last longer. Talking of battery, it comes with a rechargeable 10,000mAh 3.7 V lithium-polymer pack.
Autel MS906BT also supports a memory card of up to 32 GB.
Its rear camera comes with a flashlight for detailed photos. Some of the sensors present include the gravity accelerometer and the ambient light sensor. The robust plastic housing protects the MS906BT from shock impacts.
Zurich ZR Pro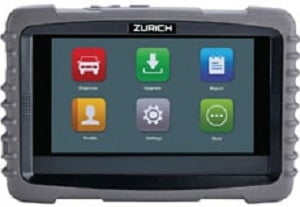 Zurich ZR Pro
It's an ideal diagnostic tool for a large repair shop, thanks to its futuristic features.
The Zurich ZR Pro comes in a military-grade protective outer shell that protects it from damage in case of quick drops or impacts. You are also presented with a carry case so you can safely carry it from garage to garage.
Some of the package items are a USB cable, AC power adapter, OBD2 cable, and vehicle communication interface (VHI). Unlike others in this list, it consists of a stylus, so you don't have to touch the screen. The integrated kickstand allows you to use it at different angles hands-free, allowing for better mobility.
Zurich ZR Pro has 2GB RAM meaning diagnostics will perform without a hitch, while the 16GB internal memory will keep photos and other documents safe. The 8-inch LCD touch screen has a resolution of 1280×800 enabling better image visibility. 
You should operate this device in a temperature range of 0 to 44 degrees. The ergonomic grip ensures comfortable use. 
Launch X431 V+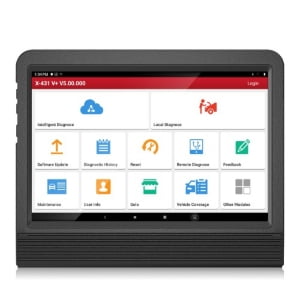 Launch X431 V+ Bi-Directional Scanner
It covers a wide range of features and is also very easy to use. If you want to provide exceptional service to your clients, then consider investing in this one.
On the other hand, the Launch X431 V+ does not come with a stylus but has a five-point touch screen enabling you to carry diagnosis simultaneously. The LCD is a 10-inch display allowing for better visibility thanks to the 1280 X 800 resolution.
The RAM is capped at 1GB, which is the weakness of Launch X431 V+ compared to the competitors. 
With a weight of 0.68 kg, you can easily carry it around your workstation. It also comes with accessories such as OBD II and DBScar diagnostic connector. The automotive diagnostic tool also allows you to store more data as it supports external memory cards of up to 32GB.
Launch X431 V+ should be used in an environment of -10 to 55 degrees and stored at a temperature range of -20 to 70 degrees. 
Features and functions
Our rating: Zurich ZR Pro: 4.2/5 | Autel MS906BT: 4.8/5 | Launch X431 V+: 4.6/5
Autel MS906BT
The integrated wireless connection between MS906BT and the vehicle enables data transmission from up to 50M. This means you can diagnose the car even without touching it. Since it supports bidirectional control, you can seamlessly pinpoint which component of the vehicle is faulty.
This tool can diagnose a car wirelessly via Bluetooth or using the VCI cable. With it, you can perform more than 21 special functions. However, not all functions are compatible with all cars. You'll need to send the VIN to their support desk.
Some of the 21 Special functions you can do with Autel MS906BT include:
Oil reset: it resets the minder system of the oil after an oil change.
Steering Angle Sensor Calibration: should the steering angle get tilted, the Autel MS906BT will realign it to the normal angle.
Tire Pressure Monitor System (TPMS): this function allows you to gauge the pressure and inflation of car tires.
Diesel Particular Filter Regeneration: it helps reset the DPF preventing the car from producing soot and reduces emission to a minimum.
ABS services: it performs ABS tests such as bake bleeding, module information, and others.
Zurich ZR Pro
This professional diagnostic machine is equipped with features that enable you to diagnose all OBD2 vehicles in your garage. Thanks to the Android OS and internet connectivity, it acts as a tablet so you can handle different tasks simultaneously.
Zurich ZR Pro provides full system health reporting such as BMS (Battery Manager System) and Body Control Module (BCM). 
For real-time data, it has a live data graphing on numerous data points. The Vehicle Identification Number (VIN) scanner automatically scans the car for prompt access to its health data.
Once you carry out the diagnosis, it will display the Diagnostic Trouble Code (DTC). For more fault code details you can use the DTC code lookup. 
The integrated bi-directional control will allow you to activate and deactivate components remotely. As such, you're poised to perform advanced diagnostics.
Some of the special functions of the Zurich ZR Pro include:
Battery Reset Procedures: this is making the battery useful again.
Electronic Brake Caliper Release: the Zurich ZR Pro scans for a faulty EBC and resets it to the recommended settings.
Key Fob Relearns: should a client want to program a key fob, this is the tool to use.
Injector coding: this tool can realign injectors so that they can deliver adequate fuel.
Steering Angle Reset: it resets the steering angle to its normal position for convenient driving.
Launch X431 V+
The Launch X431 V+ also rocks some of the stellar features and functions found in the Zurich Pro. It is compatible with remote diagnosis and provides feedback so you can know which part is broken. And thanks to recording and playback of data, you can perform an accurate diagnosis.
This Launch scan tool comes with OE-Level coverage such as personalization, so you can use it with worldwide vehicles, online coding for on-the-go diagnosis, offline coding, and customization.
This multilingual tool supports more than 24 languages. So if you are in China, Japan, or the United States, you'll use it without much hassle.
It also comes with a rechargeable 7000mAh battery that offers you up to 10 hours of service. This enables you to perform a worry-free thorough diagnosis. 
Launch X431 V+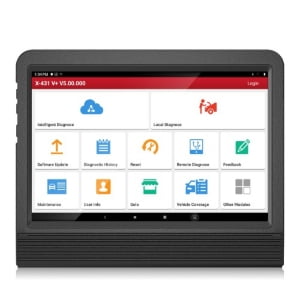 Launch X431 V+ offers more than 30 special functions. The most notable ones include:
Electronic Parking Brake (EPB): the EPB feature ensures the car stays stable when on a steep road. If it becomes faulty, it can have adverse effects on the vehicle. You can use the Launch diagnostic device to correct this.
Oil reset: like the Autel MS906BT, it can diagnose a faulty oil minder system and recommend necessary action.
ABS bleeding diagnosis: the tool can show you if there's ample air discharge from the ABS modulator. This air discharge ensures the braking system remains effective.
Injection coding: like the Zurich ZR Pro, you can perform injection coding using this tool. 
Enhanced Traction System (ETS): the system monitors wheel speed via the ABS. This diagnostic tool will provide adequate data about a faulty one.
Throttle matching: it can adjust the RPM of a vehicle to match the revolutions per minute.
Other functions include fitting headlights, seat matching, immobilizer service, resetting multimedia video, cluster reset, gearbox matching, and more. 
Supported vehicle makes
Our rating: Zurich ZR Pro: 4.5/5 | Autel MS906BT: 4.6/5 | Launch X431 V+: 4.7/5
Autel MS906BT
Like the Zurich ZR Pro, it covers numerous vehicles from America, Asia, and Europe. In total, it can diagnose more than 80 car models. Some of the most common cars include Ford, GM, BMW, Audi, Toyota, Opel, Dodge, Honda, Lexus, etc.
Zurich ZR Pro
The diagnostic tool is compatible with almost all vehicles from American, European, or Asian cars. These cars have to be manufactured after 1995 and OBDII-compliant. Some of the supported brands include GMC, Mercedes, Ford, Honda, Jeep, Nissan, etc. 
Launch X431 V+
Meanwhile, the Launch X431 V+ also covers the same type of cars as the other competitors. As long as a vehicle was made after 1995 and OBD2-compliant, it is supported. Some of the popular brands are Nissan, Mazda, Skoda, Audi, and Lincoln, etc.
You can also use it on Australian cars such as Holden and Austford or Brazilian models like BXGM and BXFiat. 
Autel MS906BT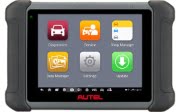 Zurich ZR Pro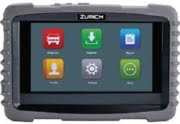 Launch X431 V+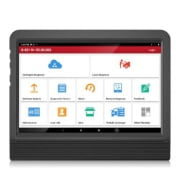 Pricing 
Our rating: Zurich ZR Pro: 4.2/10 | Autel MS906BT: 4.8/5 | Launch X431 V+: 4.5/5
Autel MS906BT
The Autel model also has a price capped above $1,000. Like the Zurich ZR Pro, you'll get value for your money thanks to futuristic functions, ease of use, and free software update for one year.
Zurich ZR Pro
The Zurich ZR Pro will cost you more than $1,000. While somehow expensive compared to the rest, its price is justifiable. This is owing to features such as a DTC lookup function, a stylus, and a software update subscription service that offers you the latest features.
Launch X431 V+
Finally, like the Autel and Zurich models, the Launch X431 V+ is priced at over $1,000. However, don't let the price fool you, as it also rocks stellar functionality and features. 
Warranty, software, and updates 
Our rating: Zurich ZR Pro: 4.4/5 | Autel MS906BT: 4.6/5 | Launch X431 V+: 4.7/5
Autel MS906BT
Likewise, the Autel tool comes with a one-year free software update. If you don't update it after this period, you can still use it to work on your clients' cars but with outdated functionalities. If you do update, it will cost you $590.00 from Autel Tools.
Zurich ZR Pro 
This advanced diagnostic tool offers you a one-year software subscription. This will cost you $499.99, giving you free access to all Zurich ZR Pro premium content every week. You can only receive it via email From Harbor Freight Company. 
Launch X431 V+
Unlike the rest that offers 12 months free software update, Launch generously has a two-year cap. When the free version expires, you can continue using the tool. However, if you choose to upgrade, the one-year package will cost you $399 while the two year costs $599.
User manual download
You can download the 147-page manual from the Autel Company website. It covers necessary instructions, specifications, safety information, and more.
You can download the 28-page manual from the Harbor Freight website. It includes steps on how to carry out the diagnosis of any supported car. 
Similarly, you can get the Launch x431 V+ user manual from their official website.
Recommendation
Now, which should you take? The Zurich ZR Pro is an ideal diagnostic tool for a large repair shop. This is thanks to its futuristic features. Besides, it comes at a higher price than small garage.
FAQs
Can the Launch X431 V+ do service reset and clutch PID?
Yes! The tool can perform clutch PID and service reset on domestic, Asian, and European vehicles.
Does the Autel MS906BT come with an updated software version?
The tool comes with one year of free software updates. However, once you receive it, you can upgrade it to the latest version.
Can I change the language of Autel MS906BT to another language?
Unfortunately, you can't change the language from English.
If I don't upgrade, will I still use the bidirectional functions with the Zurich ZR Pro?
Yes! You can continue using the functions.
Where can I get the Zurich ZR Pro upgrade?
Well, you can find it on the official website which is Harbor Freight Tools.
Read More: Zurich ZR13 Vs. ZR8 Vs. ZR11: Which Suits A Home Mechanic?