I have received many requests for my opinion on the XTOOL D7 and Autel MK808S in the past few months.
Sorry for taking too long to give this comparison. I want to deeply test both products before giving any opinion.
In this comparison review, I will examine:
The differences between the two scanners during my tests
My personal choice
Other customers' thoughts 
Key similarities of XTOOL D7 and AUTEL MK808S
NOTE: I'm talking about the AUTEL MK808S in this comparison, not the AUTEL MK808 (pay attention to the "s"). MK808S is a well-developed version of the MK808 (updated 1st June 2022), with better software and bi-directional control covered.
Now it's time to dive right into the post.
XTOOL D7 vs AUTEL MK808S Comparison Table
XTOOL D7

Price: < $500
VS.
Autel MK808S

Price: < $500
4.5/5
Overall Rating
4.3/5
4.5
Performance
4.2
4.4
Vehicle Coverage
4.4
4.0
Ease Of Use
4.0
4.5
Brand/ Service
4.5
5.0
Price/ Update Fee
4.7
4.5
Customer Reviews
4.5
Check Price
Check Price
XTOOL D7 and AUTEL MK808S in a Nutshell:
Both scanners
are great and thorough at diagnostics.
have Wi-Fi connectivity.
have a 7-inch screen.
can record and playback data.
offer remote technicians.
My First-hand Experience (Detailed Comparison)
Performance
XTOOL D7 and MK808S cover literally the same functions: 
bi-directional control
key programming
live data in 3 ways: table, graph, and gauge
many special functions
auto scan
manual scan
I won't talk about the basic functions like read/ clear codes or live data here. XTOOL D7 and AUTEL MK808S must be great at those tasks. The difference is the advanced ones. So at this point, XTOOL D7 is my pick.
Why?
1. I can do more advanced active tests with XTOOL D7
AUTEL MK808S can perform tests on:
Windows
Doors
Cooling Fan
Sunroof
Wipers Injector
Camshaft Position 
While XTOOL D7 lets me dive deeper into the throttle, turbocharger, anti-theft system, and more.
2. The key programming function of XTOOL D7 is top-notch
In fact, XTOOL D7 has always been in the key programming industry, at least here in the USA.  
The AUTEL MK808S is good at this function, too. But I have to turn the ignition on/off again and again during the key-adding process. It's pretty inconvenient, especially when I have to program around 10 keys per day.
This process of XTOOL D7 is much easier and faster. It takes me under 5 minutes to add a new key. 
3. XTOOL D7 is faster and stronger during my tests
In the two products' descriptions, AUTEL MK808S has better software (Android 11) than XTOOL D7 (Android 10).
However, XTOOL D7 is faster and stronger during my test. XTOOL D7 almost shows no slowness in data loading and scanning, while the AUTEL MK808S is sometimes sluggish.
4. XTOOL D7 has more special functions
XTOOL D7 offers 36 special functions while AUTEL MK808S offers 28. Obviously, I do not use all these functions in the garage.
But, XTOOL D7 has my favorite function, crankshaft relearn (AUTEL MK808S does not support this one.) I have to do this function after replacing a crank, cam, PCM, timing chain set, cam sensor, crank sensor, etc.
Vehicle Coverage
I have tested XTOOL D7 and AUTEL MK808S in 20+ cars and trucks from these brands: Mazda, Ford, Honda, Lexus, Toyota, and Mercedes.
It turned out that, none of the two scanners has complete vehicle coverage. Here's a small example:
AUTEL MK808S can support the 2020 Mazda 3, while XTOOL D7 cannot.
XTOOL D7 can support the 2014 Ford Explorer, while AUTEL MK808S cannot.
Incomplete compatibility is one common issue of all scanners (that's why I have so many tools in the garage).
I recommend doing a compatibility check before buying any scanner.
Ease of use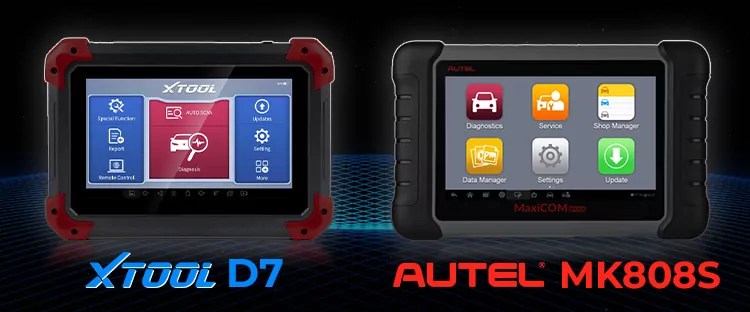 And, both scanners are challenging to use:
 Sometimes, I have to go through 10 steps to do one function.
 Some functions are hidden and can be a pain to find.
Don't worry; take a few tries then you will get used to the layouts.
Regarding battery life, I can use XTOOL D7 for 2 hours of continuous use, and MK808s for 3 hours. The battery of AUTEL MK808S is also stronger during sleep mode. Last time, I used it on and off the whole day, and the battery only dropped to 85%.
In short, both XTOOL D7 and MK808s aren't user-friendly and AUTEL MK808S has a more powerful battery.
Price
XTOOL D7 has a lower list price (the gap is around $20). I don't think it's significant, though.
But when it comes to updating cost, the gap is worth consideration:
XTOOL D7 offers a 3-year free update, and the update fee is $99/year
AUTEL MK808S only offers a 1-year free update, and the update fee is $125/year
Well, let me do some math. 
In the first three years, I have to spend $99 for XTOOL D7, and $375 for AUTEL MK808S. 
You can see that XTOOL D7 is a better money-saver here.
Brand/ Service
When it comes to popularity and reputation, no company can beat AUTEL in the diagnostic world. They are famous for high-quality and innovative products. 
On the other hand, XTOOL is quite new in this industry. But they will make you feel safe with their excellent customer support. They take care of everything and always make sure to meet customers' satisfaction.
What Are Customers Saying?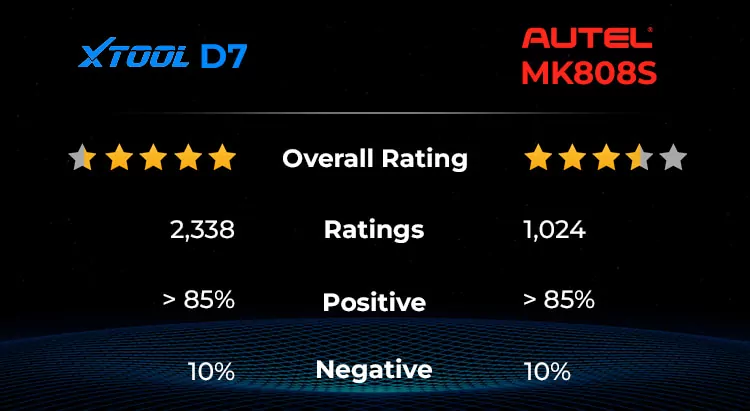 Both scanners' customers satisfy with the great tech support and powerful functions. "Live Data" is the favorite function of AUTEL MK808S buyers, and "Key Programming" is XTOOL D7 users' favorite.
Want to know what customers don't like the most in each tool?
With XTOOL D7, there are a lot of complaints about its battery (I gave one, too). With AUTEL MK808S, people hate registering to use the scanner; it's pretty inconvenient for them. 
Bottom Line: Which One Is Better?
Beware that I don't claim a winner in this post. I just want to give you my choice!
And it is… 
I don't say that AUTEL MK808S is bad. It's also powerful and advanced, especially if you want a safe option (I'm talking about the brand reputation).
But I love something faster and more thorough, which helps me save more time and enhance productivity in the garage.
(Not to mention the fact that XTOOL D7 saves me hundreds of dollars)
What's Next?
So, this is the end of my comparison between the XTOOL D7 and AUTEL MK808s.
Now I want to hear from you:
Does this comparison satisfy your need for information?
Is your choice the same as mine? 
Comment below!