After putting the OTOFIX D1 Lite to the test for a full week, we're ready to share our hands-on experience and insights. This compact and portable diagnostic tool has been by our side in the garage and on the road, assisting us in diagnosing and troubleshooting various car models.
Let's get started!
Testing Records
| | |
| --- | --- |
| Shopping platform | Amazon |
| Price | $399 (19% discount) |
| Shopping date | 16 Oct |
| Tester | Jeff Kreen |
| Test period | 22 Oct - 29 Oct, 2023 |
| Vehicles tested | 2014 GMC Savana, 2016 Chevrolet Trailblazer, 2012 Honda Accord |
| Functions tested | Read and clear code; Live data; Service functions; Bi-directional Controls; Crankshaft Relearn |
Overview
Price range: $400 – $500
Score: 8.7
Target user: Home mechanics
Pros
Full-system diagnostics
Crankshaft relearn supported
Fully Bi-directional controls
Portability
37 Reset Services
Cons
Slow processing speed
The design lacks sturdiness
Limited functions on different cars
Performance
Performance Summary
| Product | OTOFIX D1 Lite |
| --- | --- |
| Performance Rating | 8.5 |
| Code Reading Time | 1 up to 5 mins |
| Full-system Diagnostics | ✓ |
| Bi-directional system tests | Full Support |
| Crankshaft Relearn | ✓ |
| Key Programming | ✓ |
| Service Functions | 38+ Reset functions |
Bidirectional controls
Even though OTOFIX D1 Lite isn't too expensive, it still offers fully bidirectional functions, which really impressed us. However, you'll need to update it right out of the box to ensure it's fully bidirectional. With this scanner, you can perform various active tests such as the Fuel pump relay test, Ignition coil test, EGR solenoid test, Cooling fan test, and more.
We tested the EGR solenoid on our 2012 Honda Accord. First, we went to the Function menu and accessed the Active test section. Depending on your car's make and model, you'll find a variety of active tests. Then, we chose the EGR solenoid test and switched from inactive to active. When we made the switch, we heard a clicking sound from the EGR solenoid, indicating that it was working well, allowing unrestricted vacuum flow. If you don't notice any changes after pressing the buttons, you might want to consider replacing the solenoid.
This function allows us to check the solenoid in just about 3 minutes, saving you a lot of time and effort compared to manually disassembling everything to check it.
Read and clear code
After thoroughly testing the code reading function on the OTOFIX D1 Lite, we will now highlight the pros and cons of this scanner.
First, let's talk about the advantages:
It supports full system diagnostics, including engine, transmission, ABS, or SRS, on almost all car models with OBD2 protocol.
Additionally, the OTOFIX D1 Lite offers a Service manual feature, allowing you to understand the cause and troubleshooting methods behind a Diagnostic Trouble Code (DTC). For example, we encountered the P0180 code on our 2016 Chevrolet Trailblazer. The scanner provided potential causes, one of which was a faulty ambient temperature sensor. After replacing the sensor and clearing the code, everything functioned properly.
As for the drawbacks:
This product has a relatively slow processing speed compared to the XTOOL D7 within the same price range. The code reading speed on the XTOOL D7 is truly impressive. OTOFIX D1 Lite takes 3 to 10 minutes for full system diagnostics, whereas XTOOL D7 completes the process in under 2 minutes.
Live Data
You can retrieve live data from all systems with the OTOFIX D1 Lite. Even though its refresh rate isn't as smooth as the XTOOL D7 or Autel MK808S, its performance is still acceptable. If you're a home mechanic, we believe this product can still serve you for reading live data.
One notable feature shared by both the OTOFIX D1 Lite and Autel MK808S, which surpasses the XTOOL D7, is the ability to select specific parameters to observe, eliminating the need to scroll through the entire page to find what you're looking for.
Service Functions
According to OTOFIX, their D1 Lite model offers access to 38+ service functions. However, the number of functions available depends on your car's make and model. It's important to use OTOFIX's coverage checker to confirm which functions are supported for your specific vehicle.
Notably, this tool supports key programming and crankshaft relearn, features typically found in high-end OBD2 scanners.
We attempted to add a new key to our 2012 Honda Accord, and it still works perfectly. However, the process is more complicated and time-consuming compared to adding a key using the XTOOL D7. You have to go through multiple steps to reach the key programming stage, including turning the ignition on and off. For DIY enthusiasts, though, this function on the OTOFIX D1 Lite is incredibly useful. It can save you hundreds of dollars compared to visiting an auto shop for key programming.
Furthermore, it's worth noting that the OTOFIX D1 Lite lacks the ECU coding function, which is available on the XTOOL D7. If you require this feature, you may want to consider the XTOOL D7 instead.
Vehicle Coverage
For a home mechanic's needs, the OTOFIX D1 Lite is more than sufficient. This scanner supports full system diagnostics for various car models. Additionally, it also supports the CAN-FD protocol (for new GM vehicles) and DoIP (compatible with Volvo, Land Rover/Jaguar, BMW F/G Chassis, and more).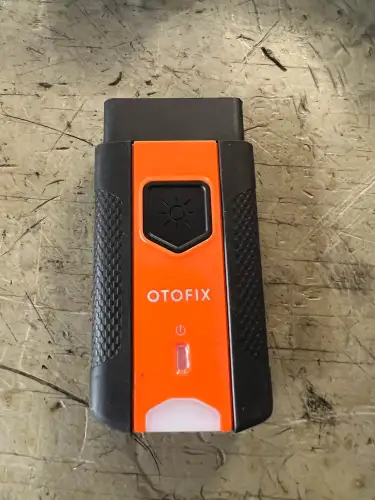 A crucial point to remember when purchasing a scanner is to check its compatibility with your vehicle. This ensures that the specific functions you desire are supported. You can use the OTOFIX vehicle coverage checker linked here to verify compatibility.
During our testing, we assessed the performance of this product on different cars to determine the supported features for each model. Below are the cars we used for testing and the results obtained:
Ease of Use
The OTOFIX D1 Lite stands out with its lightweight and compact design, weighing only 1.02lb. This makes it much lighter than other tablet diagnostic tools like the XTOOL D7 (4.82lb) and MK808S (2.31lb). Its portability makes it ideal for home mechanics, especially those who are constantly on the move.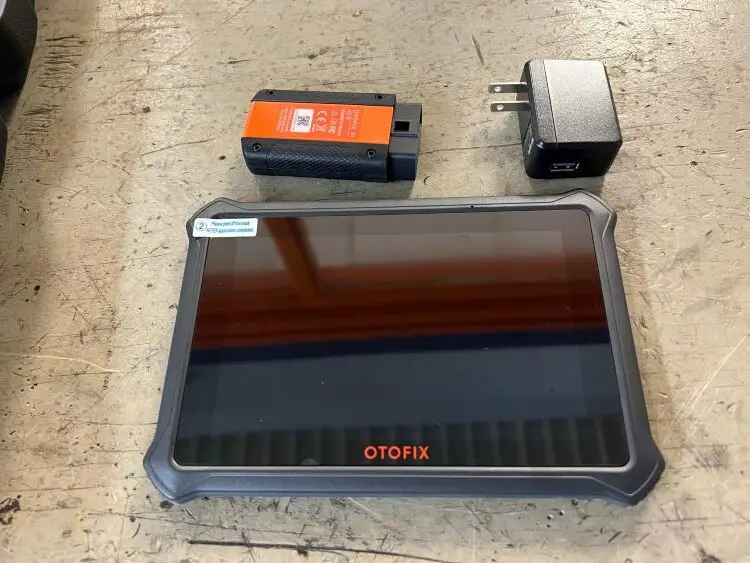 Additionally, its grippy case design ensures a firm grip, reducing the risk of accidental drops. However, it lacks a stand, which would have been convenient for viewing live data while driving. Having a stand would allow the scanner to be placed upright for easier use.
This scanner is equipped with a 5,800mAh battery, larger than both the XTOOL D7 (4000mAh) and Autel MK808S (5,000mAh). This large battery capacity enables continuous use for 5 hours without interruptions during repairs. Despite its slim and lightweight design, it still manages to incorporate a high-capacity battery, which is a significant advantage of this product.
Both the OTOFIX D1 Lite and Autel MK808S share the same user interface. OTOFIX is essentially a sub-brand of Autel, utilizing Autel software. If you're familiar with Autel products, transitioning to OTOFIX products should be seamless. However, a potential drawback is that some functions require navigating through 7-10 steps, which might be challenging for new users to find the specific function they need.
After-sales Services
The OTOFIX D1 Lite comes with a one-year warranty and two years of free updates. After the initial two years of free updates, you can opt for a subscription at a price of $119 per year. In case you choose not to renew the subscription, you can still use the product normally; you just won't receive updates for new features.
Despite being a product from a China-based company, OTOFIX provides excellent tech support. We've sent several email inquiries and typically received responses within 6 hours. This prompt assistance enhances your experience with the tool.
Durability
The compact design of the OTOFIX D1 Lite, while enhancing portability, might make it less robust in cases of accidental drops or if used in a rugged automotive repair environment. However, with careful handling and proper storage, you can still use it with confidence for an extended period of time.
OTOFIX D1 Lite
Final Thought
In summary, the OTOFIX D1 Lite proves to be a valuable tool for home mechanics, offering full system diagnostics, live data retrieval, and key features in a lightweight and portable design. While it lacks some advanced functions like ECU coding and may require careful handling due to its compact size, its user-friendly interface, consistent updates, and competitive pricing make it an excellent choice for DIY enthusiasts. Whether you're on the go or working in your garage, the OTOFIX D1 Lite provides essential diagnostic capabilities for a wide range of car models, making it a reliable companion for various automotive repair needs.
If you have any questions about this OTOFIX D1 Lite, just drop your comments and we're here to help.