If you are an owner of both cars and trucks, Nexus NL102 Plus would be a great idea.
It is a powerful and versatile scanner for such purposes, especially scanning heavy-duty trucks.
The price is just right at $230 for the added functions it supports, which are more than what its predecessor (NL102) offers.
So, why not read on to know more about the product's pricing, vehicle coverage, and other criteria in subsequent sections? I've described my experience using the diagnostic tool as a professional mechanic since buying it.
Quick Review
NEXAS NL102 Plus
Price: $199.99
Scanner type: Full-system scan tool
Made for: Heavy-duty truck owners, mechanics
Vehicle covered: Heavy-duty trucks
Connection type: Corded
Buy this product if you want to:
Perform full-system diagnostics

Prepare for smog check



Perform advanced service functions
Pros
Full system diagnostics

DPF regen function

Oil service reset

5 years warranty
Cons
Limited DPF regen coverage
Vehicle Coverage
Nexas NL102P supports all the standard truck protocols such as J1587, J1708, and J1939. You should check your vehicle owner's manual to be sure that your vehicle complies with any of them.
I've used this scan tool on various types of vehicles, such as cars, SUVs, minivans, buses, light-duty trucks, and heavy-duty trucks made after 1996.
Some of the engine types I've come across are listed below.
 Cummins
Freightliner
HINO
International
Paccar, etc.
The NL102P provides diagnostic coverage for trucks of Class 4 – Class 8. This includes American trucks from 2000, Asian trucks from 2008, and European trucks from 2010.
The scanner might work for older engines, but I noticed it doesn't work for the X15 engine.
You can try to learn more about the product's vehicle coverage by contacting the seller on Amazon..
Hardware & Design
1. Hardware
The NL102 Plus comes with all the connectors needed for passenger cars and heavy-duty trucks.
The GD chip makes operation faster, so the device can respond to your commands in a few seconds.
You can even take a snapshot of the issue you are working on while performing a driving test.
2. Design
Nexas NL102P is a one-plug-in, standalone unit that doesn't require connecting to a laptop or other computers before it can be operated.
I see what I'm doing well on the device's 2.8-inch color display. Its backlight tech helps me see the interface clearly during the day or in the presence of bright lighting.
The dimensions of 10.1 × 7.2 × 2.7 inches and a weight of 2.2 pounds make the device easy to hold. It can fit in your palm conveniently. Not much difference from the NL102 in terms of dimensions, but the NL102P is slightly heavier by 0.4 pounds.
This scan tool comes with a plastic body and protective drop-proof casing that provides adequate protection for its hardware. But I'm curious how strong its screen is against the impact of a fall since it has never fallen from my hands.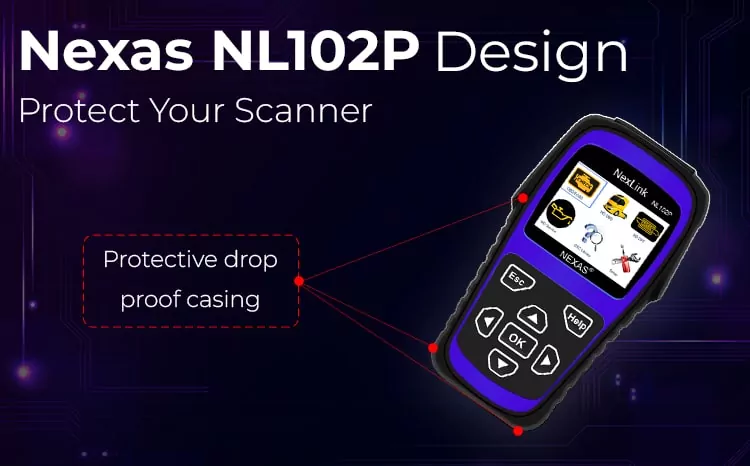 The comfortable buttons, menu-driven interface, multiple language options, and code definitions make the NL102 Plus easy to operate. You can click on the "help" button to get troubleshooting tips. It will save time when you know how to troubleshoot yourself.
 Performance
1. Work on heavy-duty trucks and passenger cars with Nexas NL102P
Nexas NL102 Plus supports systems including the engine, transmission, ABS, airbag, ESP, instrument panel, drivetrain, etc.
The device helps me clear codes in less than 5 minutes. Inactive codes are no hassles with this product.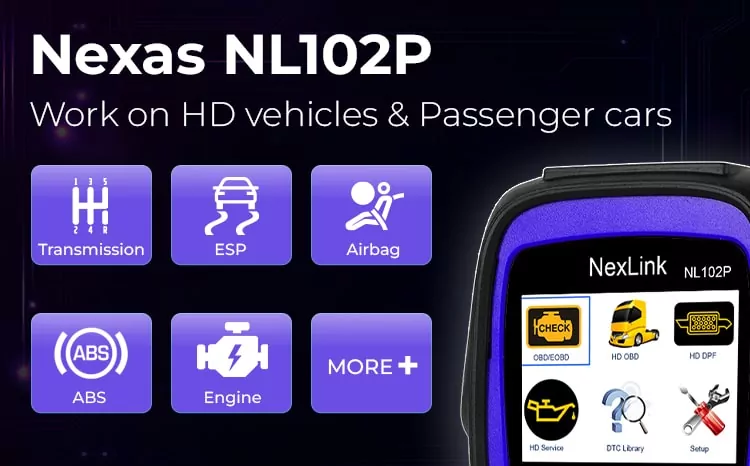 I've been able to work on tough vehicles with trouble codes that bothered some of my customers. For example, a 2011 International engine with a MaxxForce 13.
There was a time a customer's 2015 550 ISX Cummins had a problem with its exhaust pressure sensor. The issue was producing a code, making the amber engine light come on whenever he started driving in the morning.
The code is a difficult one known to derate engines in about three hours. I could clear the code easily, thanks to Nexas NL102P.
Another instance was when a 2015 HINO 258 had an ABS fault code. The scanner allowed me to read and erase the code. It also helped me trace the problem's source to a leaky left rear axle seal.
I discovered that this situation was making the ABS Sensor push out. I was able to resolve the issue after.
Note: The NL102P can easily pull codes but can only clear them if the faults are fixed.
2. Perform DPF regen and engine oil reset
DPF regeneration is needed in the case diesel particulates accumulate in an engine over time.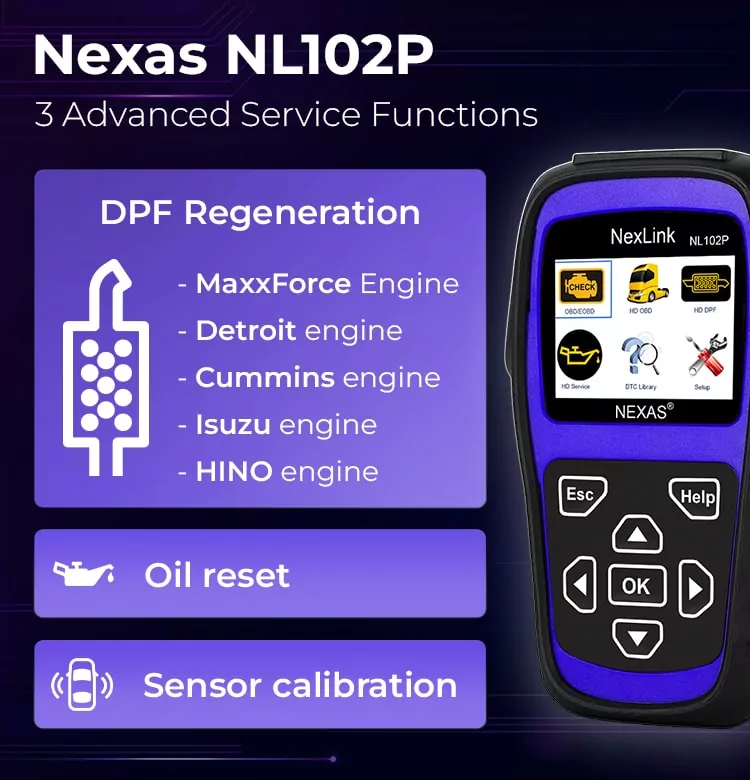 I have successfully done DPF regen on a 2013 International MaxxForce 13, 2014 & 2015 Freightliner Cascadia DD15, 2014 Freightliner Cascadia Detroit DD13, etc.
However, my NL102P's DPF regen failed to work on many first tries. The tool showed "Function not supported" in such cases. I had to keep retrying as many times as possible for up to 30 minutes until the regen screen popped up.
Then you need to ensure these conditions are met to perform DPF regen:
The engine doesn't have any fault codes, or it isn't malfunctioning. If so, get it fixed.
The engine should run at idle speed for a minimum of ten minutes.
Water temperature: >176˚F, coolant temperature: >140˚F, and fuel temperature: <158˚F.
DPF soot level should be more than 80% full.
These conditions are not included in the manual so the users might be confused a lot. I wish the scanner's manufacturer listed the necessary steps for this function in the user manual.
Yet, this function is limited for Paccar. I wonder why since it uses Cummins emissions components. But I've faced no problems with regenerating DPF on Cummins (except those with Cummins ISB6.7).
3. Monitor your car battery's health with NL102P
The device's "battery monitor" function can gather, analyze, and display real-time battery voltage data fast and accurately.
I was able to know and predict the health status of vehicle batteries with this function. I could also estimate a battery's remaining life. This helps me maintain the batteries so that they can last longer.
Price, Warranty, & Updates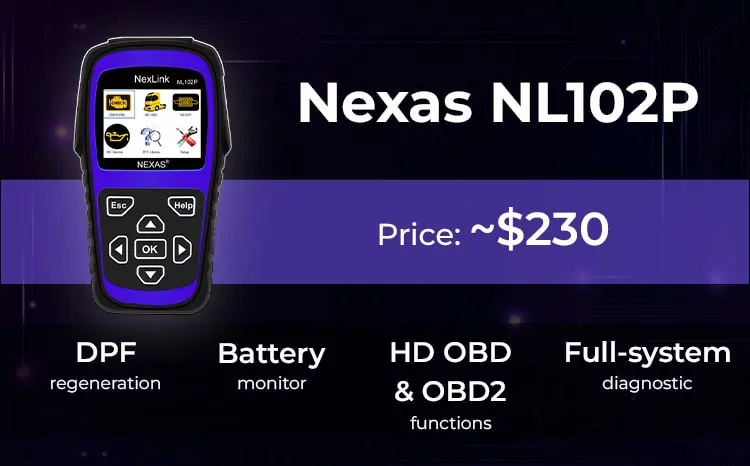 Nexas NL102 Plus is $230, which I can say is cheap for a full-systems heavy-duty truck scan tool. That affordable price came with a 5-year warranty and a 90-day free returns policy!
However, this scanner's software can't be updated.
I realized that there are no free lifetime updates for this scan tool, as advertised by the manufacturer. There have been no updates since 2007! I couldn't get tech support either, not even from the Nexas website.
Key Takeaway
I'll recommend Nexas NL102 Plus to those who want to perform full-systems diagnostics and DPF regen on heavy-duty trucks.
It's an affordable diagnostic tool that can read & clear codes and perform other advanced roles. Mine has already paid for itself in just a few months of usage.
But if NL102P is not the scanner you are looking for, you can check out its alternative, as described in the part below.
Check Nexas NL102 Plus's latest price:
Nexas NL102P's Alternatives
#1. Nexas NL102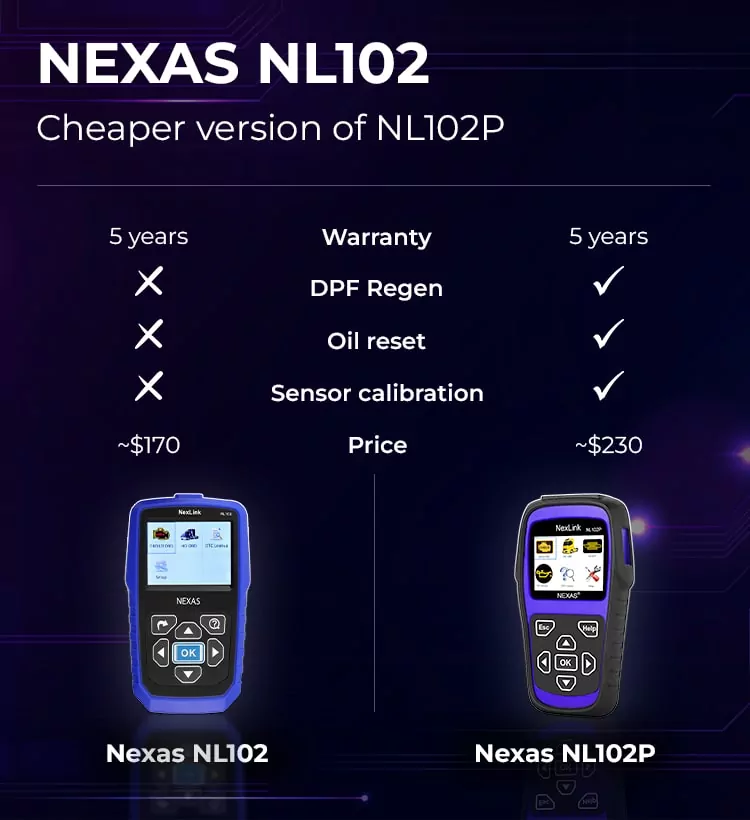 Nexas NL102 can perform many roles that the NL102P can handle, such as full-systems diagnostics, read & clear codes, battery test, etc. And it is a cheaper alternative from the same brand. 
However, the NL102 doesn't support service functions such as the DPF reset and regeneration, oil reset service, and sensor calibration. 
If you don't need these functions, Nexas NL102 is worth trying!
Check Nexas NL102's latest price:
#2. FCAR F507
FCAR F507 is a good alternative to Nexas NL102P for those who require active tests for ABS and transmission. 
However, it lacks the DPF regen function, which may be a drawback for you. Additionally, it comes at a higher price point of $280 compared to Nexas NL102P.
Check FCAR F507's latest price:
What's Next?
After reading this comprehensive review, you might have something to say, so feel free to comment below. I'll answer any questions you have about the NL102 Plus.