Thinking about buying the Launch X431 V+ Pro?
It's definitely worth the investment!
As an upgraded version of the X431 V Pro, it offers more service functions and an expanded vehicle range, plus lightning-fast speeds.
Keep reading to discover my favorite features and why it's one of the best diagnostic tools on the market.
Quick Review
LAUNCH X431 V+ Pro
Price: $912.92
Scanner type: Bi-directional scan tool
Made for: Experienced enthusiasts
Vehicle covered: OBD1 & OBD2 cars/light trucks
Connection type: Bluetooth
Buy this product if you want to:
Perform advanced service functions

Perform active tests

Code car's ECU
Pros
35+ professional reset services

Full bi-directional control

Offers advanced manufacturer-level

functions

Covers vehicles up to 2023 models

Two years of free updates
Cons
Can be slow to program new key on Audi and VW

Unreliable AutoVIN function
Are you curious about my overall rating for Launch X431 V+? Check out the table below!
| Overal rating | 4.4/5 |
| --- | --- |
| Bi-directional control | 5.0 |
| Service functions | 4.5 |
| ECU coding | 4.5 |
| AutoVIN | 3.5 |
Vehicle Coverage
LAUNCH X431 V+ PRO supports a wide range of vehicles? From OBD1 to OBD2 vehicles, including FCA and VAG cars.
This tool also supports heavy-duty trucks, but I need to buy the heavy-duty module separately. 
So I have to say that V+ Pro Elite can work well on any vehicle you have.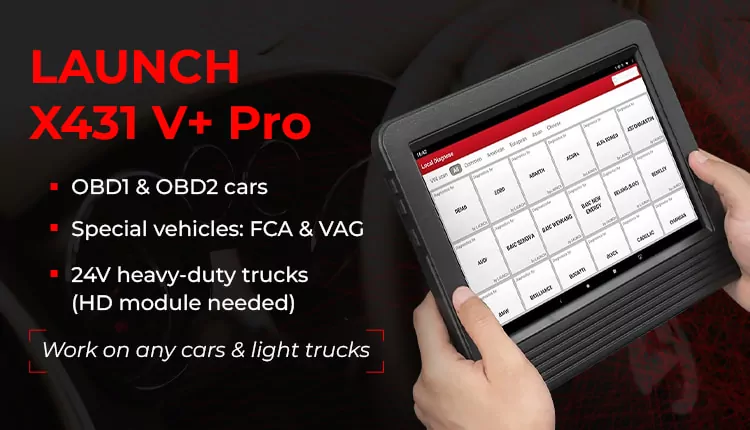 Note: It is best to check the LAUNCH official website for detailed vehicle coverage before purchasing. If not, you may regret buying a useless scanner.
What Makes Me Like LAUNCH X431 V+ Pro?
1. It's the most powerful bi-directional scan tool today
With LAUNCH X431 V+ PRO, you can send commands into any ECU in any car thanks to bi-directional controls.
There are many active tests you can perform on your vehicles to quickly diagnose which part is faulty.
The actuation tests you can perform include:
turn the radiator fan on/off, 
adjust the throttle, 
open/close purge/vent solenoid, 
turn on/off the sound horn, 
test door lock, 
test shift solenoid, etc.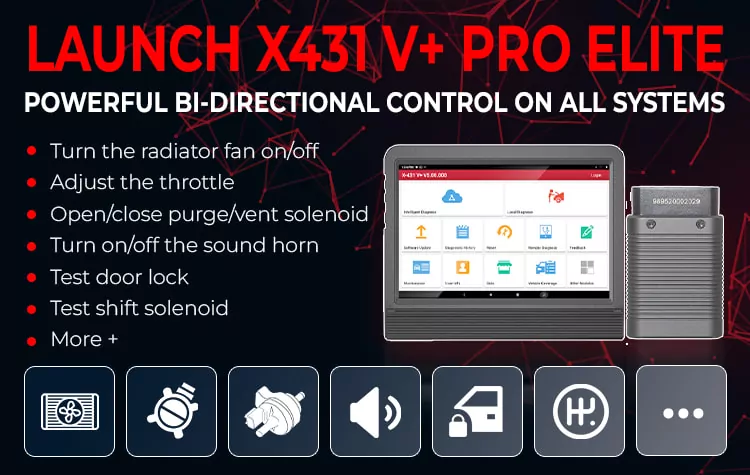 Here are the situations I tested the bidirectional controls:
Last week, my client's 2005 Camry had a P0499 code, which is "EVAP Vent Valve Control Circuit High". 
Using this function, I could confirm that the EVAP valves had an audible click and the EVAP system would maintain pressure. 
The culprit was most likely a small leak. 
First, I began by checking the simplest parts with active tests. 
It came out that the purge valve wasn't entirely closing and hence couldn't hold pressure. 
The solution is to replace the faulty part.
Also, 
I've tested shift solenoids for automatic transmission on a 2003 Honda Accord. 
Just choose the AT module and press Actuation Test. 
Then test each solenoid to know if it has an audible click. 
This scanner did help me isolate the solenoid and identify the bad one.
2. I can offer more services and get things done much faster
LAUNCH X431 V+ Pro Elite also offers all the features you would expect from an upgraded version of X431 V Pro 4.0.
With LAUNCH X431 V+ Pro Elite 4.0, you can perform 31+ advanced service functions such as:
ECU Coding,
Oil Reset, 
TPMS Reset, 
IMMO, 
ABS Bleeding, 
Injector Coding, 
Throttle Adaptation, 
Gear Learning, 
Suspension Reset, 
Seats Calibration, etc. 
Many guys ask me these questions: 
"What's the difference between X431 V and V+? "
"Why should I put forth $300 extra and get this one instead of X431 V 4.0?"
Let me show you the special functions of Launch X431 V+ Elite that V pro does not have:
X431 V+ has a 10" screen, which is 2 inches larger than X431 V Pro 4.0's. This allows you to display 15 data streams at the same time. 
It has a higher battery capacity of 7,000mAh. 
Compared to V Pro 4.0, this scan tool allows you to work with it 1.49 times longer and avoid frequent charging.

LAUNCH X431 V+ Pro can work on heavy-duty vehicles (but you need to buy an HD module separately to use this function).
3. Advanced ECU Coding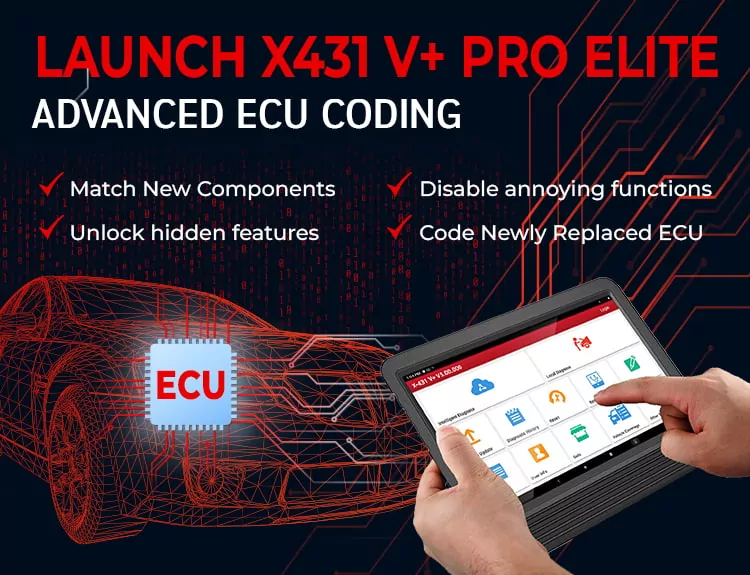 It is equipped with advanced ECU coding functions to:
Make a new code and recognize the new actuators after you change them,
Improve vehicle performance or access hidden features on your car to disable annoying functions,
Match, learn or code the newly replaced ECU.
I used this function to access the headlight control module on one of my customers' 2020 BMW M2. 
Instead of taking the car to a dealer, you can code your car the way you want. 
Besides, on some BMWs or Fords, the lights would stay on for a few minutes after shutting the car off. With this scanner, I could turn that off without switching the control in the car to AUTO.
What I Dislike?
1. VIN identification problems
The first issue I've had while using this scanner is the VIN identification. 
Sometimes it won't automatically detect what type the vehicle is. Yet, I only faced it on Lexus, Jeeps, and BMW.
If the AutoVIN fails, another way is to scan the code on the vehicle plate. 
Unfortunately, the camera fails to pick up the VIN 9/10 times, making it irritating. 
Finally, I have to enter the VIN manually.
The scanning rate is a bit slow. 
Personally, I believe it could be much faster.
2. An original LAUNCH printer is needed to print a report
The last thing I do not like about this scan tool is that:
To print out a report directly to a printer, you have to use the original LAUNCH Printer. 
This costs almost as much as the X431 V+ PRO itself. It'd be better to save the reports, email them to yourself and print them to any printer (you need to install a separate app like HP Print Service Plugin first).
Price & Update Fee
I paid $1,200 for the Launch X431 V+ Pro Elite when I purchased it online 2 years ago.
$1,200 isn't cheap. It can, however, perform all of the functions of an $8,000 Snap-On scanner.
For 1/6th of the price, the X431 V+ satisfied me with all of its benefits.
Furthermore, the 2-year free updates are included with the purchase.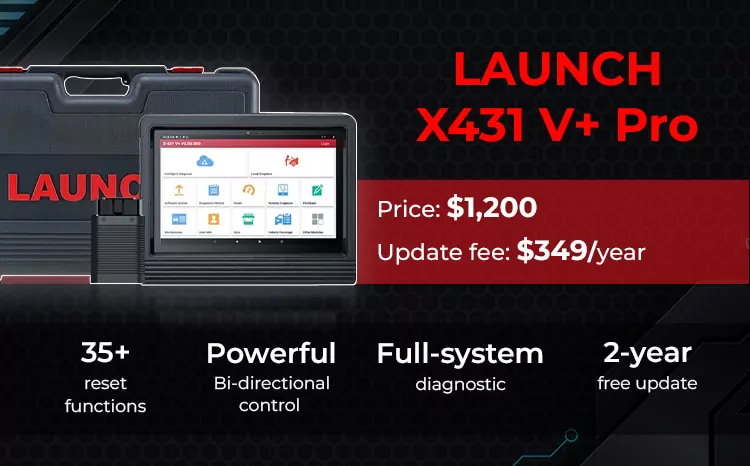 However, after the 2-year free update period, you have to pay an annual subscription of ~$500. 
Good news: You can continue using the scan tool without updating.
Bad news: New functions and new vehicle models are not up-to-date.
To me, the software update fee is a little expensive for DIY users. 
My advice is:
Only pay for the update if you really need it.
Key Takeaway
LAUNCH X431 V+ PRO is a bang for the buck if you are willing to take the time to learn every feature. 
LAUNCH X431 V+ PRO is an excellent bi-directional scan tool for professionals or small to mid-sized shops that need to get many things done!
Its functionality, compared to the cost of the tool, makes it well worth the investment. Either way, I wouldn't hesitate to rebuy this.
Check LAUNCH X431 V+ Pro's latest price:
LAUNCH X431 V+ Pro 's Alternatives
#1. TOPDON Phoenix Plus: Cheaper alternative with reliable auto VIN
TOPDON Phoenix Plus has most of the functions X431 V+ offers:
ECU coding and online coding for Benz, BMW, V.A.G, Kia, Hyundai, Porsche, ect.
34 hot service functions.
Active tests to determine a component status.
2 years of free updates.
More importantly, this tool can automatically read the VIN on most cars I connected to.
However, the TOPDON Phoenix Plus can't work on pre-1996 vehicles or heavy trucks.
If you hate the auto VIN problem on Launch X431 V+ Pro, TOPDON Phoenix Plus is a great option. 
Check TOPDON Phoenix Plus's latest price:
#2. LAUNCH X431 PAD V: Professional scan tool with ECU programming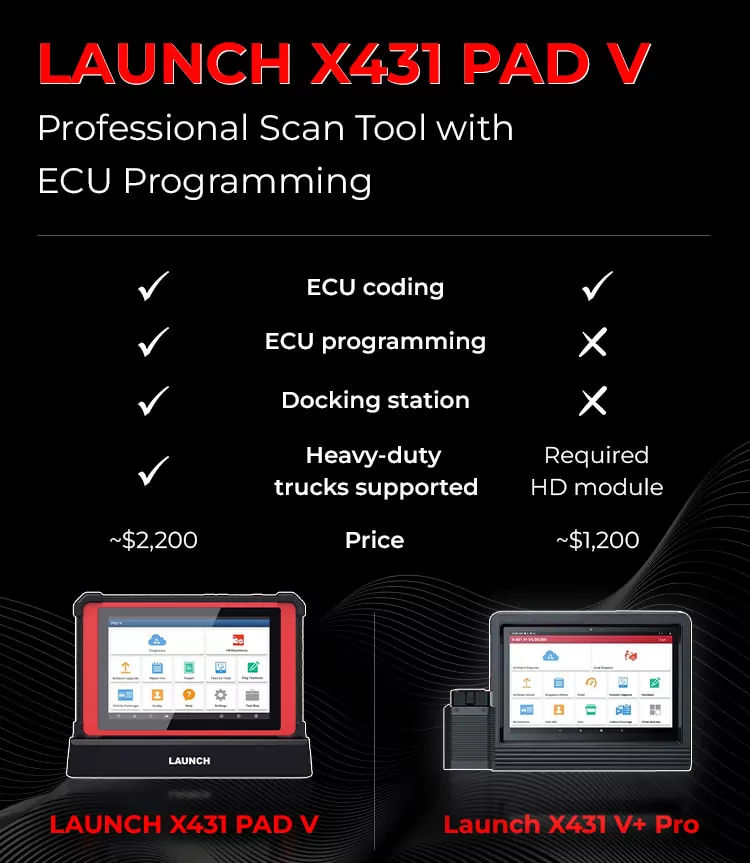 X431 V+ is insufficient for car mechanics who need to perform complex tasks such as programming new ECUs and repairing ECU parameter loss.
And Launch X431 PAD V comes to the rescue.
PAD V is not the fastest professional scan tool, but it works on and does EVERYTHING.
You might think PAD V is overpriced because it costs twice as much as the X431 V+. However, until you need them, all advertised capabilities will become your lifesaver.
It's a fantastic full-function scan tool that aids in ECU programming while also earning you money.
Check Launch PAD V's latest price:
---
What's Next?
Did my review help you in making a decision to purchase this scanner?
Please feel free to leave your thoughts below or contact me for more information.
Your feedback is greatly appreciated!