Are you in search of a top-of-the-line scan tool that can perform ECU coding and programming with ease?
Introducing Launch X431 PAD V – an advanced scanner equipped with an integrated heavy-duty module that can diagnose and repair HD trucks, saving you valuable time and effort.
With its superior capabilities and efficient performance, Launch X431 PAD V is the ultimate choice for a high-end scan tool.
Keep reading to discover the benefits of Launch X431 PAD V that make it the superior choice for your automotive needs.
Quick Review
LAUNCH X431 PAD V
Price: $2,079.00
Scanner type: Scan tool with ECU programming
Made for: Car/light truck mechanics
Vehicle covered: OBD1 & OBD2 cars/light trucks
Connection type: Bluetooth
Buy this product if you want to:
Perform advanced service functions

Perform active tests

Code and program car's EC

Pros
Supports online ECU programming

Screen is readable in the sun

Extensive protocols coverage

Supports pure electric vehicles

Intuitive topology display
Cons
Has a learning curve for some users

Low battery capacity
Vehicle Coverage
As I mentioned above, LAUNCH X431 PAD V is a universal diagnostic machine for all cars. 
You can cover 98% of vehicles on the market when you have this scan tool in your hands. 
But that's for the basic diagnostic functions. 
Keep in mind that the advanced functions vary depending on the vehicle's model and the year. 
For example, X431 PAD V didn't let me do ECU coding on a 2009 Nissan Altima although Launch said that it would allow me to do that task. 
Therefore, you'd better send your car model and year to LAUNCH's customer support at [email protected] to confirm before making a buying decision. 
Or you can refer to the LAUNCH vehicle coverage website to find the supported functions for your car.
What Makes Me Like LAUNCH X431 PAD V?
1. I can program ECUs of 2 car brands, BMW and Mercedes-Benz 
What used to impress me the most is that PAD V lets me reflash/reprogram ECU for 9 brands, whereas other scanners often only work for Benz and BMW. But now, due to US law, PAD V can currently only reprogram for 2 car brands, Mercedes-Benz and BMW. 
However, with only two car brands, this scan tool performed well on some of my customers' BMW and Benz.
I programmed the ESP control unit online for a 2004 model Mercedes-Benz W211 E320 in my shop. I was satisfied that it worked flawlessly.
Note: ECU programming ability varies on car models and years.
But I hope Launch will solve the issue of limited car brands soon because I want to perform ECU programming on other brands.
2. I love that my shop can cover more car brands
X-431 PAD V can cover more than 98% of the car models in the market. 
To be more clear, LAUNCH X431 PAD V supports all diagnostic protocols, including: 
J2534 
RP1210 /D-PDU 
DOIP
CAN FD 
It means that you can use X431 PAD V to work on:
New cars, such as: Land Rover, GM, Ford with CAN FD and DoIP protocols. Until now, PAD V is still the only scan tool below $2,500 to support these protocols on the market 
2017 and later FCA Vehicles with Secure Gateway, such as: Chrysler, Fiat, Alfa Romeo, etc.
PEV (pure electric vehicle)
24V commercial vehicles (but you have to buy an additional HD module at around $900.)
3. I love the topology map of LAUNCH PAD V
LAUNCH X431 PAD V supports Topology Mapping, but Autel Maxisys Elite can't.
This function displays the entire system through the Topology Map to glance at all the modules with faults. It will be easy to locate the system with issues. 
By noticing the "Red System" on the map, you can locate faults at a glance. 
Time is money. 
Get this PAD V scan tool if you want to find a car's problems in seconds!
4. I now can work faster with LAUNCH PAD V
The solid Android-based tablet is another great feature.
Although it's not running the latest Android version, it still ensures fast and powerful performance with the Android 7.1 operating system.
Compared to a $2,700 Autel Elite scan tool that is designed with Android Kitkat 4.4.4, the fast speed of the PAD V scanner will never disappoint you.
Additionally, the tablet is protected with a thick layer of rubber to protect it from drops. 
Yet, it's still light enough to work with.
5. I can save a boatload of money thanks to its integrated heavy-duty module 
Compared to its competitor, Autel Elite, PAD V has an integrated heavy-duty module, making it support PEV & 24V Diesels. 
For example, gasoline vehicles & 24V Diesel:
trucks
buses
trailers
excavators
construction machinery
pick-up, etc. 
But to use it, you need to purchase the HD software and adapters. You will save a lot of money because there's no need for the HD module's fee.
What I Dislike?
1. Low battery capacity
One thing I don't like about the LAUNCH X431 PAD V is its battery capacity of 9,360mAh (around 5-6 working hours).
It is much less than the battery of its competitor Autel MaxiSys Elite, which has a longer battery run time, of up to 15,000mAh. 
2. Can't program keys for later vehicles
Launch X431 PAD V can only perform key programming for vehicles with low-grade anti-theft systems. 
In addition, there are some later vehicles that it cannot work on, like the 2018 Toyota Camry. 
And please note that the X-PROG & X-PROG3 Immobilizer in the product description is an optional function. You need to pay a $700 module to program car keys.
Price and Update Fee
With a price of around $2,200, Launch X431 PAD V allows you to perform basic to advanced diagnosis and repairs. 
PAD V also increased the free update year to 2 years, saving an amount of money for one year.  But after that, you have to pay an annual renewal fee of $599. 
If you don't want to pay that fee, ECU coding & programming functions are unavailable.
Fortunately, you can keep using all the software downloaded into your scan tool. 
How To Register & Update
Launch X431 PAD V requires registering the scanner before using it.
Similar to Autel scanners, PAD V won't take you much time to make the scanner be registered. 
Follow my instruction below:
Step 1: Register your Launch account
On the home screen, click "User Info" and select "Profile".
And this pop-up will appear. If you are a new user, move to step 2. If not, log in directly.
Step 2: Create an account 
Choose "New Registration" and you have to enter all the needed information
Click "Register" to finish this step.
Step 3: Activate your scanner
After logging in or signing up successfully, input your serial number and activation code in the box. You can find them in the password envelope.
Finally, press "Activate" to complete your registration.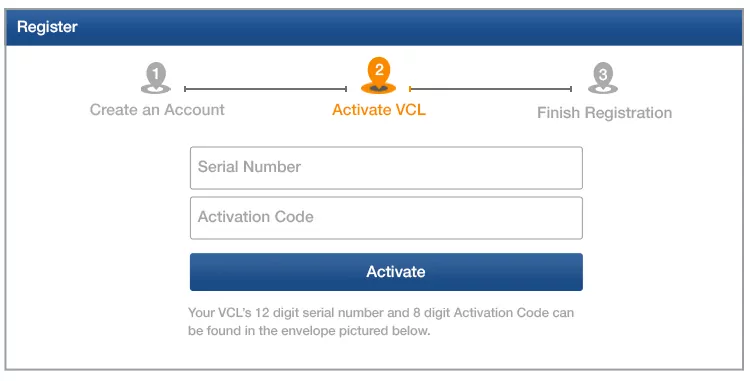 If you want to update, open the Download page to update the software you want.
Key Takeaway
If you are looking for the best diagnostic machine for all cars, LAUNCH X431 PAD V is made for you.
When it comes to capabilities, the scanner has exceeded my expectations. 
Definitely worth the buy!
With the purchase of a new LAUNCH X431 PAD V, you will bring your shop to the next level.
Check LAUNCH X431 PAD V's latest price:
Launch X431 PAD V's Alternative: Autel Maxisys Elite
Autel Maxisys Elite is one of the competitors of Launch X431 PAD V.
However, after testing the two scanners, I found that Launch X431 PAD V is better than the Elite in most aspects. 
But there is one prominent thing about the Elite that makes it worth trying. If you are considering a long-lasting scanner, Autel Elite can meet your needs.
With the capacity of 15000 mAh, you can diagnose and perform maintenance services all day. Meanwhile, PAD V's capacity is only 9,360 mAh, which limits my working time/ability.
Check Autel Elite's latest price:
What's Next?
Is LAUNCH X431 PAD V the scanner you looking for? Does it meet your requirements in diagnosing and fixing cars?
Don't hesitate to leave your opinion or question in the comment section below. I will answer them all as soon as possible.