Launch CRP909E and CRP909X – a pair of mid-range scanners designed for home mechanics and DIYers. At first glance, they appear almost identical, with the only noticeable distinction being their color. 
But, are there any real differences between these two scanners? 
To find out, read my review, where I'll explain the similarities and differences between Launch CRP909E vs. CRP909X.
LAUNCH CRP909E vs. CRP909X: Full Comparison Chart
| | Launch CRP909E | Launch CRP909X |
| --- | --- | --- |
| DIAGNOSTICS | | |
| Full-system diagnostics | ✅ | ✅ |
| Live data | ✅ | ✅ |
| OTHER FUNCTIONS | | |
| Service functions | 28 | 28 |
| DPF regen | ✅ | ✅ |
| Key programming | ✅ | ✅ |
| Battery registration | ✅ | ✅ |
| ABS bleeding | ✅ | ✅ |
| Injector coding | ✅ | ✅ |
| VEHICLE COVERAGE | Cars/Light trucks | Cars/Light trucks |
| DESIGN & HARDWARE | | |
| Operating system | Android 7.1 | Android 7.1 |
| Memory | 2GB & 16GB | 2GB & 16GB |
| Screen size | 7" | 7" |
| Battery capacity | 6100mAh | 6000mAh |
| Color | Black | Red |
| Touchscreen | ✅ | ✅ |
| Wireless connection | - | - |
| AFTER-SALES SERVICE | | |
| Free update | 2 years | 2 years |
| Update fee | $100/yr | $100/yr |
| Warranty | 5 years | 5 years |
| Customer support | 8.5 | 8.5 |
| | Check price | Check Price |
| | | |
Click here to DOWNLOAD the Full Comparison Chart in PDF (FREE)
---
LAUNCH CRP909E vs. CRP909X: Key Differences
After trying out both the Launch CRP909X and CRP909E, I noticed there are only two differences between them:
Color: The CRP909X comes in red, while the CRP909E is mainly black, which is not easy to be dirty.
Battery capacity: The manufacturer claims the CRP909E has a battery capacity of 6100mAh, and the CRP909X has 6000mAh. However, when I tested both scanners, there was no actual difference. This is because both scanners need to be connected to the car's battery through the OBD2 port for them to work.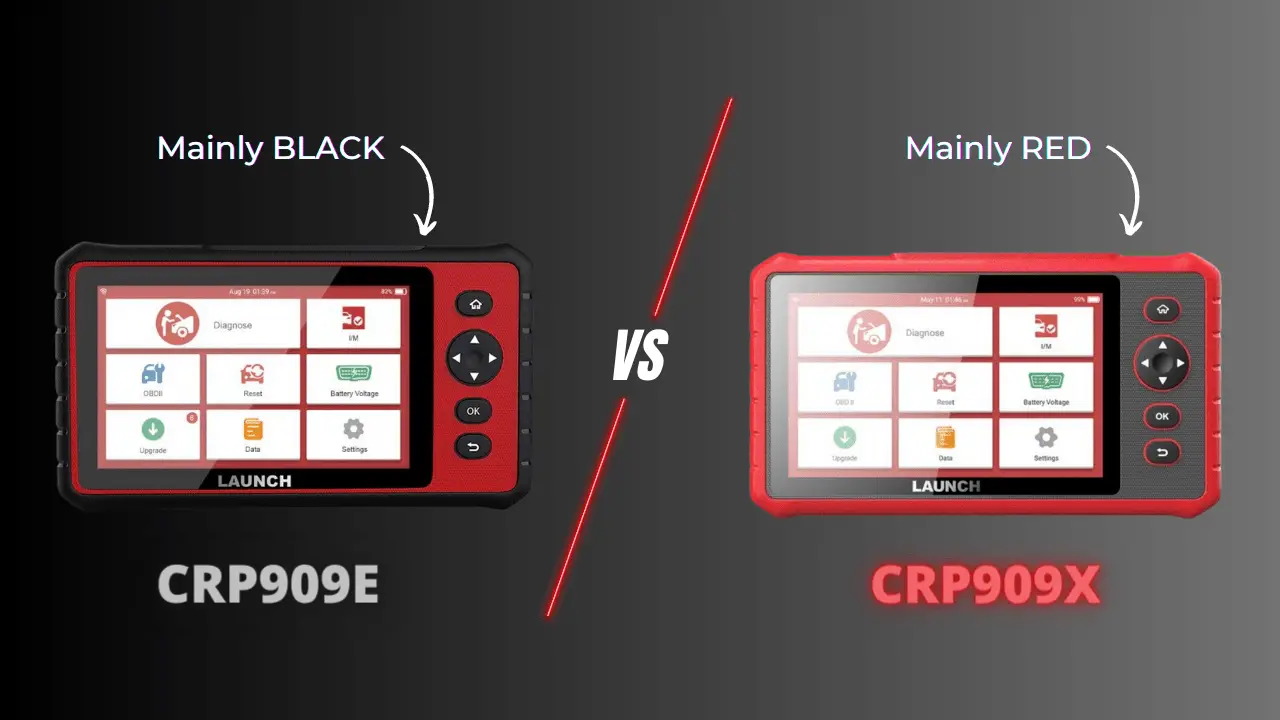 To sum it up, when comparing CRP909E vs CRP909X, there's no distinction in the two most important aspects: their function and vehicle coverage. You can pick either scanner based on your color preference as they perform equally well.
---
LAUNCH CRP909E vs. CRP909X: Key Similarities
Since there isn't much difference between LAUNCH CRP909E and CRP909X, let's now focus on what they have in common. I'll break it down into four main parts: performance, vehicle coverage, design & hardware, and after-sales service.
Performance: Offers all-system diagnostics, and 28 service functions
Both the Launch CRP909E and CRP909X offer the capability to read and clear trouble codes from all car systems. If you're interested in live data, you can view it in both text and graph formats.
Moreover, you have the option to not only view but also record, review, and share the data at your convenience.
Beyond that, these two scanners enable you to perform up to 28 commonly-used service functions. Some of the most notable functions for performing maintenance tasks include:
ABS bleeding
Key programming
Throttle body relearn
SAS reset
EPB reset
Adblue reset,
and more.
Alongside the functions I've mentioned, there are many others available as well. For further details, you can refer to their product description.
Today's best Launch CRP909E price:
Today's best Launch CRP909X price:
---
Vehicle Coverage: Cover OBD2 cars & light trucks
Both the Launch CRP909E and CRP909X scanners are designed to support a wide range of car manufacturers, including American, European, and Asian cars. As long as the vehicles are OBD2-compliant, they are fully compatible with both of these scanners.
---
Design & Hardware: Powerful processor, no lag issues
These two scanners are equipped with Quad-core processors, ensuring smooth performance without much lag during use.
They have 2GB RAM and 16GB memory, which may not be a lot but is still sufficient for DIYers and home mechanics.
The LAUNCH CRP909X and CRP909E are powered by 6000mAh and 6100mAh batteries, respectively. While the capacity may not be huge, they directly draw power from the vehicle's battery, which doesn't consume much of their internal battery.
Both scanners boast 7″ screens, giving you plenty of space to easily see and analyze live data.
Despite their numerous advantages, it's important to note that these scanners use OBD2 cables instead of Bluetooth. Nevertheless, the cable length is long enough to use them from the passenger side comfortably.
Today's best Launch CRP909E price:
Today's best Launch CRP909X price:
---
After-sales Service: Come with longest warranty (5 years)
Both Launch CRP909E and CRP909X come with 2 years of free updates, and after the free update period ends, the update fee is $100 per year. However, even if you choose not to update, you can still use the available functions, except for accessing newer vehicle releases that may require updates.
Additionally, both scanners offer a 5-year warranty from Launch, providing assurance during their use.
In terms of customer support, I contacted the seller via Amazon, and they were quite enthusiastic in helping me with any questions I had. While I haven't contacted the Launch manufacturer directly yet, the seller's support has been satisfactory.
---
Recommendations
Launch CRP909E and CRP909X, featuring up to 28 service functions, are ideal options for DIYers and home mechanics. With such a wide range of service functions, performing various car maintenance tasks becomes incredibly simple.
As there is no distinction in functions and vehicle coverage between the two, you can simply choose the scanner based on the color you prefer.