The Launch has a ton of top products, and Launch CRP129 is one of their flagships. Mechanics all over keep buying Launch CRP129 for a reason. It's one of the best OBD2 scan tools.
Note: Never buy it before you know it's what you need by studying the comparison chart below.
Launch CRP129 vs. CRP123 vs. Creader VII+ comparison chart

Launch CRP129


Launch Creader CRP123


Launch X431 Creader VII+

Customer Rating

Price
Product Dimensions
5.9" x 1.2" x 2.4"
9.4" x 8.4" x 2.7"
9.2" x 7.8" x 1.7"
Item Weight
1.65lbs
1.75lbs
1.28lbs
Pros
Offers Full OBD2 10 Modes;
Performs Engine, Transmission, ABS, Airbag Diagnosis;
Can reset Oil Maintenance, EPB, and SAS.
Full of OBD2 functions;
Can perform Engine, Transmission, ABS, Airbag Diagnosis;
Wide range of Vehicle Coverage.
Comprehensive diagnosis on 4 main systems ENG ABS SRS AT;
Full OBDII Modes;
Wide range vehicle coverage.
Cons
Possible Problems of Compatibility (should check carefully before buying).
Doesn't support OBD2 compliant vehicles made before 2006;
Poor tech support;
Not support iOS.
Not work with Windows 10;
Possible Compatibility issue (check carefully before buying).
Bottom Line
Launch CRP129 is a fast and efficient scanner designed for Beginner Mechanics and Experienced Enthusiasts.
Launch CRP123 is a helpful tool for average car owners & DIYers.
Launch Creader VII+ is highly recommended to DIYers or average car owners.
This scanner has a lot of extra handy features. Below, I will discuss why you need to get the Launch CRP129 Scanner if you regularly work on cars.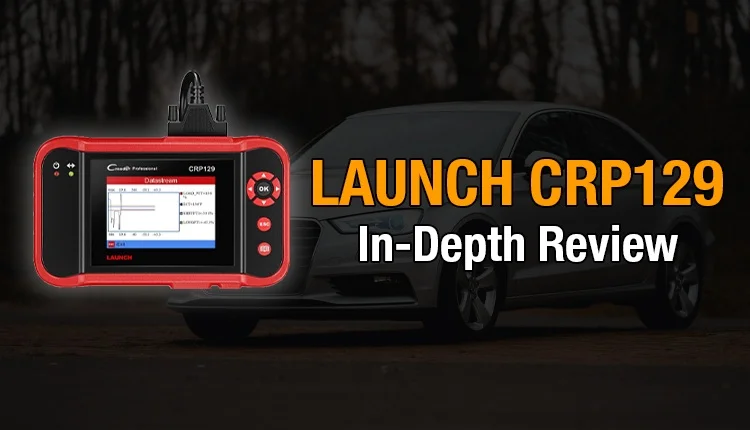 Launch CRP129 detailed review
Launch CRP129 OBDII Code Reader for Mechanics and Experienced Enthusiasts
Not only can Launch CRP129 reset your check engine light it can also reset your oil light, reset your break block, and correct steering angle system. This scanner can literally do pretty much everything.
Strengths of Launch CRP129
First of all, the interface is well-designed, making it easy to read codes and reset any lights. The screen is roughly three inches, and it is bright.
The control pad also has four arrow buttons, so you can scroll in whatever direction you need to. It has a dedicated button for selecting things and a dedicated button to get back a screen.
One of the significant features that make this diagnostic tool stand out above the rest is the book button. This simple little button enters a screen that tells you what the code that it is giving means. This extra little feature saves a lot of time from having to look things up.
Another great this about this little scanner is it is incredibly versatile. Not only does this is a scanner to read check engine lights, but it can read other lights too.
It can tell you why your transmission light, abs light, and airbag light are on as well. This is a very convenient thing because you don't need multiple scanners for each light.
This also helps in the cost department. If you are not used to buying car tools, you may think this scanner is costly, but it is very budget-friendly for everything it can do in all actuality.
You can have one scanner to check all the lights in your car. That is a lot of budget savings right there. I still haven't even mentioned all it can do.
The CRP129 can also run the oxygen test on your car and the carbon canister test. This means that this thing can do a lot more than just DTC codes.
Not only can it reset your check engine light, but it can also reset your oil light, reset your brake block, and the correct steering angle system. This scanner can do pretty much everything.
Outside of being an all in one scanner, it works on pretty much any car made from 1996 and forward. As long as your vehicle has a 16-pin OBD-II port, this scanner should work for you.
Even if you have a foreign car, such as a BMW, this scanner can still work. You can purchase an adapter to convert it to a 38 or 20 pin.
This makes this unit even more cost-effective because you don't need to buy a separate unit for those vehicle brands.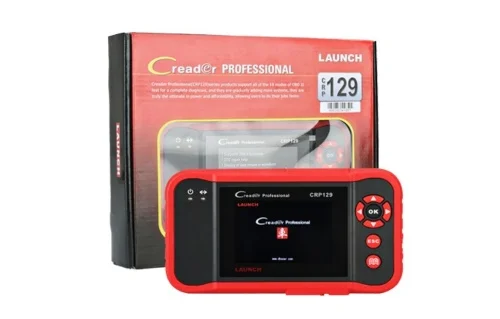 This scanner supports all 10 test modes for OBD-II cars and has a lightning-fast boot time, which is excellent.
Even though this scanner can clear codes for you, it also has another cool feature: an SD card slot. You can put an SD card in this slot and save codes and information from the built-in book.
You can then print this information out. This can help with repairs or help you tell someone what is wrong with their vehicle.
The scanner does not have a battery, which is a good thing because it is always ready to work. Just plug it in, and it will kick on. The small size makes it easy to keep with you at all times.
Related post: Best Launch Scan Tools 2023 [Comparison & Review]
Shortcomings of Launch CRP129
Some people may consider the no internal battery a code. This is because if you are working on many cars, you will probably come across plenty of dead batteries. If that is the case, you have to switch the battery out before reading any codes.
Secondly, the scanner does not include the software CD to use with your computer, so you have to spend a little time downloading it.
Luckily the unit has a codebook itself, so if you need to use it right away, you can.
The software is not Mac compatible as well, but this isn't much of an issue since you can find the code meaning in the device.
Some people claim that it doesn't work with their vehicle. That might be the case. It could more likely be because since the CRP129 is such a great scanner, some people have begun counterfeiting them.
This means you get a product labeled as a Launch Tech scanner, but it is just some knockoff that doesn't work.
Just make sure when buying your Launch Tech diagnostic tool to get it from a trusted site with a return policy. As long as you do that, you will get a real unit that is everything you expect it to be.
Check Price at Amazon
Who is Launch CRP129 built for?
The Launch CRP129 is a fantastic scanner full of a lot of features. This scanner is more geared to semi-professional or professional mechanics. If you work on different vehicles regularly, then you really should consider getting this scanner.
The fact that this scanner is an all in one device is terrific. If you are used to buying car tools, you know that this scanner is extremely budget-friendly. If you use even half of the features that this OBD-II scanner will do, then you should get it. It is an easy scanner for you and will make things a lot more convenient the next time you work on a car.
Read more: Launch CRP129E vs. CRP129X vs. CRP129: In-depth Comparison
Read more: Best OBD2 Scanners 2023 Review