If you want a simple and reliable scanner to read and erase codes, KONNWEI KW850 is worth trying. This tool is designed for both beginners and auto DIYers with many easy-to-use functions. You also will be surprised with the battery test in a low price product like KW850.
KONNWEI KW850
Best Multifunctional Scanner Under $80

Scanner type: Full OBD2 scanner
Fit for: Newbies, Home mechanics
Vehicle type: Car/Light truck
(Gasoline/Diesel)
Connection type: Corded
Work on: OBD2 vehicles
Price range: Under $100
Buy this scan tool if you want to …
DON'T buy it if you want to …
Pros
User-friendly interface
Quick battery test
Durable polyester storage bag
Protective rubber border around
Free lifetime update
Reasonable price
Extra-long cable
High accuracy
Cons
Not support ABS, SRS, and transmission code
Not waterproof
Cannot be updated with macOS
Unclear manual
Not anti-glare screen
Every essential function for a beginner is packed in KW850. If you are searching for a suitable code reader, KONNWEI KW850 does the trick.
Read on to know my personal experience after using this scanner.
KONNWEI KW850 Price: Fit In Your Pocket
With the price of around $70, KONNWEI KW850 is well worth the investment, considering what you can achieve with the use of this device. 
Apart from its basic functions, what makes KW850 distinctive is the color screen and durable rubber border around it. This tool also features a 4-line graph of live data at the same time.
Definitely recommend this to anyone needing a budget scanner for high quality!
KONNWEI KW850 Vehicle Coverage: Cover 90% Of OBDII-system Vehicles
According to the manufacturer's manual, KONNWEI KW850 is compatible with most gasoline and diesel OBDII cars.
US: from 1996
EU: after 2001 (gas engine) and 2003 (diesel)
Asia: after 2005
But I found some cars it cannot work on, like Mercedes and 1996 diesel cars.
So, you should e-mail the manufacturer via [email protected] to confirm before buying. Their customer support is good.
Besides, please keep in mind that KONNWEI KW850 doesn't work on hybrids or electric cars!
Note: If your car isn't compatible with KW850, you will get a "Communication Error" message. Check your vehicle to identify whether it has a 12V OBDII protocol.
KONNWEI KW850 Hardware & Design: Have A Protective Rubber Border & Colorful Screen
At first glance, KONNWEI KW850 is big but light, with a good protective rubber border around it. Thanks to the durable material, there is no crack on KW850 even though you drop it. 
Also, the colorful large screen is a plus. But it's pretty challenging to see the data if your eyes are not good enough because the screen size is 2.8 inches.
Another thing I have noticed so far is that the KW850's screen is not anti-glare, so it can be tough to read in direct sunlight.
Regarding the OBD2 cable, I appreciate the impressive length of 4.5 feet. You can easily sit in the driver's or passenger seat while connecting the scanner to your car.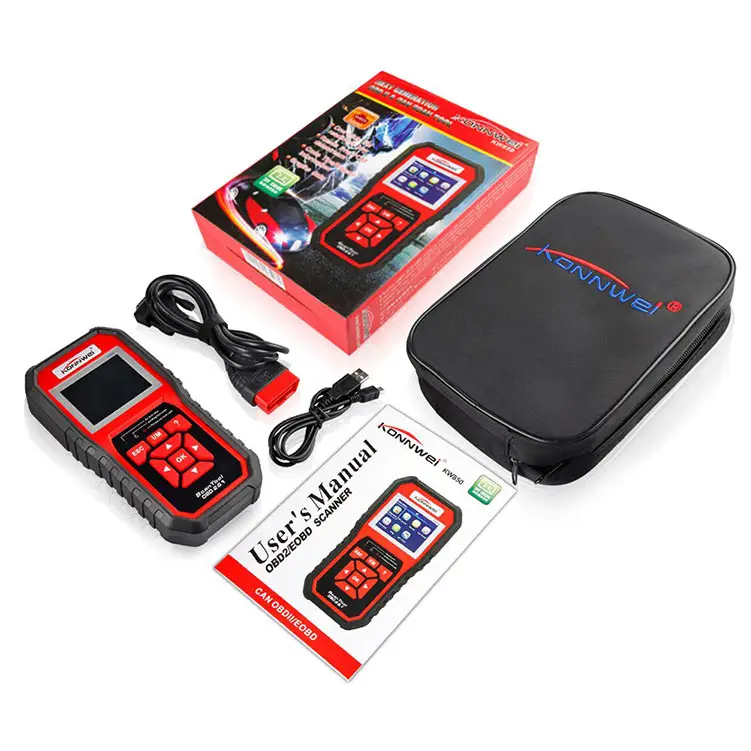 KW850 comes with a storage bag. This allows me to keep it protected without worrying about the cords becoming damaged.
Aside from its superior design, this tool is not waterproof, so be careful around wet areas. But in the end, that's not a big deal to me.
Click here to see more pictures of KONNWEI KW850.
KONNWEI KW850 Performance: Work Great For What It Is Supposed To Do
Whether you are a beginner or an auto-DIYers, KONNWEI KW850 offers most of the required functions. Read on to know what you get from this scan tool!
1. No more annoying Check Engine Light 
By using KONNWEI KW850, you can read and clear every engine fault code on your car. Another great thing is this one displays both the code and what it means within seconds. When you get the code, use the "HELP" button to limit the possible causes. Now you have the first evaluation why the CEL is on.
Also, although this scan tool only supports engine fault codes, I appreciate its accuracy. 
Last week, I had an already known problem on my Ford, needed this tool for a different project. So I used my vehicle to identify the accuracy. The diagnosis is 100% spot on cause it recognized the right code on my car.
Trust me, KW850 won't disappoint you.
2. Point out the actual fault behind the triggered code
Getting the code is the first step to pinpoint the primary cause. You'll need to analyze the abnormal parameters on your car. And live data is your life saver!
KW850 displays the real-time data both in numbers and graph format. It's easy to see both performing correctly via the built-in graph display and the voltage readings of the sensors.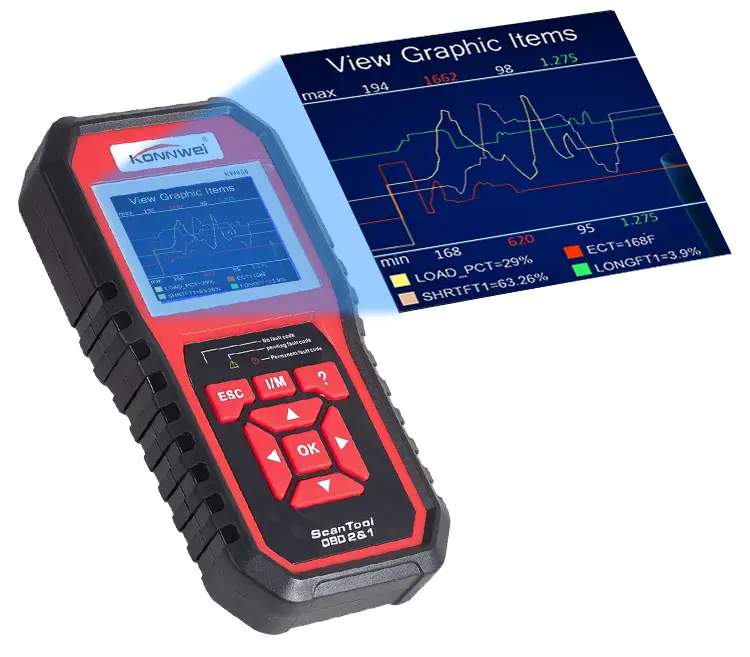 Besides, I love how the color screen shows four groups of live data at the same time. It's simpler to analyze the abnormal sensor parameters and determine which part is faulty.
However, observing the O2 data numbers while driving is kind of annoying. I can't monitor it quickly because the upstream sensor's status changes so fast. The data will be easier to read if you store and print it on a PC.
In addition to live data, don't forget that freeze frame data also helps find the main cause of the problem.
This function gives a snapshot of how the vehicle performed when a fault occurred.
The scan tool's screen shows engine conditions such as the fault code, engine coolant temp, fuel trim, etc.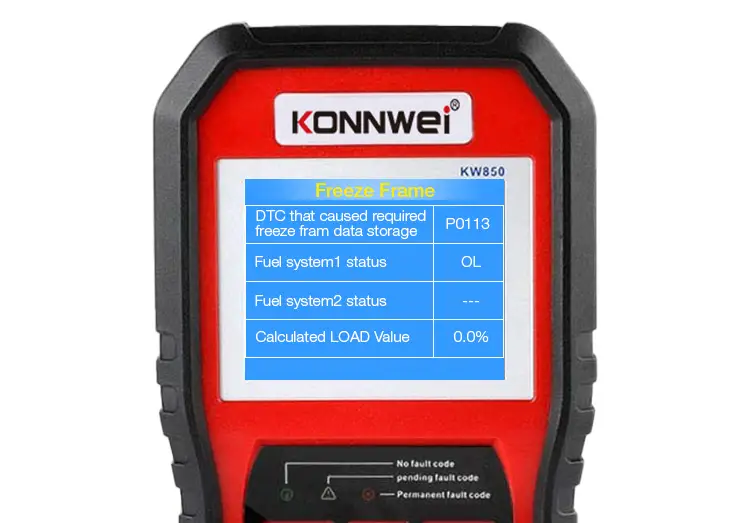 Thanks to the different values when a car is normal and when it is faulty, I can analyze the whole system. And finding the culprit is extremely easy for everyone.
3. Decrease the chance of failing a smog check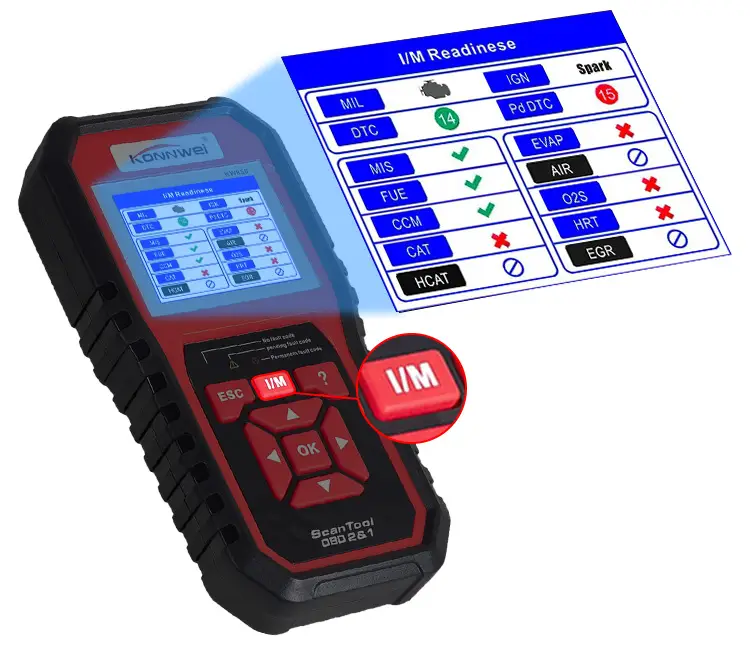 KW850's hotkey I/M readiness allows you to self-test the car's emission control systems before a smog check. You can identify the defective part and fix it as soon as possible. 
This increases the success rate of passing the test and saves you money and time.
However, there is a minor percentage of failing the emission test even though this scanner gives you a ready message.
It's advisable to check any pending codes carefully before a smog test!
4. Save time and avoid being ripped off by mechanics
All the functions I mentioned above help you save valuable time from visiting a repair shop. 
If you want to cut back, make use of KW850's features to fix the vehicle yourself. 
But I suggest non-DIY newbies save and print data. The labor rate will be lower when bringing the printed report to a mechanic because you don't need to pay the diagnostic fee. 
Furthermore, you'll never let the mechanic rip you off as you identify the root cause.
5. Prevent you from being stranded on an empty road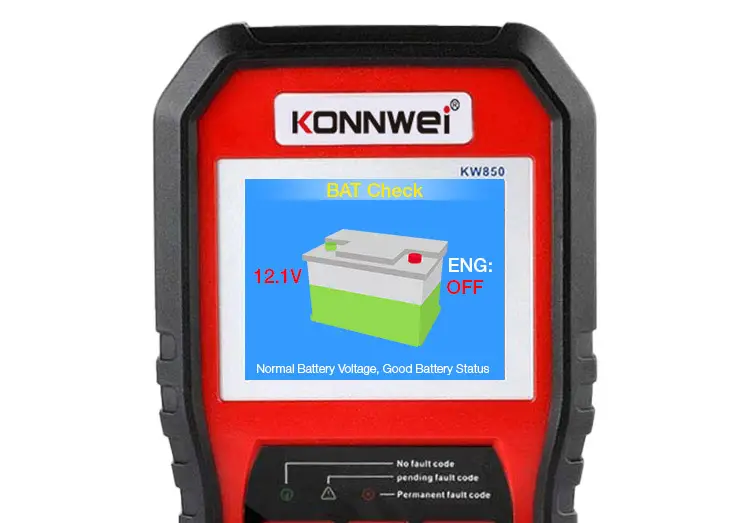 In addition to many useful features, KONNWEI KW850 is a battery tester. By looking at the real-time voltage, I can know how good my car battery is. 
Therefore, avoiding unexpected situations like being stuck in the middle of the road because of a dead battery is effortless.
For example, I suspected my battery was leaking and needed a multimeter to check it. This tool made it very straightforward for me to find my current battery status without a special tool. 
KONNWEI KW850
KONNWEI KW850 Setup: Straightforward Setup And Easy To Use
This scan tool is super easy to set up. Connect the scan tool and your car with the OBD2 cable. KW850 is active, and you can try the first test!
Here is a video on how to set up this scan tool.
Every diagnostic feature in KONNWEI KW850 is easy to understand and perform.
Although the user manual is a bit unclear, this scanner is very easy-to-use for a beginner to operate any functions. After using the scanner for the first time, you will be familiar with KW850's features.
Especially in terms of the battery test function, the scanner will show the current voltage of your battery with just one click. Based on this number, you can identify whether the battery is working well or not.
Check this video if you want a detailed explanation of each function. I find this one the most easy-to-follow after watching many videos on how to use KONNWEI KW850.
KONNWEI KW850 Warranty & Update: 36-month Warranty & Free Lifetime Update
KONNWEI KW850 offers free lifetime updates to fix the latest bugs or add new features, which makes it compatible with the latest vehicles. But remember that when the scan tool is delivered to you, that's the updated version.
With a worry-free 36-month warranty, KONNWEI KW850's staff always support you! They will reply to your e-mail within minutes but bear in mind that their English is not good and difficult to understand. 
Note: It cannot be updated on an iMac or MacBook.
Don't miss the reviews of 637 verified customers on Amazon before making a decision (This data was collected on July 30, 2022). 
KONNWEI KW850 Alternatives
Generally, KONNWEI KW850 is worth every penny compared to its price.
But if you are looking for products that can solve problems KW850 couldn't, I have recommended two scanners based on my experience. It's Foxwell NT301 and Bluedriver.
[table "1183" not found /]
#1 Alternative: Foxwell NT301
Foxwell NT301 has mostly basic and prominent functions as KONNWEI KW850 but at a lower price. 
NT301's manual is more informative and precise than KW850's. Even an average person can understand all the instructions. Moreover, Foxwell is a famous brand for OBD2 scanners.
If you don't mind the lack of battery tester function, go for Foxwell NT301! 
#2 Alternative: Bluedriver
Another product to read and erase codes you should consider is Bluedriver. 
Instead of using a small-screen scanner, it's better to take advantage of your smartphone and turn it into a portable tool.
Thanks to the larger phone screen, you can easily monitor all the parameters and data graphs. 
Moreover, its mobile ability sets this scanner apart from other competitors. Moving around your car with the tool in your hand is unchallenging.
Although its price is higher than KW850, Bluedriver supports transmission, ABS, SRS fault codes and along with many enhanced functions. Believe me, it deserves five stars, and you can't beat the price.
Bluedriver is your best bet if you prefer a Bluetooth scanner to a cable one!
KONNWEI KW850: Final Thoughts
KONNWEI KW850 is the king of simplicity. Which is why I use it.
So if you want a simple and reliable scanner for reading and erasing diagnostic trouble codes (DTCs), you can't beat KONNWEI KW850.
It can save you tons of money before taking your car to a mechanic.
KONNWEI KW850
FAQs
1. KONNWEI KW850 vs. KW808?
KONNWEI KW808 is cheaper than KW850, but it doesn't include a battery test function. 
KW808's interface is not as good as KW850's and is pretty hard for older users to read data. 
In addition, KONNWEI KW808 can only display 1 group of live data, while KW850 can show four exclusive groups of live data in graphing at one time.
But if you want a simple scanner to read and erase code, KW808 is good to go.
2. KONNWEI KW850 vs. KW860?
KONNWEI KW850 and KW860 have the same functions. However, KW860's battery status is displayed in graphing format instead of numbers like KW850.
Pay an extra $3 to own this graphic battery voltage feature.
3. How do I update my KONNWEI KW850?
A free lifetime update is available for anyone who uses Window supported PC or laptop. 
First, download and install the "Uplink" program on your PC/laptop. 
Secondly, connect the KW850 and your PC/laptop with the USB cable. But while plugging the USB cable from the PC/laptop into the scanner, keep pressing the OK button. 
Finally, open the software, and click "Check Update" to start the update process. 
Here it is, you get the latest updated version.