In this review, I will write about KONNWEI KW850, one of the best OBD2 Scanners in the market in 2021
Let's start NOW with the comparison between Konnwei KW850 and its competitors!
KONNWEI KW850 Vs. Foxwell NT301 Vs. FIXD Comparison Chart
| | | | |
| --- | --- | --- | --- |
| | KONNWEI KW850 | Foxwell NT301 | FIXD |
| Customer Rating | | | |
| Price | | | |
| Product Dimensions | 9.5" x 3.9" x 2" | 8.7" x 3.1" x 6.7" | 1.5" x 0.5" x 1.8" |
| Item Weight | 1lbs | 1.2lbs | 0.96oz |
| Reset MIL | ✔ | ✔ | ✔ |
| Engine Diagnostics | ✔ | ✔ | ✔ |
| Live Data/Freeze Frame | ✔ | ✔ | ✔ |
| Check I/M readiness status | ✔ | ✔ | ✔ |
| Full OBD2 Service Functions | ✔ | ✔ | ✔ |
| Car, SUV, Light Truck, Diesel | ✔ | ✔ | Car Only |
| Car Health Monitor | -- | -- | ✔ |
| | | | |
Bonus: Should you need something different, read the Best Professional Automotive Diagnostic Scanner 2021 HERE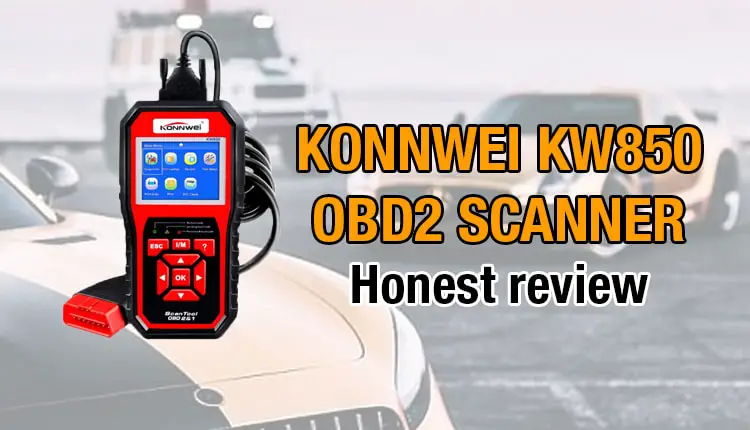 Overview Of KONNWEI KW850
Today, there's a plethora of OBD2 sensor systems to pick from. What sets them apart is the functions and tasks they can perform. These gadgets are quite useful for diagnosing issues on modern cars, and the same with Konnwei OBD2 KW850.
Konnwei OBD2 KW850 Scan Tool was developed to help car owners diagnose their vehicle's computer.
You can simply connect it to your car's diagnostic port, start the engine, and scan for trouble codes. It can read its diagnostic data from this Konnwei hand-held device.
Finding the cause of the check engine light warnings or trouble codes has become much easier.
This tool works on any car, light truck, hybrid, SUV, or hybrid manufactured from 1996. You also don't have to be worried while working with this diagnostic tool.
Detailed Review Of KONNWEI KW850
KONNWEI KW850 OBD2 Scanner Professional Auto Code Reader Car Diagnostic Tool Check Engine Light Scan Tool for OBD II Cars Since 1996 (Genuine Version)
Konnwei OBD2 KW850 is a small adapter that makes finding the cause of the check engine light warnings or trouble codes become evidently much easier.
Features And Functionalities Of KONNWEI KW850
The futuristic-looking Konnwei OBD2 KW850 scanner is effective in its functionality thanks to the following key features.
The tool checks Oxygen (O2) sensor systems and reads On-Board Diagnostics (both OBD I and II) for American vehicles built since 1996.
This gadget can access your manufacturers' specific diagnostic codes (OEMs) in addition to generic diagnostic codes. It is better than the aftermarket codes and definitions other scanners provide.
This tool can read and freeze frame data. Frame data is the data recorded by a car in the event of an accident.
The KW850 solves emission and checks engine light related trouble codes through its fix codes database. You can read the record and print real-time vehicle data with this tool and monitor the battery voltage, temperature, and the engine's r.p.m.
You can also read and erase transmission and check engine light trouble codes with just a push of a button.
Compatibility Of KW850
The Konnwei OBD2 KW850 works on petrol and diesel passenger cars, SUVs, and light trucks, built after 1996. The device is compatible with all PC and Android systems except iOS.
Software And Update Of KONNWEI KW850
The Konnwei OBD2 KW850 has over 3000 built-in generic codes and an extensive database of code fixes that are certified by professional auto-mechanics.
The package comes with a CD that contains software for installation on your personal computer or laptop. With the software installed and the device connected via USB, you can always check for updates.
The gadget's software provides I/M key car readiness status and monitoring on a graphical view.
The gadget also has detailed information concerning any vehicle, such as VIN (Vehicle Identification Number) and CID (Calibration Identification).
Pros
Unique, ergonomic, and compact design: Its great design makes it easy to hold in one hand.
Excess voltage protection: You can check the performance and record live data as you drive.
Compact, strong, and durable: Its interface makes it simple for one to navigate without any complications.
Works on both petrol and diesel motor vehicles.
Cons
KW850 does not work on heavy-duty trucks
It is not compatible with iOS devices.
The Konnwei OBD2 KW850 offers both basic and professional scanning capabilities. This means it can be used by either car owners, DIYers, and car enthusiasts.
You'll be able to accurately determine the cause of the engine trouble codes and make the right repairs. Quality diagnostics and fix codes are a guarantee since the gadget is equipped with code fixes that have been thoroughly checked by experienced auto-technicians.
Take this OBD2 scanner if you have a gas engine made from 1996-present or a 1997 and newer diesel one.
Konnwei OBD2 KW850
Bonus: KONNWEI KW818: OBDII Car Diagnostic Tool Review
The Bottom Line
You don't have to lift the hood to check for your car's diagnostics. By plugging in the Konnwei OBD2 KW850 to your OBD2 input port, you'll receive the manufacturers' specific and generic codes immediately. Yes, accessing your car's computer is that easy.
One of its outstanding features is its ability to read oxygen sensors. You'll be able to notice when your car is having problems with its air intake pipes. If you also want to obtain precise car diagnosis for either individual or professional use, then this is the go-to OBD2 scanner.
You won't have to sacrifice durability or quality performance since this gadget will do the car's diagnostics and oxygen scans with pin-point accuracy and clear all problematic codes.
Bonus: Autel MK808: Full-System Diagnostic Tool Review