The iCarsoft i980 is a user-friendly and easy to use diagnostic scanner enabling you to read and reset fault codes related to the Check Engine Light.
The iCarsoft i980 accesses control units of the Mercedes Benz cars via an OBD2 port. This tool works on Mercedes Benz cars that were manufactured after 1996.
iCarsoft i980 vs. iCarsoft MBII Comparison Chart

iCarsoft i980


iCarsoft MB II

Customer Rating

Price
Product Dimensions
9.4" x 5.6" x 2.4"
26" x 19" x 6.5"
Item Weight
1.1lbs
1.1lbs
Pros
Can reset and diagnose main systems;
Offers an advanced troubleshooting;
Displays actual sensors and streams live data.
Free software updates.
Great product accessing all the Mercedes systems;
Supports 4 systems engine, transmission, ABS, airbag diagnosis.
Pro quality with an affordable price.
Cons
It is not applicable to all Mercedes chassis like 129,140,210,461,463 and 202.
Not support these chassises: 107,124,126,129,140,201,202,208,210.
Bottom Line
iCarsoft i980 is an excellent scan tool for Mercedes Benz owners.
Mercedes Benz / Smart owners will find iCarsoft MBII the best scan tool for their cars.
Read more: ICarSoft MB II: Smart Diagnostic Tool for Mercedes Review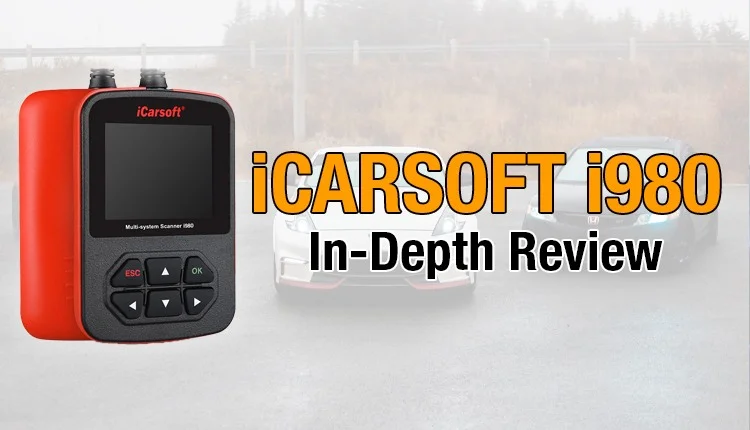 iCarsoft i980 Overview
iCarsoft Genuine Mercedes Benz I980 Professional Diagnostic Scanner Tool
iCarsoft I980 supports all Petrol, Diesel, and Gasoline cars in all countries worldwide. The only requirement is that the Mercedes Benz needs to be OBD2.
On the W208 and W210 chassis, the scanner is limited to ECU as those chassis only require a 38 pin connector for complex diagnosis. However, on the newest models, the tool can access several significant units.
The iCarsoft i980 is a very comprehensive tool for the Mercedes Benz. That is the reason why we are reviewing it.
iCarsoft i980 Detailed Review
Compatibility
The tool is specifically made for the Mercedes Benz. It covers most of the models manufactured after the year 2000, which do not require the 38 pin connector.
Examples of Mercedes Benz models compatible with iCarsoft i980:
C-Class: W203
E-Class: W207, W212, and W203. There is no support for W210 other than ECU.
A-Class: 168
S-Class: 221, 220
CL-Class: 216, 215
GL-Class: W166, W164
SLK-Class: 172, 171
CLK-Class: W209
CLS-Class: W218, W219
SL-Class: 231, 230
R-Class 251
M-Class: 166, 164, 163
iCarsoft I980 supports all Petrol, Diesel, and Gasoline cars in all countries worldwide. The only requirement is that the Mercedes Benz needs to be OBD2.
iCarsoft early models like i980 for Mercedes-Benz, i910 for BMW, i930 Landover /Jaguar have been on the market for a long time, but iCarsoft i980 was made for the latest version of the Mercedes Benz.
Display and Software
The iCarsoft i980 display is a 2.8' LCD screen full color with 302*240 megapixels displays with contrast adjustment. The software used is OBD2.
Features of iCarsoft i980
Tire Pressure Monitor and AirBag Control Unit.
Engine manual and auto transmission
Transmission Control Unit and Headlights
Seat Control Modules, Door Control Units, Shifter Module, and Airmatic Suspension
Accessory Control Module
Air-lock Brake Systems.
Air conditioning and climate control systems
Electronic Selector modules and ATA functions.
Pneumatic System Equipment
D2b Audio Gateway and Commands.
SAM (Signal Acquisition) Modules.
Headlamp range adjustment.
Electronic Ignition system
RVC and various roof modules.
Automatic Clutch System.
What Are The Specifications?
The product dimensions are 9.4 x 5.6 x 2.4 inches (135mm (L) x 85 mm (W) x 26mm H). It only weighs 10.6 ounces.
The power is 8V-24V, and the operating temperature is from 20C to 75C. It also has a 2.0 USB High-Speed upgrade (Able to upgrade the firmware from the Internet).
Functions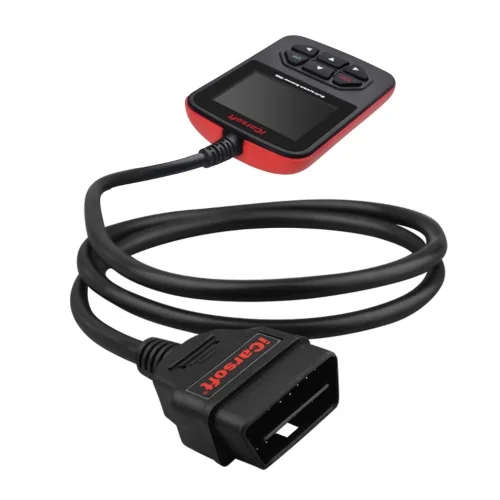 iCarsoft i980 supports all Mercedes Vehicles made after 2000. However, it only supports protocols of EOBD and OBD2, except for OBD1.
This scan tool also reads and clears DTC, including the Mercedes Benz manufacturer diagnostic trouble codes. It can view and graph live data for color graphing with a fast refresh rate for live data and better graphing readings.
The iCarsoft can do all the component testing and clears adaptation, including resetting oil service light, checking engine light, service mileage and service intervals, recalibrating and replacing brake pads safely.
It supports all the ten test modes of the new J1979 –OBD2 respects, including freeze frame, live data, MIL, I and M readiness, vehicle VIN information, and O2 Monitoring/ Testing.
This scanner supports Dutch, German, and English. You also have lifetime free software updates online when you buy it. ( Only available at Total Car diagnostics, but on other sites, the customers get only one year).
Test Systems
The iCarsoft i980 Mercedes supports you to do a lot of important tests with your Mercedes, such as:
O2 Sensor Testing– allows viewing and retrieving O2 sensor testing results for the most recently carried test from the vehicle onboard the computer.
Vehicle Information- displays the VIN (CVN) and other tests and information on the car.
Freeze Frame– When a related emission fault happens/occurs, certain vehicle conditions are recorded by the onboard vehicle computer.
Evap Test System- allows initiating a leak kind of test for the EVAP vehicle system. Before you use the system test function, first refer to the vehicle service repairing manual and determine the necessary procedures to stop the test.
On-Board Monitoring- utilized to read the results of the onboard diagnostics monitoring test for certain specific systems.
Data stream- lets you read the live graphics with a high refreshing rate.
The scanner reads not only the ECU but the Airbag controlling unit on all the Mercedes Benz cars.
Pros
It resets and diagnoses fault codes including ABS and airbag
It has an advanced troubleshooting. No need to visit workshops.
Displays actual sensors and streams live data.
Affordable and saves you endless trips to the mechanic.
Receives software updates free.
Cons
It is not applicable to all Mercedes chassis like 129,140,210,461,463 and 202.
Does not support old models before 1996.
Lacks programming capabilities.
Affordable and saves you endless trips to the mechanic.
Receives software updates free.
Who Is iCarsoft i980 Built For?
As long as you own a Mercedes Benz, it is vital to own one of the diagnostic tools we have reviewed that will meet your needs. Therefore, the device is crucial as it makes you stop unending visits to the workshops.
Save money by purchasing a diagnostic tool that you will use to check the engine light's status in minutes and save from unnecessary hassles.The tool is made for enthusiasts and beginners to work on their Mercedes Benz. I highly recommend the iCarsoft i980 as the best for its diverse features and affordability. Still, it is compatible with a wide range of Mercedes Benz.
Check Price at Amazon
The Bottom Line
Today, the market is full of many Mercedes Benz diagnostic tools, and shopping for one can be a challenging task. However, the iCarsoft i980 scanner is a perfect investment.
Before making a purchase, ask yourself the features you need as it helps narrow down the market choices. Come to think of it, one diagnostic at a workshop is equal to the price of the tool. Why don't you purchase one and save time and money for the same diagnosis you can do yourself?
Bonus: iCarsoft POR II: Porsche Full system OBD2 Scanner Tool Review