Attention truck drivers and owner-operators: don't let engine faults keep you off the road. 
Meet the Fcar F507 heavy-duty scanner – your new time and money-saving tool. 
In this review, we'll explore its advanced diagnostic capabilities and performance, so you can decide if it's the right choice for your needs.
Get ready to take your truck maintenance game to the next level.
Quick Review
FCAR F507
Price:
Scanner type: Full-system scan tool
Made for: Heavy-duty truck owners
Vehicle covered: Heavy-duty trucks
Connection type: Corded
Buy this product if you want to:
Perform full-system diagnostics

Perform advanced service functions

Perform active tests

Pros
Actuation tests supported

Well-designed

Comes with all the accessories you'll need

Can perform many service functions
Cons
Can't perform DPF regen

Button quality needs improvement

Vehicle Coverage
The FCAR F507 heavy-duty truck scanner has impressive vehicle coverage for most newer model trucks made from 1996. 
Compatible with Freightliner, International, Kenworth, Mack, Peterbilt, Caterpillar, Terex, etc., this scanner has got you covered. 
Remember, if you need clarification, just send the VIN to the seller, and they will let you know which model fits your needs.
Hardware and Design
The FCAR F507 is very well designed, and the manufacturers paid careful attention to details with the product having even seams and gaps. 
Below is a list of things I liked about the F507's design.
1. Includes all essential accessories
As a mechanic who has used the FCAR F507, I can confidently say that I love the comprehensive package it comes with. 
I was impressed to find a carry-on bag that keeps the device safe when not in use, along with several cables for different truck models. 
The scanner itself comes with a sturdy rubber case and a charging cable.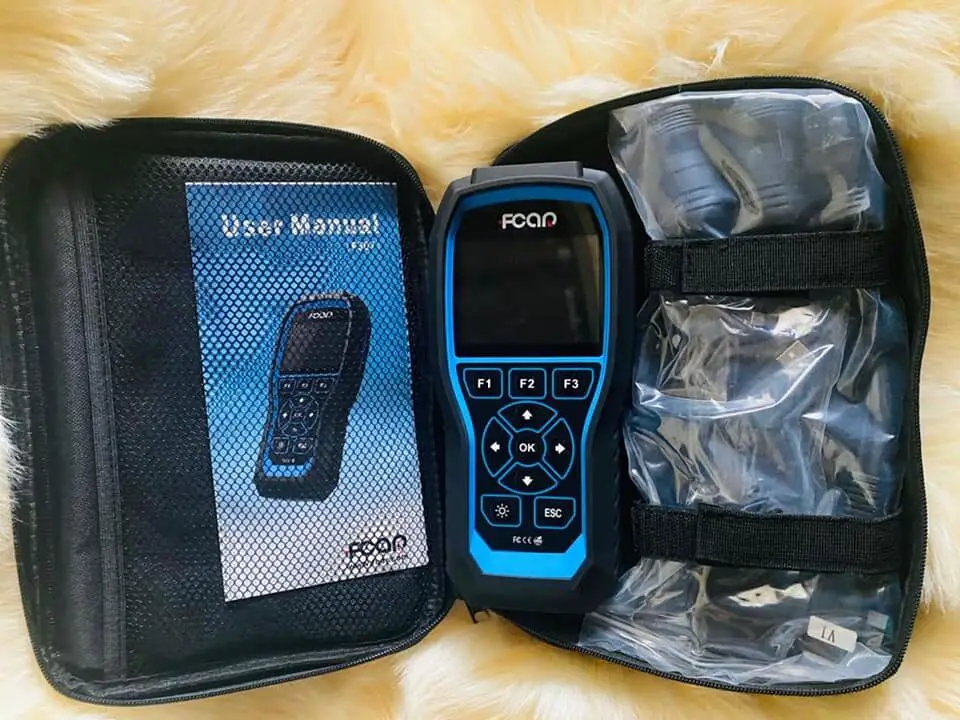 To top it all off, the package includes an SD card that contains updated information about operating the device, as well as an instruction manual. 
The manufacturers have truly thought of everything, making it incredibly easy to get started with this scanner right out of the box.
2. Offer a user-friendly design
Another thing I really appreciate about the design of the Fcar F507 is its backlit display. 
The backlit display ensures that you can easily read the information on the screen, even in the dark. 
This feature is particularly handy for truckers who might need to use the scanner in low-light conditions, such as when driving at night. 
It's a small detail, but one that really adds to the overall usability and convenience of the device.
However, there are some aspects of the Fcar F507's design that could be improved.
One issue I have noticed is with the quality of the buttons. 
They feel cheaply made and don't provide the same tactile feedback as other scanners I've used. 
This is a minor complaint, but it can be frustrating when you're trying to navigate through menus quickly.
Performance
Your truck fleet can stay efficient if you can find and take preventive measures against any issues with the FCAR F507. 
How? 
After I got the F507, I discovered that this tool provides me with helpful information that is useful to diagnose and repair trucks.
Thus, saving me precious time and energy that would have been wasted if I had to run manual diagnostic tests. 
With this scanner, you can: 
1. Read and clear codes from all systems 
The F507 works wonderfully for code retrieval, code deletion, etc.
It also lets you check for ABS problems and communicate with the brakes to retract calipers or open lines for bleeding when needed.
It is a great option compared to similar devices in this price range. 
Although there are cheaper options if all you need is a code reader. Those options are limited to reading and erasing codes. They don't help me much when diagnosing car problems.
 2. Perform actuation tests on ABS systems
This is an update to the FCAR F506, the previous generation device. This model of the FCAR device supports some special functions in the ABS system. 
The scanner lets you conduct actuation tests on ABS systems to diagnose issues in your trucks faster and more efficiently. The Fcar F507 offers 
Trailer ABS Warning Lamp
Extended Diagnostics
Odometer Value
ScratchPad
Redundancy test
Warning lamp. 
3. Perform active tests for the transmission module
The FCAR F507 scanner can also run various tests to ensure the transmission is working correctly, including:
Cluch test enabled
Reset fast adaptive
Lamp tests
Reset auto-detect
And reset throttle calibration
Keep in mind that this function is only available for Allison, Eaton, and ZF transmissions.
4. But you cannot perform a forced DPF regeneration.
This is one function I hoped would be included in the F507, even though it is one of the most necessary functions required by most truck owners and mechanics. 
The DPF helps maintain fuel-efficient and environmentally friendly vehicles. It is part of the system that ensures that your exhaust emissions meet the Environmental Protection Agency (EPA) standards. 
Price, Warranty, and Update Fee
The FCAR F507 is fairly priced at just under $300.
Even better, it comes with a 1-year warranty and a lifetime free update.
I appreciate that this tool comes with pre-installed software, which means you can start using it right out of the box without needing to download any updates. 
However, I was a bit disappointed to find out that any future updates can only be done via the Windows 7 operating system.
Key takeaway
The FCAR F507 is a great product for diagnostic and repair.
It is an excellent tool for beginners and pros alike.
With it, you can reduce hours of repair time and save yourself thousands of dollars from labor costs. 
I haven't found any quality control issues, and I recommend this product to any truck driver or owner operator. 
---
FCAR F507 Alternatives 
One other scanner that I think is great is the Nexas NL102 Plus. This product is excellent for the one function not present in the F507, DPF regeneration.
While the NL102 can conduct DPF regen, it cannot perform actuation tests. 
The NL102 is also $70 cheaper, so you can also get it if the F507 is out of your budget for a scanner.
Depending on what tests you perform more often, the DPF regeneration or actuation tests, you can choose between the FCAR F507 and NL102 Plus. 
Check Nexas NL102 Plus's latest price now:
---
Let me know what you think about the FCAR F507 scanner. Have you used it before? If you have, tell me all about it in the comment section below. 
Also, if you have any questions about the product, post a comment so we can discuss it.