Buying a suitable scan tool is never an easy job, no matter if you are a professional or a newbie who has never bought one before. 
And that is the reason why I came up with this 5-step buying guide based on my own experience. I hope that once fulfilling all these 5 steps, you can choose the best-matched OBD2 scanner for your own.
So let's get started with the infographic first!

Because there is not enough room for everything in this infographic, please check my detailed buying guide below.
STEP 1: Identify What You Need
You cannot pick "the best" if you don't know who you are and what you want. This section will help you figure out the ideal type for you from the 6 types of scan tools.
Who are you?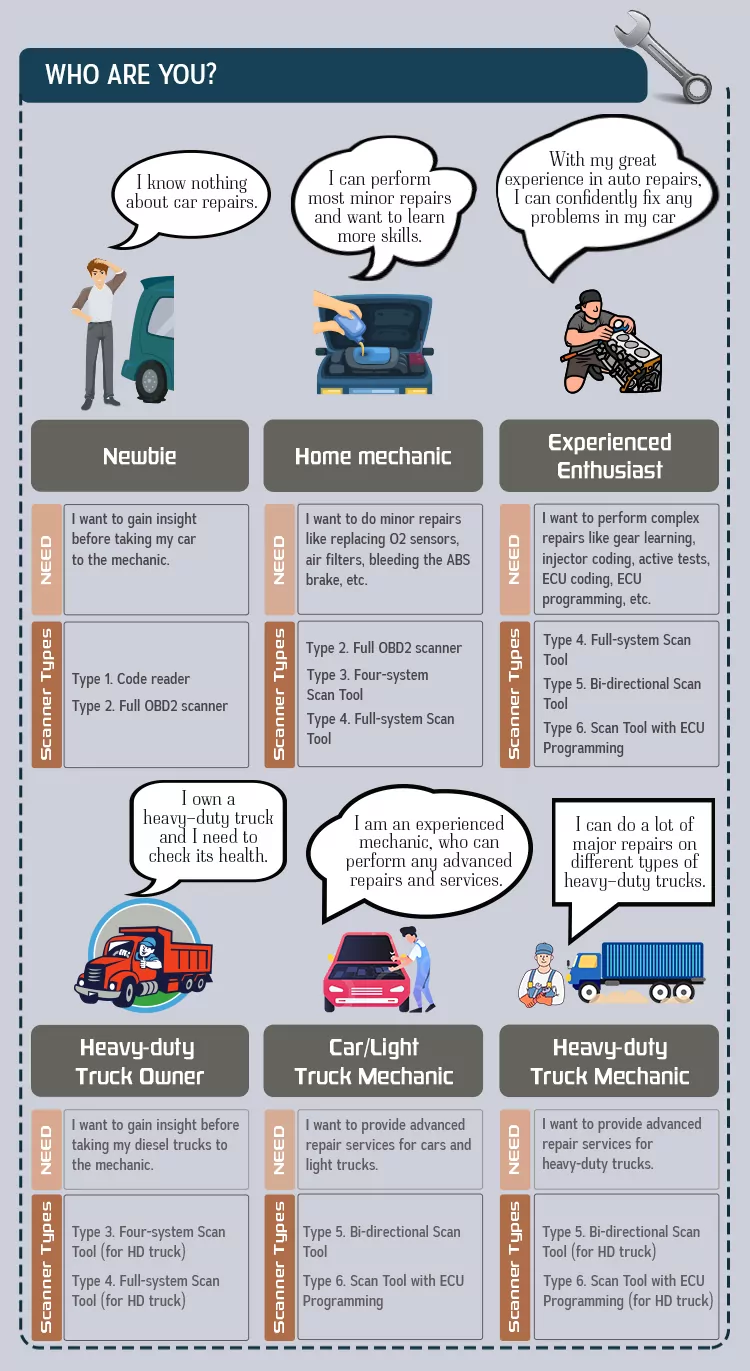 There are 6 typical groups of scan tool users: Newbies, home mechanics, experienced enthusiasts, heavy-duty truck owners, car/light truck mechanics, and heavy-duty truck mechanics.
Newbies:
You are a newbie if you get ripped off by the mechanics quite often as you don't know whether all the problems given really exist in their car. That's why you should have a scan tool on your own to get an insight into the issue before taking your vehicle to the shops.
Home mechanics:
You can call yourself a home mechanic if you can do some minor repairs, such as replacing an air filter or an O2 sensor. 
Read more: The 9 Best OBD2 Scanners for 2023 [Affordable but Reliable]: Never Buy A Scan Tool Before Reading This Review
Experienced enthusiasts:
When it comes to transmission-related issues or other complex problems, if you still can handle them, then you are obviously an experienced enthusiast. Therefore, the scanner you are looking for has to offer advanced functions to meet your expectations.
Read more: 8 Best Professional Automotive Diagnostic Scanners 2023 [Comparison & Review]
Heavy-duty truck owners:
As an owner of a truck or more, what you need is a basic scan tool to read error codes before having them fixed by the mechanics. Remember that if this is you, here are 2 criteria you should notice in a heavy-duty scanner:
– It must support one of these standard protocols: J1587, J1939 and J1708.
– It must work on Class 4 – Class 8 trucks.
Read more: 9 Best Heavy-duty Truck Scanners and Software 2023: What Nobody Told You Before?
Cars/light truck mechanics:
If you are a mechanic who is in charge of cars/light trucks, then working with a scan tool may be a familiar job. But if what you want is to upgrade your old scan tool but don't know which one, this guide is still right for you.
Here is the list of professional scan tools that you can refer to. 
Heavy-duty truck mechanics:
A scan tool for heavy-duty trucks is different from the one for cars/light trucks. As a mechanic, you can take Autel MS908CV or Autel MS906CV into consideration since they are popular and designed for this group of vehicles.  
Read more: Autel MS906S vs. MS906CV vs. MS908CV: Which Is the Best?
Now, you know exactly who you are, let's move to the next question!
Which type of OBD2 scanner do you REALLY need?
All scan tools are classified into 6 types: code reader, full OBD2 scanner, four-system scan tool, full-system scan tool, bi-directional scan tool, and scan tool with ECU programming.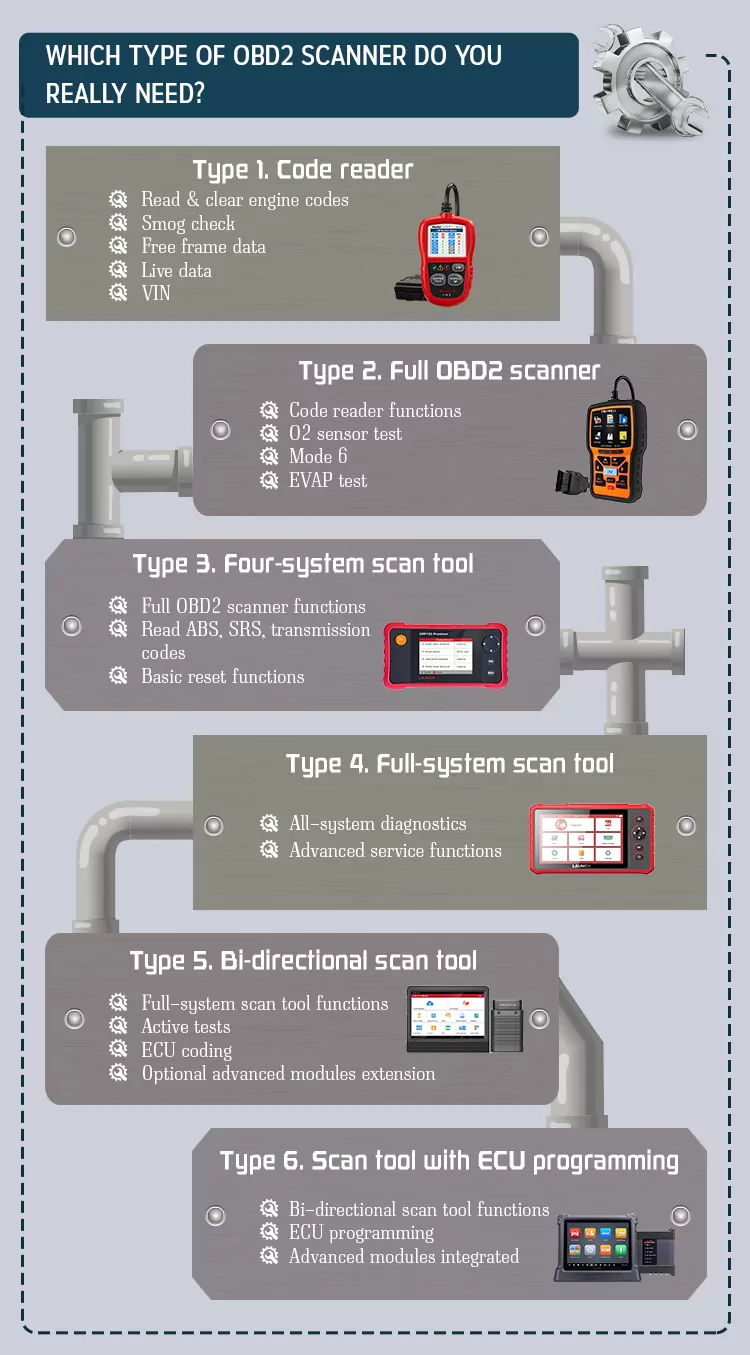 When it comes to a code reader's functions, people keep saying about mode 6 or mode 8, and other complicated things, making it difficult to understand, especially for a newbie.
So to make it simple, I will list all the features of the 6 scan tool types in an everyday language. Just try to match your needs with what a scan tool can do, you will know what is right for you.
Type #1: Code reader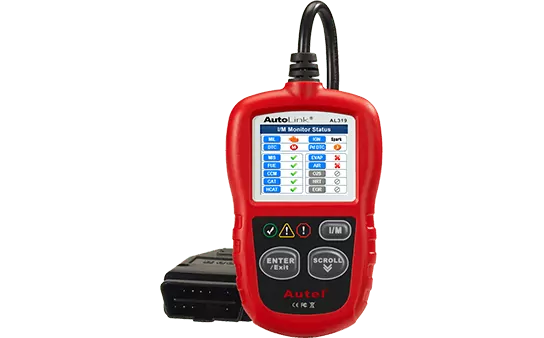 With an OBD2 code reader, you can: 
1. Read & clear ENGINE codes.
2. Pre-test smog check: this is usually written as I/M readiness in the product's description. You can have your vehicle checked via this function to make sure the emission control system is ready for the smog test.
3. Review freeze frame data: by displaying the snapshots of parameters value when the DTCs were set, this helps you get to the problem's main culprit.
4. View live data: with this information, you can view the vehicle's PID (parameter identification data) such as STFT (short-term fuel trim) or LTFT (long-term fuel trim) in real-time. Thus, monitoring what's happening in your car to find out any faults on time is not a big deal.
5. Auto VIN: also known as mode 9 among 10 OBD2 test modes. This is mainly used to retrieve your vehicle information such as vehicle software, performance counters, or engine data. Moreover, you can get access to the Calibration Identification (CALID) and thanks to this, a technician can identify the type of software they are using. The Calibration Verification Number (CVN), which can also be obtained via this mode, is frequently utilized in conjunction with the data. The CVN is employed to validate the reliability and efficiency of a vehicle's software.
This type of scan tool is ideal for every newbie.
Typical code readers: Autel AutoLink AL319, Ancel AD310
Type #2: Full OBD2 scanner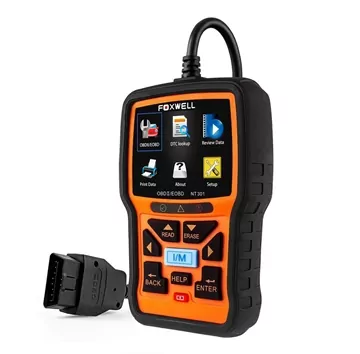 Apart from having all the basic functions of a code reader mentioned above, this type also allows you to perform:  
1. O2 sensor test: 
Typically, a bad O2 sensor will harm your engine. So when noticing problems like misfiring, rough idling, it's time for you to use this feature of the scan tool to test the oxygen sensor.
2. Mode 6: 
It is commonly known as on-board monitoring diagnostics. You just need to wait for results to display on the scanner's screen, as with this function, your vehicle will run a test by itself. The self-test covers noncontinuous monitors, including the o2 sensors, the EVAP system, and the A/C system's sensors to ensure they are still within ideal parameters.
3. EVAP test: 
For better fuel economy, you should test your EVAP system regularly in case you have a loose gas cap or gas leak. You can do it by yourself with a scan tool that is equipped with this function.
Use this scanner type if you belong to these 2 groups of people: newbies and home mechanics.
Typical full OBD2 scanners: FOXWELL NT301, Konnwei KW850
Type #3:  Four-system scan tool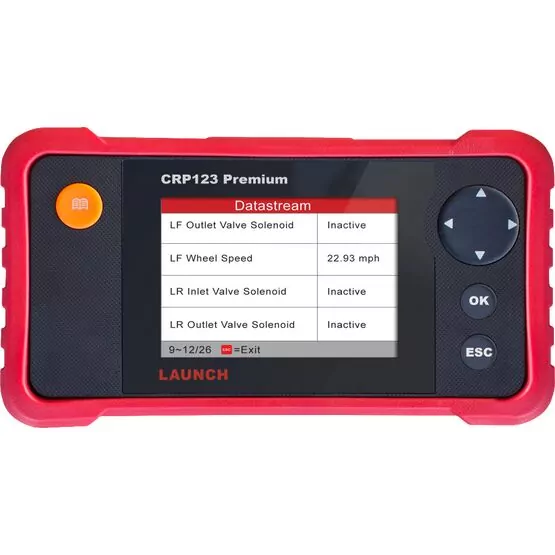 This scan tool type does have full OBD2 scanner's features, it also offers the below functions: 
1. Read ABS, SRS, Transmission Codes:
While a code reader or a full OBD2 scanner can only read engine codes, a four-system scan tool helps you get insight into DTCs from engine, transmission, ABS, and airbag systems.  
2. Basic reset functions:
Usually, this type of scan tool will provide you with some basic reset functions such as EPB reset and oil light reset. 
You will need EPB reset:
After replacing the brake pads and brake pad wear sensor 
When the brake pad indicator light is on
After the brake pad sensor circuit is short-circuited and repaired
After replacing the servo motor
A four-system scan tool also helps you reset the oil light after you maintain your vehicle as scheduled.
Hey home mechanics and heavy-duty truck owners, if you are still looking for a type of scan tool that is right for you, this is the one.
Typical four-system scan tools: FOXWELL NT614 Elite, Launch CRP123
Type #4: Full-system scan tool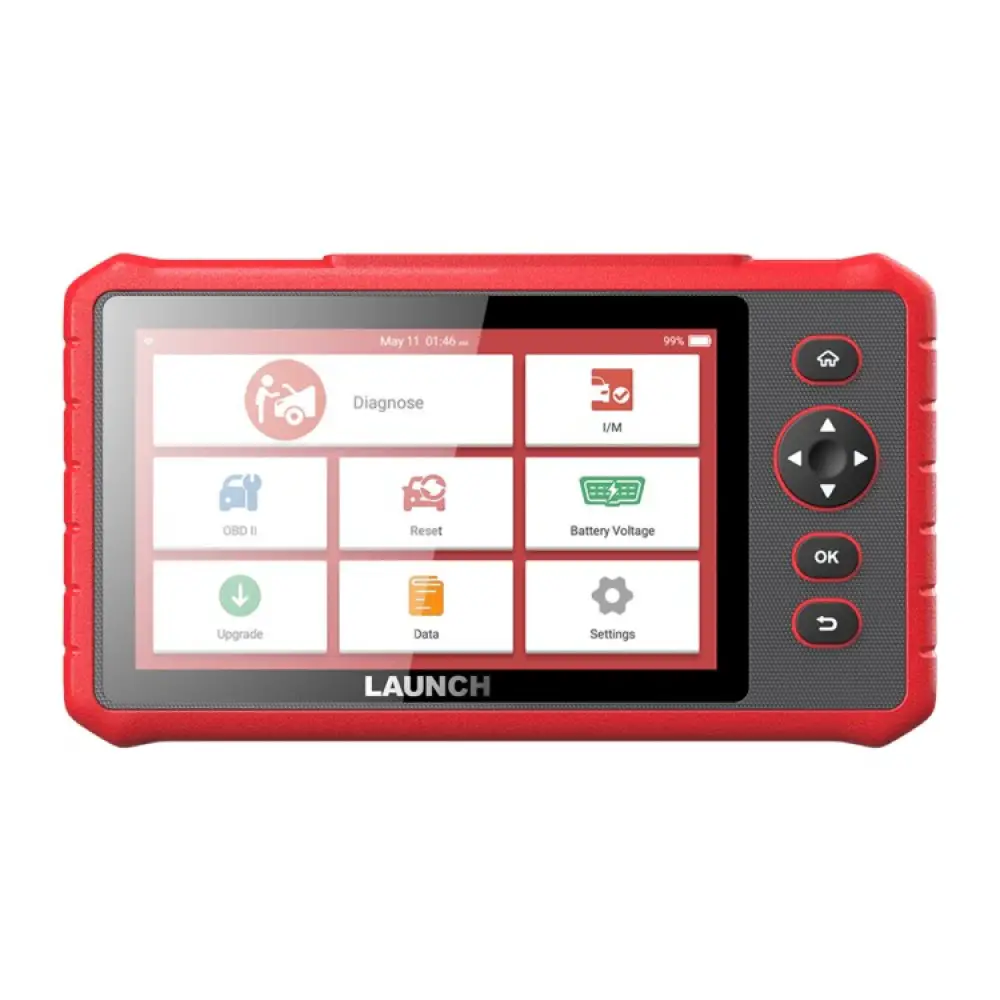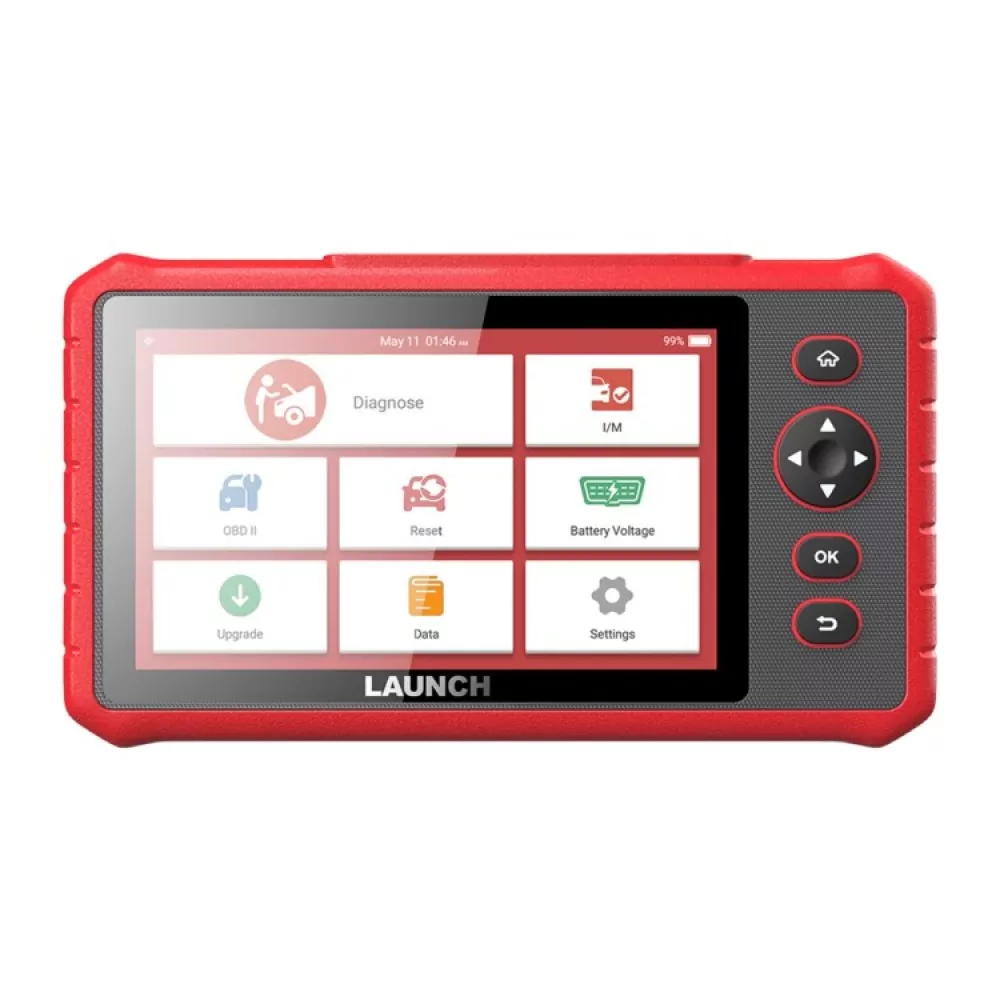 Let's just say, the full-system scan tool type is an updated version of the four-system scan tool type. A scanner like this gives you: 
1. All-system diagnostics:
A full-system scan tool lets you diagnose any system in your vehicle, including engine, ARS, airbag, transmission, Tire Pressure Monitoring System (TPMS), steering and suspension (SAS), BMS, etc,…
2. Advanced service functions:
This type of scan tool offers typical functions: ABS bleeding, A/F reset, Stop/Start reset, TPMS reset, throttle adaption, SAS reset, etc.
With all the advanced functions listed above, a full-system scan tool is worth the try for home mechanics, experienced enthusiasts, and heavy-duty truck owners.
Typical full-system scan tools: LAUNCH OBD2 Scanner CRP909X, Autel MD806 Pro
Type #5: Bi-directional scan tool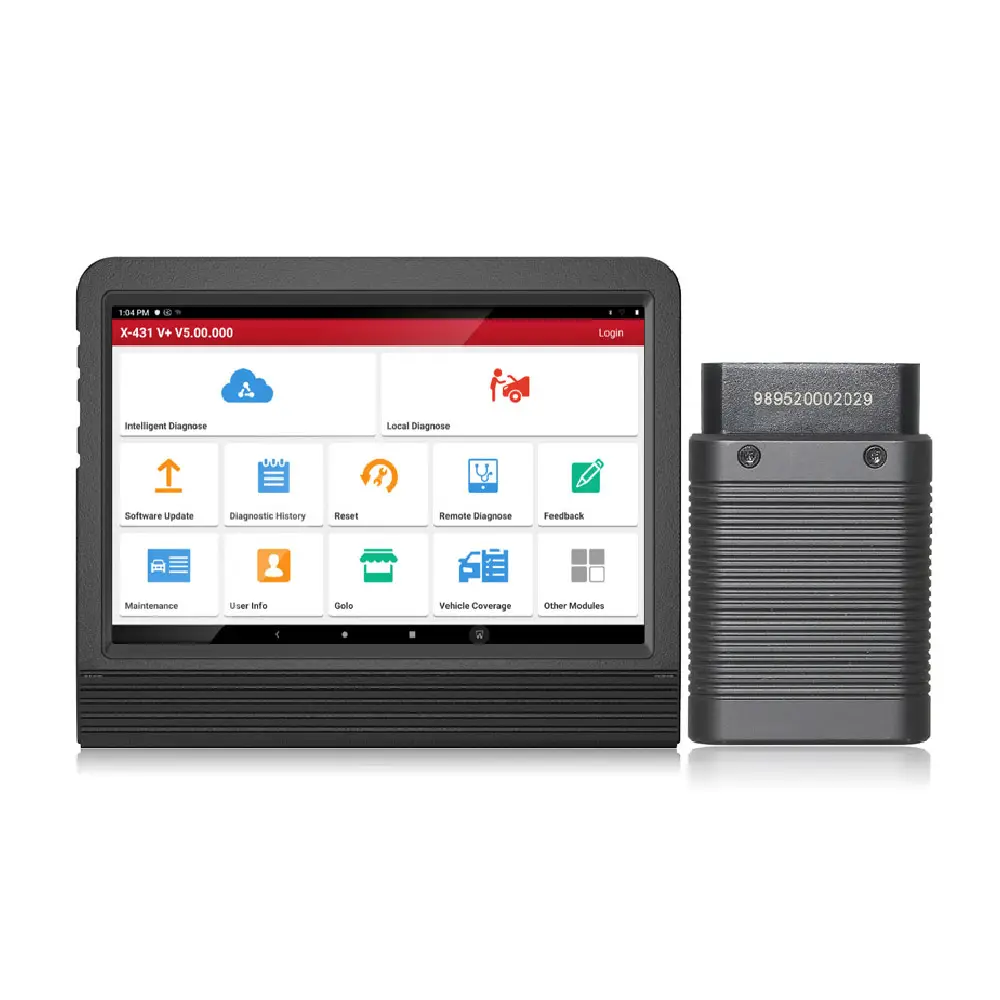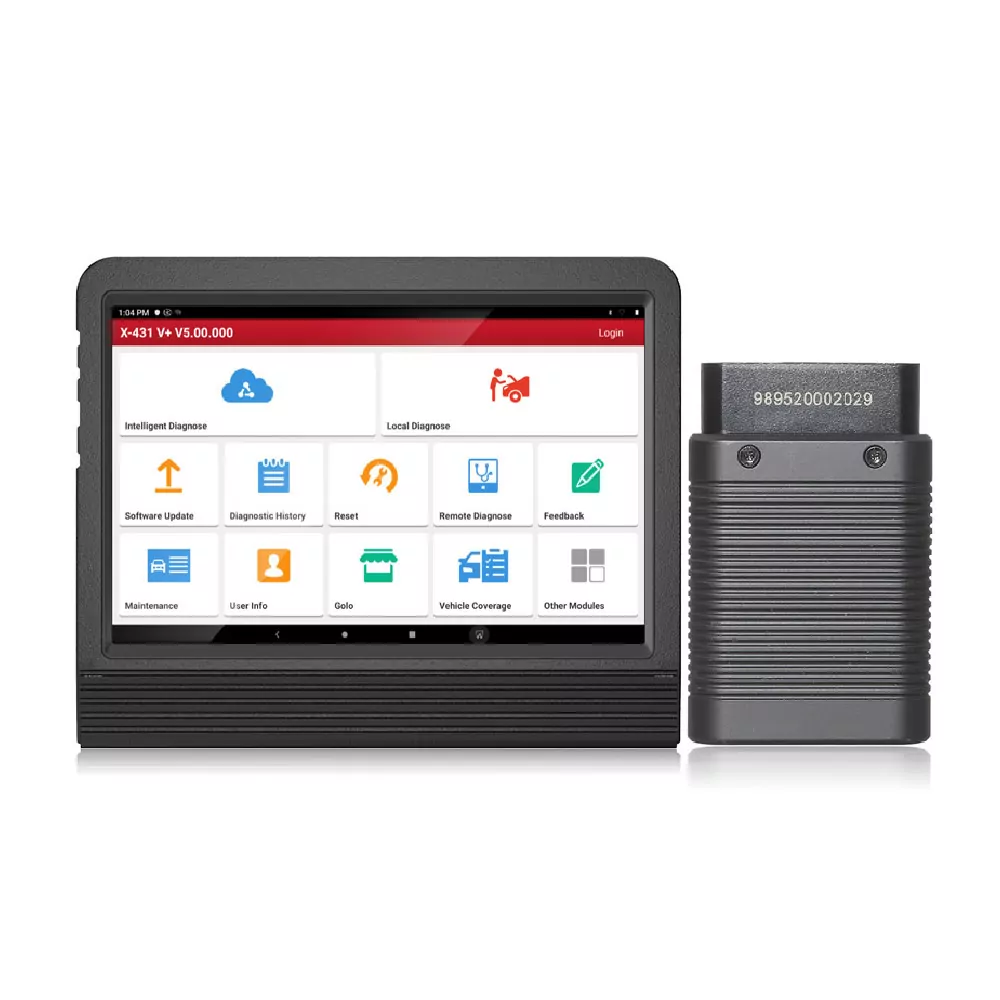 A bi-directional scan tool is the perfect combo of a full-system scanner with other useful functions such as active tests, ECU coding and optional advanced modules extension.
1. Active tests:
This is normally referred to bi-directional control. To be more specific, active tests are about sending commands from you – a car owner to your car's systems without using the vehicle controls, such as turning on the fuel pump, opening/closing windows, etc,…
2. ECU coding:
ECU coding sounds quite complex, but here is what it does. You can use this to make some software modifications, such as disabling the functions that annoy you or unlocking the hidden features. However,  you should bear in mind that all the hidden features already exist in the vehicle software, but they are not activated yet when your vehicle leaves the factory. 
3. Optional Advanced Modules Extension:
To be more simple, when you need to perform specific tests in your car with an unavailable function in the scan tool, you can buy modules containing the needed function and install them into this OBD2 scanner type.
Let me give you a straightforward example so that you can imagine how this function works. You want to diagnose heavy-duty trucks with LAUNCH X431 V+ Pro. But at the time you bought it, it was not equipped with that feature yet. With optional advanced modules extension, it allows you to buy an additional heavy-duty truck diagnostic module for about $900 to attach to X431 V+ Pro. And done, you got a diesel-integrated diagnostic scan tool.
You can put your faith in this type of OBD2 scanner if you are an experienced enthusiast, a mechanic working on cars/light trucks, or a heavy-duty truck mechanic.
Typical bi-directional scan tools: LAUNCH X431 V+ Pro Elite, Autel MK808
Read more: 6 Best Affordable Bi-directional Scan Tools 2023 [Review and Comparison]
Type #6: Scan tool with ECU Programming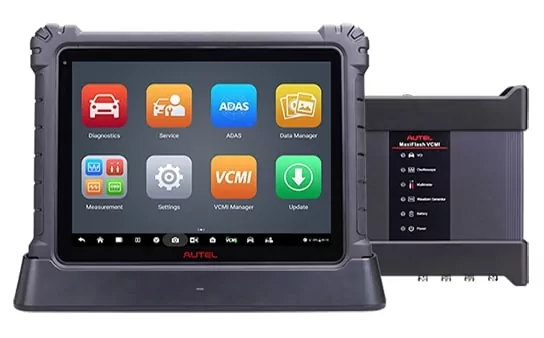 Besides being equipped with a bi-directional scan tool's functions, this kind of scan tool also has: 
1. ECU programming:
Let me take this quick example so you can imagine how beneficial this function is. For instance, replacing the broken intake in your car with a new one leads to a significant change in airflow. Therefore, you need to program your ECU to keep up to date with that changes. Otherwise, incorrect programming could cause the engine to run lean and generate a code.
With a scan tool quipped this feature, ECU programming is no longer a big deal.
The ECU frequently has to be programmed due to modifications made to the vehicle for racing. In this instance, the ECU must be tweaked for the particular track circumstances.
2. Advanced Modules Integrated:
All the bi-directional scan tool features and the ECU programming function are available in this scan tool type for sure.
Moreover, there's an integrated module called VCMI, which means that you don't have to buy separate modules for specific needs.
However, you should notice that not all OBD2 scanners in this segment are equipped with the VCMI. Generally, you have to pay around $4,000 plus to get a high-end scan tool with VCMI like Autel MaxiSys MS ULTRA. 
This type is a perfect fit for all car/light truck mechanics and heavy-duty truck mechanics.
Typical scan tools with ECU programming: Autel Scanner MaxiSys Ultra, Autel MaxiSys Elite
Read more: Autel MaxiSys Ultra vs. Elite vs. Launch X431 PAD V: Which is the real pro?
PRO TIP: Choose one (not 3, not 2, JUST ONE) type before moving on. Otherwise, it'd be hard to narrow down your choices in step 2
---
STEP 2: Narrow Down Your Choices
Now, you know what type of scanner is for your needs. But how do you choose the best scan tool among many products in that type?
Don't worry! Check these 4 factors to create a shortlist for your best-suited scanner.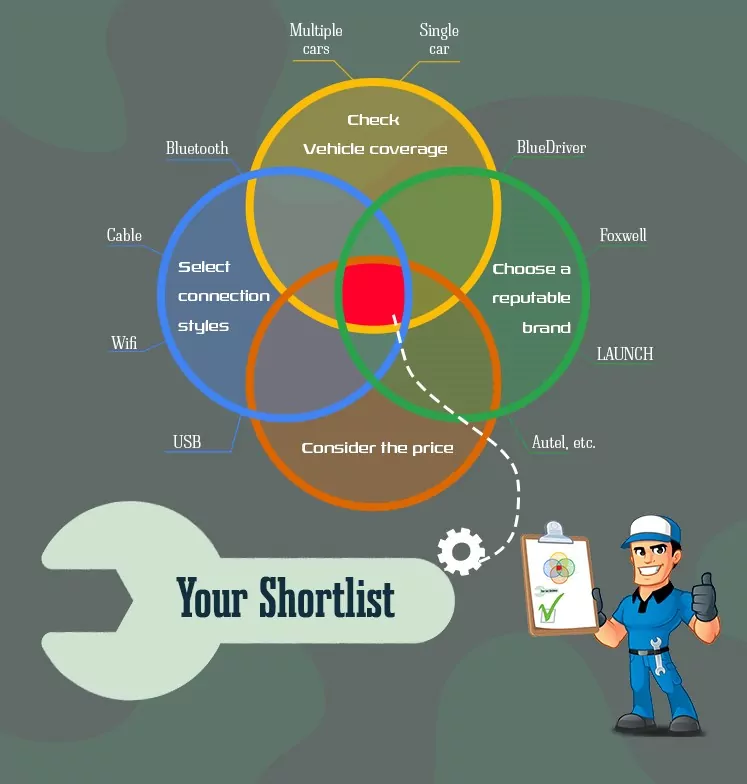 1. Check vehicle coverage
First things first, vehicle coverage is the most important factor when choosing an OBD2 scan tool. Although cars (sold in the US) from 1996 are OBD2-system supported, it doesn't mean that every feature on a scan tool will work on your vehicle. Be careful to find an OBD2 tool that is compatible with your car. Or else it's useless to buy it. 
Are you working with single or multiple cars? If the answer is the latter, check whether the product covers multiple vehicles without paying an extra fee.
In addition, you should check the scanner's vehicle compatibility with the seller before making any purchase.
*: Some brands don't have a "Vehicle Coverage" page, you should contact them via email or Facebook as above.
2. Consider the price
Code reader: $10-$40
The reason for this big price gap of this type is the connection styles. Bluetooth/Wi-fi is about $15-$20 cheaper than cable, even though they have the same functions. It is because scanners with a cable cost more money in designing and making hardware like the screen, cable, etc. 
For example, a Mestart Bluetooth scanner costs only $10, while a handheld scanner like Autel AL319 will cost nearly $40.
Note: Actually, the best-seller code reader is the one with cable because users love its stable connection. Even though the Bluetooth one is cheaper, it has some drawbacks that handheld one can solve. Check this comparison in "Connection type" below. 
So, you can consider this factor along with the price to choose your favorite one.
Full OBD2 scanner: $25-$100
Scan tools with the lowest price only provide full OBD2 functions. The higher the price is, the more additional features you will get.
With an EDIAG YA201 of $25, a new brand, you can use full OBD2 functions (only engine codes). But with an Innova 5210 ($90), it allows you to read ABS codes and check the charging system in addition to all the OBD2 functions.
Four-system scanner: $100-$250
For this type, the higher the price is, the more advanced service functions you receive.
With around $100, you can buy a scanner like Innova 6100P that supports 4 main systems and 1 advanced service function such as Oil Light reset.
But choosing a scanner for around $250 like ANCEL FX3000 can offer up to 5 service functions.
Full-system scan tool: $250-$450
Similar to four-system scanners, if you pay more money, there are more advanced service functions for you.
A LAUNCH CRP909X costs nearly $450 and you will have 26 service functions. But with $250, Autel MaxiDiag MD806 only provides 7 most used reset services.
Bi-directional scan tool: $450-$2,000
If you want a bi-directional scan tool with ECU coding, it will cost you up to $600-$1,000 such as Launch X431 V Pro. But for a normal bi-directional one, about $450 is enough to get a good scanner like Autel MK808.
Scan tool with ECU programming: $2,000+
With the price of around $2000, you will get a scanner with ECU programming like Autel MaxiSys MS908S Pro. And if you pay nearly $4000-$5000, the scanner with ECU Programming like Autel MaxiSys Ultra has advanced modules integrated (eg. 5-IN-1 VCMI).
Note: All the price ranges above are my estimated price. There are exceptional products you might pay some additional fees besides the purchase fee:
In-app purchase: some scanners have a low price but only provide basic functions. You need to pay more for using enhanced features. For example, Carista can read and clear engine codes. Advanced diagnostics are only accessible with a premium subscription in its app.
Update fee: you should check if the software updates are free or not. While some scan tools provide lifetime free updates, others cost you an amount of money depending on each brand. For Autel MK808, it will cost you around $125 annually to get the latest update.
Subscription fee at the first use: some scanners like FIXD or Carly ask you to pay a subscription fee first, or else you can't use the scanner even if you bought it. 
3. Select connection type
Currently, there are 4 types of connection types for an OBD2 scanner:
Pros
Cons
Cable
- Stable connection
- Limited (low) mobility
Bluetooth
- High mobility
- Portable

- Random connection troubles
- Slower data transfer than Wifi and USB

Wifi
- High mobility
- Portable
- Faster data transfer than Bluetooth
- Only works if there's Wifi
- Can't use Internet when connecting Wifi
USB
- Turn a laptop to a diagnostic tool (large screen)
- Faster data transfer than Wifi
- Limited (low) mobility
- Compatible with Windows only
You can choose your favorite connection type based on its pros and cons.
Cable:
If you don't like the connection between your car and the scanner sometimes disconnects, cable is your first option. But you have to stay in the car to diagnose all the time.
Foxwell NT301 is one of the best-seller OBD2 scanners using a cable. Check my review to understand more clearly its pros and cons.
Bluetooth:
With a Bluetooth OBD2 scanner, you can move around the car with the smartphone in your hand. Whenever you don't use it, it's small enough to put in your pocket. However, the connection will be randomly disconnected. In addition, I suggest you buy scanners that have Bluetooth version 3.0 and newer like OBDLink MX+ or BlueDriver.
Wifi:
Similar to the Bluetooth scan tool, it is very convenient to put a Wifi OBD2 scanner right in your pocket or diagnose your car from the outside. Furthermore, the data transfer is faster than Bluetooth. But the downside of this type is you can't use the Internet once the scanner is connected to your car and it requires strong Wifi nearby to perform well.
If you want to know more about this type, read my review of Top 3 Wifi Scanners, including BAFX, Foseal, and Veepeak Mini.
USB:
By plugging the USB adapter into your laptop and installing the OBD2 software, you can turn your laptop into a scan tool with a large screen. But like cable type, you need to stay in the car, which will limit your mobility.
But for a beginner, I suggest you go for an OBD2 cable or Bluetooth/Wifi because the setup is more straightforward than USB. 
If you prefer USB type, here is my review of 7 Best FORScan Adapters. Check it and you will choose a suitable one.
4. Choose a reputable brand
For a newbie, it's kind of confusing to choose a scanner among many products on the market. So, knowing reputable brands of OBD2 scanners will help you buy a reliable tool for starting. 
Through my experience working with many scan tools, it's better to choose a recognized diagnostics brand, such as BlueDriver, Foxwell, Autel, Launch, OBDLink, VEEPEAK, INNOVA, BAFX, ANCEL, etc.
A reliable brand that produces the best-seller Bluetooth scan tool ever. 
This brand has made many scanners from low-end to high-end. Its strength is full OBD2 scanners, four-system scan tools, full-system scan tools, and bi-directional scan tools.
This is one of the leading providers of diagnostics tools, from code readers to full-featured diagnostics tools. The most famous types of scanners are bi-directional scan tools and scan tools with ECU programming.
This brand is a competitor to Autel in the high-end scan tool segment. It also has a good reputation in full-system scan tools, bi-directional scan tools, and scan tools with ECU programming.
PRO TIP: It's advisable to choose no more than 3 products before getting into step 3. If your selection is more than three, it will take much time to research and compare. 
---
STEP 3: Research & Compare Your Choices
1. Do research on your choices
Once you shortlist your choices down to 2 options, it's a lot easier to select the proper scanner. All you have to do now is to read reviews and watch videos about the choices, then compare them to each other. You can also read comparison reviews on OBD Advisor.
Where to collect information?
It's best to find and read unique reviews from reliable sources that are beyond what the manufacturer provides from reliable sources.
But where do you go for reviews that you can trust?
The answer is that you can find it from…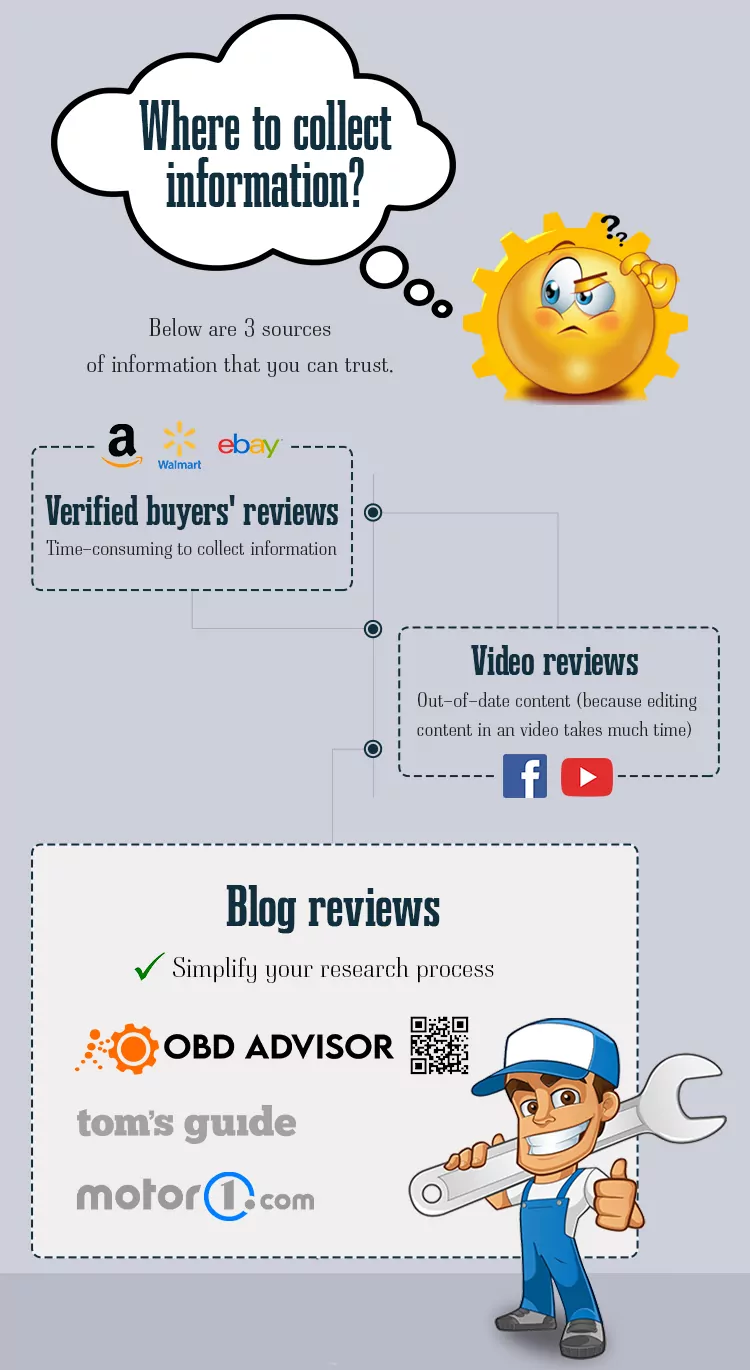 1. Blog reviews and comparisons
Choosing the right OBD2 scanner might be tough, but in-depth reviews and comparisons from reputable bloggers can make your buying process easier.
Be careful of reviews that only show the readers the positive side of a certain product. Most of these review sites just gather technical specs, but not any real ownership insights or true comparisons. 
And these kinds of reviews bring nothing valuable for readers like you, who are managing to choose the best OBD2 scanner to meet your expectations.
It's better for you to read the reviews from real auto mechanics with great car repair experience, like Tim Miller at OBD Advisor. As an expert, they are knowledgeable about the products reviewed and can easily tell you how the product performs in reality. 
For example: If you want to research about BlueDriver. You first go to obdadvisor.com, find the Search box in the upper right corner, then type "Bluedriver".
Now you can find all the in-depth and comparison reviews related to the Bluedriver scan tool.
2. Verified buyers' reviews
Feedback from verified buyers is another helpful source for you to research. You can find real users' reviews on e-commerce sites like Amazon, eBay, and also on forums. 
If you often read reviews on Amazon or Walmart, you can install the "Fakespot" or ReviewMeta Chrome extensions. With these extensions, untrustworthy product reviews will be detected and filtered out. These free web tools are reliable to identify the quality of product reviews on Amazon.
Online forums are another option for finding honest feedback from real-life users. Forums allow you to get advice and connect with fellow users worldwide on any topic. Some forums that I highly recommend are Reddit, Quora, Mechanics Stackexchange, etc.
3. Video reviews
Unboxing videos are great sources to figure out what the scanner is physically like. 
With the combination of visual and audio on video, you can easily know how well that scan tool actually performs.
So this is a great way to collect information, right?
What to collect?
If you've been wondering what information you have to consider to make the right purchase decision, it's really quite simple. 
Here is the list of important things when researching to determine whether the scanner meets your needs or not: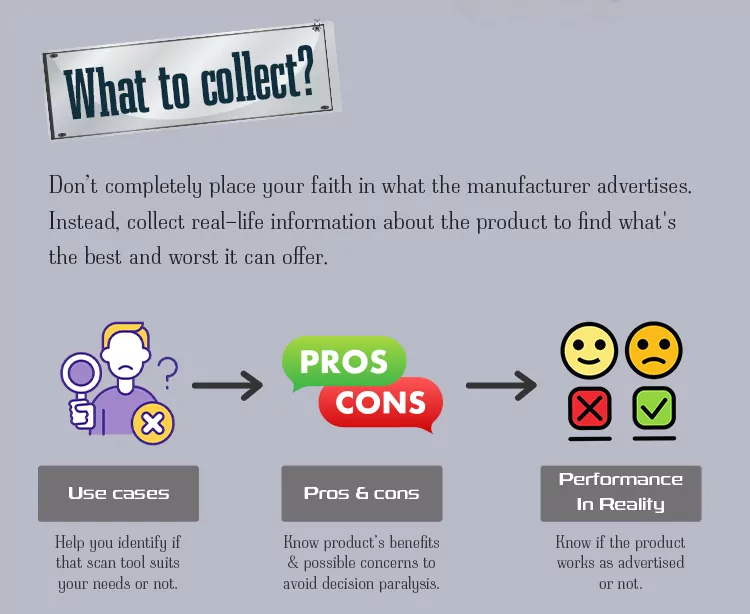 1. Use cases: Each scanner is designed for certain uses. And you have to find the information about who this scan tool is for. This enables you to confirm that the product you want to buy has all the functions you need.
For example: If you need a scanner only to pre-check your car before a smog check, a basic code reader like Ancel AD310 or BAFX is all you need to go for.
But if you need to scan the Engine, ABS, Airbag, and Transmission systems, you should go for four-system scan tools such as Innova 6100P, LAUNCH CRP123, and OBDLink MX+.
2. Pros & cons: Reading pros allows you to have a clear view of what benefits you will gain from your choice. A wise buyer like you should also read the cons to see what problems people had with that product. In case drawbacks are not acceptable risks, you will be able to know that right away.
3. How does the product actually perform? There are 3 major things you need to consider to know how well a scanner performs.
Accuracy:
Not all OBD2 scanners on the market can give you accurate codes when scanning your car. Therefore, you have to find out the answer to the question: "How accurate is that OBD2 scanner?". 
Only buy a scan tool that can show you exactly the possible reasons causing your car's problems such as LAUNCH CRP123, FOXWELL NT301.
Ease of use:
This is one of the most crucial things to consider, especially for newbies. A scanner that is not easy to use will make you waste tons of time exploring and remembering how to use it. 
If you need a scanner that is extremely simple to use, BlueDriver or MOTOPOWER MP69033 are your best options to consider.
Connectivity:
You might encounter connectivity problems even not only on Bluetooth scanners but also wifi, cable, and USB ones.
Unstable connections are the main issue when using Bluetooth scanners. I mean, your scan tool might occasionally disconnect itself if you're too far away from the car or for other reasons. Then you have to unplug the device or restart the app to resolve this problem.
Therefore, before making a purchase, you should be aware of the Bluetooth scanner's limited distance (up to 10 meters) or frequent connectivity loss. 
Scanners with the latest Bluetooth versions (4.0 and 5.0) provide high-speed data transfer compared to the earlier ones (Bluetooth 3.0). Here are my recommendations on the best Bluetooth scanners with reliable Bluetooth connections: Veepeal BLE+ (Bluetooth 4.0), Vgate iCar Pro (Bluetooth 4.0).
For wifi scan tools, you should buy a scanner with a stable and reliable wifi connection. If not, you have will face dropped signals in the middle of your diagnosis.
My recommendations for the best wifi scanner for you are: Foseal OBD2 Wifi, Veepeak Mini WiFi.
Regarding the OBD2 cable and USB scan tools, some scanners are made with connectors that cannot securely mount to the OBD2 port. If you skip this step, you might buy a scanner that easily loosens when lightly impacted, then disconnect itself.
Some of the best OBD2 cable scan tools I've used include: FOXWELL NT301, Autel AutoLink AL319.
You can also read reviews of my best favorite USB OBD2 scanners here: OBDLink SX USB, FORScan ELM327.
With the above-mentioned helpful information, I'm confident that you can almost locate the ideal scan tool for your requirements.
2. Compare your choices to each other 
Once you've got a list of the 2 best favorite products. Let's make a comparison between them.
After comparing and analyzing, you can easily see the bigger picture of how a product's performance differs from its competitors. Now, it's easier for you to determine the best one to fulfill your needs.
OBD Advisor is a great source for you to find comparison reviews of different OBD2 scanners. This website allows you easily find the information you need in seconds by:
1. Visit https://obdadvisor.com/
2. Enter "name of the product + vs" on the Search Box. For example: "BlueDriver vs".
3. Comparison reviews between Bluedriver and its competitors will be displayed in 1 second. Now click on the review you are most interested in and finish your research journey.
Don't forget this step, and you will never regret buying the product you choose.
PRO TIP: Try to research and compare until you find out your best favorite scanner. Remember that if your final choices are still more than 2, don't move on to the next step.
---
STEP 4: Finalize Your Choices
Here are 4 additional factors you can consider to finalize your choices if you are still confused between two products. 

1. Discount
Discount is one of the factors you should consider. If two products satisfy your needs but have the same price, check the discount. It will help you finalize your choice with a better price. 
2. Warranty
Another factor you should pay attention to is the product's warranty. A scan tool with an extended warranty may save you money if it needs repairs covered under the plan. The longer the warranty period, the better it is.
3. Customer support
In addition to the warranty, customer support is a vital aspect of every company. Ask yourself one question before making a final decision: "Does the company even answer emails or communicate well with customers?"
For a beginner, you might face many troubles when using the scan tool for the first time. Good customer support will help you a lot while enjoying your choice.
Keep in mind that excellent customer service should always be patient and responsive to users' questions.
4. Return & refund policy
Check the return and refund policy to ensure that you can give the product back and be reimbursed if it doesn't satisfy your needs.
Comparison table of OBD2 Scanner Brands
| Brand | Warranty | Customer Support | Return & refund policy |
| --- | --- | --- | --- |
| Autel | 1 year | 8.5/10 | 30 days* |
| Launch | 5 years | 9/10 | 30-60 days* |
| Foxwell | 1 year | 9/10 | 14 days |
| Innova | 1 year | 9/10 | 30 days |
| BlueDriver | 1 year | 9/10 | 180 days |
| Veepeak | 1 year | 9/10 | 30 days |
| Ancel | 1 year | 8.5/10 | 30 days* |
| OBDLink | 3 years | 10/10 | 14 days |
| BAFX | 2 years | 9/10 | 60 days |
*: The time limit for making a return and requesting a refund will vary depending on the seller.
---
STEP 5: Buy
I'm sure after fulfilling all the 4 steps of this journey, you are now more than 1,001% confident with your final choice.
Now, just buy your scan tool and go with the flow!