Just read this article if you want to:
• Understand freeze frame data given on an OBD2 scanner
• Know how to read freeze frame data
Then certainly, you'll LOVE it.
In fact, freeze frame data plays a vital part in diagnosing and detect major and minor problems. However, freeze frame interpretation is not easy for any drivers, especially for those who have little knowledge about car.
In this article, I'll help you answer the questions "What is OBD2 freeze frame?" and "How to read it?".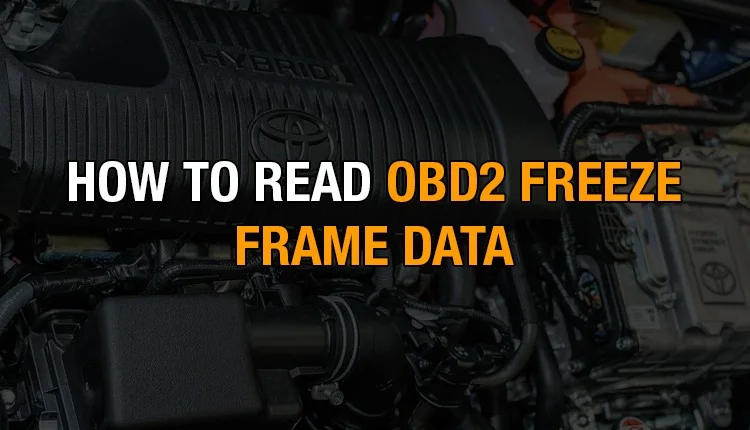 What Is OBD2 Freeze Frame Data?
Most of the vehicles manufactured today are compatible with this system. OBD-II means onboard diagnostics. Back in 1970, several automotive manufacturers started using computers to monitor and regulate the powertrain function. This was done as a way of complying with the government standards for controlling new cars' emissions. OBD2 is a set of standards created by SAE (Society of Automotive Engineers) and approved for implementation since 1996 by CARB and EPA. In Layman's language, a freeze-frame allows you to diagnose any fault with your car and fix it by either addressing the issue or replacing your sensor.
The first time you look at OBD2 freeze frame data, you might find that it means almost nothing to you but a list of codes with numbers, symbols, and acronyms. It is primarily hard for someone that is a beginner car DIY to understand what an OBD2 freeze frame data means.
Freeze frame data is the data grasped when an issue happens. It is like a crime scene that gives you helpful information about the PIDs' values when a DTC was triggered, which means that freeze frame data tell you how the other parameters or components were performing when the ECU stored the fault code. It is when the crime scene was shot. The data interpretation is useful in determining the causes of any emission system's fault.
How To Read OBD2 Freeze Frame Data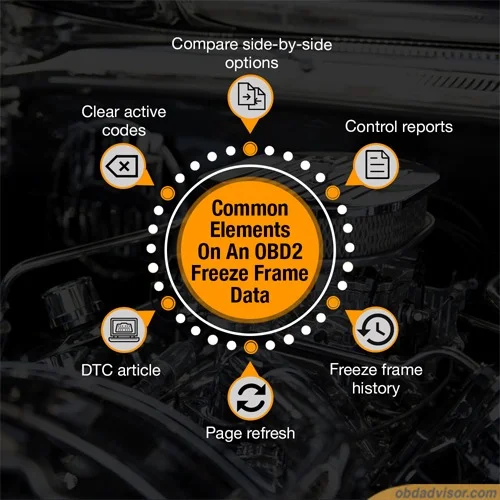 As said above, once the OBD II freeze frame is available for a Diagnostic Trouble Code (DTC), you can identify it by a camera icon on the scan tool. It comes with a DTC code, description, and status. Click the "View Freeze Frame" tab and a window with detailed information, compare side-by-side options, and control reports will open. Comparing side-by-side options helps you access data from numerous freeze-frame types side by side by splitting your screen vertically. To save time when scrolling through different DTCs to check whether any has a camera icon, ensure the View Freeze Frame button is used only when Freeze Frame information is accessible to your DTC.
Other Common Elements On An OBD2 Freeze Frame Screen:
You can also check the freeze frame history, which displays your previous data. It is available from the screen on your mobile devices.
Refresh the page containing the latest data.
View DTC article: opens an All data troubleshooting article hence giving specified DTC.
Clear active codes for removing all active codes that your car's ECU has. You can also use it to reset your emission readiness monitor.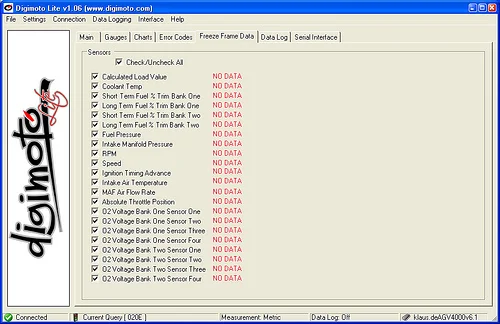 OBDII Freeze Frame Data And Their Meaning:
P0420 error occurs twice a month, and it means readiness codes are reading well.
Fuel SYS 1 CL means the fuel injection bank is in closed-loop mode.
Fuel SYS 2 N/A means there is no fuel injector in bank 2. This means it is an inline 4/6 cylinder engine.
Load PCT 92.2 indicates that the air entering the engine is below 100%.
ECT (F) 221 for engine coolant temperature.
Rpm means the RPM (engine) when the data was captured.
VSS (mph) 52 indicates your car's engine at the time information was recorded.
Conclusion
The OBDII Freeze Frame system is a very simple and practical diagnostic scanner that meets the needs of drivers of all age brackets and expertise together with their vehicle(s). The best of all is the ability to connect to the internet as well your PC to solve any car diagnostic fault.
From the above reasons, we can see the importance of knowing how to view and read the OBD2 freeze frame data.
Now I'd like to hear your thoughts. Let me know by leaving a comment below right now.
Read more: ANCEL AD410 OBD2 Scanner for Freeze Frame Data Viewing