BMW diagnostic tools give you valuable information about the systems in your engine, allowing car owners to make home repairs and professional mechanics to troubleshoot customer issues. With so many options out there, though, it can be hard to figure out which one is best suited to your needs (and still fits in your budget).
A BMW code reader can offer more functions for less money than those with multi-brand compatibility. Since BMW scan tools are designed with one manufacturer in mind, they're more likely to address the specific needs. This kind of diagnostic tool cannot work on almost all other car brands because of compatibility issues, but for BMW's owners, they offer excellent experiences. Most BMW scanner tools can work on BMW, MINI, and Roll-Royce cars.
We've picked out the TOP FIVE OBD2 scanners for BMW to compare and review them in this guide. Checking them out side-by-side can help decide which strikes the best balance of usability, features, and the best price for you.
Best BMW Scan Tools 2021 (Editor's Picks)
Why Do You Need A BMW Scanner?
Better diagnostics. The systems in a BMW have a unique configuration. Many generic scan tools cannot read this data, even if they offer enhanced codes for other brands. BMW scan tools can read this information, letting you know everything that's going on in your engine.
Save money. Sometimes your check engine light can trigger something minor that you don't need any repair experience to correct. With an OBD2 tool, you can find out why your dash warning lights are on, and then you can decide if you need a mechanic rather than paying someone else to check it for you.
Make repairs at home. Many automotive diagnostic scanners can reset monitors and warning lights along with diagnostic functions to locate the cause of failures. Both are necessary for successful repairs.
Prepare for state emissions tests. The OBD2 system's primary focus is monitoring vehicle emissions. These tools check your emission system's status so you know in advance if you'll pass your next inspection.
Prevention and maintenance. Tracking and logging sensor data gives you a clearer picture of your engine's performance capabilities. Noting changes or trends in the data can help you identify potential problems before turning into costly repairs.
Check used cars for problems. If you're buying a new-to-you BMW, it's smart to bring a scanner for the test drive. You'll be able to confirm if there are any undisclosed engine problems.
OBD2 Protocols for BMW Vehicles: The first OBD2-compatible BMWs used the ISO 9141/2 protocol. Newer vehicles may still use this, though others use KWP200 or CAN. If you're not sure which protocol your vehicle uses, you can consult this list.
How To Choose The Best BMW Scan Tool
Step 1: Types
For everyday BMW owners, a simple code reader will be a perfect choice. You probably don't want access to functions like coding or programming if you don't have repairing experience.
Creator C310+ code reader or a Bluetooth scanning tool like BlueDriver are perfect choices for any DIYers. They're user-friendly and straightforward but offer more in-depth diagnostics than cheap scan tools.
Mechanics and experienced DIYers will want a more thorough diagnostic scan tool. All-system diagnosis is a must, along with service functions like battery registration and oil light reset. The most advanced tools offer bi-directional communication, a big time-saver for diagnosing engine component failures. In that case, FOXWELL NT510 Elite is perfect for you.
Check Price at Amazon
Step 2: Top Brands
Buying from a trusted brand gives you peace of mind that you'll get a reliable, accurate tool. Foxwell, Autophix, and BlueDriver are some of the leading names in BMW diagnostics. Let's look at each of their strengths.
Foxwell
Foxwell scanners are feature-rich, accurate, and competitively priced. Their range of products includes both entry-level and professional models. It's the best brand if you want advanced functions at a fair price. The most wanted Foxwell products for BMW diagnostics today is the FOXWELL NT510 Elite.
Autophix
With a focus on high-quality, professional diagnostic equipment, Autophix makes scanners powerful, fast, and reliable. Autophix 7910 is an excellent choice for any BMW owner.
BlueDriver
This company's community and customer service are just as helpful as their Bluetooth scan tool. Bluedriver is both budget-friendly and user-friendly.
Step 3: Pricing
The best rule of thumb is not to pay for features you don't need. If all you need is to read and clear engine trouble codes, you don't need to spend more than $100 for that capability (and probably get a tool for far cheaper than that). Take Creator C310+ if you need an affordable pick.
Advanced home mechanics and professionals should look for a BMW tool in the $100-$200 price range. The extra expense will be worth getting advanced features like an oil light reset and bidirectional control. A balance of price and functions would be AUTOPHIX 7910, which costs around $100+. But if you want something challenging, there comes the Foxwell NT510 Elite.
Step 4: Compatibility/Vehicle Coverage
Compatibility is the most crucial factor to consider. The tool is useless to you if it doesn't function well on your car. These scanners can at least read codes and run OBD2 tests on BMW's make or model. Advanced features may not be as widely compatible, so you'll want to verify with the company if you're buying a tool for a specific function.
For some BMWs, you'll need to buy an adapter before using these tools. Those made in 1995 or earlier use OBD1 rather than OBD2 and have a different pin configuration. Some BMWs from the late '90s used a 20-pin port rather than a 16-pin port and will require an adapter.
If you have a BMW made after 1996, go for a scanner like the AUTOPHIX 7910 or Bluedriver.
If you have both old and newer vehicles, buy an OBD2 scanning tool with OBD1 vehicle coverage like FOXWELL NT510 Elite.
Check Price at Amazon
Step 5: Functionality: Which systems can it diagnose?
Functions of a scan tool can be divided into groups as below:
OBD2 Test Modes
The OBD2 diagnostic protocol is specific to engine problems. It doesn't include all trouble codes related to other systems, such as the transmission, airbags, battery, or brakes. There are 10 OBD2 test modes you can do on your car by using a full OBD2 scanner. With OBD2 tests, you can read and clear DTCs, view freeze frame data, live data, I/M readiness test, O2 sensor test, etc. Creator C310+ is a perfect pick if you want to perform all the OBD2 functions on your BMW.
Check Price at Amazon
Non-OBD2 System Diagnosis
Besides OBD2 tests, a scan tool can have the ability to scan non-OBD systems like ABS, airbags, transmission, etc. Buy AUTOPHIX 7910 if you want to diagnose all the main systems of your car.
Service Functions
Some advanced diagnostic tools let you reset things and do special service functions like oil reset, DPF regeneration, SAS calibration, battery registration, ABS bleeding, injector coding, key fob coding, ECU programming, etc. For a complete picture of your vehicle's health, get a scanner tool like FOXWELL NT510 Elite.
Active Tests (Bi-directional Control)
Does it allow bi-directional communication? OBD2 scanner tools without bi-directional communication can only diagnose by reading codes. They can't send information or commands back to the engine computer. If you want to run active component tests, code the keys, or reprogram the ECU, buy a scanning tool with bi-directional control ability. In this case, the FOXWELL NT510 Elite is a perfect choice.
FOXWELL NT510 Elite
It's a feature-rich and versatile tool for automotive diagnostics and repair, starting with a full system diagnosis. Not only will it read and clear engine codes, but you can also diagnose problems with major systems like brakes, airbags, and transmission.
Read more: Tim's Reviews of the Best Bi-directional Scan Tools 2021
Step 6: Other Considerations
Connectivity
Wired connections are the fastest, most stable, and most reliable option. Conversely, wireless scanners are more convenient, especially if your diagnostic port is in an odd place in your vehicle.
Software
The software determines the layout of the user interface and which functions are available, and how the tool communicates with the vehicle, which affects both how easy the scan tool is to use and how well it reads diagnostic information.
Speed
A higher processing speed allows the scanner to collect more data more quickly. Fast diagnostics are one benefit of this, but more speed can also give you more accurate readings. More powerful scan tools can take in more data from your vehicle's ECU, giving more accuracy to your engine's performance.
Accuracy
For a scan tool to be useful, you need to trust it's giving you the right diagnostic information, which is one key reason to buy a device from a trusted brand that's certified accurate by professional mechanics.
Still want to read the detailed reviews? Let's go!!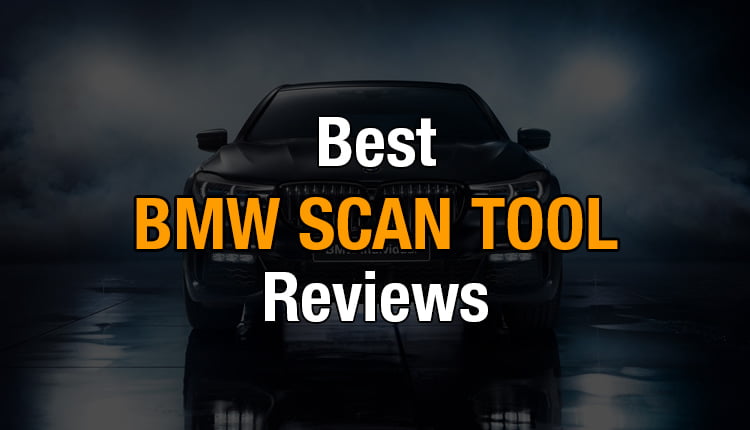 Best BMW Scan Tool Reviews
1. Foxwell NT510 Elite BMW Scan Tool
FOXWELL NT510 Elite
It's a feature-rich and versatile tool for automotive diagnostics and repair, starting with a full system diagnosis. Not only will it read and clear engine codes, but you can also diagnose problems with major systems like brakes, airbags, and transmission.
The user-friendly Foxwell NT510 Elite is a feature-rich and versatile tool for automotive diagnostics and repair, starting with a full system diagnosis. Not only will it read and clear engine codes, but you can also diagnose problems with major systems like brakes, airbags, and transmission. You can find out the cause of any dash warning light in your BMW.
There are a host of special functions on the Foxwell NT510, as well. Most importantly, it can conduct bi-directional tests of engine components. Coding and programming are options, too, though they're not available for all models. Check the compatibility on Foxwell's website if you want to make sure it'll work for you.
Accuracy is a strength of the Foxwell NT510 Elite, though that comes at the sacrifice of speed—this model is a bit slow when running diagnostics. It can also be confusing to register and needs a Windows-based device to update.
You can use the Foxwell NT510 with any model year of BMW that supports OBD diagnostics. BMWs older than 2001 may use a 20-pin plug instead of the standard 16-pin one you'll find on most cars. If this is the case for you, you'll need to purchase an adapter before you can use this tool in your vehicle.
Verdict: The Foxwell NT510 Elite is excellent for experienced DIYers and small repair shops thanks to its full-system diagnosis and range of professional features.
Check Price at Amazon
Bonus: It's recommended that Foxwell NT510 should go with a Protective Case for Foxwell NT510
2. Creator C310+ BMW Code Reader
Creator C310 Plus
It's another excellent diagnostic tool for BMW drivers. Accuracy and speed are both strengths of this BMW code reader. Its functions start with full OBD2 testing mode support.
The Creator C310+ is another excellent diagnostic tool for BMW drivers. Accuracy and speed are both strengths of this BMW code reader. Its functions start with full OBD2 testing mode support. You can also read and clear enhanced codes for other vehicle systems, including SRS, ABS, TPMS, and more.
The only thing we like about this code reader is that it's a bit tricky to use. It doesn't come with instructions, and learning how to navigate the menus can take some time to figure out. Some functions are in different submenus than you'd expect. For example, you can only find the SRS diagnostics in the "Body" menu, not the first place we'd think to look.
That said, the Creator C310+ has a lot of strengths. You can use it to reset any warning light on your dash, and it's widely compatible with OBD2 and EOBD diagnostic protocols. It's also durable and reliable, and you'll always have the most recent data thanks to its free lifetime updates.
Verdict: The Creator C310+ has the functions most needed by BMW mechanics. While it's not the most user-friendly OBD2 scanner, it's fast, accurate, and durable, making it a top choice for professional garages.
Check Price at Amazon
Read more: Best professional diagnostic tools reviews can be found here.
3. Autophix 7910
AUTOPHIX 7910
It's suitable for the mechanics of any experience level, from beginning DIYers to full professionals.
The intuitive navigation of Autophix 7910 makes it suitable for the mechanics of any experience level, from beginning DIYers to full professionals. One-click hotkeys for the I/M readiness and DTC look-up help speed up repairs, and it's effortless to find the features you need in the menus.
In terms of diagnostics, the Autophix 7910 is equally robust to the two models above. You'll get all 10 OBD2 testing modes along with a full-system diagnosis. It's fast at reading codes, as well, thanks to the speedy STM-32 CPU.
DIYers will find all the repair functions they need on the Autophix 7910. For example, you can register your battery, bleed or activate ABS, and reset the oil warning light with this scanner. That said, it doesn't offer advanced repair features like ECU coding, so some professionals may find it unsuitable.
Compatibility inconsistency is the only major complaint against Autophix 7910. You'll get full OBD2 modes for all BMWs, but the coverage on the enhanced codes and repair features isn't as strong across the board. Many features can't support 750i models, for example, so you'll want to double-check its compatibility with your specific model before you buy.
Verdict: The Autophix 7910 provides full-system diagnosis and essential repair functions for advanced home mechanics, though some professionals may find its features and compatibility lacking.
Check Price at Amazon
4. BlueDriver Bluetooth OBD2 Scanner
BlueDriver's design is more different than the other code readers on this list. Rather than an integrated screen, this Bluetooth adapter sends diagnostic data to your phone or tablet. You can then use the BlueDriver app to read OBD2 test data and other helpful information.
The advantage of this set-up is that you can leave BlueDriver plugged in all the time. Logging engine data in real-time makes sure you know about problems as soon as they happen. The customized repair reports are a handy feature, too. BlueDriver not only diagnoses issues but also gives you confirmed repair suggestions from certified mechanics tailored to your vehicle.
With a Bluedriver scanner, you can read OBD2 information and error codes on any BMW car. If you want to do enhanced diagnostics of non-engine systems, like airbags or climate control, make sure that your BMW was built in 2005 and later.
Compared to the other BMW tools we've reviewed here, BlueDriver's main disadvantage is the lack of repair functions. It's solely a diagnostic tool, aimed primarily at BMW owners who want to stay on top of their engine's health.
Verdict: The ease and convenience of BlueDriver are its main advantage for BMW owners. Its enhanced codes for models made in 2005 and later give it more comprehensive diagnostic power than cheap code readers.
Check Price at Amazon
5. Autophix 7810 Enhanced BMW Diagnostic Tool
AUTOPHIX 7810
It's the best BMW diagnostic tool for home mechanics. It strikes an excellent balance between features and value. You'll get the most common diagnostics and functions in an affordable and easy-to-use hand-held scanner.
Last but not least, Autophix 7810 is the best BMW diagnostic tool for home mechanics. It strikes an excellent balance between features and value. You'll get the most common diagnostics and functions in an affordable and easy-to-use hand-held scanner.
The Autophix 7810 works with BMWs, Rolls-Royces, and Mini's made from 1998 and later. Some older models may need the 20-pin adapter, but there are fewer compatibility gaps than other hand-held scan tools.
With Autophix 7810, you can diagnose over 100 systems in your vehicle and run all ten modes of OBD2 testing. It also has handy functions like resetting the oil light, DPF regeneration, and battery management, which is especially helpful for experienced DIYers, saving you trips to the mechanic for minor repairs.
Updating the Autophix 7810 is easy, though it does require a device running Windows OS (there's no iOS support). It comes with the USB cord you'll need to connect it, and the updates are free for life, too.
Verdict: The features on the Autophix 7810 are perfect for a home mechanic and make it an excellent value at a price.
Check Price at Amazon
Final Thoughts
Home mechanics don't need the full range of features you can find on professional BMW diagnostic tools. Consider your budget range and repair experience. If you're mostly interested in reading trouble codes, a convenient and affordable tool like BlueDriver will likely fit the bill.
Professionals and advanced DIYers will want a tool that offers repair functions in addition to diagnostics. While you'll have to pay a bit more for this functionality, buying a limited compatibility tool can help save some money.
Whatever your situation, one of the five tools above will be an excellent fit for your garage! We hope the reviews and info in this article have helped you decide which one you should buy.
FAQs
1. Why does NT510 Elite not allow me to do programming?
Some of the advanced features of the Foxwell NT510 Elite, like coding or programming, aren't available on all vehicle models. You can reach out to the manufacturer to find out for sure if this is the case.
Before you assume that the Foxwell NT510 Elite doesn't support programming for your vehicle, make sure you check all the menus related to the system on which you're working. Some of the programming functions are nested under other areas and can be tricky to find.
2. Can NT510 Elite scan the SRS system and return the code?
Yes, the SRS system is supported by the enhanced diagnostics on the Foxwell NT510 Elite.
3. Will Creator C310+ reset the check engine light?
Yes, the Creator C310 can run all ten modes of OBD2. It can read and clear generic, manufacturer-specific, pending, and permanent codes from your engine computer and reset the MIL.
If you clear codes with the Creator C310+ and the check engine light is still on, this is likely because you have an ongoing issue. The MIL will continue to trigger as long as the problem persists. To permanently turn the light off, you'll need first to make repairs then clear the codes.
4. Besides BMW codes, will the Autophix 7910 work on other cars?
The full features of the Autophix 7910 can support Rolls-Royce Series RR1-RR5 in addition to BMWs.
It will work as a code reader for engine codes on any OBD2 compatible vehicle for other manufacturers. It can often still diagnose other systems like ABS or TPMS, but these functions are less consistently available. The same is true of repair functions like DPF regeneration or resetting the oil light. You'll be able to perform them on some non-BMWs but not with the same consistency.
5. Does BlueDriver run an ABS bleeder test?
No. BlueDriver reads trouble codes from the ABS in BMWs made 2005 and later but doesn't support service functions like bleeding your brakes.
6. Does BlueDriver display "short term and long term" fuel trim data?
Yes, for most vehicles. You can find the trim data under "Live Data" if it's available for your car. If you want to confirm that BlueDriver can read this information from your vehicle before buying it, you can use the compatibility tool on their website.
7. Will AUTOPHIX 7810 reset service lights on 1999 BMW e39 (5 series)?
If your vehicle has a 16-pin port, the Autophix 7810 will reset all vehicle service lights out of the box. For vehicles with a 20-pin port, you'll first need to purchase an adapter to reset service lights.
Read more: 5 Best Lexus/Toyota Scan Tools 2021 [Review]