Looking to buy a simple OBD2 scan tool or a professional ECU programming tool for BMW? You are in the right place.
You can choose either BMW factory scan tool software packages or aftermarket BMW scan tools. However, your choice doesn't end there. There are many products under both categories, each with different connection types, handling, feature set, price, and best use cases.
In this article, I'm going to show you both BMW factory scan tools and their aftermarket counterparts.
But I went one step further to make your purchase decision easier by sorting them into different classes. 
Let's dive into it!!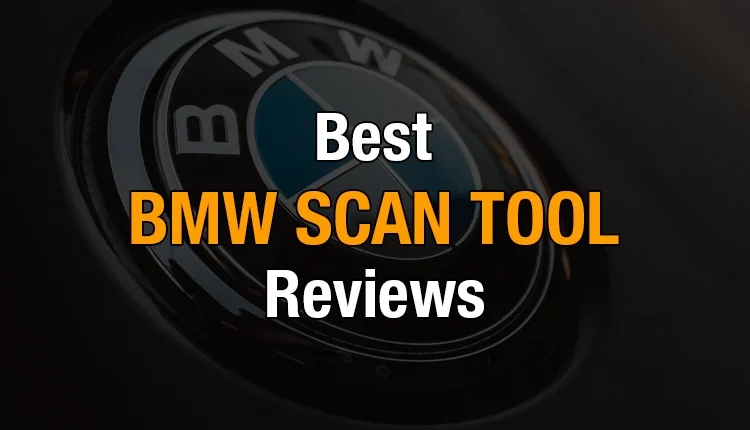 Best BMW Diagnostic Tools Comparison Chart
---
Top 2 Bluetooth OBD2 Scanners for BMW
Bluetooth OBD2 adapters give you the ability to diagnose and fix problems with your car right from the screen of your smartphone through an app. They've become quite popular, so we'll compare the top 2 Bluetooth OBD2 adapters with the most intuitive apps for iOS and Android devices, Carly and BimmerCode.
Top 2 BMW Bluetooth OBD2 Scanner Apps Comparison Chart
Carly gives you access to advanced diagnostics, customizations, service functions, and guides to perform basic diagnosis, all from your smartphone's screen. It has special functions like used car checks that come in handy to detect mileage fraud and avoid scams. All these functions and services are available at the mechanic shop but at a price much higher than Carly.
Coding is a rare feature for most diagnostic devices, partly because most people don't understand it, although they want the benefits. Carly simplifies car coding in a way that the average BMW driver can unlock hidden features without the risk of bricking your ECU. Most of its features were initially developed for BMW, so there's no risk of not getting enough diagnostics for your specific vehicle when you buy.
Carly adapter is very portable and convenient to use. It fits in your pocket and doesn't require any wires to work. It is worth mentioning that Carly offers a lifetime warranty on the device and promises to replace defective devices.
---
RELATED POST:
---
BimmerCode isn't your typical diagnostic device or app. Other scan tools offer a selection of diagnostics from OBD2 to system diagnostics and advanced reset functions. But BimmerCode is only meant for coding your BMW. Although Carly can also code your BMW, the BimmerCode coding feature is a lot more fleshed out.
BimmerCode allows you to change factory settings in your car, such as whether the headlights and taillights flash when you lock it. It can also help with discovering hidden functions your car is capable of. These coding functions are so robust that they are divided into two; Basic and Expert Mode.
BimmerCode works right out of the box without needing an update most times.  You can use it on an iOS or an Android device, and it requires an adapter like OBDLink CX to work. If you want all the other diagnostic features, you have to get BimmerLink, another app made by the same company.
Vehicle coverage
Carly supports all vehicle models from 2001 till date, and it also supports older BMW and MINI models made in 1996 or newer. We provided a chart of the supported models below. We recommend Carly's proprietary Scanner Plus to go with your BMW. 
BimmerCode supports almost as many BMW and MINI models as Carly, but it can work with any Bluetooth-equipped OBD2 scanner. However, we recommend the OBDLink CX for iOS devices and the OBDLink SX USB adapter for Android users.
Carly works with more BMW vehicle models, and it is also compatible with many more brands than BimmerCode, so it is our BMW Bluetooth app + scanner of choice in this regard.
Vehicle coverage comparison chart
---
RELATED POST:
---
Top 3 Wired OBD2 scanners for BMW
Top 3 Wired BMW Diagnostic Tools Comparison Chart
FOXWELL NT510 Elite is one the most popular diagnostic tool made by Foxwell, especially in the circles of BMW drivers and mechanics. That is because it is primarily built for BMW vehicles, so it has a lot of features and diagnostics functions that are not readily available in other scan tools.
NT510 Elite is very compact and can be operated with only one hand. You can use its hotkeys for some of your repetitive diagnostics. It also comes with CD software, although that may not be as useful now as it was a few years ago.
Speaking of diagnostics, FOXWELL NT510 Elite can do everything you would need it for in a small garage or a large dealer shop. It supports both OBD1 and OBD 2 diagnostics — a rarity in modern diagnostics tools. You can use it to diagnose all your BMW vehicle systems, actuate different modules for real-time testing, and it has advanced reset functions to finalize your repair.
This may not be a big issue for BMW owners: NT510 Elite comes preloaded with BMW software. Although it supports other brands, you have to get that software after you buy the device. Even then, you are only limited to 5 car brand software at once on the device. It has a nice design, but the silicone buttons could be better.  Because it doesn't come with a battery, your car has to be switched on to use it.
---
RELATED POST:
---
---
Creator C310+ looks and feels compact with its small screen, although it doesn't pose a problem to read the displayed diagnostic data. The device itself comes with a protective case to keep it safe in equipment-laden environments. Like most other BMW scan tools, Creator C310+ connects to your vehicle through a cable. The cable draws power from your car battery and also connects to the ECU.
Once it connects, you can begin to enjoy all its diagnostic functionality. It is best for full OBD2 diagnostics to check your engine's emission test readiness and keep your car healthy. It can also be used to clear the Check Engine Light amid 9 other advanced reset functions.
You can upgrade the software by connecting it to a computer via USB and visiting the official website. The best part is that upgrades for this tool are free for life.
Creator C310+ is a nice tool to have for CEL and some other functions, but it isn't a fully-featured option. Comparatively, it lacks some professional functions that could be useful for advanced diagnostics, but the price tag makes that excusable. Also, the user manual can be difficult to understand for total newbies.
---
Top 3 Professional BMW ECU Coding and Programming Tools
Top 3 Professional BMW ECU Programming Tools Comparison Chart
Autel Maxisys Elite is built for the workshop, and it reflects in its design. The large touchscreen is protected with hard plastic and rubber around it for increased protection. It uses Android, so you can multitask easily while performing powerful diagnoses. Also, the device runs smoothly even over extended periods of doing repairs.
Added to its durable design are brilliant coverage and a wide range of diagnostic features that will satisfy enthusiasts and large workshop needs. Autel Maxisys Elite can perform both basic and advanced functions to a high degree of quality and accuracy. It can read live data, get enhanced codes, and it has more professional functions like bi-directional controls and ECU coding.
 It has the Autel Cloud Technology to manage your data, send it and receive useful feedback or take advantage of its library of verified repairs. It comes with multiple connectors to plug up most cars, and you can connect wirelessly if your BMW supports it. 
Autel Maxisys Elite can be pricey for some people despite its many diagnostic features. However, it is designed for professionals who can appreciate those advanced functions.  Also, updates after the first year can be costly as well. Apart from cost concerns, the only other complaint is that the update process could be more simplified to avoid minor issues. Note that Ecu programming is only for Mercedes Benz and BMW only.
---
RELATED POST:
---
Autel Maxisys Ultra includes service functions, diagnostic features, live data, ECU coding, and reprogramming, all in one scanner.  However, one of its most attractive features is its 5-in-1 VCMI. The VCMI comes with a signal generator, multimeter, OBDC bus check functions, and oscilloscope.
The great thing about these inclusions is that you won't have to purchase these tools separately, justifying the cost of the device. It has a large 18,000mAh battery that can last up to 8 hours of continuous usage, so you can use all these features without having to recharge the Ultra multiple days a day.
This is a great plus for mechanics who may be working long hours at once. BMW enthusiasts can take advantage of its color-coded status screen and trouble codes troubleshooting repair video library. Both classes of users will benefit from its extended OE-level coverage for even the latest vehicles, 1-year of free updates, and 2 years warranty.
Autel Maxisys Ultra is the kind of "machine" you have to keep updating to get more benefits, but its updates aren't free after the first year. Also, those yearly updates aren't cheap, so you have to budget some money to service the device every year. In my opinion, I think it is worth it, seeing that you'll get updated coverage and a better-performing device.
---
Launch X431 PAD V is a 10/10 tool right at the top of Launch's line of comprehensive diagnostic scanners that covers BMW vehicles. It is packaged in a rugged body with Gorilla glass protecting its 10.1-inch touchscreen. When a diagnostic tool features a front and back camera, dual-frequency Wi-Fi, and an 8-core processor powering its Android 9.0 OS, you know it means business.
But Launch X431 PAD V is more than just a sum of its device specs; this beast packs advanced diagnostics options that many mechanics hope to have. Needless to say, it can perform all OBD2 tests and diagnose every single system in your vehicle. It also has over 30 reset functions, advanced bi-directional controls, coding, and programming capabilities.
Launch X431 PAD V also comes with multiple ports and a full set of adapters, so you can use it on different vehicles without delay. You'll find that its adjustable kickstand also makes it easy to use on any surface.
One thing I should mention is that the guided functions in the Launch X431 PAD V are only for VAG vehicles only. Although this doesn't include BMW, its other functions won't give BMW owners and mechanics any issues.
---
RELATED POST:
---
Best BMW Factory Scan Tool Programming Software
BMW OSS
BMW OSS is a BMW factory set of software that you can install on a PC and use over a compatible interface. The OSS stands for Online Service System, and that system has different components designed specifically for BMW. The two main components are ISTA-D and ISTA-P.
ISTA-D is what you would use for your diagnostic repairs, while ISTA-P works to program different ECU modules. ISTA-D is a robust diagnostic software for OBD2 diagnostics, reading and clearing enhanced codes, displaying data PIDs, and actuator tests.
Since it is an OEM system, it allows you unfettered access to BMW's own SI database. The database is one of the main benefits of BMW OSS since it contains manufacturer code descriptions, repair suggestions, illustrative diagrams, and many more useful repair directives.
ISTA-P, on the other hand, allows you to reprogram any BMW module. This works for both upgrades and replacements of BMW modules.
BMW OSS is an excellent package all-around and offers advanced features specifically for BMW, but the only issue that you may have is its system requirement. BMW OSS is a German software, and as a result, it is designed to work with an exact specification on PC. The requirements for it to work well go as far as an exact clock speed, monitor resolution, storage space, runtime environments, and some network requirements.
Download: https://mega.nz/folder/dAxihCja#0JoWxVXavz6Exwgvp6fyLA
Bimmergeeks
BMW Standard Tools 2.12, also called Bimmergeeks, uses INPA for OBD2 and system diagnosis. For coding, it uses NCS-Expert, and for flash programming, you can add WinKFP. Apart from those tools, you can add a couple of other BMW Group plans support tools.
INPA 5.0.6 can perform functions like fuel injector calibrations, register new batteries, and display gearbox control unit values like accelerator pedal angle, engine temperature, etc. NCS-Expert can perform coding functions like battery retrofits, enabling digital speedometers, disabling or enabling fog lights when flashing high beams, etc.
BMW Standard Tools 2.12 is simple, but it can take a while to complete successfully. For best installation results, you should use a fresh window installation to avoid unnecessary complications. To use it you'll need an INPA compatible K+DCAN adapter with switches for pins 7 and 8.
BMW Standard Tools 2.12's installation can be buggy, which makes it take longer than you might expect. Also, there is no real customer support behind it at this point. Thankfully, there are communities that can help you troubleshoot your installation. Also, updates are a tad bit difficult. This is mainly because the latest INPA scripts are in German. Even fresh installations don't come with INPA scripts, although INPA itself is installed. Again, the English versions are available on its community forums.
Download BMW Bimmergeeks: https://www.bimmergeeks.net/downloads
BMW Scanner 1.4
BMW Scanner 1.4 is a cable and software package that works on Windows from the old XP to Windows 10. With it, you can keep your BMW healthy and perform all sorts of repairs. It can read and clear DTCs, display live data, do coding, and perform bi-directional tests on most modules in BMWs made from 1992 to 2006.
A bit of history on the BMW Scanner 1.4. The cable used to cost about $100 when it was being sold by its official manufacturer while the software was free. Now, the manufacturer is no longer making those cables, but you can get cheap ones anywhere from $30 to $40. The software itself remains free to download online.
BMW Scanner 1.4 is one of the easiest software to use for BMW. Drivers, enthusiasts, and mechanics can learn to use it to perform repairs, but I advise some caution so as not to break anything.
BMW Scanner 1.4 is cheap, but because the official manufacturer doesn't service the software anymore, you may not be able to get help with the tool from official sources. Some quick searches should fix that, though. There are many user-made guides and videos on installing BMW Scanner 1.4 and using it to perform various functions.
Download BMW Scanner 1.4: https://drive.google.com/drive/folders/1KtC225JjNaMACe1g_HEF1gyUG2CjlF9M
Best BMW Factory Programming Software Comparison Chart
---
RELATED POST:
---
Should I Buy BMW OSS, Bimmergeeks, or BMW Scanner 1.4?
OBD2 diagnostics, advanced diagnosis, and service functions
All three diagnostics tools can perform the 10 OBD2 test modes, full system diagnosis, and service resets on compatible BMW models. Their differences boil down to the software that conducts those tests and diagnostics. For the BMW OSS, you'll be using ISTA-D for diagnosis through the ICOM interface for any and all BMW models, while BMW Standard tools 2.12 use INPA, much more complicated software with limited vehicle coverage. ISTA and ICOM are much more stable and faster compared to INPA. 
If you want the broadest diagnostics options for both old and new BMWs, go with the BMW OSS.
Coding and programming
The three BMW scan tools can code and reprogram BMW cars, although we only recommend this feature on two of them. BMW OSS's ISTA-D for diagnostics can do some coding, but if you want in-depth coding and programming, it also has the ISTA-P, which is dedicated to that purpose. BMW Standard Tools 2.12 uses NCS-Expert 4.0.1 for coding and WinKFP 5.3.1 for flash reprogramming, but they aren't as user-friendly and will need an in-depth knowledge of BMWs. The BMW Scanner 1.4 can also code and program, but the other two have more functions. 
BMW OSS offers the best array of coding and programming functionalities with little chance of bricking modules since it is easy to use.
Download and ease of use
Because these are all advanced, dealer-level diagnostic tools, the interfaces are usually more complex than ordinary code readers and diagnostics tools. Even for experts, they take some getting used to. Also called P.A Soft, the BMW Scanner 1.4 is by far the easiest to download, install, and use. Its interface is as easy as it gets for an advanced tool, and you should be fine as long as you're familiar with BMW vehicles. You can download the software here and connect it to your Windows PC via the iSaddle adapter.
Next up is the BMW OSS (including BMW ICOM, BMW ISTA-D, BMW ISTA-P), which has a modern ICOM interface that isn't a hassle to operate. However, it uses separate software components that you must be familiar with when downloading, operating, and updating to get the most out of it. For diagnostics or programming, you'll need an adapter like the OHP ENET, the New K-DCAN, or the Autogeek ENET cable.
BMW Standard Tools 2.12 by Bimmergeeks works similarly to the BMW OSS, but its interface is more traditional, and its updates are not exactly straightforward. The downside is that it requires additional Test Procedures for diagnostics, which are usually in German and can take some work to find the English versions. Besides that, the software is hardly ever updated. After downloading from the Bimmergeeks website, you'll need a K+DCAN cable like the LZLRUN Diagnostic Cable or the TaoTao Interface Cable to max out its current capabilities.
If you need easy-to-use yet advanced factory diagnostic and programming software, your best bet is the BMW Scanner 1.4.
Vehicle coverage
Of the three BMW scan tools, BMW OSS supports the widest range of vehicles, going back as far as 1985 to 2017. This gives you support for all BMW E, F, G, I, Alphina Series, MINI, and Rolls Royce made in that period.
The BMW Standard Tools 2.12 is more limited in that it primarily supports older E-Series models from 1998 to 2008. Coverage can be extended with a K+DCAN cable for diagnostics and an ENET for diagnostics, coding, and programming. 
BMW Scanner 1.4 is only limited to E-Series models made between 1992 – 2006. 
Vehicle coverage comparison chart
Final Verdict
BMW OSS contains ISTA-D, the replacement for older DIS dealership diagnostic software, and ISTA-P, the replacement for the older older SSS Progman programming software. It is used by millions of dealerships worldwide and regularly updated; at least once monthly. If you're a BMW dealership looking for the most updated and robust software, the BMW OSS is right for you.
Video: How to install and use?
FAQs
1. Why does NT510 Elite not allow me to do programming?
Some of the advanced features of the Foxwell NT510 Elite, like coding or programming, aren't available on all vehicle models. You can reach out to the manufacturer to find out for sure if this is the case. 
Before you assume that the Foxwell NT510 Elite doesn't support programming for your vehicle, make sure you check all the menus related to the system on which you're working. Some of the programming functions are nested under other areas and can be tricky to find.
2. Can NT510 Elite scan the SRS system and return the code?
Yes, the SRS system is supported by the enhanced diagnostics on the Foxwell NT510 Elite. 
3. Will Creator C310+ reset the check engine light?
Yes, the Creator C310 can run all ten modes of OBD2. It can read and clear generic, manufacturer-specific, pending, and permanent codes from your engine computer and reset the MIL.
If you clear codes with the Creator C310+ and the check engine light is still on, this is likely because you have an ongoing issue. The MIL will continue to trigger as long as the problem persists. To permanently turn the light off, you'll need first to make repairs then clear the codes.
4. Besides BMW codes, will the Autophix 7910 work on other cars?
The full features of the Autophix 7910 can support Rolls-Royce Series RR1-RR5 in addition to BMWs.
It will work as a code reader for engine codes on any OBD2 compatible vehicle for other manufacturers. It can often still diagnose other systems like ABS or TPMS, but these functions are less consistently available. The same is true of repair functions like DPF regeneration or resetting the oil light. You'll be able to perform them on some non-BMWs but not with the same consistency.
Benefits of a scanner specifically built for BMW
Better diagnostics. The systems in a BMW have a unique configuration. Many generic scan tools cannot read this data, even if they offer enhanced codes for other brands. A specific-manufactured BMW scan tools can read this information, letting you know everything that's going on in your engine.
Save money. Sometimes your check engine light can trigger something minor that you don't need any repair experience to correct. With an OBD2 tool, you can find out why your dash warning lights are on, and then you can decide if you need a mechanic rather than paying someone else to check it for you.
Make repairs at home. Many automotive diagnostic scanners can reset monitors and warning lights along with diagnostic functions to locate the cause of failures. Both are necessary for successful repairs.
Prepare for state emissions tests. The OBD2 system's primary focus is monitoring vehicle emissions. These tools check your emission system's status so you know in advance if you'll pass your next inspection.
Prevention and maintenance. Tracking and logging sensor data gives you a clearer picture of your engine's performance capabilities. Noting changes or trends in the data can help you identify potential problems before turning into costly repairs.
Check used cars for problems. If you're buying a new-to-you BMW, it's smart to bring a scanner for the test drive. You'll be able to confirm if there are any undisclosed engine problems.
How to choose the best OBD2 scanner for my BMW?
Step 1: Which type should I take?
For everyday BMW owners, a simple code reader will be a perfect choice. You probably don't want access to functions like coding or programming if you don't have repairing experience.
Creator C310+ code reader or a Bluetooth scanning tool like BlueDriver are perfect choices for any DIYers. They're user-friendly and straightforward but offer more in-depth diagnostics than cheap scan tools.
Mechanics and experienced DIYers will want a more thorough diagnostic scan tool. All-system diagnosis is a must, along with service functions like battery registration and oil light reset. The most advanced tools offer bi-directional communication, a big time-saver for diagnosing engine component failures. In that case, FOXWELL NT510 Elite is perfect for you.
Check Price at Amazon
Step 2: How much should I spend?
The best rule of thumb is not to pay for features you don't need. If all you need is to read and clear engine trouble codes, you don't need to spend more than $100 for that capability (and probably get a tool for far cheaper than that). Take Creator C310+ if you need an affordable pick.
Advanced home mechanics and professionals should look for a BMW tool in the $100-$200 price range. The extra expense will be worth getting advanced features like an oil light reset and bidirectional control. A balance of price and functions would be AUTOPHIX 7910, which costs around $100+. But if you want something challenging, there comes the Foxwell NT510 Elite.
Step 3: Is it compatible with my car?
Compatibility is the most crucial factor to consider. The tool is useless to you if it doesn't function well on your car. These scanners can at least read codes and run OBD2 tests on BMW's make or model. Advanced features may not be as widely compatible, so you'll want to verify with the company if you're buying a tool for a specific function.
For some BMWs, you'll need to buy an adapter before using these tools. Those made in 1995 or earlier use OBD1 rather than OBD2 and have a different pin configuration. Some BMWs from the late '90s used a 20-pin port rather than a 16-pin port and will require an adapter.
OBD2 Protocols for BMW Vehicles: The first OBD2-compatible BMWs used the ISO 9141/2 protocol. Newer vehicles may still use this, though others use KWP200 or CAN. If you're not sure which protocol your vehicle uses, you can consult this list.
If you have a BMW made after 1996, go for a scanner like the AUTOPHIX 7910 or Bluedriver.
If you have both old and newer vehicles, buy an OBD2 scanning tool with OBD1 vehicle coverage like FOXWELL NT510 Elite.
Step 4: What can I do with it?
Functions of a scan tool can be divided into groups as below:
Onboard diagnostic Tests
The OBD2 diagnostic protocol is specific to engine problems. It doesn't include all trouble codes related to other systems, such as the transmission, airbags, battery, or brakes. There are 10 OBD2 test modes you can do on your car by using a full OBD2 scanner. With OBD2 tests, you can read and clear DTCs, view freeze frame data, live data, I/M readiness test, O2 sensor test, etc. Creator C310+ is a perfect pick if you want to perform all the OBD2 functions on your BMW.
Check Price at Amazon
Non-OBD2 System Diagnosis
Besides OBD2 tests, a scan tool can have the ability to scan non-OBD systems like ABS, airbags, transmission, etc. Buy AUTOPHIX 7910 if you want to diagnose all the main systems of your car.
Service Functions
Some advanced diagnostic tools let you reset things and do special service functions like oil reset, DPF regeneration, SAS calibration, battery registration, ABS bleeding, injector coding, key fob coding, ECU programming, etc. For a complete picture of your vehicle's health, get a scanner tool like FOXWELL NT510 Elite.
Active Tests (Bi-directional Control)
Does it allow bi-directional communication? OBD2 scanner tools without bi-directional communication can only diagnose by reading codes. They can't send information or commands back to the engine computer. If you want to run active component tests, code the keys, or reprogram the ECU, buy a scanning tool with bi-directional control ability. In this case, the FOXWELL NT510 Elite is a perfect choice.
Recommendation
Home mechanics don't need the full range of features you can find on professional BMW diagnostic tools. Consider your budget range and repair experience. If you're mostly interested in reading trouble codes, a convenient and affordable tool like Creator C310+ will likely fit the bill.
Professionals and advanced DIYers will want a tool that offers repair functions in addition to diagnostics. While you'll have to pay a bit more for this functionality, buying a limited compatibility tool like FOXWELL NT510 Elite can help save some money.
If you're a professional technician, Autel Maxisys Elite pays for itself and never makes you disappointed.
Whatever your situation, one of the five tools above will be an excellent fit for your garage! We hope the reviews and info in this article have helped you decide which one you should buy.