If you own a BMW, you know how important it is to keep it in top condition. 
From routine maintenance to advanced diagnostics, having the right tools can make all the difference. 
In this review, I've gathered the best BMW diagnostic tools that can help you keep your car running smoothly.
Let's begin with comparison table of the top 7 picks!
7 Best BMW Scan Tools: Comparison Chart
[Mobile users: Swipe left for full table]
Click HERE to see the Full Comparison Chart (PDF, Free download)
Here are my quick recommendations:
---
Now, it's time for reading the in-depth review about the best OBD scanners for BMW. Then you'll be more confident in picking the ideal one for your requirements.
In this article:
---
#1. Foxwell NT510 Elite – Best BMW Diagnostic Tool with Active Tests
Foxwell NT510 Elite
Pros
User-friendly interface

11+ service functions

Active tests supported

Durable design
Cons
Poor-translated manual

Slow to connect
What Makes Me Like Foxwell NT510 Elite?
1. Allow me to access all BMW systems
This handheld scan tool proves invaluable as I can use it anytime or anywhere I like. 
Not only can I perform a code scan, but it also provides me with the ability to diagnose specific manufacturer codes.
I recently used NT510 on a 2002 BMW 325ci and it worked like a charm. It quickly and accurately pinpointed a wiring issue in the seat belt tensioner. With the scanner's help, I was able to fix the wiring and clear the trouble codes.
Highly recommend it to other BMW owners who want to clear trouble codes themselves and avoid trips to the mechanic. 
2. Register a new battery in a matter of minutes
Last month, I had to replace the battery on a 2006 BMW 330i. After installing the new battery, I used this tool to register it. 
Although it was my first time using this tool, I quickly found the battery registration function on the menu. Its interface is incredibly user-friendly.
The registration process only took me a few minutes. When it was done, the tool displayed a message "successfully registered."
Overall, I was really impressed with how easy and efficient the Foxwell NT510 Elite was for registering a new battery.
3. Excellent bidirectional scan tool 
Foxwell NT510 makes it easy to check electronic components like switches, sensors, relays, and actuators. 
The active tests allow me to temporarily control a car component. And when I finish the test, the component returns to normal operation. 
With the bi-directional feature, it's simple for me to identify components that aren't working. 
Check out the picture below to see the active test supported by NT510:
4. Comes with everything I need 
The chunky rubber cover feels solid, and I felt confident that it would survive if I accidentally dropped it. 
Plus, I find that the bright screen makes reading any text on it easy to do. 
What I Dislike?
1. Poor translation of user manual
The manual with this scan tool has been specifically designed by those whose primary language isn't English. 
It's challenging to comprehend at times, causing me to pause and guess what they're trying to say. As a result, it may be considered a difficult-to-follow guide for me.
However, this is not a major issue. 
Spending a few hours playing around with Foxwell NT510 will help me figure out best how to use it. 
2. OBD2 connector may come to loose
The connector is a little loose, so I felt when using this device, it may fall off when using it. 
Key Takeaway 
Get your money's worth with the Foxwell NT510! 
This affordable and versatile scanner offers precise diagnostics and active testing for all your BMW systems, taking just a minute to complete. 
Perfect for DIY repairs at home, this "all-in-one" scanner is a must-have for any BMW owner. 
Today's best Foxwell NT510 Elite price:
---
#2. Autophix 7910 – Best BMW Code Reader and Reset Tool
Autophix 7910
Pros
Cheap price

Easy to operate

Full system diagnosis

16+ service functions

Lifetime free update

Cons
Update software is challenging

Some compatibility issues
What Makes Me Like Autophix 7910?
1. Allow a full system scan and clear all codes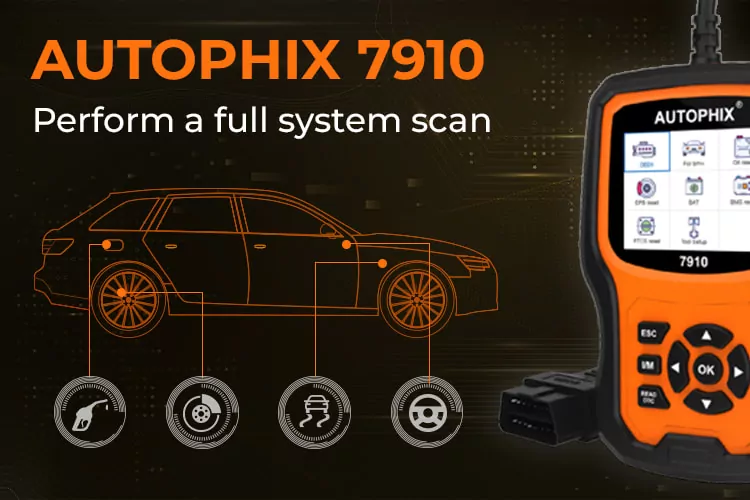 I can tell you that the Autophix 7910 is a true game-changer for those who don't have much mechanical expertise.
It works excellent for helping identify error codes quickly and reset trouble codes after fixing them.
Gone are the days of paying repair shops tons of money, as you can now use this tool to read codes on your own. 
3. Cost less than Foxwell NT510 Elite
At only ~$130, Autophix 7910 offers over 16 reset functions, which is comparable to the Foxwell NT510.
With the ability to reset oil, transmission, and spark plugs, I can confidently say that it meets most needs of BMW maintenance.
It's a great alternative to expensive tools while offering the same capabilities.
2. Save money with the BMS function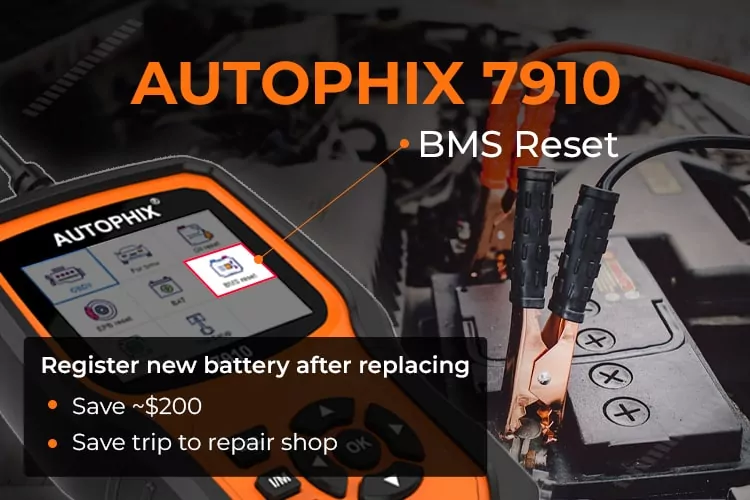 As a car mechanic, I want to share that replacing the battery in your BMW can cost up to $500 at the local dealership. 
But with the help of this scan tool, you can easily do the task yourself, saving a significant amount of money.
What I Dislike?
1. Hard to update the software
There were no instructions provided for a software update. I had to search for a YouTube video to guide me through the process.
Important note: The update requires a Windows computer, Mac is not supported.
2. Doesn't have PID graphing live data
Another issue is this scanner doesn't have any PID graphing feature. PID graphing is helpful for basic O2 sensor diagnostics, but unfortunately, this device only offers real-time graphs.
I just wish Foxwell would update the graphing live data function soon in their next updates.
Key Takeaway
Whether you're a newbie or home mechanic, this affordable tool satisfies you with 16 service functions, including a BMS reset.
Upgrade your BMW repair with this best OBD scanner for BMW today!
Today's best Autophix 7910 price:
---
#3. OBDLink CX + Bimmercode – Best BMW Coding Tool
OBDLink CX + Bimmer
Pros
User-friendly

Reliable Bluetooth connection

ECU coding supported

Cheap
Cons
Need BimmerLink for basic functions
What Makes Me Like OBDLink CX + Bimmercode?
1. Perfect combination for coding
OBDLink CX + Bimmercode is one of the best self-coding tools for BMW owners. This combo allows me to make many changes on a BMW F82, such as:
disabling the vehicle's auto start/stop
setting up the mirrors to fold in when a vehicle is parked. 
turning off "warning" messages on the startup
I am surprised to find that this combination has everything I need to work on my clients' BMWs. This makes my job much easier and more efficient.
2. Cheapest combo that you can find
For just $120, I can get the OBDLink CX adapter for about $80 and a lifetime subscription to BimmerCode for $40.
What really sets this combo apart is that I only have to make a one-time payment for the app. Unlike others such as Carly, which require yearly payments to use.
I can confidently say that it costs less than many of the other BMW scanners available. 
3. Reliable Bluetooth connection that you can rely on 
The Bimmercode app identified the OBDLink CX adapter without any problems. Once connected to the device, the connection will not be lost. 
But when using the Bluetooth feature, you need to ensure that no other devices are connected to your phone. 
What I Dislike?
1. Need an additional app for basic functions 
BimmerCodes is a powerful app for advanced coding, but it doesn't allow me to:
read and clear codes
register new battery 
perform other service resets for BMW vehicles
do other basic OBD2 functions
To perform these tasks, I have to install BimmberLink or OBDLink app.
Note: BimmerLink will cost you an additional $35-$40, so be prepared for that expense when purchasing.
2. Shouldn't leave plugged in 
Even though the maker of this product states that it is okay to leave it plugged into the port even when not being used. Best not to, as it can cause the car's battery to drain within a few hours. 
Key Takeaway
Looking to customize your BMW and unlock hidden features? Look no further than the OBDLink CX adapter and Bimmercode app. 
With a one-time payment of just $120, you can easily make changes to your vehicle settings and turn on features that were once inaccessible. 
Get started today and take your BMW to the next level.
Today's best OBDLink CX price:
---
#4. Carly: All-in-one Solution for BMWs (10% OFF Coupon at Mycarly.com: OBDAdvisor23)
Carly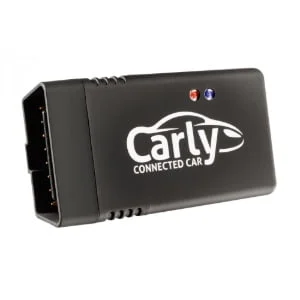 Pros
Straightforward to use

No additional app

Frequent software updates

Can be used on BMW bikes
Cons
High yearly subscription fee

Free app only lets you view engine codes
What Makes Me Like Carly?
1. Personalize your BMW with ease
With the Carly app, I can use Carly adapter to make customized changes to many of BMW's components.
I once used it to disable the annoying "iDrive disclaimer message" on an F30 for a client who was incredibly grateful.
It also allowed me to fold the mirrors up or down using the fob on BMW Mini All4.
If you're fed up with your BMW's shenanigans, Carly is a must-buy.
2. Come with all functions you need in the Full Version app
Unlike BimmerCode, Carly only requires one app to access various functions:
Read and clear trouble codes in 4 main systems
Live data stream
Get repair advice from pro mechanics for fixing your car issues
Code and customize features 
more
This saves me valuable time and effort as I do not have to switch between multiple apps for basic functions.
3. Pocket-sized device for checking used cars
As a car mechanic, I highly recommend Carly for detecting tampered mileage on any car. With its portable size, you can take it anywhere in your pocket, making it an essential tool when buying a used car. 
Don't risk being scammed by dishonest car owners or dealers. Buy Carly to ensure you're getting a fair deal.
What I Dislike?
The cost of an annual subscription is pricey 
While the website mentions the need for an annual subscription, it's unclear how much it costs. However, I have the answer for you:
BMW package with Smart Mechanic will set you back $155 per year, 
while the BMW package alone costs $119 annually.
For most car owners, $119 isn't a small amount of money, so keep this cost in mind before making a decision. 
Key Takeaway
Are you tired of expensive trips to the BMW mechanic for coding changes? Look no further than Carly.
This all-in-one app offers all the necessary functions to put the power in your hands, saving you time and money.
Just remember, for those looking for a cost-effective solution in the long term, Carly may not be the right fit.
Choose Carly and take control of your BMW today.
Today's best Carly price:
---
#5. FOXWELL NT710: Best Coding Tool for BMWs
FOXWELL NT710 (for BMW)
Pros
ECU coding for BMW
Bi-directional control
30 service functions
What Makes Me Like FOXWELL NT710?
FOXWELL NT710 is a fantastic scanner offering ECU coding function for BMWs that won't break the bank. 
With this scanner, you can do so much for your BMW, like:
refreshing hidden features, 
disabling annoying functions (say goodbye to auto start-stop, daytime running lights, safety belt warnings, etc.),
and relearning and matching components after repairs or replacements.
The FOXWELL NT710 truly unlocks the full potential of customization for your BMW. It's a scanner that can satisfy all your needs and more
Using it for your BMW is a smart move because you'll save money and a whole lot of time by avoiding unnecessary visits to the official dealer for software jobs.
The second best thing is its bidirectional control feature. It lets you perform active tests and quickly identify the root cause of any issues your BMW might be facing.
And that's not all – FOXWELL NT710 has an impressive range of service functions. While there are too many to mention, I can tell you about a few that I've personally tested and found to be remarkable: 
Crankshaft relearn, 
Throttle relearn, 
ABS bleeding, 
TPMS reset, 
IMMO service, 
Battery registration.
And guess what? You can use this scanner for free, without ever having to pay for updates. It offers a lifetime update option, which is truly impressive.
What I Dislike?
Now, I have a small disappointment to share – this tool isn't wireless. BUT, let me tell you why this isn't necessarily a downside. 
Being wired actually makes it much faster than other units I've used with a Bluetooth dongle. Plus, it's likely more affordable because of its wired nature.
Key Takeaway
Overall, I would rate this scanner a solid 10 out of 10. I highly recommend it for everyday use, whether you have basic mechanical skills or advanced expertise. It's a reliable companion that won't disappoint you.
Today's best FOXWELL NT710 price:
---
#6. ANCEL BD300: Best BMW Bluetooth OBD2 Scanner
ANCEL BD300
Pros
Strong Bluetooth connection
Quick and accurate
ANCEL BD300 connects to your iOS or Android phone via Bluetooth and comes with its own ANCEL app. It turns your phone into a powerful scanner, making vehicle diagnostics a breeze.
What's so impressive about this scanner is its ability to scan all systems of your car. You'll quickly and accurately identify any issues or problems in your BMW, MINI, or Rolls Royce. 
But here's the best part: the battery registration function. It ensures that your battery is correctly installed and registered with your car's onboard computer. And don't worry, the process is super easy, even for beginners.
And, this ANCEL BD300 also has other service functions that helps you enhance your vehicle maintenance at home like oil reset, throttle relearn, etc. 
Now, I know Bluetooth connections can be tricky, but I haven't experienced any issues with this device. It effortlessly connects to my phone every time.
And guess what? The ANCEL BD300 is specifically designed for BMW, MINI, and Rolls Royce vehicles. No need to worry about compatibility or coverage anymore. It's a tailor-made option.
To sum it up, the ANCEL BD300 is one of the most cost-effective scanning tools for BMW and MINI Cooper owners.
Today's best ANCEL BD300 price:
#7. ISTA+ Software with K+DCAN Cable: Cheapest BMW Programming Tool
Taotao K+CAN Cable
Pros
Cheap
Come with free ISTA+ software
Programming function

Coding

Tons of service functions for BMW
Cons
Hard to install
Only support Windows
What Makes Me Like ISTA+ Software and K+DCAN Cable?
This K+DCAN cable package includes a handy CD with various BMW software such as ISTA+, NCS Dummy, NCS Expert, and more.
Personally, I find ISTA+ to be the most impressive software among them all.
Reason?
When it comes to affordability without compromising on professional features, ISTA+ and the K+DCAN cable are fantastic options to consider.
Believe it or not, for just under $30, ISTA+ and the K+DCAN cable offer much more than you might expect.
You can perform complicated tasks like:
adding and programming a new battery,
performing tons of service functions essential for BMWs,
activating solenoids,
coding,
and even updating modules (programming function).

However, please note that the programming function in ISTA+ is limited to F and G cars only.
What I Dislike?
One thing to keep in mind is that the software provided on the CD may not be the latest version.
It's recommended to search for and use newer versions available online. Rest assured, the cable will work perfectly fine with those updated software versions.
Key Takeaway
If you don't mind a confusing installation process and the inconvenience of using it on a desktop, the combination of ISTA+ and the K+CAN Cable is your best bet for programming BMW cars.
Today's best K+DCAN cable price:
---
7 Best BMW Scan Tools: Full Comparison Chart
[Note for mobile users: Swipe left for full table]
Foxwell NT510

Autophix 7910

OBDLink CX

Carly

ANCEL BD300

FOXWELL NT710

ISTA+




DIAGNOSIS
Full-system diagnosis

✅

✅

✅
(BimmerLink)

✅

✅

✅

✅

Live data

✅

✅

✅

✅

✅

✅

✅

Active tests

✅

–

–

–

–

✅

✅

Topology Map

✅

–

–

–

–

–

–

OTHER FUNCTIONS
Reset functions

18+

10+

7+
(BimmerLink)

6+

6+

30

Depend

Battery registration

✅

✅

✅
(BimmerLink)

✅

✅

✅

✅

EPB Reset

✅

✅

✅

–

✅

✅

✅

ABS Bleeding

✅

✅

–

–

–

✅

✅

Throttle Relearn

✅

✅

–

–

✅

✅

✅

Crankshaft Relearn

✅

–

–

–

–

✅

✅

Key Programming

–

–

–

–

–

✅

✅

Customization
(ECU Coding)

–

–

✅
(BimmerCode)

✅

–

✅

✅

ECU programming

–

–

–

–

–

–

✅

VEHICLE COVERAGE

BMWs

BMWs

BMWs

BMWs

BMWs

BMWs

BMWs

DESIGN & HARDWARE
Connection type

Wired

Wired

Bluetooth

Bluetooth

Bluetooth

Wired

USB

Screen size

2.8″

2.8″

–

–

–

5.5″

–

AFTER-SALES SERVICE
Free update

Lifetime

Lifetime

Lifetime

0 year

Lifetime

Lifetime

Lifetime

Warranty

1 year

6 years

3 years

Lifetime

Lifetime

3 years

N/A

Update fee

$0

$0

$0

$113/year

$0

$0

$0

Customer service

7/10

8.0/10

8.5/10

7.5/10

8.0/10

7/10

8.5/10

Check Price

Check Price

Check Price

Check Price

Check Price

Check Price

Check Price
* Reset functions, Active tests: Vary by vehicle models.
---
Conclusion
I loved the ease of use of Foxwell NT510 Elite and would like to recommend it to newbies or DIYers. 
But really the one that I prefer to use is the FOXWELL NT710 as it provides all the necessary accessories and functions that will make my job a lot easier. 
I hope that you found this review post for BMW scan tools helpful. 
I would love to know:
Which tool did you decide to go with?
Are there any other scanners for BMW that you would like me to review?
Don't hesitate to share in the comments section below!