If you've ever rotated your tires, you know why you need a TPMS tool. The TPMS light sometimes comes on even though there's nothing wrong with the tires. Resetting the sensors in the tire pressure system makes sure their readings are accurate and can clear this pesky and distracting warning light.
That's not the only thing tire pressure tools can do. Many of them can give you helpful insights into your tire pressure, with data you can't get from OBD2 scan tools. 
If you want to maintain your tires at home, check out the best TPMS tools reviewed below. They will let you get back on the road without a stop at your local mechanic.
Best TPMS tools Comparison Chart
[Note: Swipe left for full table]
Product

Overall score

What can it do?
Editor's Pick
Autel TS508WF


9.8



- Relearn universal & OEM sensors (3 opts)
- Program Autel sensors (4 opts)
- Quick Mode & Advance Mode
- For all cars
Check Price
Best Cheap
VXDAS OEC-T5


9.8



- Relearn TPMS sensors
- For GM only
Check Price
JDIAG EL-50448


9.5



- Relearn TPMS sensors
- For Ford & GM only
Check Price
Autel TS601


9.3



- Relearn universal & OEM sensors (3 opts)
- Program Autel sensors (5 opts)
- Full OBD2 functions
- For all cars
Check Price
Autel TS501


9.0



- Relearn universal & OEM sensors (3 opts)
- Program Autel sensors (4 opts)
- For all cars
Check Price
Autel TS408


8.5



- Relearn universal & OEM sensors (2 opts)
- Program Autel sensors (3 opts)
- For all cars
Check Price
ATEQ QuickSet


8.0



- Swap summer and winter tires
- For most Asian cars only
Check Price
Click HERE to see full comparison chart (PDF, Free Download)
---
Table of contents:
---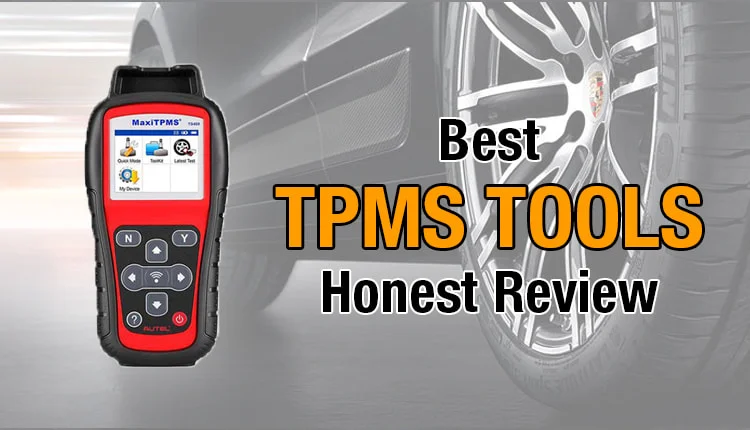 Best TPMS Tools For The Money
1. VXDAS OEC-T5
[for GM Buick/Chevy/Cadillac]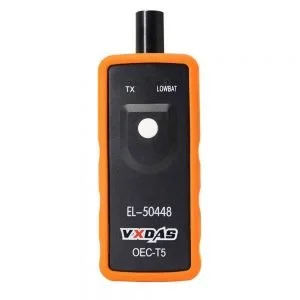 VXDAS EOEC-T5 Auto TPMS Reset Tool
The VXDAS OEC-T5 is an affordable and easy way to reset, relearn, or reprogram the tire sensors on most GM vehicles, including Buick and Chevy.
The first thing you'll likely notice about the VXDAS TPMS relearn tool is its low cost. With that budget-friendly price come some limitations, however. It only supports select GM vehicles, so you'll have to check the compatibility before buying it. 
On the plus side, this VXDAS tool reprograms tires in 3 easy steps. You'll be ready to go in minutes after replacing or rotating your tires with this tool in your garage. Its streamlined design makes it nicely portable, too, and the durable rubberized exterior prevents damage from drops or impacts. 
VXDAS OEC-T5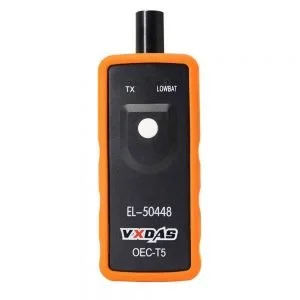 2. JDIAG Super EL-50448 TPMS Tool
[for any GM and Ford vehicles]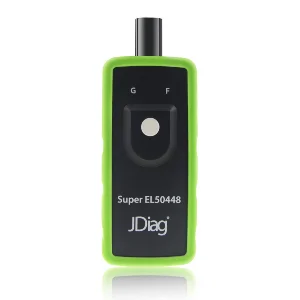 JDiag Super EL50448 GM & Ford 2IN1 TPMS Scanner Tool
The JDIAG Super EL-50448 is a fast, easy way to relearn your TPMS. It is cheap but offers any basic TPMS services.
The design of the JDIAG is very similar to the VXDAS tool above and sells for a similarly budget-friendly price. Compatibility is the main difference between them. This JDIAG tool works with any GM or Ford vehicles equipped with the sensor 315/433MHz, giving it an advantage in versatility. 
This TPMS reset tool is easy-to-use, too, though you may need to read the instructions before starting. How you position the antenna against the tire is essential. Those who complained that it didn't work are either holding it wrong or not following the manual's steps.
Once you know how to use it, the JDIAG is a quick, easy way to relearn TPMS.
JDIAG Super EL-50448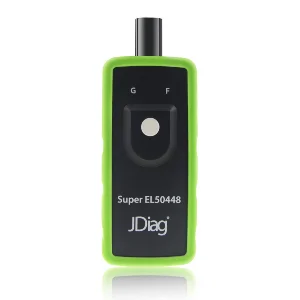 Best TPMS programming tools [Universal]
1. Autel TS508WF
MaxiTPMS TS508 Complete TPMS Programming Tool
Autel TS508WF is capable of carrying out many TPMS services, including reset, relearn, activate, and programming TPMS sensors.
Autel boasts that this MaxiTPMS model offers a complete TPMS programming suite, provided you put the device in the right mode.
The TS508WF has two different modes for different situations. Its Quick mode offers only essential TPMS functions, making it perfect for ordinary owners and entry-level DIYers. It lets you activate and reprogram sensors.
Professionals and enthusiasts may find an Advance mode to be more helpful. It opens up every TPMS function to you, making it a great device if you need it all. You can clone sensors and scan for faulty components. Both let you skipped the ECU relearning phase by allowing the ECU to see the new sensors as your old ones.
Beyond the device itself, if you get the TS508WF kit version, you get eight programmable sensors right in the box, ensuring that you always have compatible sensors to use with your vehicle. This is because Autel TPMS tools will only work with Autel sensors. Fortunately, the included sensors and devices will work with any car on the market.
Besides, this tool support updating through Wifi. With just one click, you can easily get your tool up-to-date. No more cable and laptop/PC anymore.
Pros
Full-color, intuitive interface
Compatible with any vehicle with a TPMS
Basic and Advance TPMS modes
Kit version comes with compatible sensors
Adjusts to your needs, great for both the DIYer and the professional
Cons
Expensive for a TPMS tool
Compatible with only Autel sensors
Does not have relearn functionality
With its breadth of configurable features, anyone working on vehicles will find a home for the TS508WF in their tool chest.
Autel TS508WF
2. Autel TS601 (with OBD2 code reader)
Autel TS601 MaxiTPMS TPMS Programmer Tool with OBD2 code reader
Beside reseting malfunction indicator light, Autel TS601 lets you program any MX-sensor. It also reads and clear OBD2 codes.
All the other tools on this list are for TPMS only. They are great if you only need to work on tires, but you may want an all-in-one OD2 device to save on space and money. Fortunately, Autel has you covered with their TS601 Professional TPMS and OBD2 tool.
It has it all. It is both a full-feature TPMS programmer and a complete OBD2 diagnostic scanner in a single device. While expensive, this simple tool lets you do everything the other TPMS devices on this list can do and more.
This device reads DTCs and freezes frames. It can program any OBD2 and TPMS you have and let you get the most out of your Autel MX sensors. It will even let you read and clear TPMS codes.
Autel TS601 goes above and beyond to give you the most accurate information about your vehicle as well. Plus, you can save, display and print life reports as well.
This product is by far the best device on this list. It will even do an ECU relearn for you.
Pros
Compatible with all OBD2 vehicles with a TPMS
Complete list of OBD2 and TPMS functions
Ergonomically designed, sleek shape
Software upgradable
Can do ECU relearn
Cons
Only works with Autel sensors
High learning curve, might be too much for beginners
Autel made the TS601 for the professional mechanic. It has everything diagnostic function you need to service customer vehicles and then some. Because of this, this handy tool can free up your OBD2 scanner of other functions.
Autel TS601
3. Autel TS501
Autel MaxiTPMS TS501 Professional TPMS Programming Tool
The MaxiTPMS TS501 TPMS diagnostic & service tool is specially designed to activate any known OEM/universal TPMS sensors and turn off warning lights
If you need something professional, then the Autel TS501 might do the trick. Branded the MaxiTPMS, Autel made it for professionals, and it shows.
It's a full TPMS service tool, giving you access to every TPMS function, including tire pressure, sensor IDs, reprogramming, programming, cloning, and everything in between. For instance, cloning lets you redefine new sensors as the old ones they replaced, allowing you to ignore the normal relearn process as the ECU will maintain and reuse its old configuration.
These features are on top of the standard reprogramming and activation features you see with every unit these days. However, it will not produce an actual relearn.
Autel TS501 will just tell you what you want to do. It does support TPMS scanning, though, letting you when components fail so you can replace them.
Pros
Compatible with all vehicles equipped with a TPMS
Easily navigable full-color interface screen
Supports all TPMS functions, including sensor cloning
Displays tire pressure, sensor ID and air temperature
Free Software Updates
Cons
More expensive than similar models
Doesn't perform ECU relearning
Limited customer and technical support
Autel made the TS501 for home mechanics, and the device works well in any DIY shop. It provides a full library of TPMS features that will work in any situation.
Autel TS501
4. Autel TS408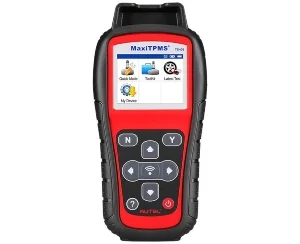 Autel TS408 TPMS Programmer Tool
Autel TS408 is for technicians, DIYers, enthusiasts, and professionals who want to diagnose and keep the TPMS system of their vehicles in good shape
The Autel TS408 brings everything its predecessor brought to the table and more. This handheld programmer can read sensor IDs, battery life, tire pressure, and temperature. You can even use it to program MX sensors as OE ones.
The device's heart is its full-color, graphic display, which offers a simple and intuitive interface menu. It gives you access to every function on the device, either the basics such as sensor activation and reprogramming. Other functions include air temperature and pressure, sensor ID, and battery health.
However, the TS408 does not have a relearn function. While it does have a relearn option on its menu, selecting it will just reveal instructions on how to do a relearn. This is the main drawback of this device, as the rest of the features are basic for the devices.
Autel's main selling point is the auto-configuration feature. The TS408 can read TPMS data straight from the engine. That means you do not need to search the internet to find code definitions. Everything is right there in your hands. 
This is good provided the device is compatible with your vehicle. Fortunately, Autel made their device work with a lot of brands out of the box. It also works with all tire types and sizes, making it one of the best TPMS tools on the market.
Pros
Advanced MX-Sensor activation/programming
TPMS reset relearn
Key fob test
Lifetime software updates
Wide vehicle compatibility
Solid and rugged construction
One-click TPMS readings
Resets tires in under 2 minutes
Cons
Cannot print TPMS data
Does not provide battery voltage
Only provides TPMS functions, not an OBD2 device
The vehicle range and impressive features make the TS408 the perfect tool for DIY enthusiasts. It helps you to quickly reprogram the TPMS if you frequently work on the vehicle.
Autel TS408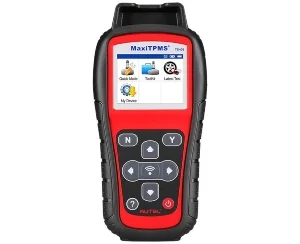 Best TPMS tool for swapping summer/winter tires [Asian cars only]
1. ATEQ QuickSet
ATEQ QuickSet TPMS Programmer Tool
ATEQ Quickset is one of the best TPMS tools for anyone who wants to monitor and reset the TPMS.
While most TPMS programming tools offer only activation and reprogramming, the ATEQ QuickSet does ECU relearn as well, making it a great addition to your tool chest.
On top of that, the QuickSet is a breeze to set up. You just hook the device to your computer and vehicle, install the software, and follow the on-screen instructions. Once installed, you can use the interface to set the sensor IDs, which you get from the kit box or through a TPMS decoder. After configuring everything, you only have to drive a few miles to finish the installation.
The device does have a limited vehicle compatibility list. You can only use it with the following brands:
Hyundai
Acura,
Honda
Nissan
Suzuki
Pontiac
Infiniti
Subaru
Mitsubishi
Scion
Toyota
Pros
TPMS reset
TPMS light reset
Intuitive and easy to use software
Compatible with 11 vehicle brands
Inexpensive for a relearn tool
Upgradable
Reads sensor IDs stored in ECU
Tracks and records tire rotation
Cons
Vague user manual
Limited vehicle compatibility, only really works with European and Asian vehicles
As ATEQ made their tool for Asian and European models, you only want it if you have an Asian or European vehicle. If that is you, you may wish a device for its relearn feature.
ATEQ Quickset
Best TPMS tools: Full Comparison Chart
[Mobile users: Swipe left for full table]
---
TPMS Tool: The basics
What is a TPMS Tool?
TPMS stands for the "tire pressure monitoring system." This electronic monitor in your vehicle's engine allows you to track the tire pressure right on the dash through a TPMS light or diagram. 
Tire pressure relearn tools allow you to reset, reprogram, or activate the TPMS sensors every time you change or rotate the tires so the ECU can take accurate readings of the current tire pressure. 
What Does A TPMS Tool Do?
Poorly inflated tires wear out prematurely and affect the fuel efficiency and overall safety of the vehicle. According to the National Highway Traffic Safety Administration (NHTSA), the number of road fatalities that can directly be attributed to defective tires stands at 738 for 2017 (Source – https://www.nhtsa.gov/equipment/tires). Besides, TPMS has been a legal requirement for all vehicles in the US since 2008. It was first introduced as law by Congress in the TREAD Act of 2000. But it wasn't until 2008 when it was made a mandatory requirement. A requirement on all vehicles after 2008, every vehicle on the road today has one. It would be great if every manufacturer used the same standard.
A useful TPMS tool will gather everything it can from your vehicle's TPMS sensors array. It will let you reset the TPMS Malfunction Indicator Light (MIL) as well as help your vehicle's main onboard computer know where the tire sensors are even if you replace them. Then, the tool can program and activate the sensors so that they can work with the vehicle. One of the best choices of a universal automotive TPMS service tool is the Autel TS408.However, GM and Ford went out of their way to make their system proprietary. Therefore, you need a TPMS scan tool explicitly designed for Ford and GM vehicles like JDIAG Super EL-50448.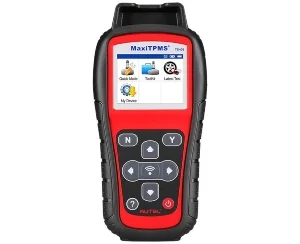 Autel TS408 TPMS Programmer Tool
Autel TS408 is for technicians, DIYers, enthusiasts, and professionals who want to diagnose and keep the TPMS system of their vehicles in good shape
There are various functions that a tire pressure monitor tool can do. Here are the main ones:
Information gathering
The device can pick up information from a TPMS sensor and relay it to the user. As you walk to each tire, the sensor will transmit information like pressure level, tire temperature, battery level, sensor ID, etc.
TPMS reset
Most tools can be used to clear the TPMS Malfunction Indicator Lamp (MIL). For many reasons, the TPMS light can come on top of the list being driving with low tire pressure. Other reasons include replacing a tire, tire rotation, or switching from summer to winter tires and vice versa. If the light comes on, you can turn it off with a TPMS reset tool.
TPMS relearn
More often than not, the Engine Control Module (ECM) will not know the new location of TPMS sensors after a tire rotation or replacement. You can use a TPMS tool to "tell" the ECM the new location of sensors. A tool that supports this function is known as a TPMS relearn device.
TPMS sensor programming
Besides vehicle relearn (as explained above), a TPMS tool can be used to program TPMS sensors. While the relearn procedure tells the ECM how to find sensors, programming installs the necessary protocols/applications to make the new sensors fully compatible with the vehicle's ECM. This procedure is necessary when you are dealing with an aftermarket sensor. A tool that does the procedure is known as a TPMS sensor programming tool.
TPMS activation
You can use a TPMS activation tool (also called TPMS trigger tool) to activate or "wake up" a TPMS sensor that is inactive or in "sleep mode." When activated, the sensor will start to gather and transmit information.
TPMS decoding
A TPMS decoding tool packs several functions into one device. It can trigger sensors, receive sensor info, and send that info to the ECM.
TPMS scanning
Certain tools allow you to check the system's functionality, not just the sensors, tires, or ECM. These are called tire pressure scan tools, and they primarily help you identify faults in the whole system.
How Does a TPMS Tool Work?
To understand these tools, you'll first need a basic grasp of how TPMS works in general. There are two types of TPMS in use today: Direct and indirect.
In a direct system, sensors are mounted in each wheel well and individually monitor each tire's pressure. The dashboard light triggers when the pressure falls below 25% of the level recommended by the manufacturer.
An indirect system integrates with the anti-lock brake system (ABS) in your vehicle. Under-inflation changes how quickly a tire rotates. The system compares data from the ABS wheel speed sensors to the standard speed, and the tire pressure light is triggered when the variance exceeds a specific limit.
TPMS tools interact with these sensors in a variety of ways. Some retrieve readings that tell you the speed, pressure, temperature, and other data related to the tires, which helps diagnose the tires' driveability issues. 
A tire pressure tool's primary function is to reset the sensor's standard for a new, fully-inflated tire, which is especially crucial for indirect systems since rotating or replacing the tires can change each one's rotation speed. 
Advanced TPMS sensor programming tools can even reprogram the sensors allowing you to set up new sensors for installation or adjust the parameters for triggering the warning light.
How to choose the best TPMS service tool
Benefits of a TPMS scan tool
Safety. Your tires are less maneuverable when they're low on air. You'll especially notice this on tight turns and quick stops. These effects can start even before the pressure is small enough to trigger the TPMS light. A TPMS scan tool can let you find and fix problems before they get serious. 
Fuel efficiency. When the tires are too low, the engine has to work harder to keep the car moving forward. As a result, the vehicle consumes more gas to go the same distance. Using a TPMS scanner helps you keep the tires at the right level, maximizing your miles per gallon. 
Types of TPMS Tools
All tire pressure monitor tools interact with the sensors within the tire pressure system. Different devices have different capabilities as far as how they interact with those sensors and the engine computer. The main types of tire pressure sensor tools are:
Decoders: These tools are primarily aimed at communicating with the TPMS. They can read sensor information like pressure, temperature, and wheel rotation and send it along to the vehicle's computer. Besides, they're capable of activating or triggering inactive TPMS sensors.
Programmers: Along with reading TPMS sensor data, these tools can program the sensors, which allows you to replace the sensors themselves and the tires.
Relearn Tools: TPMS relearn tool is the simplest type of tire pressure sensor tool that can reset the sensors after you replace or rotate your tires. However, they're not able to program the sensors and often don't provide sensor data. 
Besides specific TPMS tools for GM and/or Ford, today's most wanted TPMS tools are 3in1 devices. Then when you buy a typical TPMS tool today, you can decode, relearn, reset, and program your tire pressure monitoring system.
If you're a DIY and looking to program TPMS sensors in three easy ways, buy the Autel TS408 TPMS service tool, my favorite choice. However, the best choice for experienced home mechanics or professionals is the Autel TS501 TPMS Programmer, the upgraded version of TS408.
Top Brands
Autel
This company makes both diagnostic tools for home use and professional-grade diagnostic equipment. Autel TPMS tools are renowned for their speed and reliability. Their customer service is also top-notch. While Autel tools can get pricey, they're worth the investment if you need the best performance.
Autel TS408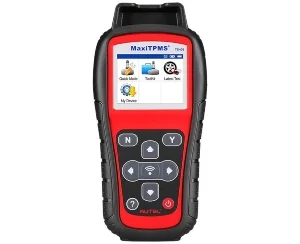 JDIAG
JDIAG is a newer company, founded only in 2015, but they have made quite the splash in their short time on the market. Their primary focus is innovation. They devote a significant amount of their profits to research and development to bring their customers the best products at a great value.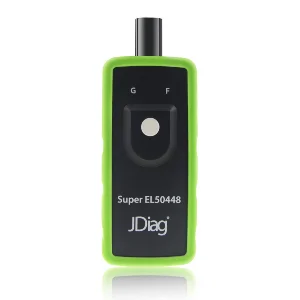 JDiag Super EL50448 GM & Ford 2IN1 TPMS Scanner Tool
The JDIAG Super EL-50448 is a fast, easy way to relearn your TPMS. It is cheap but offers any basic TPMS services.
VXDAS
Another company known for value is VXDAS. This Hong Kong-based wholesaler focuses primarily on diagnostic equipment for home use. Their products have the features most home mechanics need, with an emphasis on convenience and user-friendly design.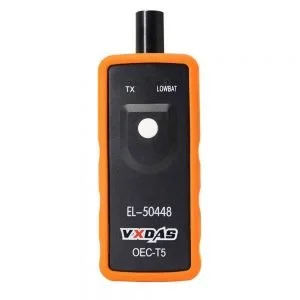 VXDAS OEC-T5 Auto TPMS Reset Tool
The VXDAS OEC-T5 is an affordable and easy way to reset, relearn, or reprogram the tire sensors on most GM vehicles, including Buick and Chevy.
Read more: VXDAS EL-50448: Best Affordable GM/Ford TPMS Tool Review
TPMS Tool Pricing
There's a big price difference between the most basic TPMS diagnostic tools and the advanced professional models. The good news is that it means you can find something on any budget. You should know what to expect from devices in different price ranges.
Under $50: You'll mostly find basic relearn tools in this price range. The compatibility is also often limited to one or two manufacturers. On the plus side, they're usually more portable and more straightforward to use.
$50–$100: Some TPMS decoders sell in this price range. Also, many relearn tools with more extensive compatibility fall in this price-point. 
$100-$200: This is the budget range most home mechanics should have. These tools will usually include both relearn and diagnostic capabilities and may also have essential programming functions. Compatibility also isn't as much of a concern as it is with cheaper tools.
$200 and up: Tools priced in this range are for use by professionals or experienced home mechanics. Besides broad compatibility and more detailed sensor readings, they have more advanced programming options aimed at experienced mechanics. 
Final Thoughts
A TPMS tool is a smart investment for a home mechanic. You won't need to go to the shop when it's time to change or rotate your tires. An accurate reading of your tire pressure helps you stay safe on the road. With one of these tools in hand, you'll be able to monitor and repair the system from your garage's comfort. 
FAQs
1. Can the Autel TS408 read a sensor ID and program that ID into a new sensor?
Yes. This process is known as "cloning" a sensor and is one of the programming methods you can use on the Autel TS408. The only caveat is the Autel TS408 can only program Autel MX sensors, not those put out by any brand. 
2. Will the Autel TS408 recalibrate the odometer or speedometer if I change tire size?
No. The speedometer and odometer aren't part of the tire pressure system. To recalibrate those, you'll need an OBD2 scan tool with ECU coding and programming ability. 
3. Does the Autel TS408 work on vehicles from Asia that use JOBD?
Yes. The OBD protocol used in the car doesn't affect the tire pressure system. This tool will work on JOBD vehicles from Japan and Korea, EOBD vehicles from Europe, and OBD vehicles from North America. 
4. Does the Autel TS501 have a tester for key fobs?
Yes. You'll find this feature on many Autel tire pressure tools, in fact, including both the TS501 and the TS408.
5. Will the Autel TS501 turn off the TPMS light on my dash?
That depends on what's causing it. If the light is on because you've changed your tires, you can do with this tool. However, if the light turns on because of your tire pressure, you'll need to fix it before you can turn it off. 
6. How can I find out if the VXDAS TPMS tool is compatible with my vehicle?
This tool works with most Buick, Cadillac, Chevrolet, GMC, and Opel models. Correctly, it works with 315KHz and 433KHz TPMS systems. You can see a complete list of tested models if you want to look for your vehicle. 
7. Will the VXDAS TPMS tool identify a failed tire pressure sensor?
No. This tool is only for resetting the sensors after you've adjusted the tires. A failed TPMS sensor should trigger an OBD2 code that turns on your check engine light. You can read that information with any OBD2 code reader. 
8. Will the JDIAG Super EL-50448 tool work on any Ford or GM vehicle?
This tool works on vehicles equipped with 315 MHz or 433 MHz TPMS, which is the majority of modern Ford and GM vehicles. There is a more detailed list of compatible vehicles on the product listing page.
9. Can I use the JDIAG Super EL-50448 tool to reset aftermarket TPMS sensors?
Not always. If you've replaced the sensors with OE-level equipment that matches the originals' specifications, this tool may be able to read them. 
Many third-party sensors operate at a different frequency or have an ID that this tool can't read. Even if the sensor is in a vehicle that the JDIAG EL-50448 would typically support, you may not be able to reset it. 
10. How is the Autel TS401 different from the TS501?
Autel TS501 offers more features. It has a key fob check feature and can diagnose more TPMS issues than the TS401. Besides, there are more options for relearning and programming sensors.
Since the Autel TS401 is about half the price of the TS501, it's a better option for vehicle owners who want an affordable, easy way to maintain their tire pressure system. The more robust functions of the TS501 are more suitable for advanced automotive repair.
11. Will the Autel TS401 work with both OE and aftermarket sensors?
That depends on what you're doing. You can read and activate 98% of TPMS sensors on the market, including those installed in the factory and those sold as upgrades.
The Autel TS401 is more limited regarding programming. It can only program Autel's MX sensors, not those put out by other brands. 
12. Can the Autel TS401 be updated on an Apple computer?
Not unless you have a Windows emulator. This tool requires Windows 7, XP, 2000, or Vista to update.
Read more: TPMS Warning Light: Meaning, Symptoms, Causes, and Fixes